An Online Course That Teaches You
How To Maximise Your Profits
As An Airbnb Host.
An Online Course That Teaches You
How To Maximise Your Profits
As An Airbnb Host.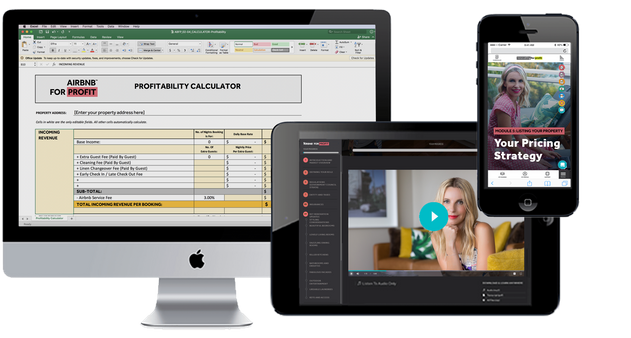 Want To Make Money As An Airbnb Host? Treat It Like A Serious Side Gig.
Anyone can list a property on Airbnb but not everyone can make amazing profits from it. Most hosts list a property & achieve mediocre results. But then there are other hosts, who absolutely smash it…
To create life changing profits in Airbnb, you'll need to learn & mimic the techniques that successful hosts employ every single day to catapult their listings into a different financial stratosphere.
Airbnb For Profit teaches new & experienced Airbnb hosts how to take your Airbnb results to the very next level, either as a lucrative side gig for extra income or even as a full-time career.
Lifetime Access For $495 Only.
An Online Course That Teaches You To Catapult Your Current Rental Returns or Build New Income Streams Through Short Term Rentals.
Assess Financial Feasibility & Profitability
What's the one common thread between all successful businesses? They understand the importance of crunching the numbers to ensure you always remain profitable. This is a critical step most new Airbnb hosts fail at. We've developed all the financial tools you'll need so you can succeed financially from the get-go.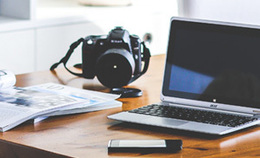 Create An Irresistible Offering
There's an art & science in taking an ordinary room or property and turning it into a winning listing that attracts constant bookings all year round. From a killer headline to compelling copy to powerful photography, there's a series of things you'll need to do to get your bookings flowing through & your profits rolling in.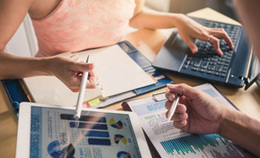 Digitally Optimise Your Listing
There's a massive difference between listing your property online and digitally optimising your property online. Knowledge of the latter will enable you to understand how the Airbnb marketing algorithm works so you can tweak your listing to get more views that result in more bookings. This leads to increased profits.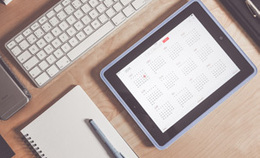 Automate Your Business & Watch It Grow
Does managing your Airbnb calendar & interacting with guests or cleaners seem like a real hassle? Think you can't earn Airbnb income as a side gig whilst holding down your full-time job? Learn how to automate so many aspects of your Airbnb activities so it only consumes a few minutes of your time each day.
Here's What You'll Learn When You Get Access To
9 Modules, 54 Topics & 10+ Hours of Video Content.
Airbnb For Profit is a comprehensive online course if you're wanting to create new income streams through short term rentals (regardless of whether you own a property or not). It's an essential course also if you want to pay off your investment property mortgages faster by turning your rental properties into full-time Airbnb properties for greater profits.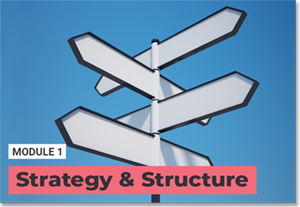 1.1 – Introduction & Market Overview
1.2 – Defining Your Role
1.3 – Regulations
1.4 – Entity & Taxes
1.5 – Insurances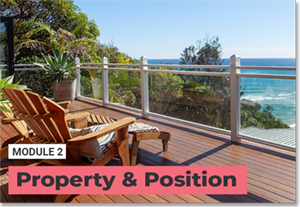 2.1 – Research – Location
2.2 – Research – Property Types
2.3 – Sub-Leasing A Property
2.4 – Financial Feasibility & Profitability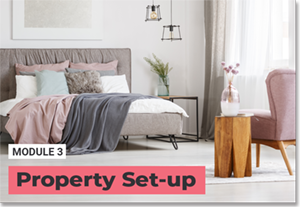 3.1 – Key Renovation Updates
3.2 – Styling Considerations
3.3 – Beautiful Bedrooms
3.4 – Lovely Living Rooms
3.5 – Dazzling Dining Rooms
3.6 – Killer Kitchens
3.7 – Bathrooms & Ensuites
3.8 – Fabulous Facades
3.9 – Outdoor Entertaining
3.10 – Likeable Laundries
3.11 – Consumables
3.12 – Keys & Access
3.13 – Rubbish Removal
3.14 – House Manual / Welcome Booklet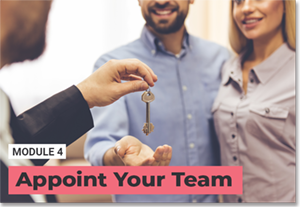 4.1 – Your Cleaners
4.2 – Your Maintenance Team
4.3 – Co-Hosts
4.4 – Short Term Rental Agency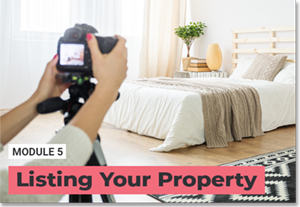 5.1 – Host Responsibilities
5.2 – Create Your Listing
5.3 – A Killer Headline & Compelling Copy
5.4 – Powerful Photography
5.5 – Floor Plan
5.6 – Your Pricing Strategy
5.7 – Establishing House Rules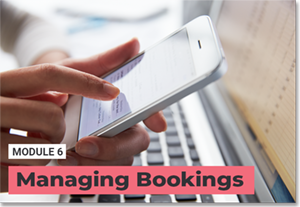 6.1 – Handling & Screening Bookings
6.2 – Approving Or Declining Bookings
6.3 – Mastering Your Calendar
6.4 – Price Discount Requests
6.5 – Early Check In & Late Check Out Requests
6.6 – Guest Meet & Greet
6.7 – Issues & Complaint Handling
6.8 – Property Damage
6.9 – Lost And Found
6.10 – Host & Guest Reviews
6.11 – Tracking Income & Expenses
6.12 – Obtaining Superhost Status
6.13 – Airbnb Plus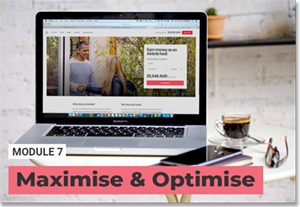 7.1 – Airbnb Search Engine Algorithms
7.2 – Marketing Affiliates
7.3 – Alternate Marketing Options
Lifetime Access For $495 Only.
All the knowledge, tools, calculators & support you'll need to become a highly profitable Airbnb host.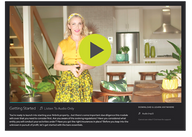 Deep dive, immersive video tutorials on every aspect of running an Airbnb business.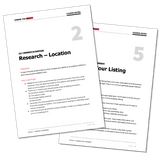 Downloadable
Course Notes
Prefer learning by reading? We've got comprehensive course notes for you.
No scope for procrastination. Jump from learning into action with these practical resources.
The Ultimate
Welcome Manual
Put an end to the repetitive questions from your guests, with a house manual that answers it all.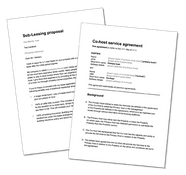 Save hundreds in legal costs with our Sub-Leasing Legal Contract & Co-Host Service Agreement.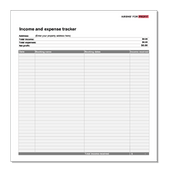 Track all Airbnb specific transactions in a single spot. Save time & stress while filing taxes.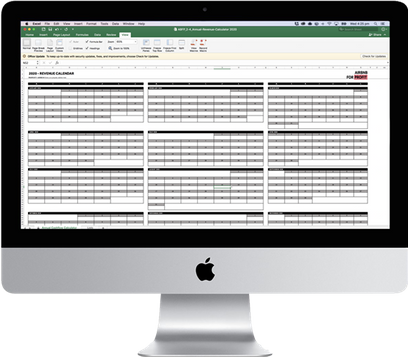 Annual Cashflow Calculator
Unique to Airbnb For Profit, learn how to calculate your likely annual gross & net revenue, all before your very first booking. This essential tool will help you decide if a property is a viable opportunity before you go to the expense of styling it.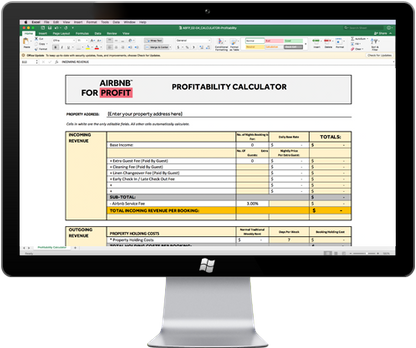 Unique to Airbnb For Profit, our Profitability Calculator allows you to see & understand every single cost involved in your Airbnb activities so you know your true profitability for every booking. An essential tool to always ensure you stay profitable.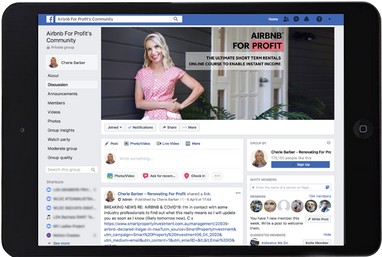 As a student of Airbnb For Profit, you'll gain exclusive access to our Student Only–Private Facebook Community. Join like-minded Airbnb Hosts who share issues & discuss ideas that might be very useful to you. Post your questions, share your experiences, arrange meet-ups, the list of possibilities goes on. 
Lifetime Access For $495 Only.
Save Thousands Fitting Out Your Airbnb With:
As an optional extra, you can join Home SuperSaver. It's your ticket to a world of big discounts from a wide range of national suppliers. Save thousands off sheets, linens, mattresses, furniture, furnishings, artworks, rugs, paints & many more. The savings you'll receive from this group alone will completely cover your initial course fee.
SPECIAL MEMBER PRICING
51,000 Products.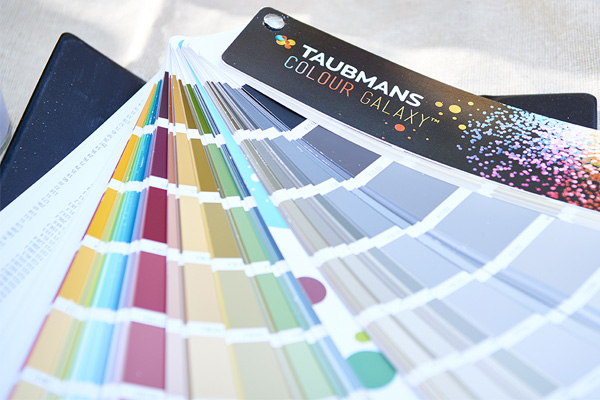 UP TO 30% OFF
Tradex, EasyCoat & Endure Paints.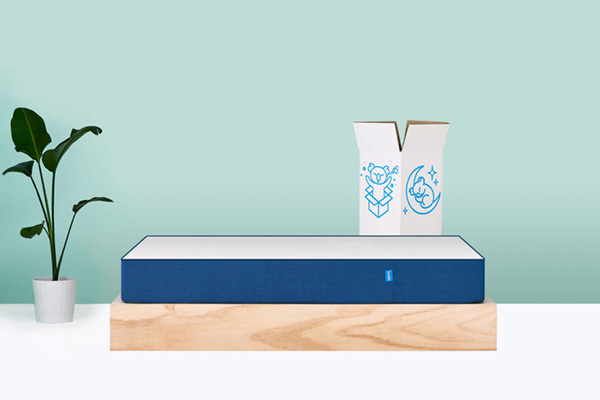 $150 OFF
Any Mattress Or The Koala Sofa.
15% OFF
Curtains, Linen, Cushions & Throws Storewide.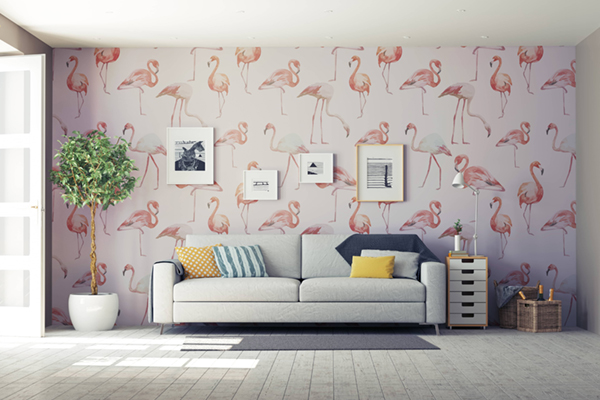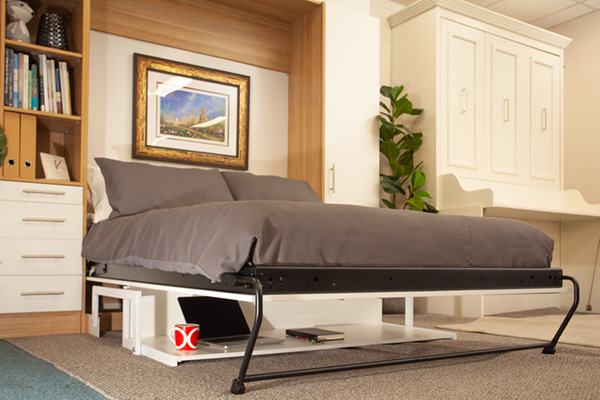 20% OFF
Retail Price On Custom Wall Beds.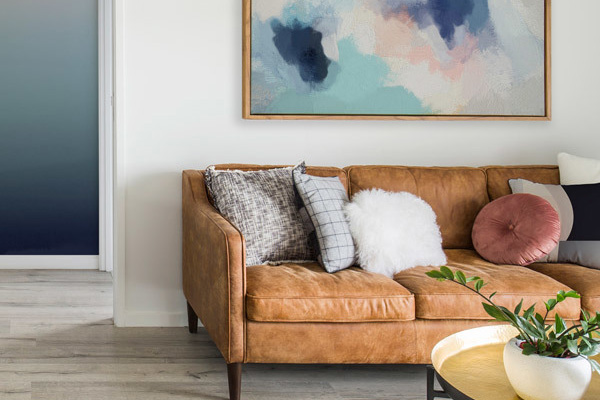 30% OFF
Wide Range of Artworks & Wall Prints.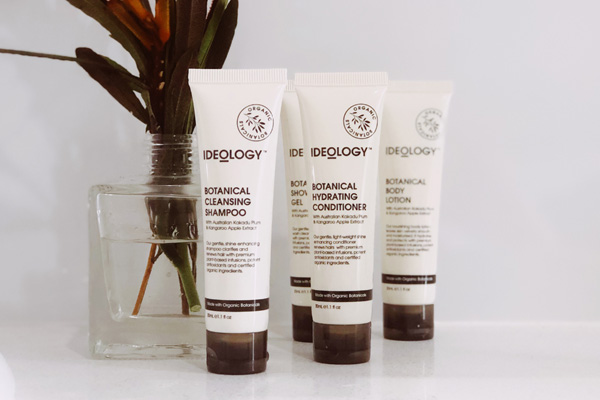 15% OFF
Hotel & Guest Room Supplies.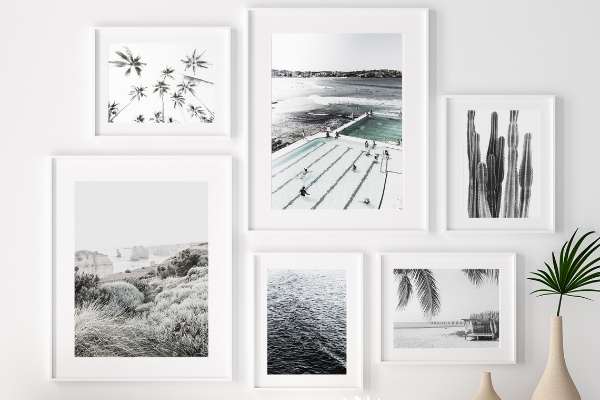 20% OFF
Wall Art & Frames.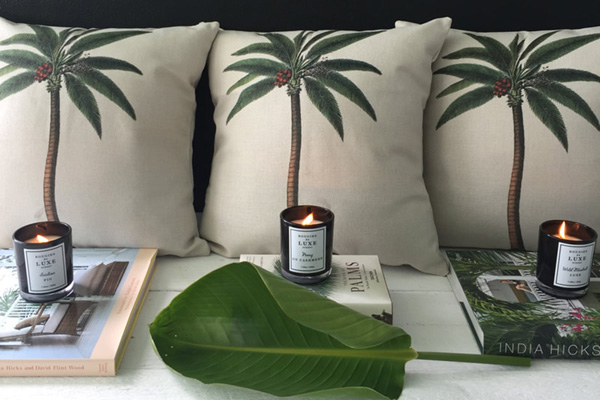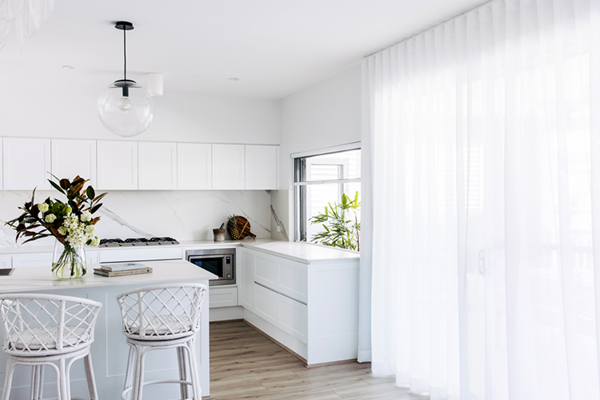 25% OFF
Blinds, Doors & Awnings And 20% Off Shutters & Curtains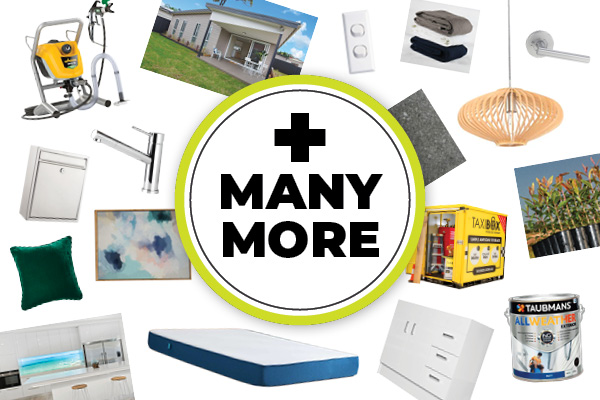 Home SuperSaver is an optional extra that you can add to your course at any time. Just $195 for a 1 year membership.
Be Trained By Cherie Barber –
Leading Property Educator & A Successful Airbnb SuperHost.

Cherie Barber is Australia's leading renovation expert, property educator & an Airbnb Super Host. She's been featured on every major Australian TV Network and has regularly starred in popular TV shows such as Channel 9's Space Invaders, Channel 9's 'Today Extra Show', Channel 10's The Living Room & her American series '5-Day Flip'. Loved by her 250,000+ social followers & 20,000+ students, Cherie has a knack for breaking down any challenge into step-by-step processes that are quick & easy to replicate. She brings her expertise as a property educator to the 'Airbnb For Profit' course.

See Cherie's 360 Degree Approach To Airbnb That Makes Her Profitable In All Kinds Of Locations.
From granny flats to luxury apartments, urban to regional areas, Cherie has made profits from all kinds of properties & locations. The secret lies in getting EVERYTHING right.
2 Bedroom Granny Flat – 50 Km from Sydney CBD
Local real estate agents said Airbnb doesn't work in this location as there were other Airbnbs at just $28 a night, attracting no bookings. Cherie went on to generate thousands of dollars each month in this location.
Time Investment: 30 minutes per week
 
Full-Time Tenant
(Quarterly Rent)
Airbnb Rental
(Quarterly Rent)
GROSS RENT
$5,199
$9,876
COSTS
$342
$2,040
NET INCOME
$4,857
$7,836
61% INCREASE IN RENTAL RETURNS
3 Bedroom House – Byron Bay
Located in a popular tourist hotspot, already saturated with Airbnb rentals (43% of housing is Airbnb), Cherie managed to double her rental income by turning her full-time investment property into a full-time Airbnb rental.
Time Investment: 10 minutes per week
 
Full-Time Tenant
(Yearly Rent)
Airbnb Rental
(Yearly Rent)
GROSS RENT
$78,000
$195,018
COSTS
$5,148
$44,061
NET INCOME
$72,852
$150,957
107% INCREASE IN RENTAL RETURNS
Airbnb Hosting Could Work For You, No Matter Where
You're Based & What You Have To Offer.
Increase your rental returns & grow your property portfolio much faster.
Pay off your mortgage faster or add extra funds to your monthly cashflow.
Create a new income stream from your backyard or any unused land on your property.

Don't have your own property but got time to invest? Sub-lease or cohost other people's properties.
Lifetime Access For $495 Only.
What Students Say About This Course.
Cherie, thank you for a wonderful course! I feel as though I now have the confidence to list our newly renovated investment property on Airbnb. Your passion is contagious thanks again Cheryl x
This course was fantastic. It was so informative and valuable. I now have so much knowledge about this Airbnb process. Cherie has covered absolutely everything. She is just amazing. A huge thank you for putting together this course. I'm so excited to list my 1st property.
I diligently followed Cherie's advice and ideas in the Airbnb course. Our guests absolutely loved the property and every single one of our ratings has been 5 star – yes every one!! We are now in the second year of holiday rentals and have used all the tips and tricks to increase bookings and secure a higher position in the hosting platforms rating. In fact, we were approached by Airbnb and told we had been selected for a new type of rental called Airbnb verified, due to all the inclusions and things we offered. I cannot thank you all enough.
WOW!! What a 'Glory Box' of incredible information you have put together for us! Thank you so much 🙂 I was keen to start on the right foot prior to acquiring my own property and hopefully in time multiple properties and while I do not have my own property, YET!! this was part of my early planned steps, and am sure that this invaluable information will assist me to be the best and most efficient 'Host' I can be. Thank you.
This course has covered so many aspects to running a profitable Airbnb that I was not aware of. The course notes and templates are excellent and the videos engaging.
Airbnb for Profit Course is detailed and thorough...even covering the nitty gritty things that are boring to most people but highly important. The templates and resources are extensive and will be a massive time saver. I can't wait to find a suitable property to Airbnb, just can't decide on the location. I love property and help people obtain the finance they need to buy property. This alternative property strategy would help so many people in many ways... either to boost their savings to buy their first home; additional income stream to the household - perfect for stay at home mums and mums not wanting to return to the workforce after maternity leave; etc.
I loved doing the Airbnb course. It covered everything in such detail and was really enjoyable. The templates are brilliant and will save hours of time. Having the course structured the way it is step by step made it easy to follow. I have also done the RFP course and now feel very prepared and confident that I can successfully navigate the renovating and Airbnb game. The attention to detail in your courses is what really makes them exceptional. Thankyou Cherie and the RFP team. The knowledge you share is so valuable and very much appreciated. We have just sold our family home and are about to head off around Australia in a caravan for a year. After this my husband and I are going to attempt to buy and renovate houses as our full time job. We are excited and nervous all at the same time. The courses have given me confidence that we can succeed with this. (But don't worry... we have a backup plan!)
I'm very nearly at the end of the Airbnb module of Cherie's course, and I'm amazed by how much I've learnt and just how much I didn't know before I started! I've gained so much knowledge on the marketing process and how to maximise revenue. Seems that the Airbnb site can do so much more than I thought with regards to pricing, managing multiple booking platforms and conflict resolution. And I've realised how important good photography is to ensure maximum booking opportunities! I've done one renovation which was rented out very quickly, and now I'm renovating a coastal property for Airbnb purposes and this course has been Invaluable. Thank you!
Need To Know More?
Typical Questions We Are Asked:
Lifetime Access For $495 Only.