10 Clever Kitchen & Laundry Storage Ideas
Retail giants like IKEA & Bunnings long ago cottoned onto our love affair with storage, making it super affordable for just about anyone. And really, what's not to love about aisles & aisles of ingenious storage solutions that promise to permanently eradicate clutter from your home… or at the very least, hide it behind closed doors.
When it comes to clever kitchen & laundry storage, we've certainly moved on from the days of standard cupboards & drawers, especially items buried deep in the back of cupboards, never to be sighted again. Tailored storage ensures every nook & cranny is readily accessible, & everyday items are all within easy reach. These days, all you need to do is jump online to explore the vast virtual world of storage.
Here's 10 tailored storage ideas that any kitchen & laundry could benefit from.
1. Tailored Spice Drawer
Covid-19 certainly reignited our passion for home cooking at a time when socialising was off the menu. Something every serious chef knows is… your collection of spices should always be within easy reach. In days gone by, a cupboard rack or spice carousel was the answer. Nowadays, think about a dedicated spice drawer instead, where every spice can be glimpsed in a single look, just like an open book – why didn't I think of that?
2. Professional Organisers
No, I'm not talking about your executive assistant or wedding planner, I'm talking about innovations that get clutter off your benchtop and into streamlined storage under your bench. You can get these gadget organisers in all shapes and sizes (one below includes a knife block), but the aim is the same: pull-out storage that keeps those everyday items in reach but out of sight.
3. Pull-Out Pantry
These have been around for a while, which thankfully means they're readily available, infinitely affordable & they're available in either mobile or built-in versions. If you're renting, you could find a spot for a mobile one on wheels. They're traditionally slimline, so you can see & reach everything in your pantry, stretching up to 2.4 metres in height. Little wonder they've proven such a hit.
4. Cutting Board Storage
You know that unruly jumble of cutting boards that take up valuable bench space? If only they were all things of great beauty that you were proud to have on display, instead of a mishmash of timber, acrylic & mottled marble! Well this inventive solution keeps them all neatly stowed away with only their spines on view. Got a bit of free time on your weekend? Why not have a crack at making one DIY? The one below is made using strips of plywood that you simply insert into your cupboard space. Next best option – buy an over bench cutting board rack online to free up bench space.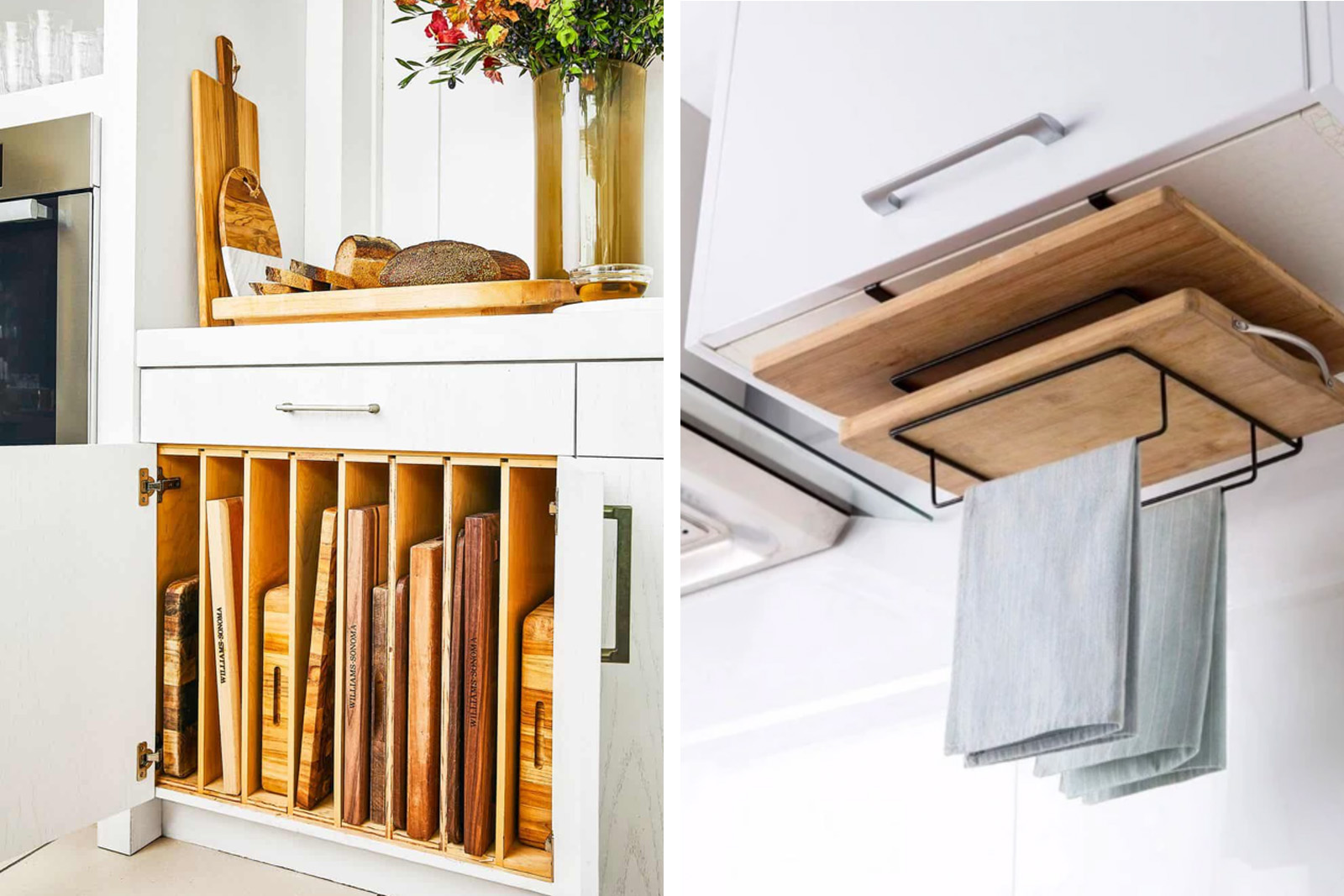 5. Open Shelving
It's an oldie, but a goodie, especially now we're a lot savvier about what to display on our kitchen shelves & what not to. Open shelving can also be a great focal point, not just practical storage. Shelving is also way cheaper than wall cabinets, so it can be good to install both for those working on tight budgets. You can choose from floating shelves with hidden brackets (IKEA's Lack shelves were one of the pioneers here back in the late 1980s), traditional shelves with brackets, or budget kitchen suppliers like Kaboodle now offer sturdy steel shelving systems as part of their range.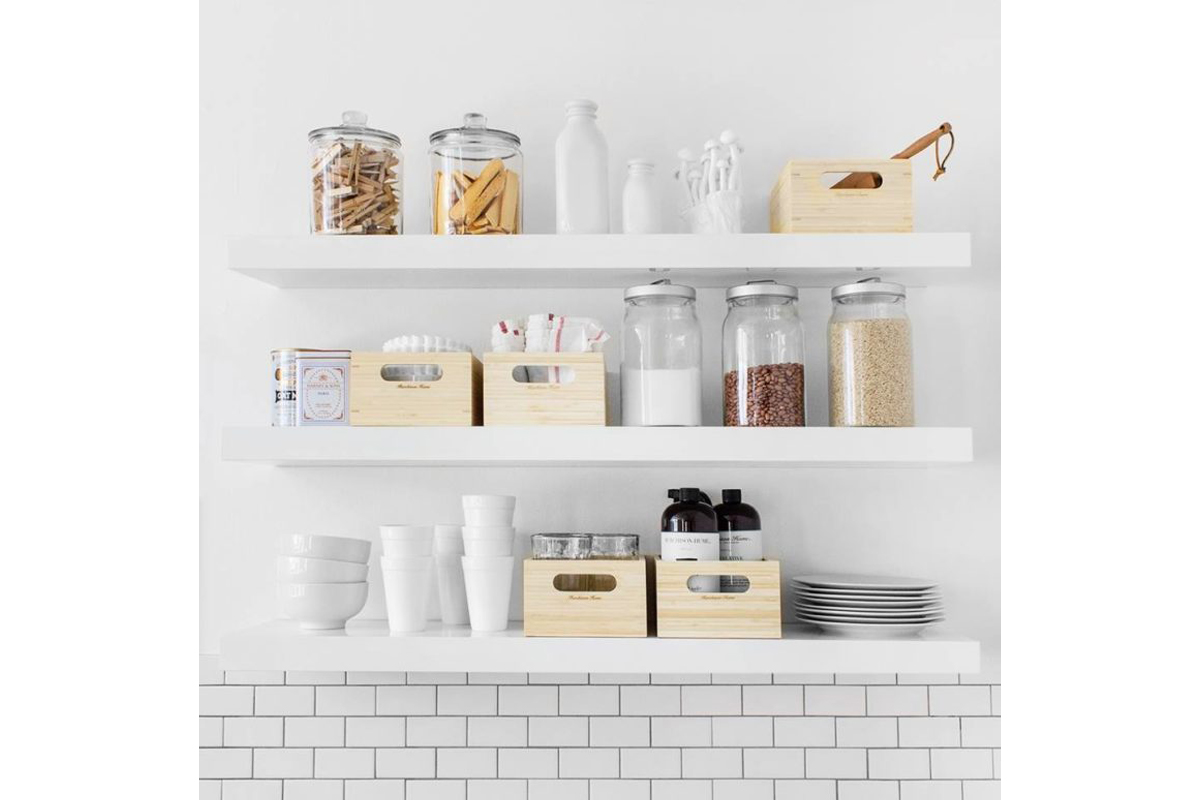 6. Rubbish Separator
There's simply no greater sin than renovating a kitchen and neglecting to find hidden storage for your unsightly rubbish bins. It's the equivalent of making your loo the showpiece of your new bathroom! Organised garbage storage is particularly relevant in our eco-aware age, where there's separate bins for landfill, recycling & possibly organic green waste. The key is hidden, pull-out garbage & recycling drawers in your cabinetry. Off the shelf options from stores like Bunnings exist or you can get them custom made by a local cabinetmaker.
7. Walk-in Pantry
Okay, this is not a quick fix but something to definitely consider if you're renovating your kitchen. See if you can steal some space from an adjoining room & convert it into a walk-in pantry instead. A lot of old houses have a larger laundry located right next to the kitchen making it possible to convert that space, cost effectively, into a walk-in pantry. Then it's just a matter of getting those shelves super organised.
8. Fold-out ironing board
Talking of laundries, they've certainly evolved from the ugly wash houses of old to streamlined storage areas, where all the unglamorous aspects of wash day are neatly concealed behind closed doors. And let's be frank… boxes of washing powder, stain removal packs & your odd bottle of Preen don't make for great styling items. Rather than wrestling your ironing board in & out of cupboards, how about a dedicated flip-out ironing board attached or built into your laundry cabinetry?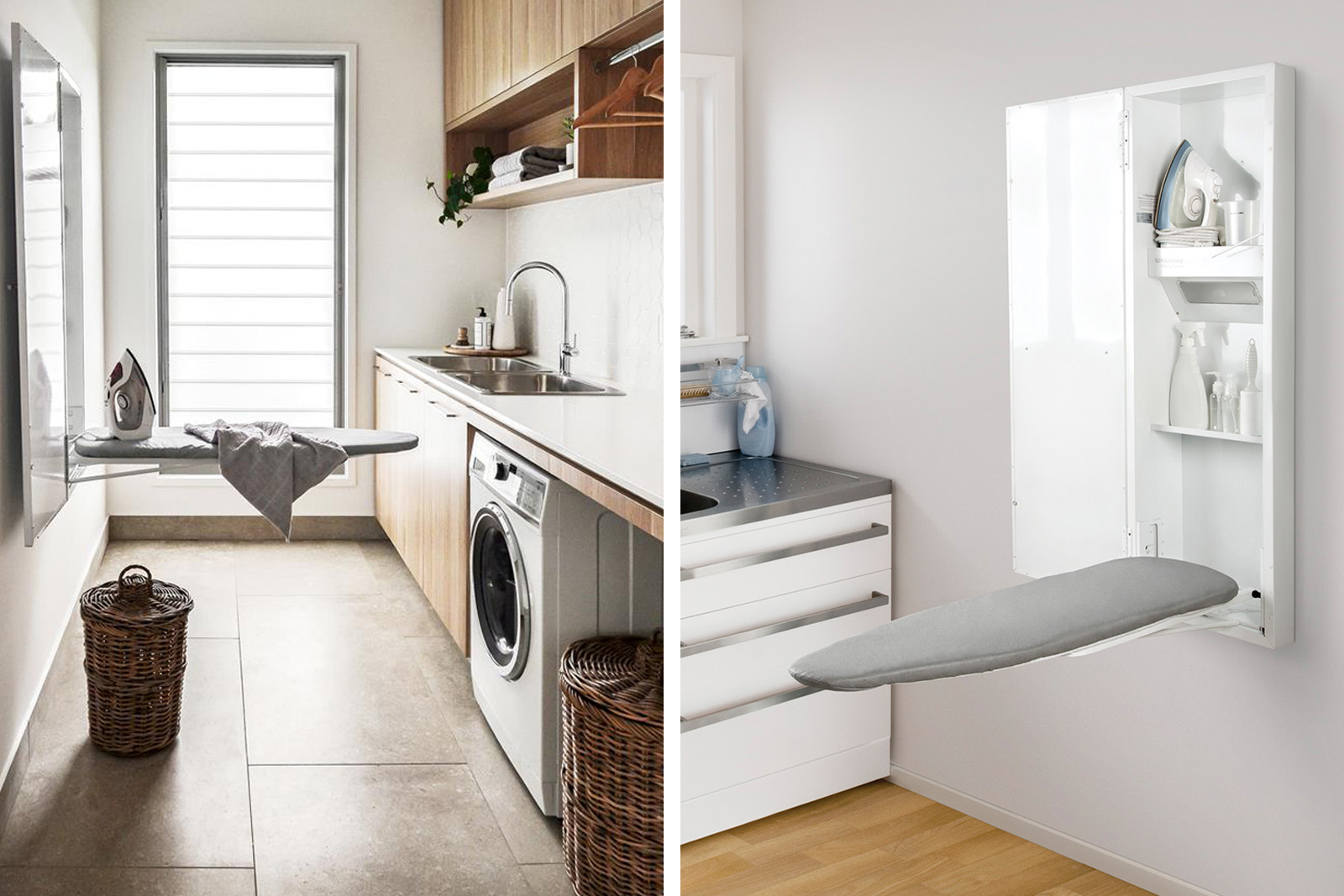 9. Pull-Out Laundry Hamper
Now you've got a centralised laundry basket for all the family, there's simply no excuse for teenagers' rooms littered with dirty clothes! Just swing by the laundry on your way out, open the cupboard and fling them in.  "Laundry shoots" come in all sorts of configurations, from slide-out to tilt-out. The beauty of all of them is you no longer have to suffer unsightly piles of dirty laundry.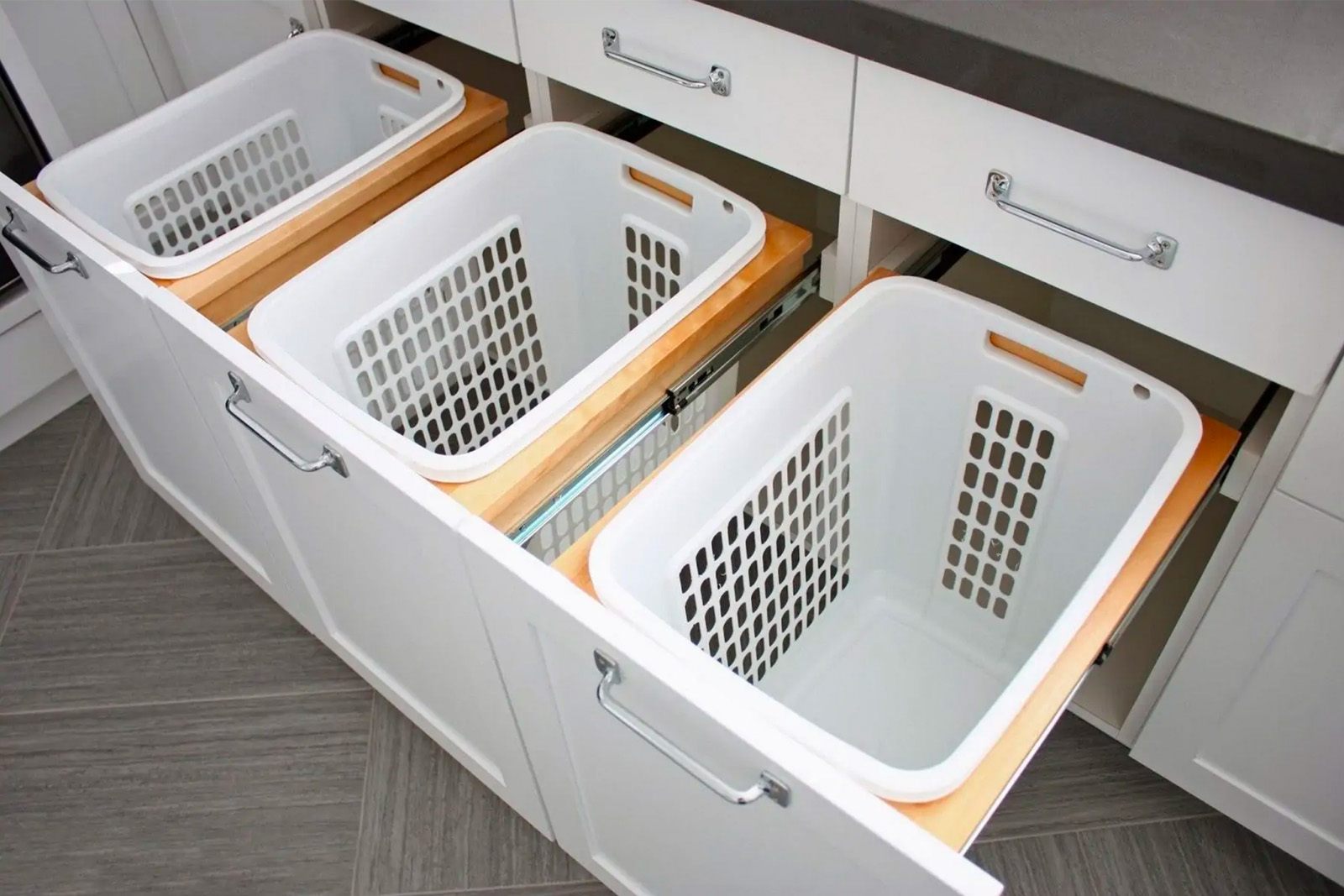 10. Clothes / Shirt Rack
The latest Block room reveals confirm what we've suspected for a long time: dedicated hanging space in your laundry is now obligatory. And really, it makes sense. Just take your shirts straight out of the machine and hang them up – you may not even need that ironing board! Simply buy brackets and a rod from your local hardware store & away you go. Perfect for rainy days & for items you don't want to fade from UV exposure.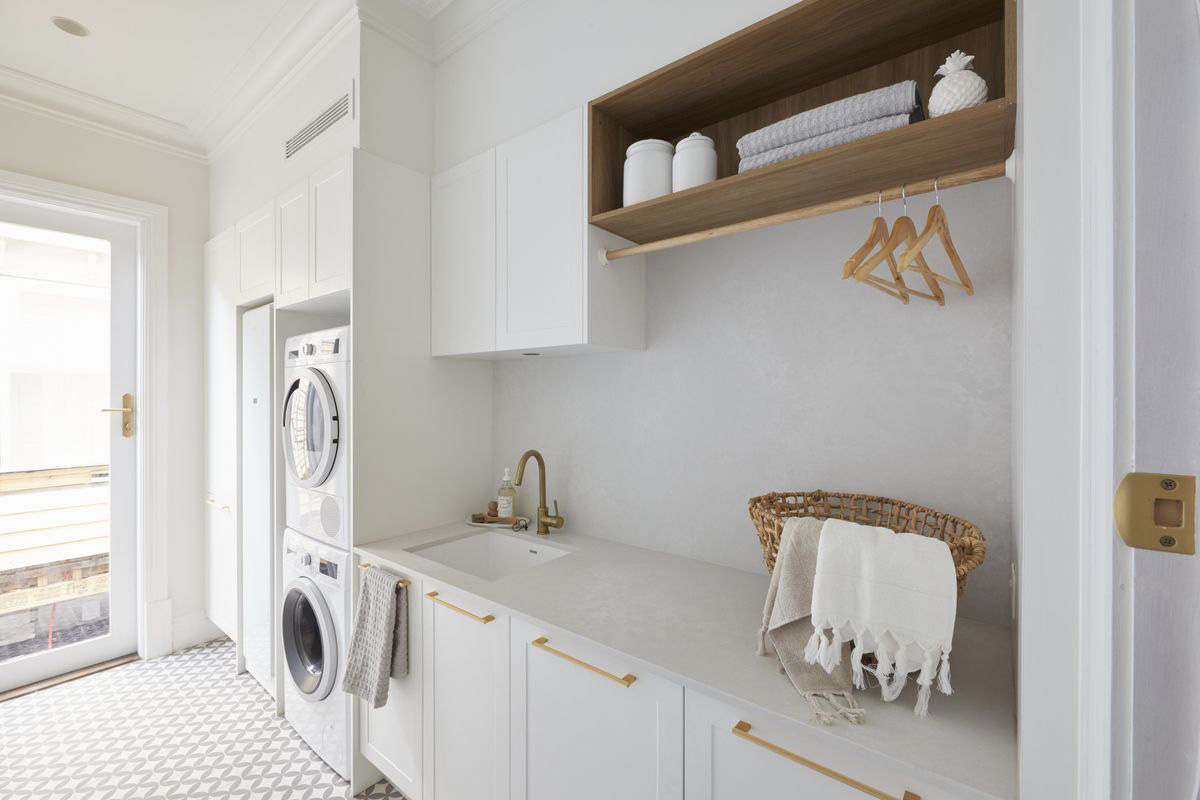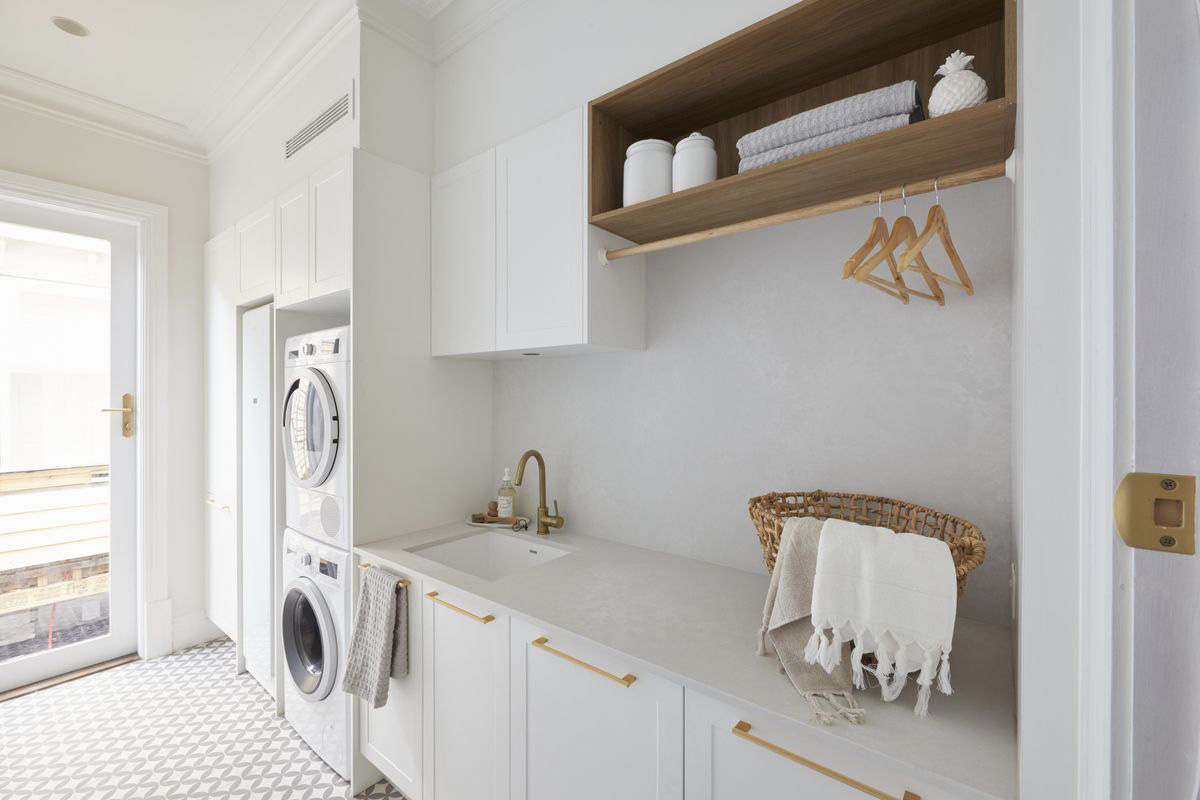 The reality is our homes are getting smaller so think about clever storage solutions to make the most of the space you have.
What other great storage solutions do you have in your home? I'd love to hear. Post your replies below.
Until next time,
Cherie x