$2,000 Boho Bedroom Makeover
This bedroom project is the first step in the transformation of Mick my chippie's unrenovated home in Sydney's west. Recently married, Mick and his new wife Joanne bought this modest brick house just one month ago, so they have their work cut out turning it into the dream home it will undoubtedly become.
With Mick's tradie background and Joanne's creative flair, I've got little doubt this ugly duckling will find its wings, but to spur them on, I decided to tackle their gloomy master bedroom first – on a $2000 budget in just 48 hours. I could have done it faster, but tiles do take overnight to dry!
The main issue with their bedroom is that it's bland and uninspiring, with outdated colours, features and zero romance factor! Both Mick and Joanne love the Boho Scandi look (think pale timbers, lots of creamy hues, and textural richness), so I took my cue from that.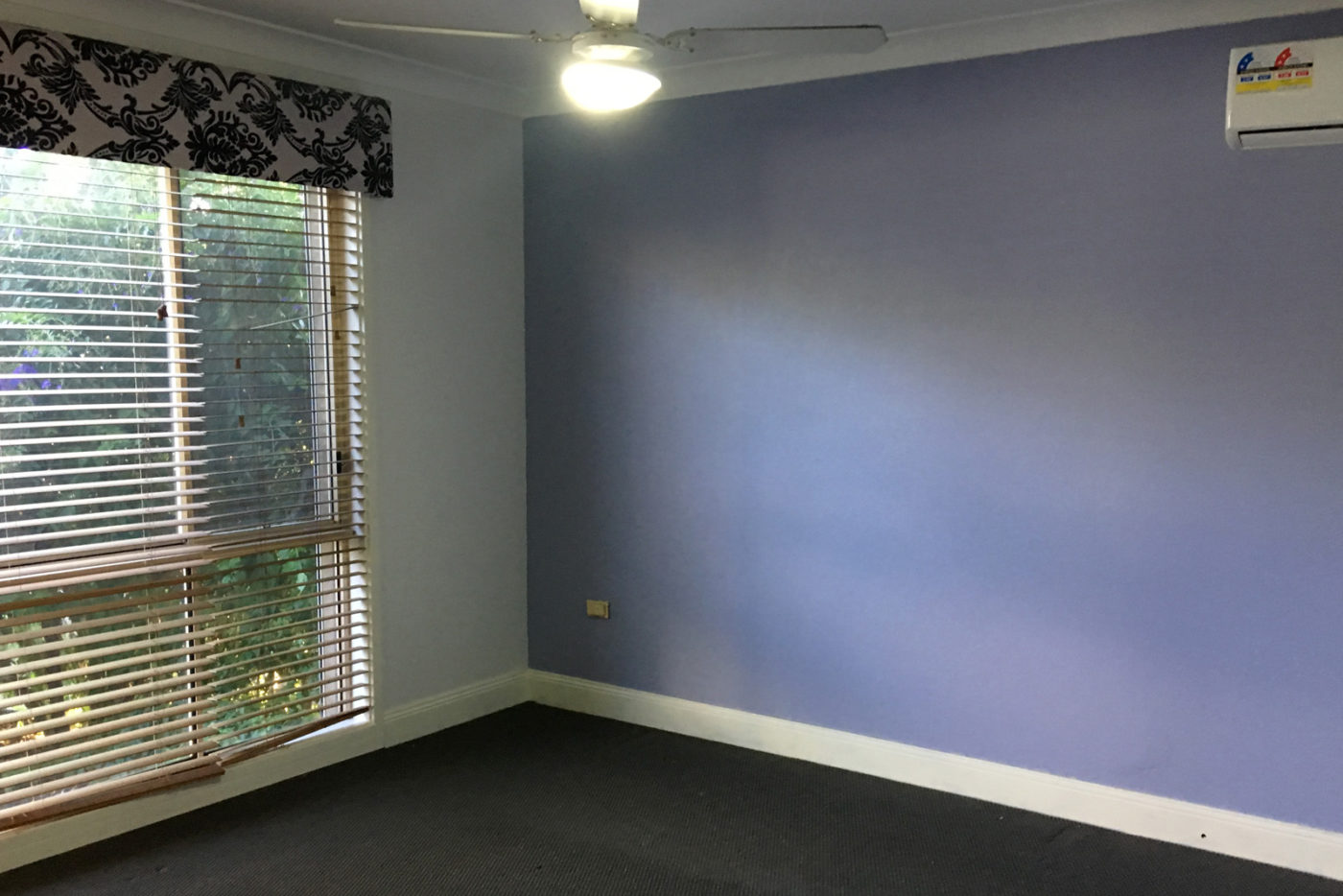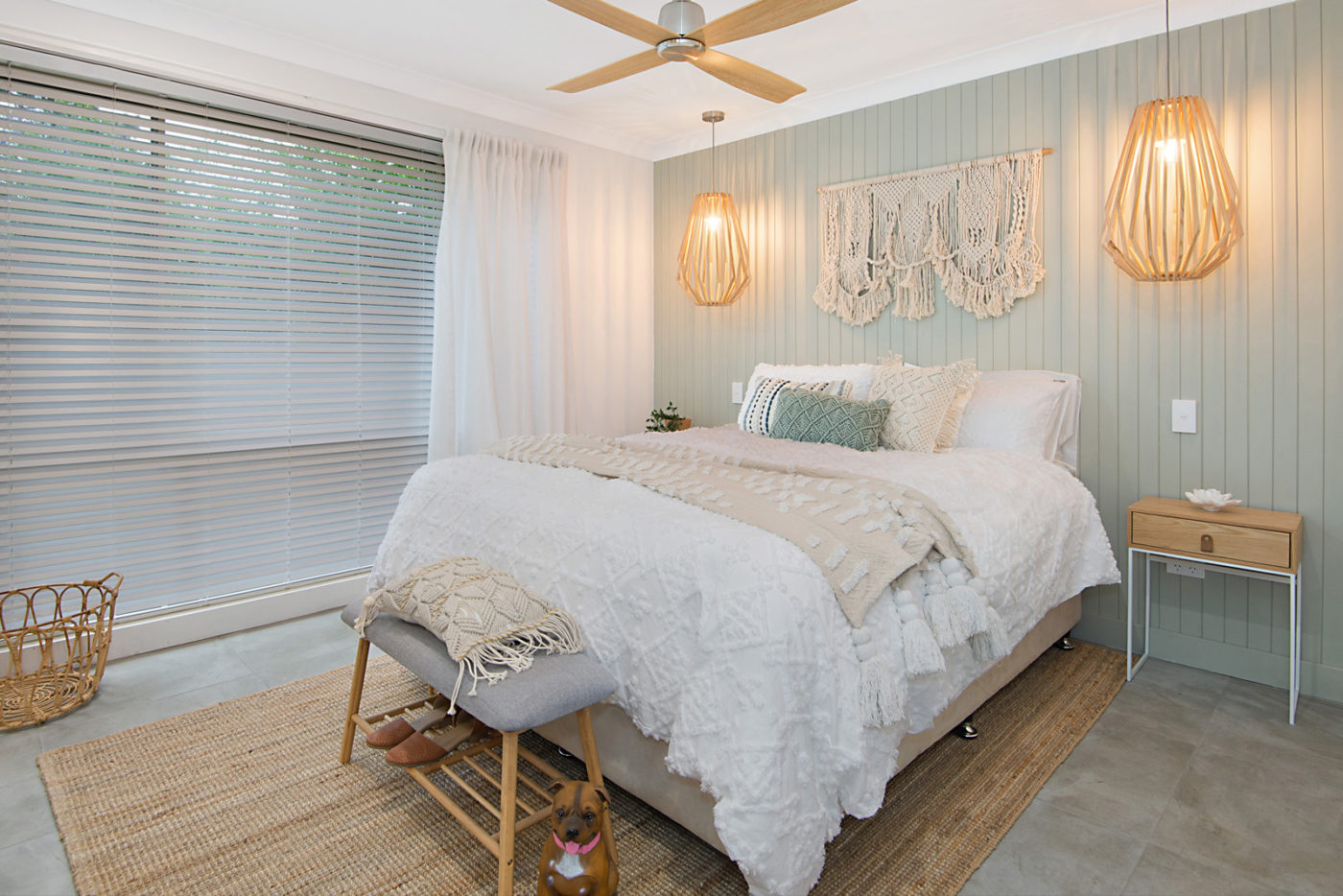 First up, the charmless charcoal grey carpet had to go, and in its place, I've put down some grey matte "concrete look" large-format tiles from Bunnings. At $12.90 per square metre, they don't just look cool; they'll be cool underfoot in the searing summer temperatures of Sydney's western suburbs. It's Joanne and Mick's plan to use the same tiles throughout their whole home. For this bedroom, the tiles will blend perfectly with the lighter tones I have in mind for their bedroom.
make it a feature
For the feature wall behind the bedhead, Mick installed VJ panelling from Bunnings for about $200, which I painted in soothing Taubmans "Sprig of Ivy". Pride of place on this beautiful wall is the crocheted macrame wall hanging that was made by a family member for their wedding and draped over the couple's wedding arch. Post wedding, they can keep dreaming about that special day with this sentimental piece!
The rest of the walls are painted with Taubmans Endure interior paint in "Cotton Sheets", which I also extended to the interior of the wardrobes, covering the racy red wall colour the previous owners had sported.

Light my fire
Lighting is just so important in a bedroom and this one suffered from just one lonely fan light. In Scandi style, I lashed out on two "Stockholm" feature lights from Beacon Lighting, scored in their 25% off sale for $323 each.  They hang either side of the bedhead and are on two separate switches so that Mick and Joanne can control their own lights. Think feature lights, his and hers style. The addition of two LED ceiling lights provide the practical ambient lighting every bedroom needs.
The ugly split-level AC that dominated the bedroom feature wall was strategically relocated to the hallway for better cross-flow ventilation into more rooms. The window pelmet and dull timber blinds were replaced with  dreamy white sheer curtains from Leuvia and an off-white timber venetian from Blinds On The Net.
and now for the romance…
With all the painting and fixtures in place, it's time for the trimmings. In a bedroom, styling is everything. It's your private sanctuary that you want to cocoon in. A jute rug from IKEA softens the grey concrete-look floors. Layers of lush bedlinen from Adairs provide the romance; the hero is the Casablanca quilt and Boho throw. The side tables are also from Adairs.
However, the trick with styling is not to exactly replicate what you see, but capture the essence of a certain look or feel that resonates with you, then go shopping for your own personal take!
To see how this project came to life, and as featured on Channel 9's Today Extra, have a look here:
See our Interior Design For Profit course to learn all about how you can style a property for maximum profit.