4 Mini Makeovers on a Shoestring Budget
For those who think I've been a bit quiet on the renovation front lately, this week I thought I'd bring you a round-up of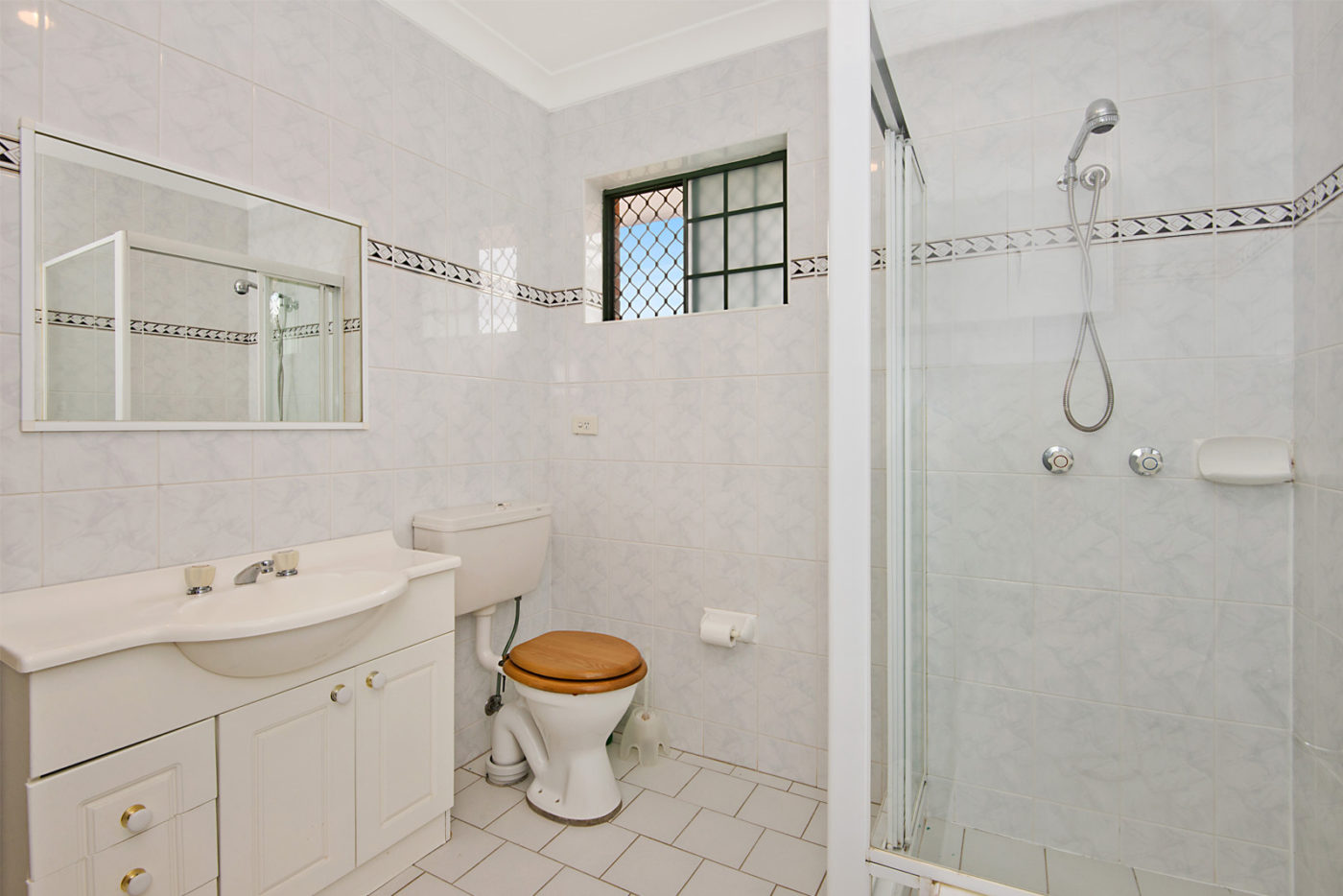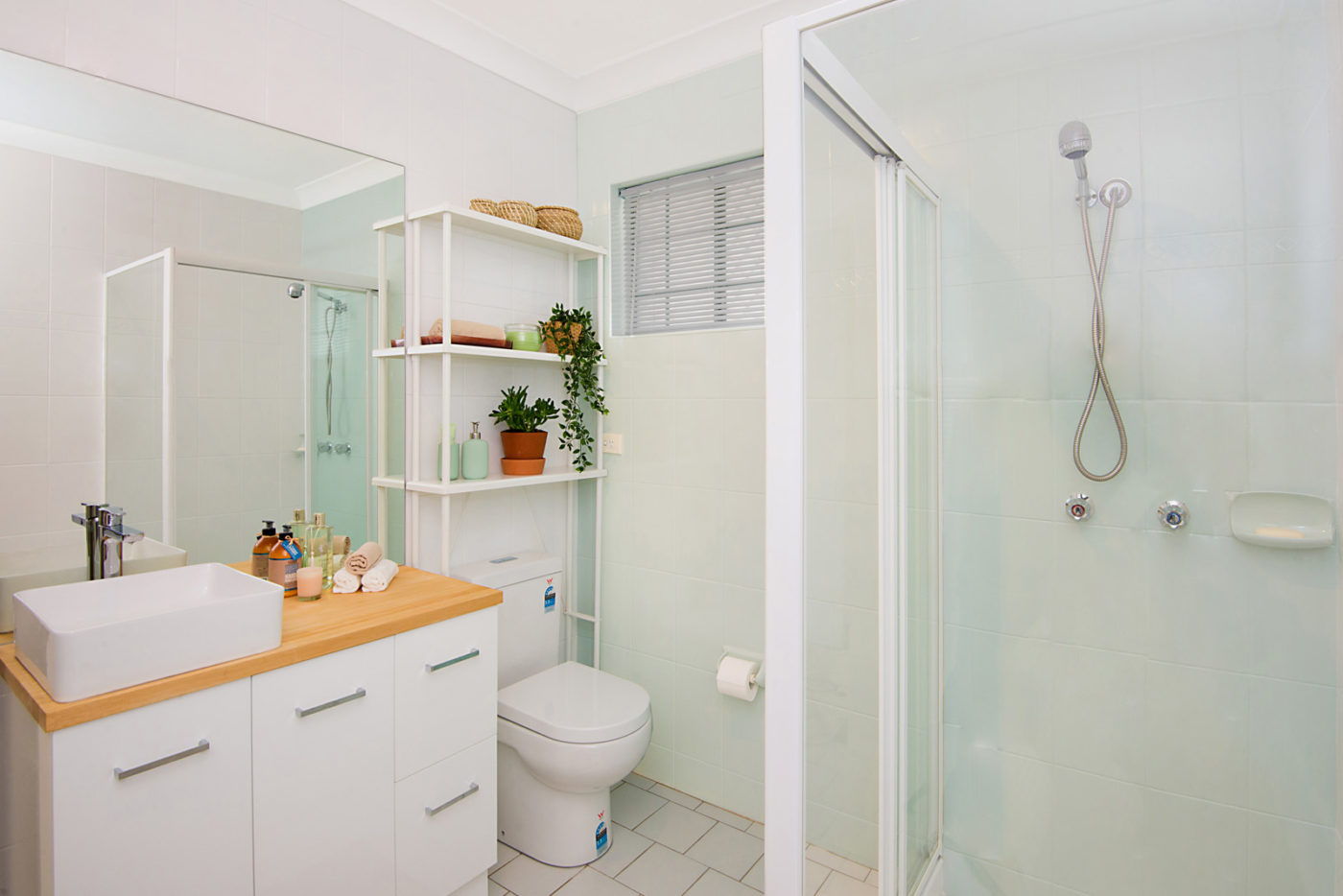 just some of the makeovers I've been busy with.
As many of you know (especially those who follow me on Facebook), I'm a regular on Channel 9's Today Extra show. Here are just 4 recent TV makeovers I've done on super-tight budgets.
BATHROOM MAKEOVER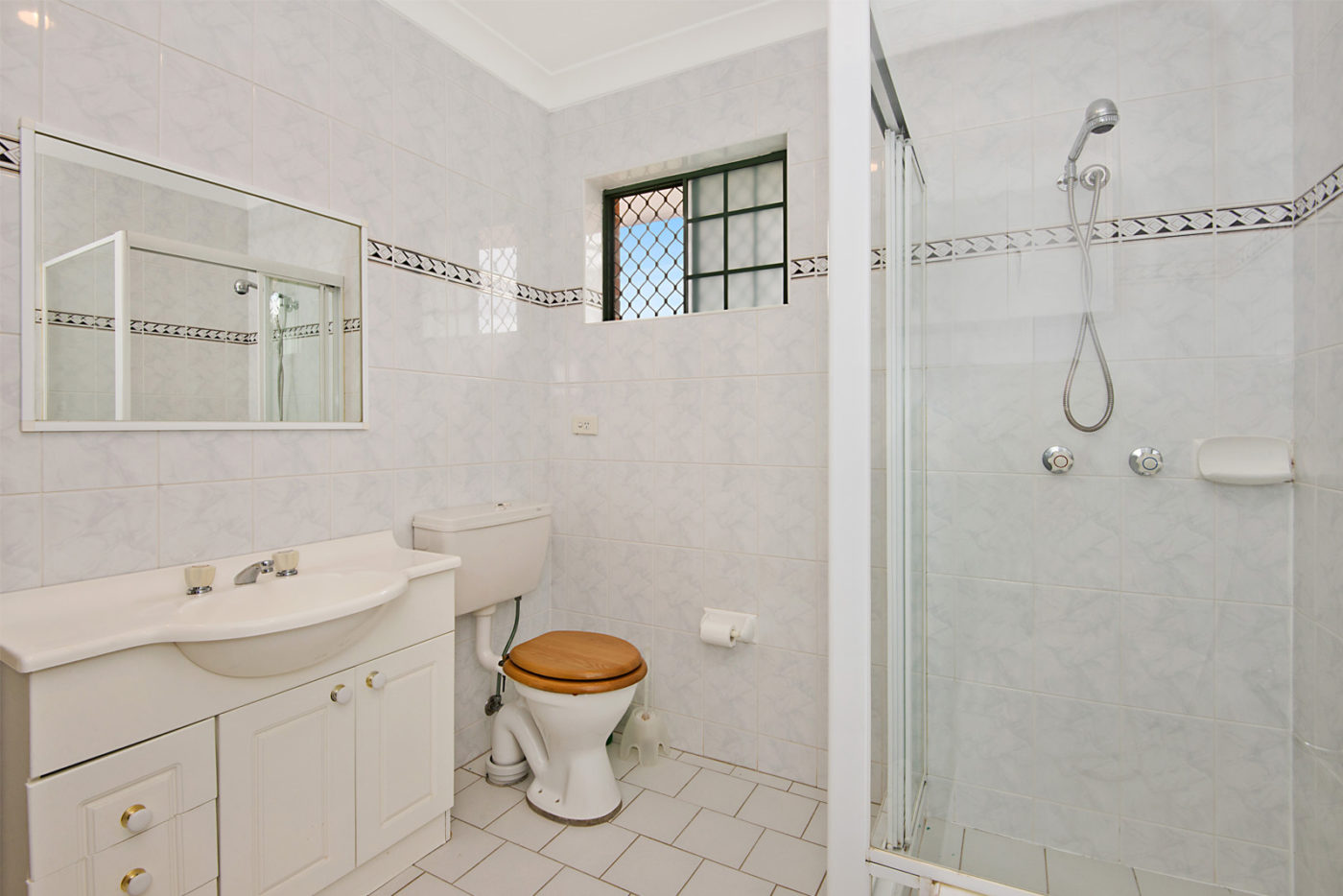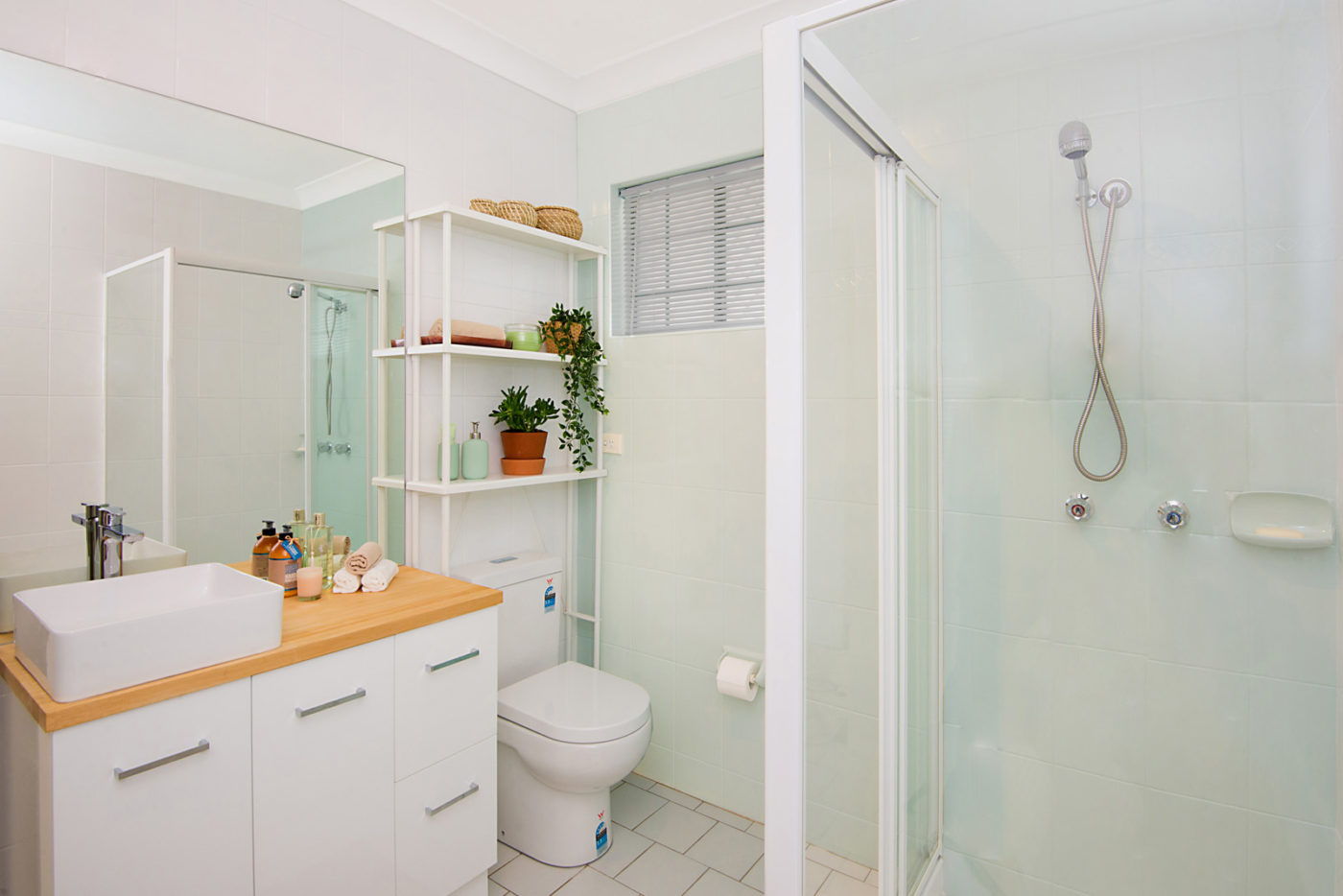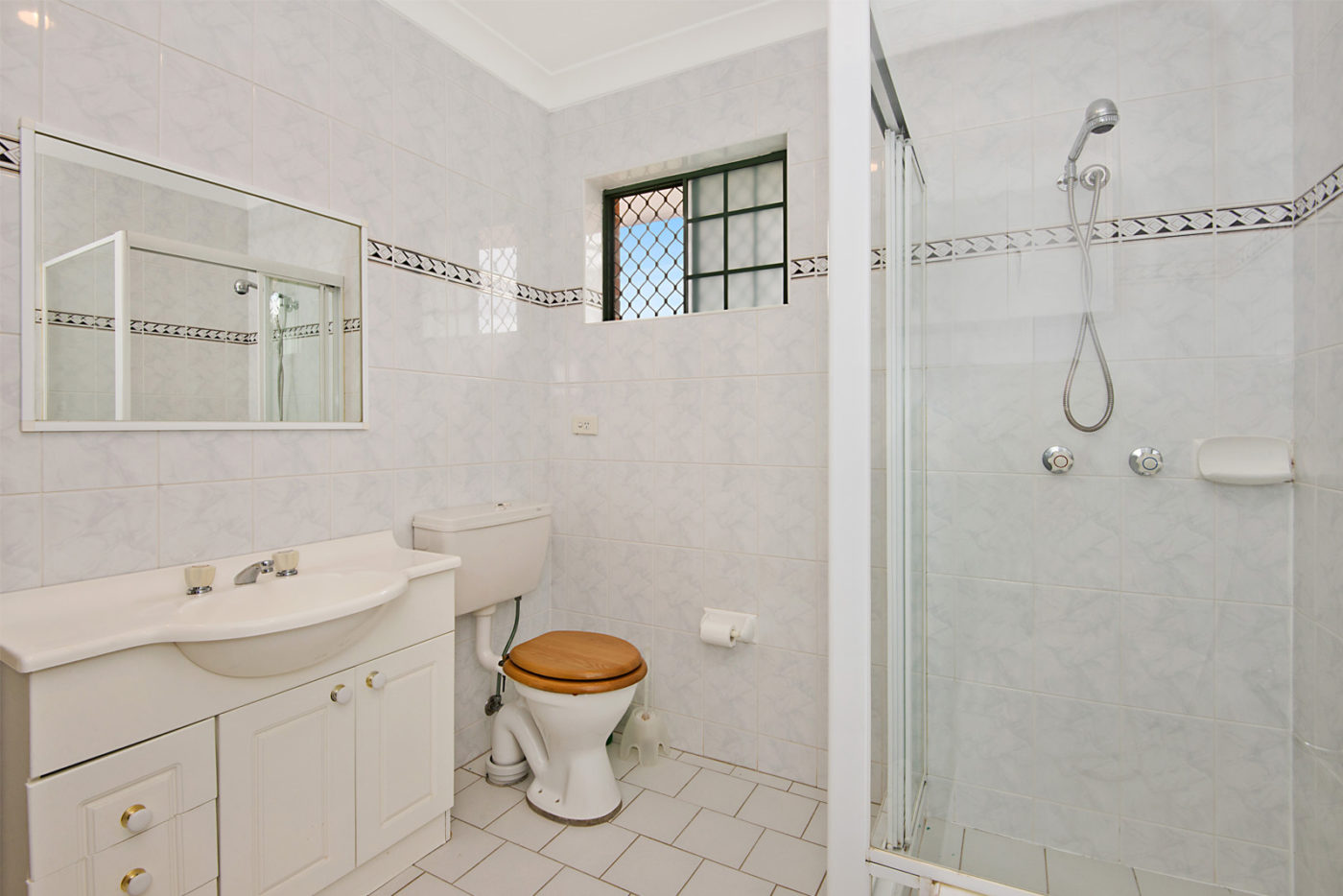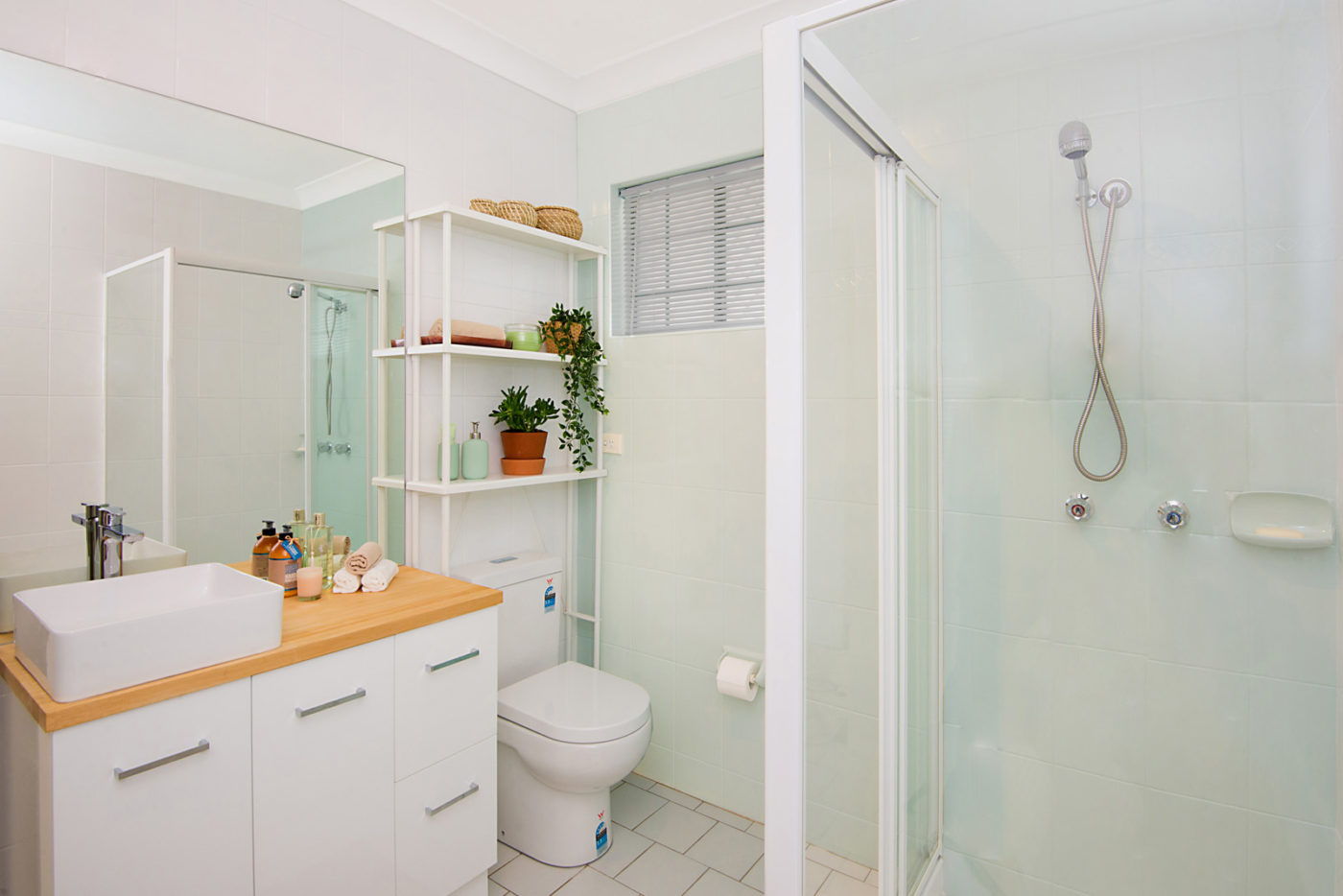 The old semi-recessed vanity, original toilet and speckled printed wall tiles really weren't doing this bathroom any favours. Practical storage space wasn't in bountiful supply either.
While it was a huge job tile painting all those floor-to ceiling wall tiles with White Knight® Tile Paint, it did completely change the look and feel of this bland 80s bathroom, instantly giving it a fresh modern feel. A quick stop at Bunnings got me a new toilet, flatpack bathroom vanity, basin, timber benchtop and blind. A not-so-quick stop at Ikea saw me purchase this super practical storage rack that now provides storage above the toilet, which is often overlooked as dead space.
A big oversized mirror successfully bounces light around the bathroom, increasing the sense of space within the room.
All up, I spent under $2,000 for all materials & labour. The strategy of cosmetically renovating the bathroom (instead of ripping out & replacing the bathroom) meant costs were kept at a minimum, important for this homeowner's rental returns!
KITCHEN MAKEOVER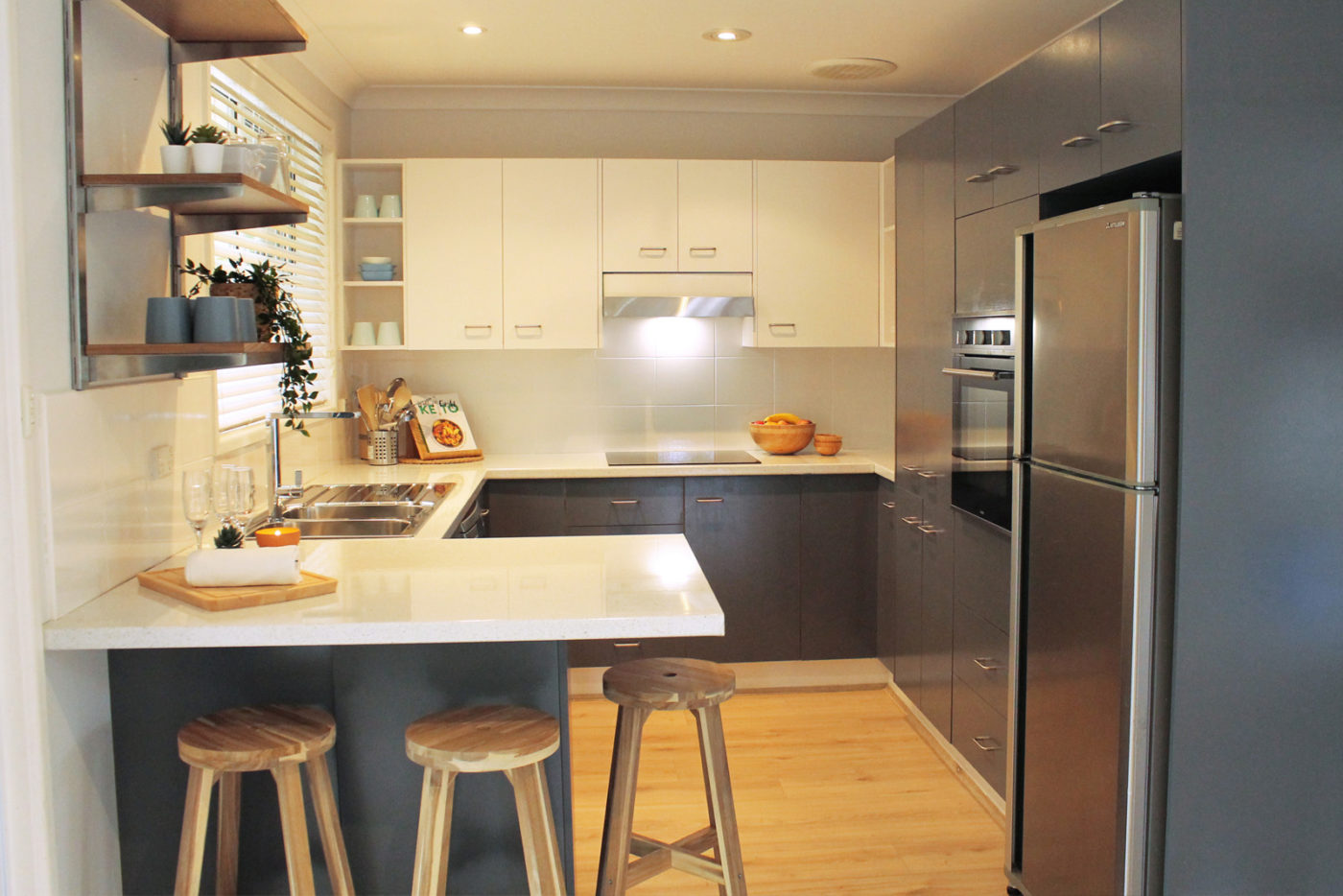 I love tackling old kitchens that are structurally in good nick but showing their signs of age. Layout wise, everything was in the right place. It was just those beige coloured cabinets, matching benchtops and the dated appliances that really dated this old timer. Time for a refresh and a new modern colour scheme. "Dark grey please," said the homeowner.
As with any cosmetic refresh of a kitchen on a tight budget, White Knight® Tile & Laminate paint was a game changer. To ensure the kitchen wasn't too dark and to give it some element of contrast, I decided to go for a two-tone look, laminate painting the base cabinets in Taubmans Endure® "Oil Shale" and Taubmans Endure® "Crisp White" on the upper cabinets.
The old benchtops were in great condition. Again, they could have been laminate painted but I decided not to go down this path on this renovation. Instead, I swapped the old benchtops over for new off the-shelf laminate benchtops that mimicked the look of stone benchtops.
There was no hope for the daggy old brown appliances so I replaced those with a brand spanking new cooktop, oven, range hood & dishwasher appliance package which I picked up for just $1,100 from Appliances Online. Buying your new appliances as a "package deal" is always more cost effective than buying your appliance individually.
And let's not forget the finer details – new cupboard handles, an Ikea storage rack, and some better styling accessories to complete the look. All up, this kitchen was made over for just $3,500, inclusive of all materials & labour. The homeowner loved it!
BEDROOM MAKEOVER
Bedrooms should be a welcoming, seductive space that you want to cocoon in at the end of each day. You'd have to agree this one was anything but! Those cold floor tiles and cream walls made the room look oh so bland. Whilst of a decent size, the whole room lacked real personality. It's fair to say, this room had no soul.
My first port of call was a few licks of paint to give the room some depth. I opted for grey-coloured walls (Taubmans Endure® "Stormy Shadow") then teamed the room with navy-coloured block-out curtains for contrast. You'll notice I've continued the navy-coloured theme through to the bed linen for design cohesion & other elements which ties the look together.
Out went the old, mismatched pine furniture, replaced with an inexpensive bedroom furniture package from Fantastic Furniture. A large bold-coloured rug in navy again, softens the room from the harshness of those floor tiles, injecting more personality into the room.
There was no hope for the old ceiling fan so I swapped it out for a modern one with basic styling items completing the look. All up, this bedroom was made over for less than $2,000 (inclusive of all materials & labour) and done in just one day's hard yakka!
DINING ROOM MAKEOVER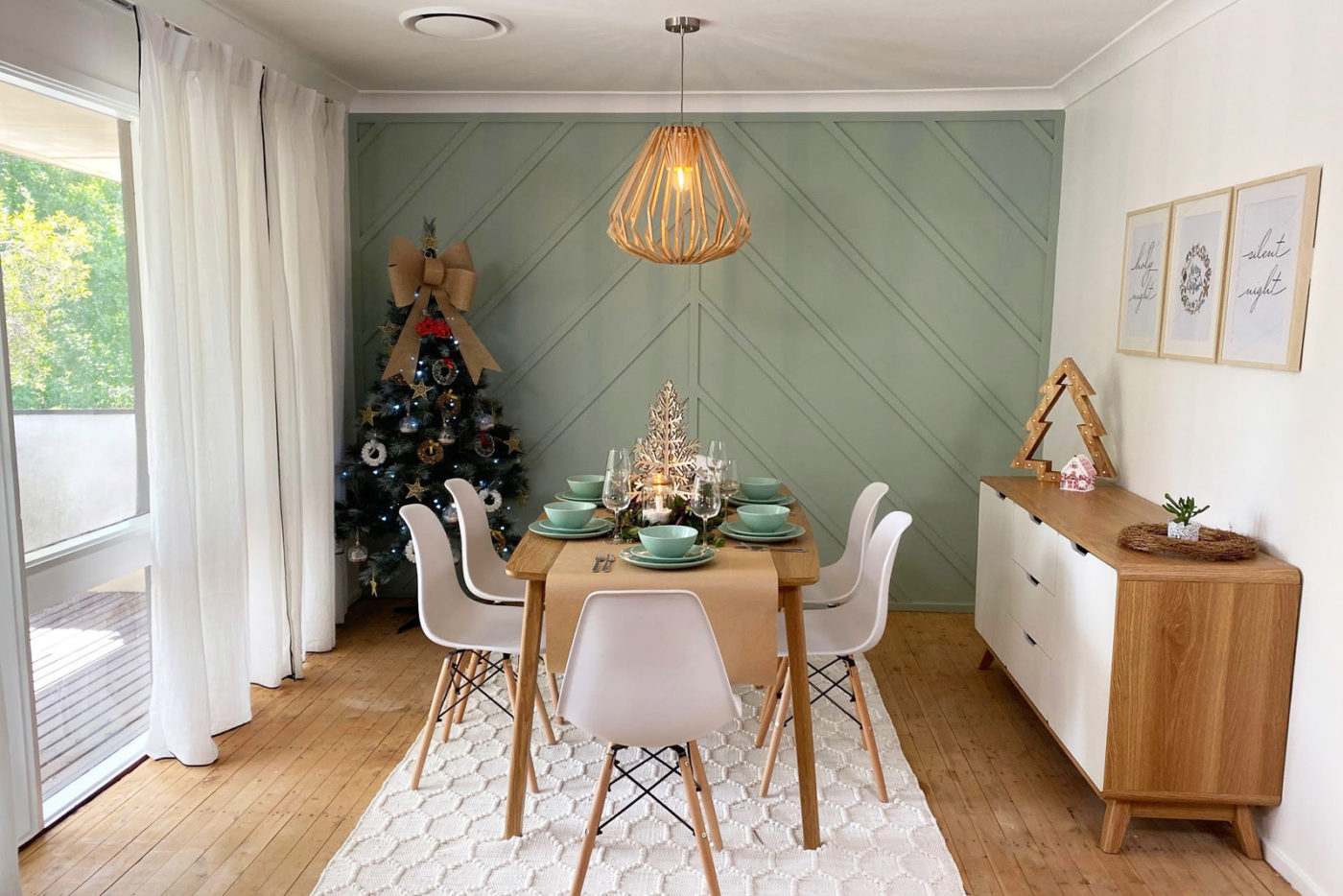 Talk about a blank canvas! The owners of this cute retro style home hadn't yet got to their dining room renovation. For this Christmas-themed living room makeover, I opted for a Scandi look, with lots of blonde timber, soothing creams and a textured rug to accommodate the 6-seater table. In fact, I was really lucky to have those slimline timber floorboards as a foundation for my Scandi theme.
When I first saw this room, it was super obvious that back wall was prime real estate for a beautiful feature wall. Quite simply, I could have just painted it, but I did go one step further (playing on the retro theme) and decided to nail & glue basic MDF timber strips to the wall. I then painted the whole wall in Taubmans Endure® "Sprig of Ivy", (one of my personal favourites), a lovely green that brings the outdoors in.
You'll notice the furniture is different. I opted for a Fantastic Furniture Dining Room package in oak colour that was more in line with the colour tones of the floorboards. The homeowners' existing dining table was a dark timber, tonally the wrong colour so that soon after, made its way onto Gumtree!
Orientation wise, the old dining table was placed the wrong way, cutting off the room and making it difficult for anyone to navigate around. I simply flipped the new dining table the other way around, opening up the room for better manoeuvrability, whilst still squeezing in additional cabinetry for extra storage.
Lighting wise, there wasn't much going on in the room prior. I added a gorgeous timber ceiling pendant from Beacon Lighting over the table to help add visual interest to the room. It also provides mood lighting for those long dinner parties! Last but not least, Leuvia White Sheer curtains added softness to the room whilst still allowing all that gorgeous natural light to filter in through the space.
Cost wise, this room came in under $3,000, all materials and labour. It's an easy project anyone could do in just 1 weekend. What are you waiting for?