5 Trends That Make a Bathroom Beautiful in 2021
In decades gone by, bathrooms served a largely functional purpose. Practicality reigned over aesthetics, often making the tiniest room in your home "boring & bland", "cold & clinical". Boy, how that all has changed!
In the last 5 years, it seems a bathroom revolution has been quietly going on. This tiny room has now become high fashion stakes, where functionality, form & aesthetics reign supreme. Homeowners are getting increasingly more adventurous in this room, recognising it has a far greater purpose other than taking a shower or a quick wizz!
COVID-19 and especially the rise in the amount of time people now spend at home, has seen this room go from strength to strength. More so than ever, it's a place of personal refuge & relaxation. More attention to detail therefore is going into beautifying it.
Here are some key bathroom features that are currently wowing us in 2021:
1. The Comeback of Colour
Let it be known, all white bathrooms have left the building. We no longer want sterile & safe. Colour is officially back, big time.
In 2021, homeowners are embracing colour like never before. We're seeing bold colours in baths, basins, tapware and even walls but bright colours are also common, including pink, yellow, orange & green.
Colour is also coming through in every other way possible too, in vanity basins cloaked in metals such as copper, patterned wall tiles, bolder shower screens, graphic wallpaper, wall art & generally in the furnishings used in this room.
As homeowners get more adventurous with their bathroom design & colours, a more eclectic approach to tapware is emerging with mixed hardware finishes becoming a trend.
Traditionally chrome has been the safe, consistent colour choice for the bulk of bathrooms but this has given way to tapware in various metal finishes such as nickel, pewter, bronzed & aged finishes. Industrial style taps have made a comeback in 2021.
2. THE CREATION OF WARMTH
We all know that earthy colours & textures really do add warmth to a bathroom, ridding it of that sterile feel. The use of natural elements has therefore been gaining momentum. While timber has been used for ages, untreated timber is also growing in popularity to create an organic look, as well other natural materials including stone & plants. The concept of biophilia (the theory of how we as humans are innately attracted to nature-based elements) is also making its way in droves in everyday bathrooms. Everyone wants their bathroom to be Insta-worthy & nature based schemes tick all the right boxes.
Warmer colours that are intrinsically linked to the earth & nature such as terracottas & caramels are also being incorporated, as well as greens to create that essential link to the outdoors.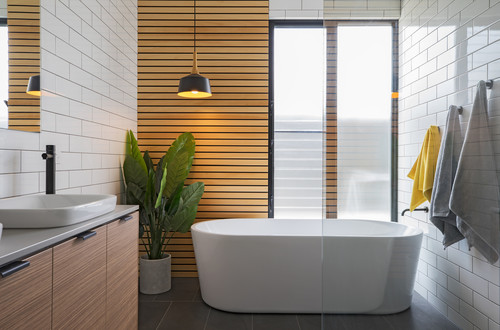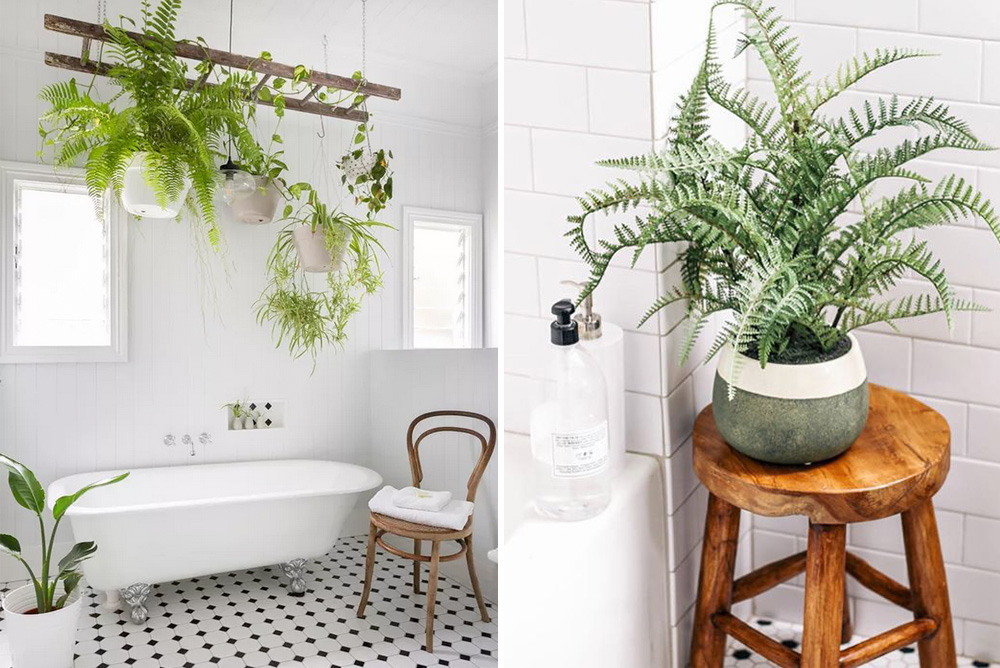 3. OUT OF THE BOX MIRRORS
Square or rectangle mirror? Boring!
It's fair to say, large rectangular or square mirrors, fixed above your vanity are almost a thing of the past.
Circular, oval, diamond & arched shaped mirrors are all good options for beautifying your bathroom in 2021.
His 'n' her vanities teamed with matching mirrors overhead creates a striking look, particularly if you play with different shapes. They can also be extra functional if you choose mirrors with concealed storage behind.
Technological advancements that can also help you create the 'wow' factor in your bathroom are backlit LED mirrors which can look amazing against a bold coloured wall. Defogging functions are an added bonus if you can afford them!
4. SOPHISTICATED LIGHTING
Mirror lighting is one thing, but statement lighting is also being widely used over vanities, on walls & even over baths.
Wall scones, either in singular or multiple options, seem to be in every social media bathroom reveal these days as well as statement lights such as pendants & chandeliers.
Backlit lighting in logical places continues to remain popular but is dictated for many, by the availability of your budget. Not only does statement lighting look good but it's super functional. It's also great for creating ambience in a small room.
5. LUXURY FEATURES
With less opportunity for all of us to travel over the past year & therefore stay in luxury hotels, people are bringing that vibe into our home bathrooms for that instant spa-like feel.
At the extreme end of this is steam rooms & saunas, but a freestanding soak-worthy tub is another great inclusion. Not only do they look great, they really do help us relax. Flat-bottom tubs are being chosen over clawfoot tubs, suiting most bathroom styles.
Besides the use of earthy tones & materials, the luxury, relaxed feel can also be attained through the use of large-format wall tiles, which continues to be a key bathroom trend in 2021. These tiles can be incredibly striking & more aesthetically pleasing by having fewer grout lines.
Floating vanities are also going through a thing right now. They're a luxury inclusion that not only creates a very aesthetically pleasing look in your bathroom but also create a perception of space in your bathroom (the airspace underneath your vanity achieves this).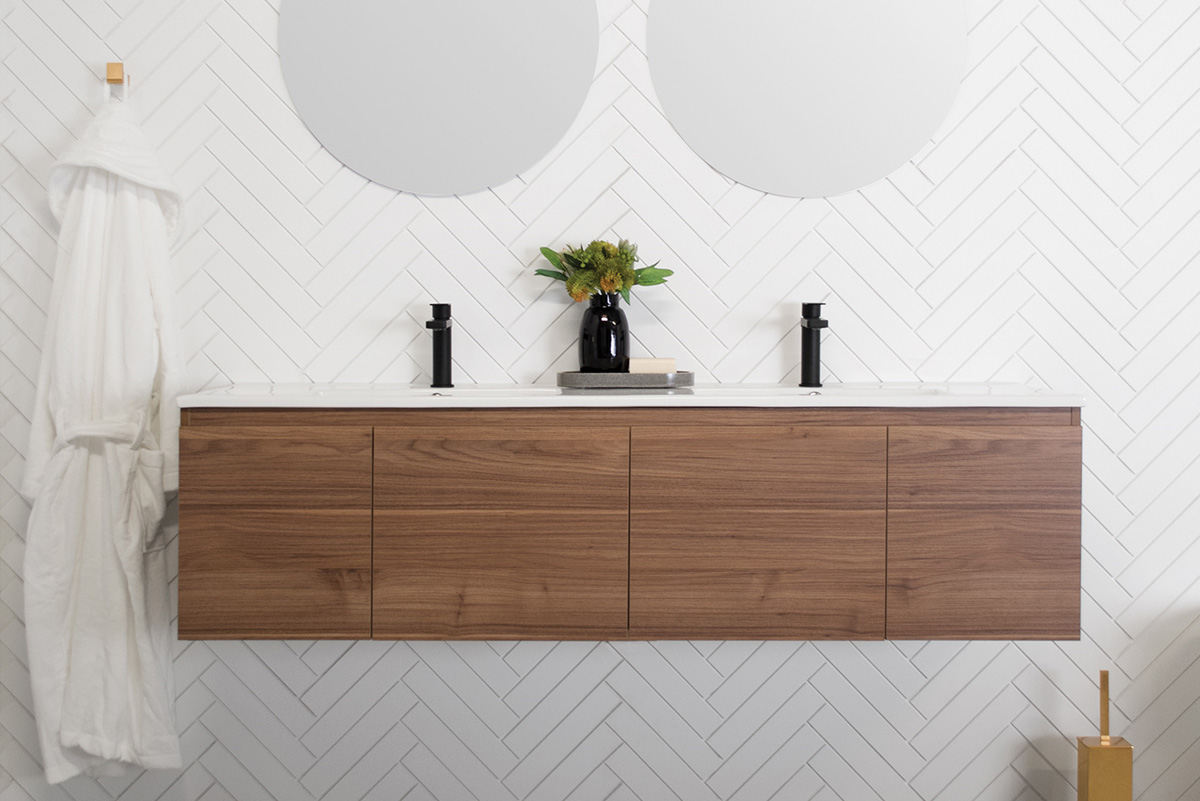 At the end of the day, one thing is for sure… there's certainly no rule book for what you can & can't do in your bathroom renovation, you're only limited by your imagination & budget!
If it's your forever home, knock yourself out & do whatever you want, you've got to be happy in your space. But if it's a property you might be selling down the track, you might want to pull back a little on the wild stuff so as to not polarise any potential buyers.
Would love to hear your thoughts on where you think bathroom trends will continue to head in 2021 & beyond.
Much love,
Cherie x
---
Hero image: Photo by Christian Mackie on Unsplash