Beautiful Bathrooms On A Budget
Sounds too good to be true, right? Well it's not! Full bathroom remodels – where you rip out and replace everything, often cost in the average price range of $6,000 to $12,000 depending on the size and quality of your bathroom. And if your bathroom can't be salvaged, the general rule of thumb is to allocate 2% of your current property value as your new bathroom reno budget. This means, for a property valued at $500,000, your total spend should be $10,000 for everything and not a cent more.
But what do you do if your budget simply doesn't stretch that far? Get cosmetically creative! Whilst your bathroom may appear tired and out-of-date, it's probably not worn out or dysfunctional and may simply need nothing more than a quick cosmetic refresh.  You too can turn an old, drab bathroom into a modern day masterpiece with easy and inexpensive cosmetic enhancements! Read More
Bathroom Renovation Ideas
Content coming soon.
TILE PAINT
If you're budget doesn't extend to professional resurfacing, roll up your sleeves and do-it-yourself. Tile paint is designed to give dated ceramic tiles, especially those colourful, embellished tiles from the 60's & 70's, a new lease of life. Old tiles can be rejuvenated without the cost of re-tiling. Tile paint is inexpensive, hard wearing, easy to use and tintable to thousands of colours in the Taubmans range. My favourites: White Knight™ Tile Paint and Rustoleum™ Tub & Tile Refinishing Kit™.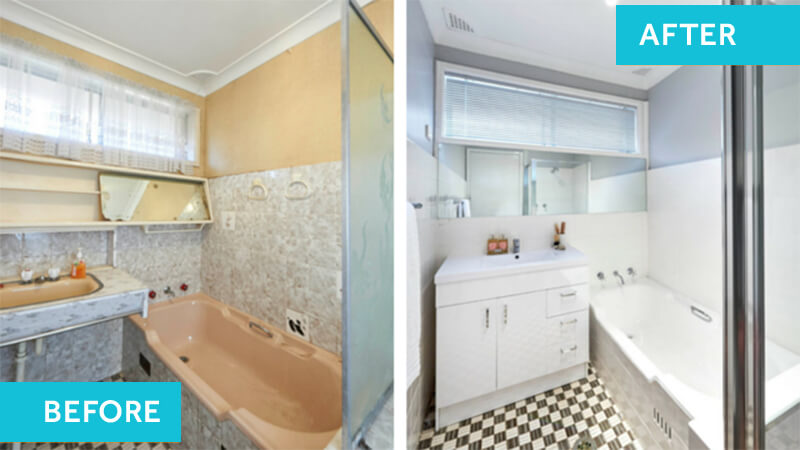 FLOOR TILES
Sadly, old floor tiles can't be resprayed or tile painted so new tiles are the way to go. Shop around for good quality tiles at a budget price though. Online auction houses like Grays Online (www.grays.com.au) are fantastic for snagging yourself tile bargains from as little as $9.00 per metre square. And remember, always use darker coloured tiles on your floor (to hide scuffing, dirt and hair) and matt finish, not polished tiles, on your bathroom floor, due to the slip factor.
CAMAFLOUGE YOUR CABINETS
Dealing with a vanity that's seen better days? One of the easiest fixes that makes a huge visual difference in your bathroom is to paint your existing cabinets. It's a great way to update a look for less than $100 in paint and sandpaper, if you do the work yourself. White Knight™ Laminate Paint or Rust-oleum™ Cabinet Transformations Kits work a treat. And don't forget, replace your old cabinet hardware with new stylish handles to complete the look.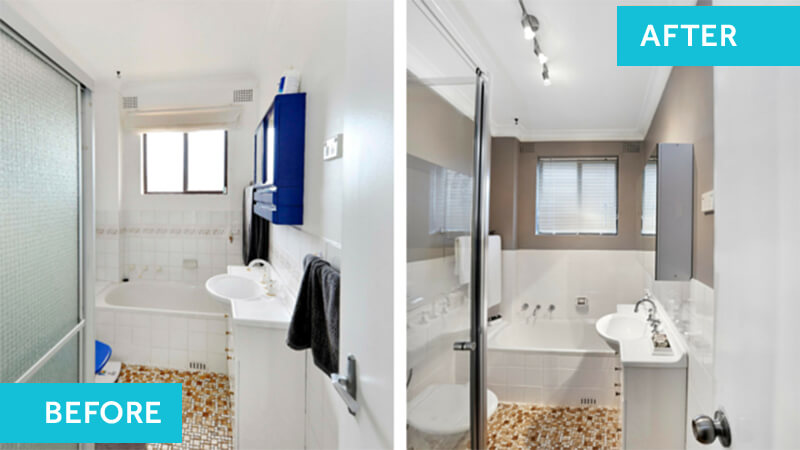 TARNISHED TUBS & SINKS
Crisp, white bathroom surfaces are the way to go but if you're dealing with an out-dated avocado-green bathtub or sink, there's still hope for you. Don't rip out, remodel. If you can't afford the professional resurfacers, roll up your sleeve and DIY. Tub & Tile paints refinish bath tubs and sinks with gleaming new colour, hiding previously discoloured or unsightly surfaces. Try  White Knight™ Tub & Tile Paint or the Rust-oleum™ Tub & Tile Refinishing Kit™. Both these products will do the job – not for you though!
TERRIBLE TOILET
Got a crappy looking toilet? Excuse the pun. Yes, this can be professionally sprayed too. If you're budget doesn't extend that far, just replace the toilet seat instead. Replacement toilet seats cost less than $20.00 from the big hardware stores and can help this fixture in your bathroom look a touch bit nicer.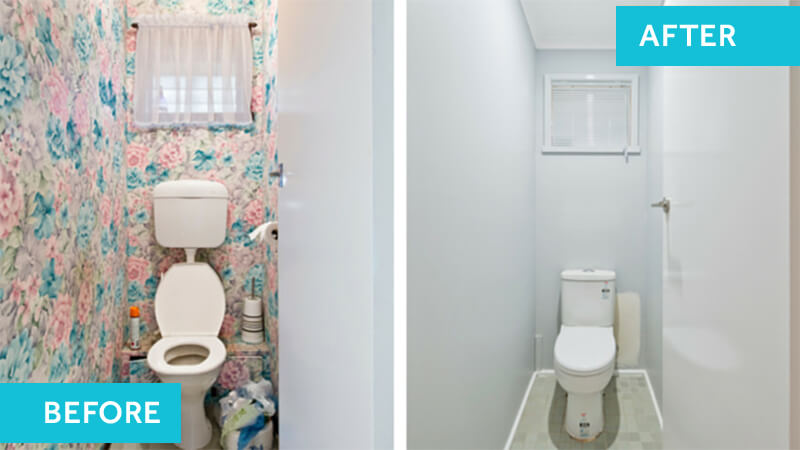 WAKE UP YOUR WALLS
Painting is a simple do-it-yourself weekend project that can transform a room for not much cost. Buy mould and mildew-proof paints for your bathroom as it's a wet environment. And remember; keep paint colours on the lighter side so they don't close in the room. Add colour to your bathroom with accessories – new towels, soaps, and candles.
MIRROR, MIRROR
The average Australian home doesn't have a massive bathroom but small changes can be made to make it appear larger.  Remove small shaving cabinets and replace with larger mirrors. The larger the mirror, the more light and colour it reflects, making the room seem bigger. It's just an illusion which helps to add a touch of luxury, making getting ready for work slightly less painful.
FISCAL FIXTURES & FITTINGS
If there's no hope for your old taps, towel rails and toilet roll holders, then replace but don't pay full retail. Don't walk past clearance tables or ignore supplier sales! I've picked up the best bargains for my renovation projects by spending time digging through the duds to find the diamonds.  Recently, I purchased an entire bathroom of fixtures and fittings for next to nothing. By chatting with the store staff about the products I was after, I discovered they had some ex display items from a discontinued line, they were willing to sell at a heavily discounted rate. Also look for the fake clones, knock-offs of the more luxurious designer brands. A classic example of a designer knock-out. These bathroom basins look not too dissimilar yet have a massive price difference.
SNEAKY STORAGE
Bathrooms are typically not the best room for storage. Hide away your lotions and potions with off-the-shelf not custom cabinetry. Hunt down the low cost but good quality bathroom storage cabinets from stores like Ikea or Bunnings. And if you want to save a few bucks, buy a do-it-yourself assemble, flat pack cabinet rather than an already assembled one. Ikea's Lillangen Mirrored Shaving Cabinet is a shallow cabinet, ideal for limited bathroom spaces. Retail Price: $70.00.
So the secret is out; cosmetic bathroom upgrades can be fun and affordable.  And the good news is that your efforts in this room should be handsomely rewarded with a typical return on investment of $5.00 for every dollar spent. Read More
Looking for Bathroom Renovation Ideas?
You've come to the right place! Renovating your bathroom can feel like a massive project, but here at Renovating for Profit we have some handy bathroom renovation tips to help you break it down and tackle it bit by bit.
Major Benefits of Renovating Your Bathroom
Renovating a bathroom is a great place to start if you're looking to reinvigorate your whole house, as a beautifully presented bathroom will always add value to your home. In fact, there is a whole range of benefits to renovating your bathroom.
Firstly you save money on utilities and future repairs by upgrading to more energy-efficient fixtures, replace leaky taps, and repair any signs of damage before they get worse. Secondly you can increase the value of your home for the future. You also add space to your bathroom by reducing clutter and increasing storage through modern, smart-design cabinetry. Most importantly, renovating can help to refresh and modernise your bathroom, creating your own peaceful oasis for you to relax and enjoy.
Our Top 5 Tips for DIY Bathroom Renovation
Think about products like White Knight Tile Paint, which is great if you just want to freshen up dated tiles that are still in good nick. Replacing tiles can be very expensive, by the time you factor in waterproofing, labour and the cost of the new tiles themselves. Limiting the tiling can give an effective look and save on cost. If you've found a tile you love, use it as an accent alongside cheaper tiles. It will still have a major impact, but keep your budget costs down.
Pay attention to your choose of colours – a dark feature wall can add real drama to your bathroom. Using dark greys or a deep shade of your favourite colour can make white fixtures more striking, adding a feel of intimacy and luxury to your bathroom. Alternatively, using light colours will help keep your bathroom feeling light and airy.
Freshen caulk and grout – this can be an important, but overlooked, detail. Giving your grout a good scrub and adding clean lines of caulk around the sink and the bathtub can really freshen up an old bathroom, for only a few dollars. Updating the grout between dark tiles can add a professional, contrasting look to make your bathroom look more stylish.
Creative storage – get rid of cluttered vanity and bathroom countertops with smart-design cabinets. Using hidden drawers and storage can help to house those bathroom necessities that you just couldn't make tidy before. You don't have to stick to bathroom cabinets: repurposing old dressers and shelving can be a great fit in the right bathroom. With a lick of paint, you could have a new home for all your towels or a new drawer for shampoos and soaps.
Think about lighting – rather than having one large ceiling light, use a variety of lighting to showcase every aspect of your new bathroom. Task lighting is especially important for things like shaving and applying make-up, so be sure to include lighting for your bathroom mirror. Natural light, either from a window or skylight, is also desirable.
Learn More on How to Renovate a Bathroom
If you're looking for more help on how to renovate a bathroom, including proven designs and project-management tools for low risk, high reward renovations, why not join the waitlist for our Create Your Perfect Bathroom course, coming soon at www.renovatingforprofit.com.au?
We pride ourselves in providing Australia with the best bathroom renovation courses and courses on how to flip a house, which are focused on helping change lives by achieving financial freedom. If you're interested in our property styling courses be sure to enrol or reach out to us on our contact page.