Big Ideas for the Little Outdoors
Not everyone has a big backyard to get creative with. For many people, especially those who live in the inner city, their "backyard" is limited to a balcony or small courtyard. And just like any outdoor area, without a little design inspiration these can end up barren, wasted spaces, useful for little more than drying the washing. Fortunately, there are plenty of imaginative ways to turn even the smallest space into an enticing outdoor room, simply by using the same styling tricks you'd apply to any room in your house. Here are my top five suggestions.
1. Get practical
If you were decking out a home office, you'd have to think about the practical ways to make the space work: things like positioning of power points and cables, task lighting and how to avoid glare on your computer screen. The same applies to your outdoor room. If your balcony gets blasted by sun in summer and battered by wind and rain in winter, then it's about as inviting as an exposed concrete slab. So you need to think about ways to protect it from the elements. Things like screening, shade sails, sun umbrellas and retractable awnings are all options that can turn an unusable courtyard, deck or balcony into a protected outdoor room you can use year-round.
2. Choose the furniture
Whether it's a place to enjoy your morning cup of tea or entertain a few friends, you'll need somewhere to sit and probably some kind of table. Your main limitation will be the space you have to work with. If it's really cramped, think about collapsible furniture like deck chairs and a fold-away table. Your options are endless if you have room for a fixed table and chairs. Aluminium, rattan and timber are all contemporary, durable choices. Just spend a weekend browsing outdoor furniture shops and pick a style and size that suits your outdoor room – and make sure it blends with your indoor areas. Similarly, there are barbecues these days for absolutely every sized space, and a small Weber can fit virtually anywhere.
3. Get creative
With the practical elements sorted, it's time for the fun bit: injecting some colour and character into your outdoor room. Mirrors immediately enlarge any space, so find a nice, big one you can strategically place to capture the best aspect. Pots take up space which you may not have, but there's bound to be a bland wall you can turn into a vertical garden. Your hardware store would be able to suggest ways to secure pots to a wall fixture, which you can then plant with decorative plants. You could also install a freestanding water feature. If you have a big enough courtyard, it's worth sacrificing space for a striking focal point, like a potted frangipani or large ceramic urn. It's one of a landscape designer's tricks: in a confined area, one big object that draws in the eye will have much more impact than a whole lot of small things, which can simply make it look cluttered.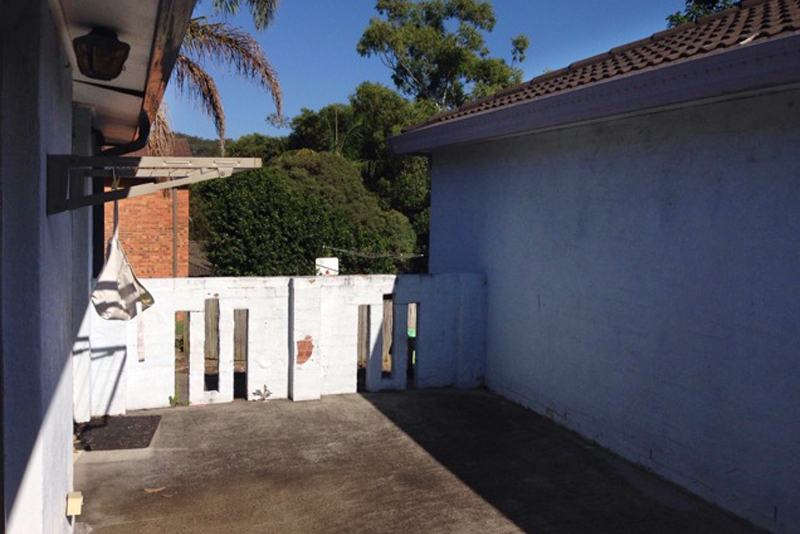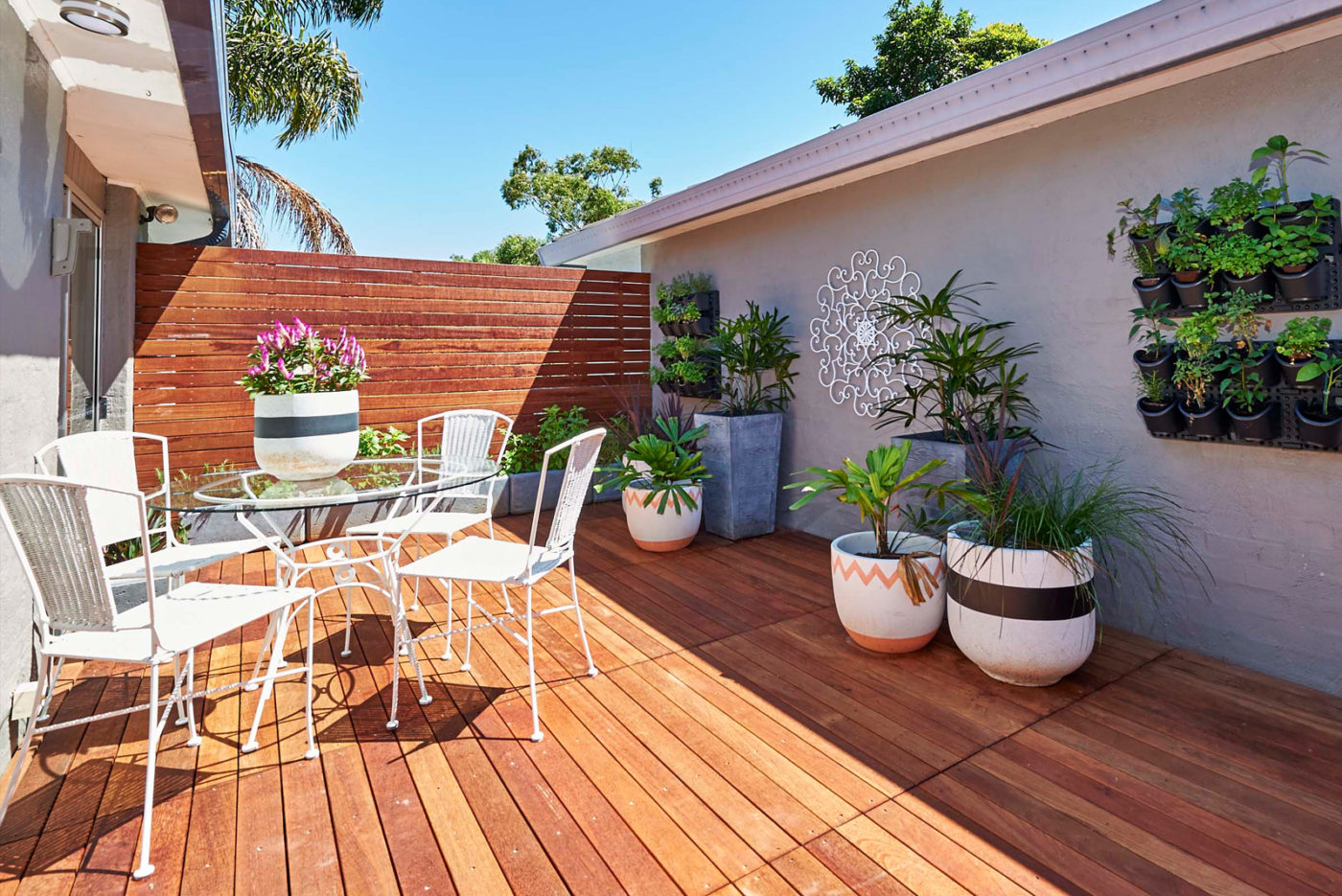 4. Use clever storage
Talking of clutter, you need a way to manage it. And if it can serve a dual purpose, all the better. Bench seating that incorporates storage is a great idea. Just lift the lid and toss in all your seat cushions, gardening tools and other paraphernalia. Under-deck storage also works if there's enough space. Make sure you have a retractable clothes line that folds back out of the way when not in use and a hose that's neatly wound up on a wall-hanging reel. Major hardware stores have loads of storage ideas to keep outdoor areas neat and tidy.
5. Imaginative lighting
Lighting is like fairy dust; it adds the magic to any space. Night time is often when your outdoor room comes into its own and lighting will make it feel intimate and warm. If you don't have access to a power point, you can always use tealights, outdoor candles or even solar lighting to create atmosphere. In a courtyard, use uplighting and downlighting to wash light over the walls and spot lights for plants and trees. Lighting set into the deck or steps doesn't just look great; it also makes the area safer to navigate at night. Fairy lights draped over tree branches or railings give that resort feel to an outdoor room.
The trick with a small outdoor room is to think big, keep clutter to an absolute minimum, and use every last millimetre of space through clever tricks of the trade.