Budget Bedroom Transformation
LIFE CAN THROW YOU A CURVEBALL
Faye is a beautiful, south-western Sydney mum of one, who unfortunately suffered an unexpected marriage split, 12 months prior. So traumatic was the breakdown of this relationship, that Faye could no longer bring herself to sleep in the marital bedroom. Every time she stepped into the room, it reminded her of "them" & memories once had.
Sadly, in the 12 months following the split, her bedroom became nothing more than a dumping ground for household & personal clutter, hardly the personal sanctuary you'd hope for anyone's bedroom.
Faye's situation is not too dissimilar for many people, regardless of whether you're male or female. When relationships fizz out, they hurt & a wide range of emotions kick in so it's totally understandable that people lose their way.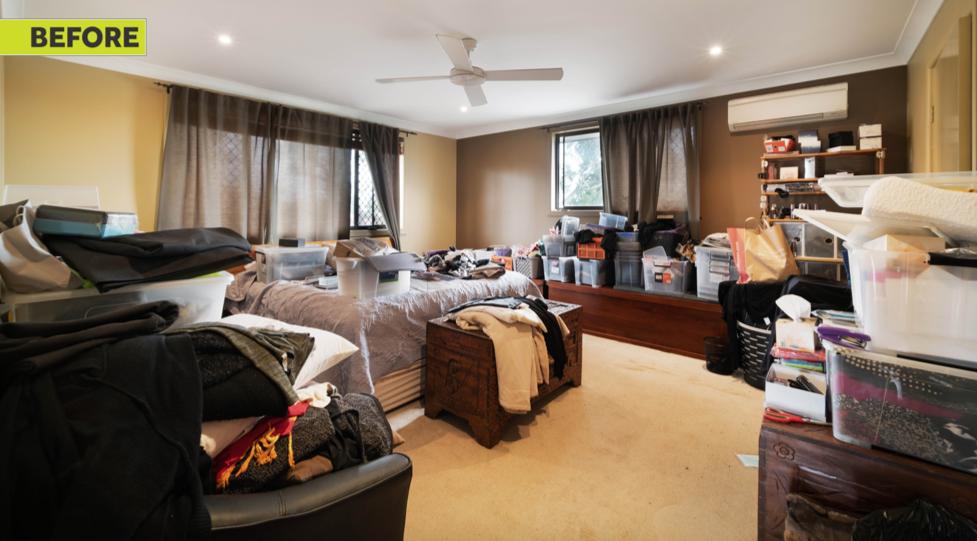 THE BEDROOM MASTERPLAN
My main aim of this bedroom makeover was to get Faye sleeping in her bedroom again & not on her lounge room couch. But for that to realistically happen, I had to totally rid the room of any evidence of her former life. As bedrooms are your own personal space & the one room you spend a lot of time subconsciously in, it was important for me to understand what Faye likes & deliver on that as close as possible.
A quick 30-minute chat with Faye was all it took. I asked key questions like what style do you like, what colours are good for you & which should I avoid, how do you want this space to feel & what do you hope for your bedroom overall? Faye was uncomplicated, essentially saying keep it light & bright & a place for her to be happy in and feel her sense of self.
THE MOODY HUES
The first cab off the rank was to strip the room of everything (but not throw everything out). All the dark & sombre tones seemed to mirror Faye's mood so some brighter, energising colours were high on my list of priorities. Out went the dark curtains, beige carpet & caramel-coloured walls. I chose Taubmans "Crisp White" to keep things light, but I added punchy splashes of navy blue & yellow to inject much needed personality into her room.
MIXING OLD WITH THE NEW
Working on the show Space Invaders has given me a renewed enthusiasm for repurposing as many items as I can & not instantly tossing everything in the skip bin. Keeping as much stuff as you can, keeps costs down & overall, is better for the environment. I kept Faye's bed, all the existing doors, ceiling lights & fan. I also kept 2 of her long brown chests, nailing Intrim timber mouldings to the front of them to make them look more decorative. The chests were then anchored to the walls on either side of her dressing table then I finished them off with a few coats of Taubmans Endure paint in "Crisp White" colour. With cushions on top, Faye now has under bench storage & the perfect reading nook in her room.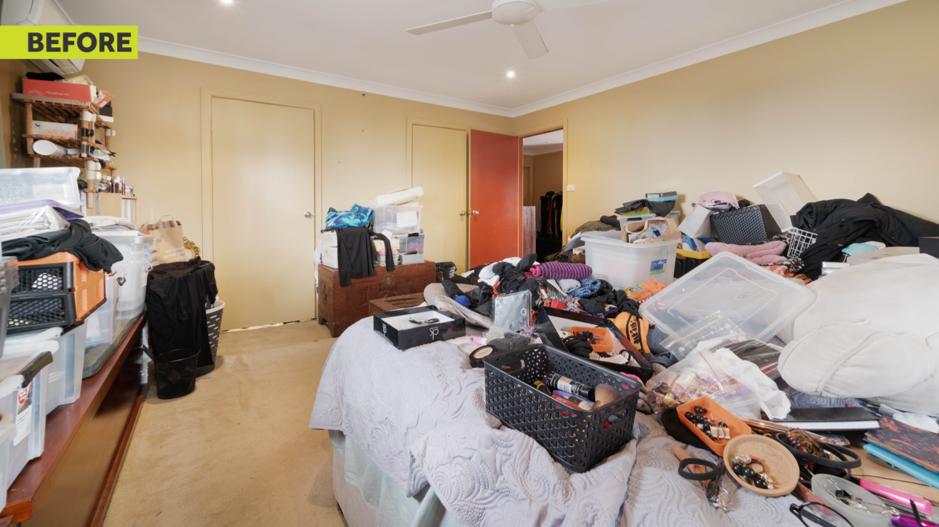 These bench seats either side of Faye's new dressing table are her old brown chests with new Intrim mouldings nailed onto the front & painted white.
GOLDEN OLDIES
Talking of old things, amongst all the clutter, I found a mirror that belonged to Faye's grandmother. It provided me with the inspiration for a new dressing mirror. First up, I ordered a marble look benchtop for $198.00 & got my carpenter to cut it into 3 pieces, nailing it together to create a custom-made desk. Most people wouldn't think to create a piece of furniture this way. I bought 2 L shaped brackets from Bunnings, anchored the mirror to the desk & sprayed the mirror frame in gold.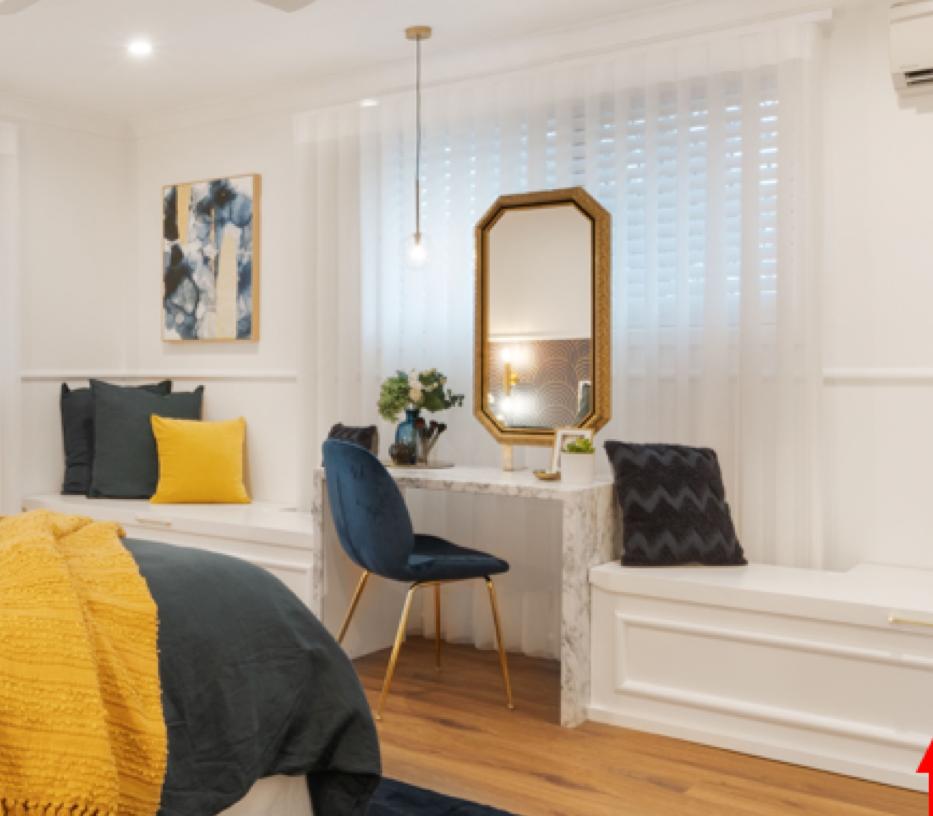 The gold detail continued over into the bedhead lights, door handles & ties in beautifully with all the pops of yellow in the room. By bringing the mirror out of storage & making it a prominent feature in Faye's room, it's showing a greater respect for the item & keeping memories alive that matter.
BED BASICS
Faye's old bedroom had the bed pushed up against a window – a big no-no in styling terms. By moving it to the largest wall without any obstructions, I had plenty of space to create a dramatic focal point for her bedroom. Instead of buying more furniture, I created a low-cost custom bedhead instead. The same Intrim mouldings that I used on the chest of drawers were wrapped around the whole room, on the existing doors & around the space of her bed to act as a bedhead. I then ordered some Art Deco style wallpaper, immediately giving the room some 5-star glam. The great thing about this wallpaper from Luxe Walls is that it's peel & stick. If you can cover your kids' schoolbooks in contact adhesive, you'll have no trouble installing this wallpaper. That's a big saver right there not having to hire a traditional wallpaper installer. The two gold wall lights mirror the Art Deco theme & eliminate the need for lamps on Faye's new bedside tables, freeing up more room for personal knick-knacks.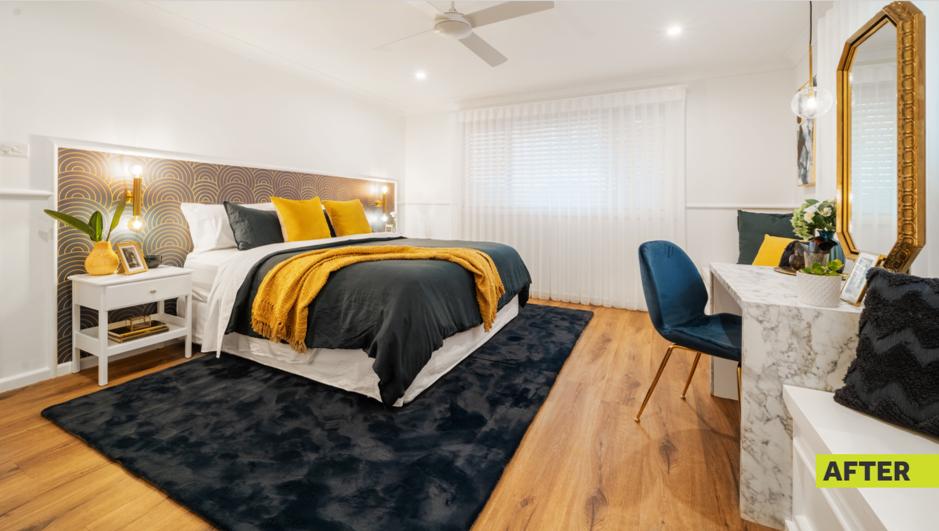 THE DEVIL IS IN THE DETAIL
Did you know a really cost-effective way to instantly give a room a luxurious lift is to use timber mouldings? As mentioned before, all you need to do is to look around this room & you'll see I've used them everywhere – as decorative trims on the old chests, doors, as dividing rails on the walls, skirting boards – and of course, that luxe bedhead. It's a neat trick to make a plain jane room look a lot less plain jane!
THE RIGHT FIT
When it comes to the finishing touches like your styling, a common mistake I often see is people buying a rug that's too small or the wrong shape for the room. Sometimes finding large format rugs in the exact colour you want, is easier said than done. In this instance, I simply got matching rugs & butted them together, putting an anti-slip matting underneath so they don't move in any way. Motto here: in renovating, there are always solutions to every problem, you've just got to think outside the square!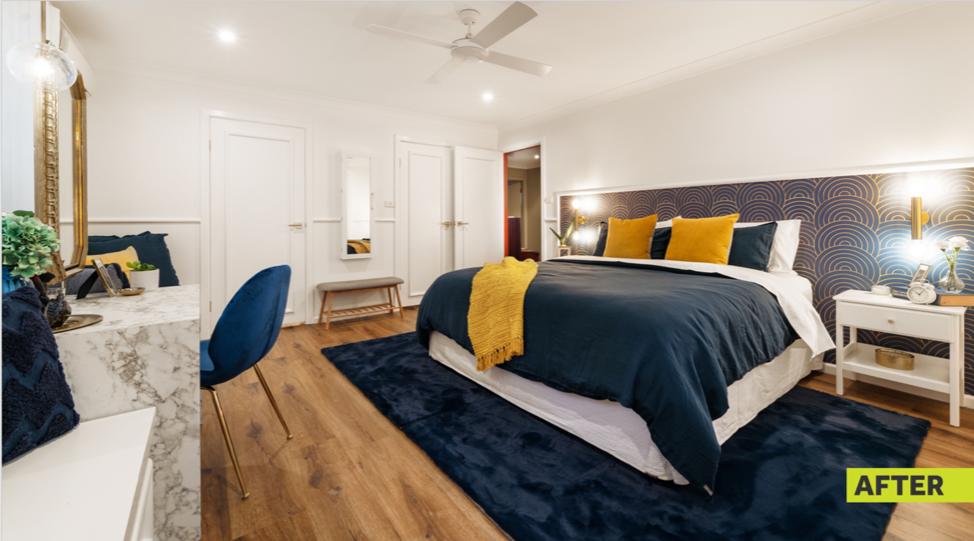 WARDROBE WARS
Faye was one lucky gal to have 2 small walk-in robes in her bedroom. But like many of us guilty females, she could barely get the doors shut. My co-host Peter Walsh, pulled out a staggering 18 racks of clothing from these 2 small rooms. Faye! With the team's help, she courageously whittled that down to 4 racks – exactly the amount her walk-in wardrobe was designed to hold. By adding a tallboy & some labelled baskets, a sense of order was restored to her new streamlined wardrobe.
So, what was Faye's reaction when she saw her bedroom for the very first time? No words just tears of joy. For me, it was another 2 days of hard yakka but for Faye, it was a life changing moment, putting her back in the driver's seat towards a happier future with the past behind her.
Mark your calendars folks! Space Invaders is back on Channel 9, this Saturday 19th of February at 7.30pm for 10 weeks solid. For any episodes you miss, you can catch them on 9Now also.
If you liked this blog & what to see more of these types of makeovers, simply let me know in the comments box.
Much love,
Cherie x
GET THE LOOK
Half Round Timber Moulding

SKU: HR40 (40mm x 22mm x custom lengths)

Supplier: Intrim
Marcel 250mm Pendant in Clear Glass / Brass

SKU: 011038

Supplier: Beacon Lighting
Verishades

Colour: Mist in Translucent

Supplier: Wynstan
Virtuo Classic 55 Vinyl Floorboards

Colour: Puno Brown

Supplier: Gerflor
Carrara Marble by Duropal Laminate Benchtop

600mm width x 3.6 metre length x 38mm thickness

Supplier: Trademaster
Taubmans Endure Wall Paint – Low Sheen

Colour: "Crisp White"

Supplier: Taubmans
Home Republic Vintage Washed Linen Magnet Quilt Cover

(All other Linen from Adairs).

Supplier: Adairs