Cherie's 20 Hour Reno – Space Invaders
For this week's blog, I thought I'd write about my new show Space Invaders that will be premiering on your TV screens on channel 9 & 9Life this coming Saturday at 7.30pm. Yes, we're all a tad bit excited!
If you haven't seen the TV promotional ads yet, here's a sneak peek:
Firstly, I know you'll ask… why is the show called the rather nostalgic name that for many of us, conjures up memories of the game we all played with as kids? Well quite simply, the 3 of us (Peter Walsh, Lucas Callaghan & I) invade people's space. Not in a burglar type of way but more a positive one which assists homeowners struggling to deal with their ever-growing amounts of clutter. For many of the homeowners featured on this season, clutter (as trivial as it may seem), is having a detrimental effect on their lives. Peter declutters their rooms, Lucas sifts through their stuff to find items of hidden value & yours truly, renovates the rooms in just 20 hours. Yes, it was a marathon for all involved.
Whilst I'm not permitted to release any of the AFTER images until each episode officially goes to air, I thought I'd write this week about Episode 1, a property located in Hornsby Heights (NSW) & what I saw was wrong with this property, the moment I walked through the front door. This might help you understand how professional renovators such as myself, look at things objectively & quickly work out a plan of attack. Heaven forbids, you might even acquire the handy knack of just knowing what things need to be corrected in a home as soon as you walk into a room also. For us pro's, you always identify what is right & wrong with a home first, then work from there. You keep the things that are currently working & fix the things that aren't. Sound easy enough, right?
Let's start in the entry…
At first glance, there doesn't seem to be an awful lot wrong with this area. The door is on the right side (i.e. it swings back to the wall which is best for maximising space & keeping view lines into a room open), it's a reasonable size, it's got nice floorboards in great condition & the lighting appears to be good. It has a small cloak room which is an added bonus. What on earth is wrong with it, I hear you say!
Quite literally, NOTHING except its BORING! You've got to remember; your entry is the first room that people see when they enter your home. At first glance, it creates a perception as to what the rest of your house is going to be like… Love at first sight or not?
Let me describe this another way… If this room were a person, what personality would it have? Fair to say, it screams:
Safe…
Conservative…
Unadventurous…
A plain Jane, waiting to be unleashed…
There are so many things that could have been done to this room to trick it up in a cost-effective way. A bolder paint colour would have been top of my list, teamed with matching trims in a contrasting colour. Ditching the old security door in favour of a new modern-day alternative would have given much better sight lines to the beautiful detailed front door. The door only needs a few licks of a more poppier paint colour to highlight the nice moulding detail on it.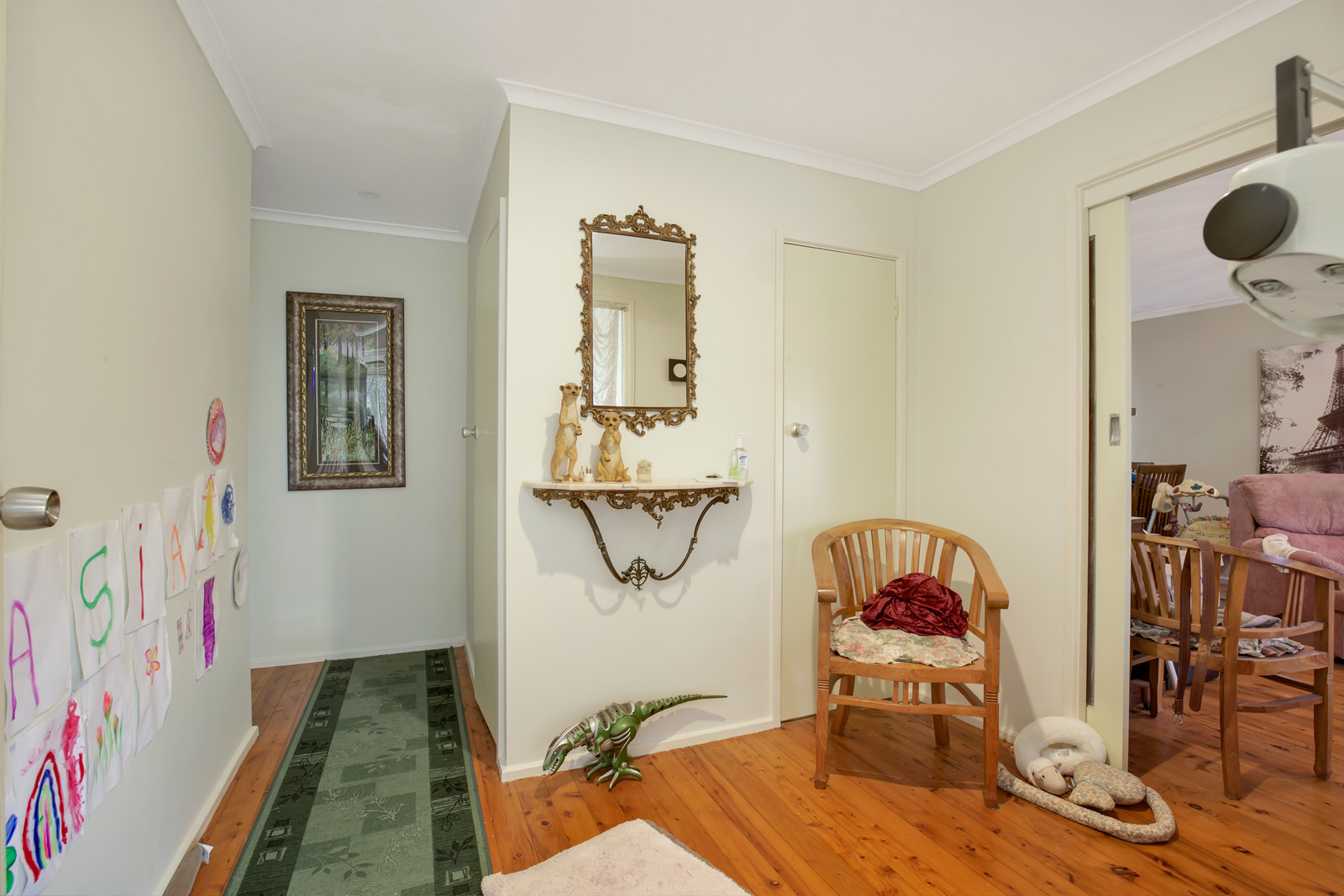 As cute as the meerkats are, they have to go. Teamed with the elaborate gold framed mirror overhead, they're a bizarre addition to the room that isn't helping this property retain & respect it's 1960's architectural vibe.
The lighting was ok & had the ceilings been a greater height than the standard 2.4 metres, a ceiling pendant would have been a nice addition.
In all reality, the homeowner gave me a brief for their home – keep everything light Cherie, we like nature! I spent only a few hundred dollars in their entry doing a few tiny tweaks that anyone could do in a day or 2. Will it win design awards, certainly not. Does it look better than before, most definitely!
Let's now move on to Julie & Pete's lounge room…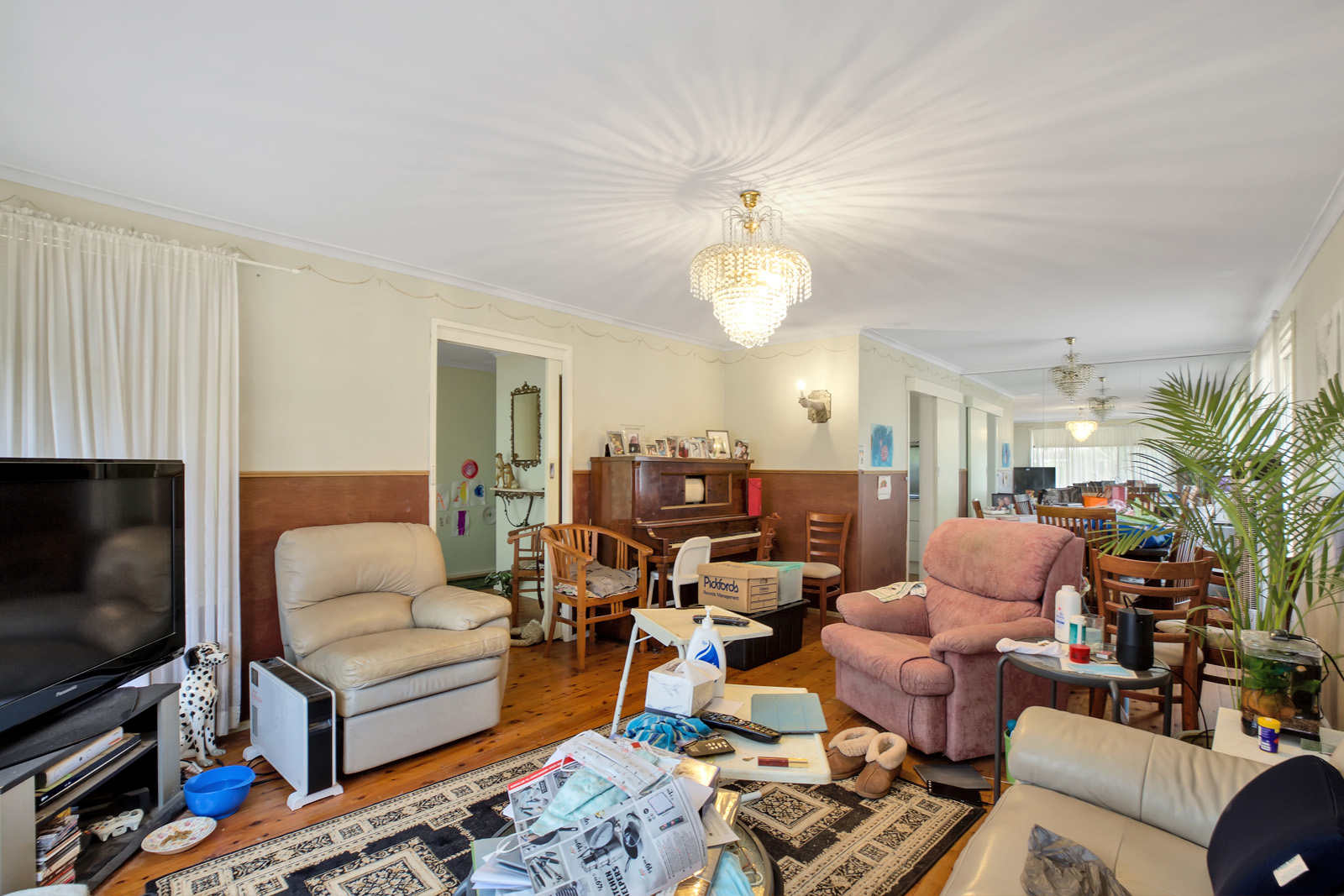 Wow, where do we start?
You don't need to be a rocket scientist to know this room has got way too much furniture & possessions within it. The sheer number of items makes it difficult to navigate freely around the room.
As this is a combined living & dining room, there are no distinct zones for each space. Rather, everything is all thrown together in an unintended, haphazard way. Creating a distinct zone for each area was therefore high on my list of to do's!
The brown ply paneling mounted at half wall height is a rather doomy addition to the space, doing it no cosmetic favours. The weird wall light near the pianola (an arm holding a candle light) is a rather humorous addition, better placed in a haunted castle. In the skip bin with that one!
The curtains were ok but showing their signs of age. They let enough light into the room but visually weigh the room down, concealing the overall view of the window & its frame. New window furnishings also to be installed.
The mirrored wall at the far end of the dining room, seemed like a smart addition at the time to create a sense of space. But, in all reality, it just doesn't work in this room. Any move you make in this room is reflected right back at you. And so, I elected to send them to mirror heaven. For safety, I placed clear contact adhesive over all the mirrors, wore arm length kevlar gloves, safety glasses & got to work with a hammer, slowly chipping away at a dangerous but very necessary task.
Let's also address the ugly elephant in the room, those 2 drop down chandeliers. I'm sure they looked absolutely spiffy back in the early 80's but now, please? Let's also not ignore some pertinent facts… Pete is at least 6 foot 2. He's bumped his head on those damn lights, more times than he can remember. Important note to all – don't install chandeliers if you only have 2.4 metre ceilings!
The furniture is all over the place, looking more like a collection of mismatched items collected at various garage sales over the years. Yes, I know it sounds harsh but it's true! Visually, your eye doesn't know where to look…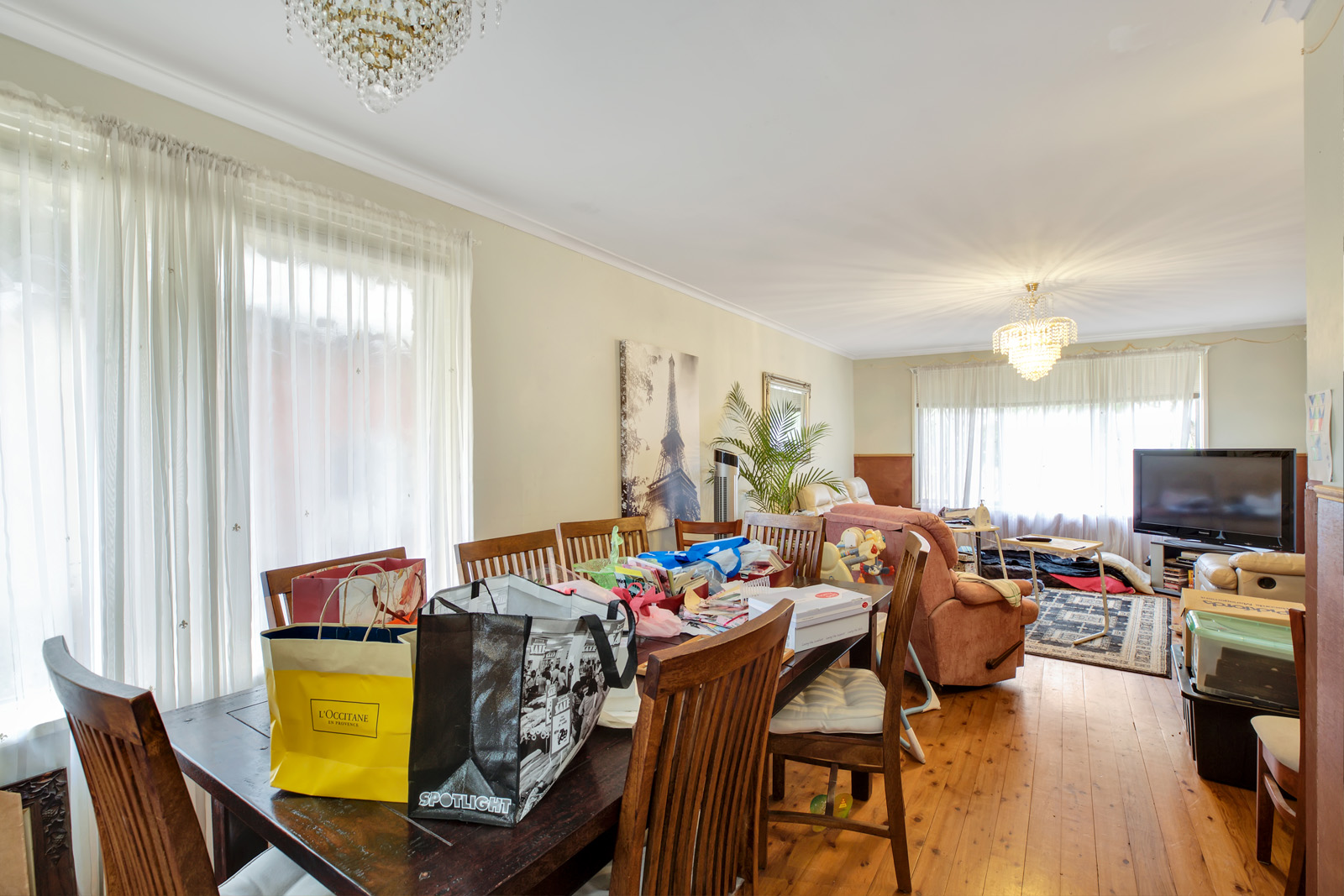 Due to the limited show budget, you'll be happy to know I kept some of the furniture items pictured, working with them as opposed to turning them to landfill. In case you're wondering, the pink recliner didn't make the short list
Next up is Julie & Pete's master bedroom…
Aren't bedrooms supposed to be a place of sanctuary & relaxation? Not this one. Romance – I don't think so!
Again, this master bedroom is a decent size. It's got a large window which lets an ample amount of natural light in, & it has a big built-in wardrobe. There's a very distinct wall for the bed to go on without any ill-thought-out obstacles such as a split system air con unit. There's a hell of a lot of good stuff going on in this room…
One thing excludes this… it's bland & boring personality resurfacing again. Luckily, a series of easy cosmetic fixes instantly gave this old bedroom, a new lease of life.
Last but not least, the spare bedroom…
Not putting my hands up first to sleep here!
Julie & Pete can be forgiven for turning one of their bedrooms into a junk room. You're not a true Aussie if you don't have one of your own. But it's fair to say, this room has gone a little too far. You know things are a problem if you struggle to get the bedroom door open. Floor, what floor? I can't see it!
Years of accumulated stuff (mostly from their kids growing up) had resulted in a morbidly cluttered room, rendering it totally unusable (except for storage). This was a real shame, considering it's only a 3-bedroom home.
Like all the other rooms in this house, this one is not too dissimilar to the others, with its matching colour scheme & lace curtains in tow.
Serving no purpose other than a junk room, my goal was to turn it into a little girl's room for Julie & Pete's granddaughter Anastasia to sleep when she stays at their place on some weekends. A clever dose of quick & easy cosmetic improvements did the trick.
At the end of the day, one thing is for sure… this home is no different to the millions of Aussie homes we have scattered across this great country of ours. They're perfectly liveable and for many, comfortable & practical. Which one do you go for – practicality or looks? Well, the answer is, you can have both. It just requires some smart planning & a little bit of elbow grease.
The renovation of this house was a budget one, aimed at inspiring everyday Aussies on how to cosmetically improve your home without the need to take out a second mortgage. Sure, it doesn't have the jaw dropping reveals that you see on some of the bigger channel 9 shows like The Block, but these are real renovations that real people with real budgets can easily achieve. In all reality, that's most of us.
After 20 hours of going hard, I packed up my tools & flittered away into the sunset with Peter & Lucas in tow. Julie sent me a beautiful text message later that night, thanking me for all my hard work, calling me her "guardian angel" (#aww #blushing) & telling me how much Pete & her loved their new space. They felt lighter, fresher & as though they'd entered a new stage in their life, even though they were still physically standing in the same space after all these years…
I truly believe it's so important to love the space you live in, whether it's a rental or your own. And that's why I continue to be so passionate about educating as many as I can about renovating… it changes peoples lives for the better.
Tune into Space Invaders this Saturday night at 7.30pm on Channel 9 or 9Life to see the full story & room reveals. Guaranteed to tug at your heart strings & bring a tear to your eyes.
Much love,
Cherie x