Cherie's Mammoth Reno – 6 Rooms in 9 Days
Howdy,
What happens when someone hires a builder, only to have that builder do the wrong thing, not complete works to a quality standard or within the timeframe promised? A downward spiral for any homeowner.
After a builder abandoned Georgina & Nathan's planned home reno, their property was left in ruins, causing them to become disheartened by the process, lose focus & motivation. 18 months later, the house still looked like a construction zone with unfinished plasterwork, missing architraves, defective work throughout & a home that wasn't conducive to ideal family living. So beaten down by the mess around them, this couple struggled to muster up the energy to get their home finished ….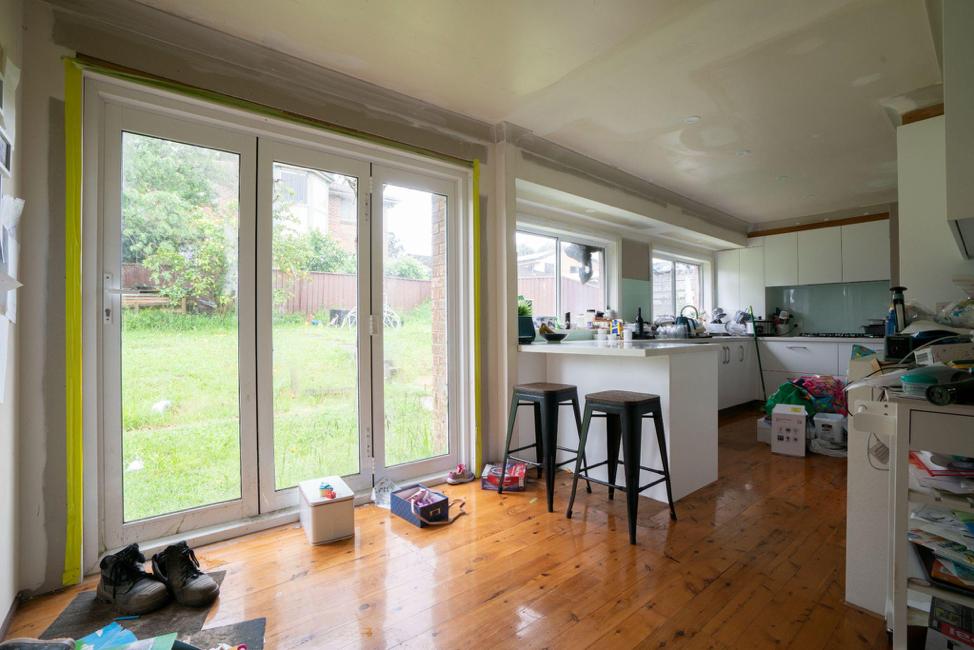 THE MASTER BEDROOM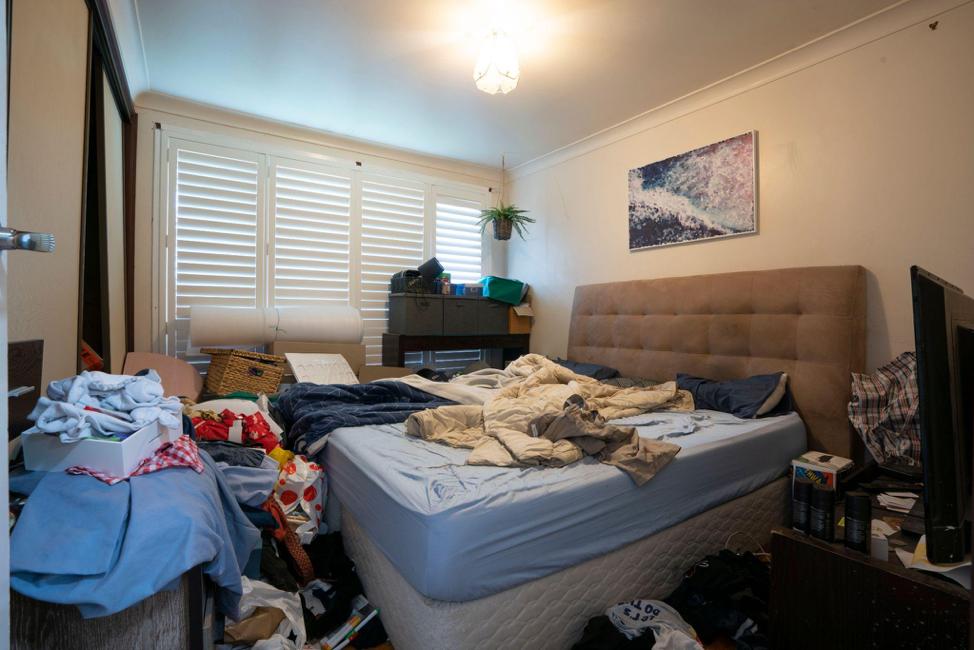 Let's ease you in with one of the easier rooms, the master bedroom. This parents' room was chock a-block full of stuff, making it difficult to physically move around. Whilst a decent size & a large set of windows let plenty of good natural light in, its broken wardrobe & lack lustre decor made the space look dull & depressing.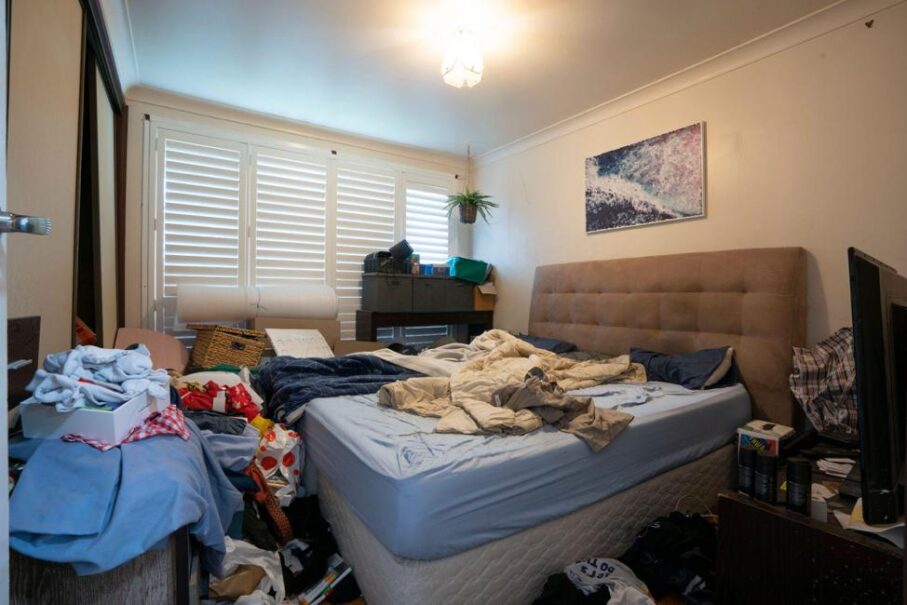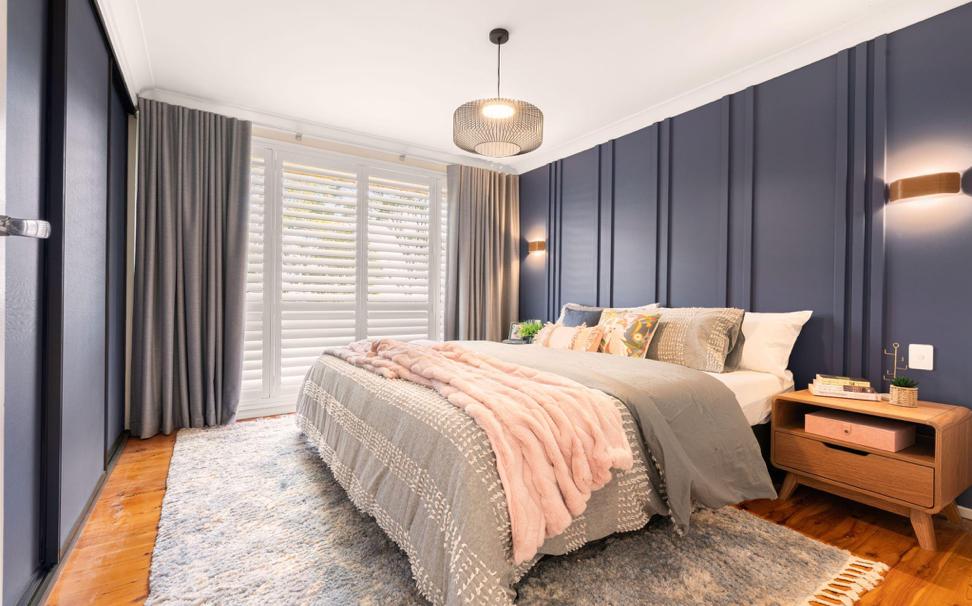 My goal was to create a modern bedroom, using the couple's favourite colour, blue as my design inspiration. To turn that plain bedhead wall into a more eye-catching feature, I simply added plain timber battons to the wall, then painted everything up in Taubmans "Night Bird". This budget feature adds a bit of interest & added dimension to an otherwise, flat wall.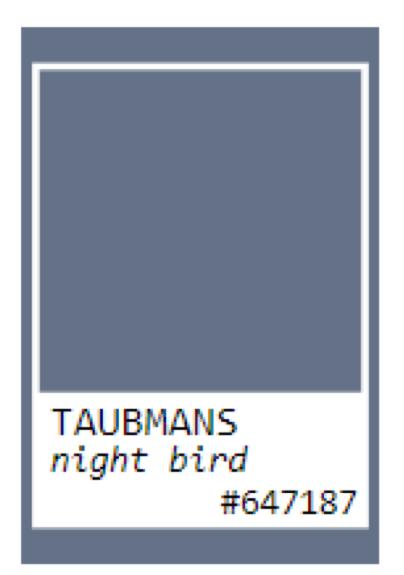 New block out curtains from Wynstan provide total darkness when needed & the addition of a modern ceiling pendant & two wall sconces, help modernise the room. New wardrobe doors would have been great but with no budget left in the kitty, were simply repaired & the fronts of the doors painted blue. The old bedhead was donated & new bedside tables from Fantastic Furniture & bedding & styling items from Kmart complete the look.
THE LOUNGE ROOM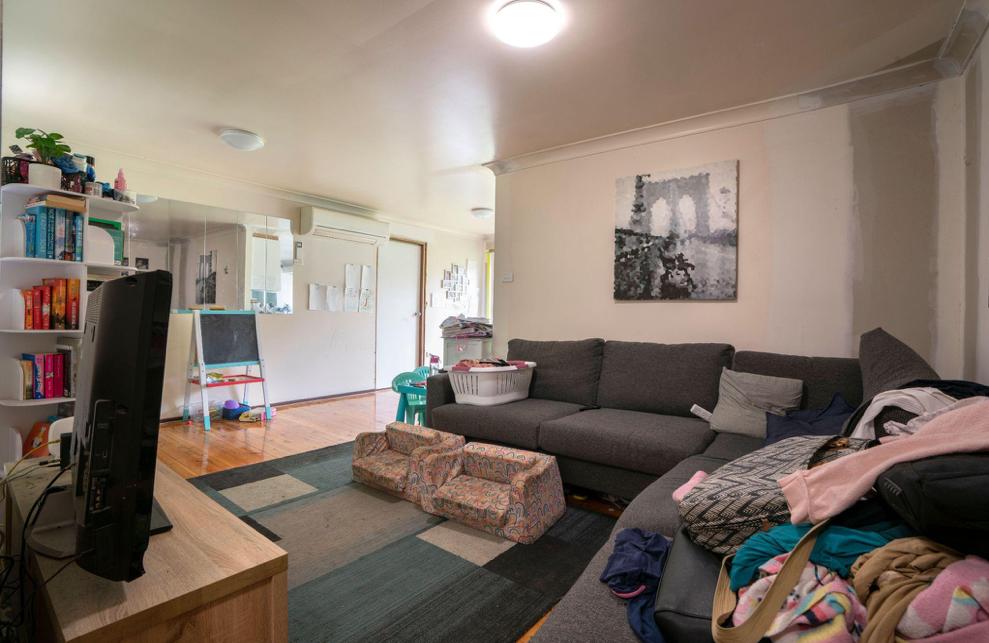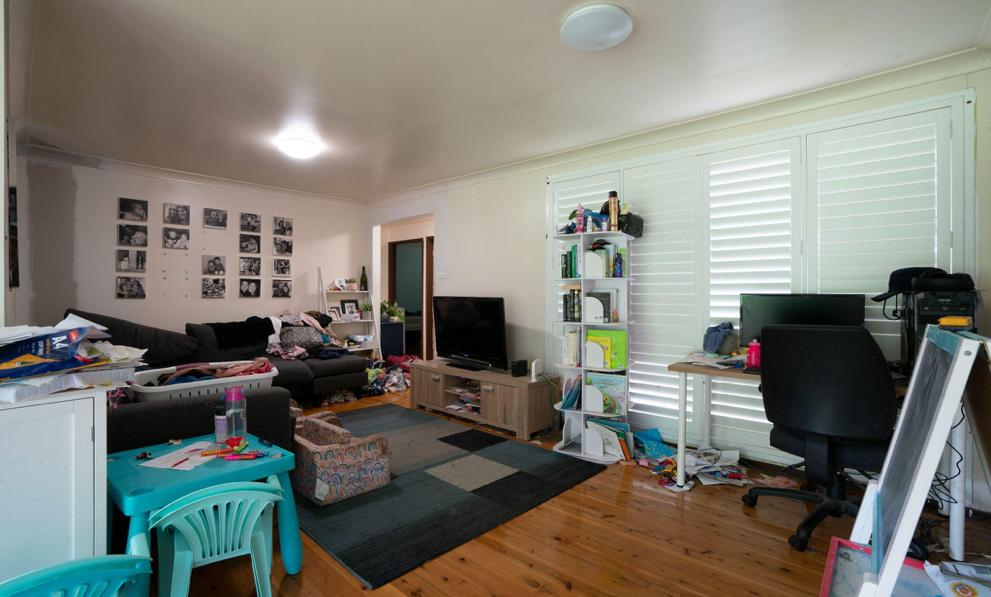 I'm going to be brutally honest, just like the master bedroom, this room was bland & boring with nothing visually interesting to look at. The homeowners wanted a nature inspired renovation so they felt relaxed at home, so the addition of timber VJ panels helped me achieve that look whilst adding much needed texture & warmth to the room. Suppliers such as Porta Mouldings are so great as they offer a huge range of timber panelling products, giving you the ability to create a designer look in any home.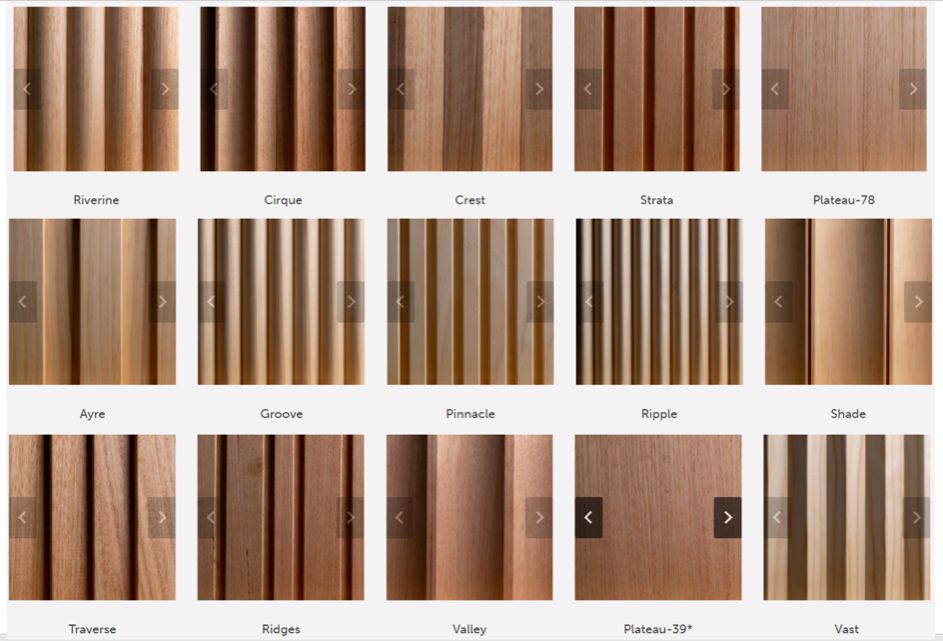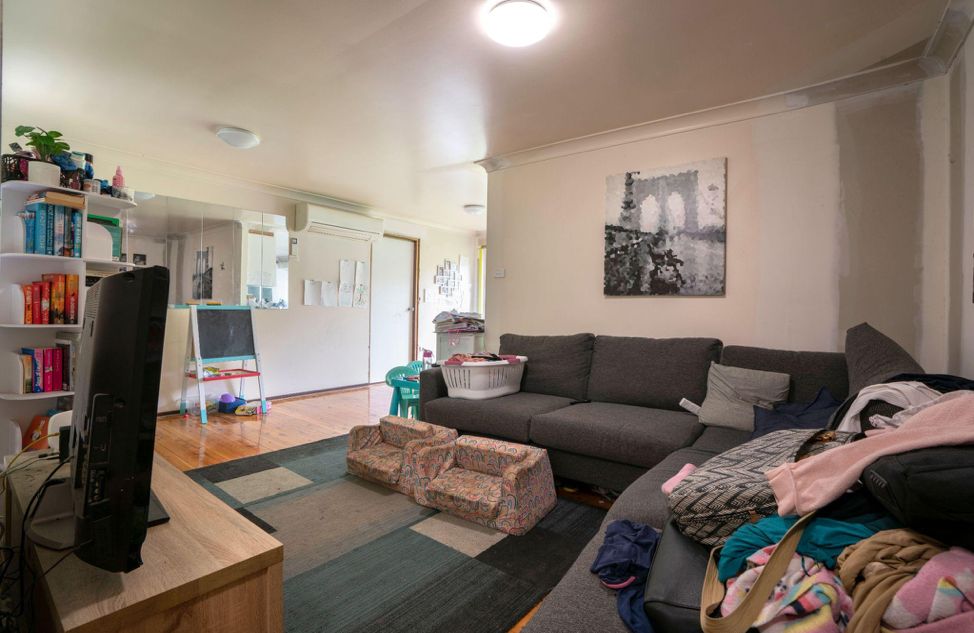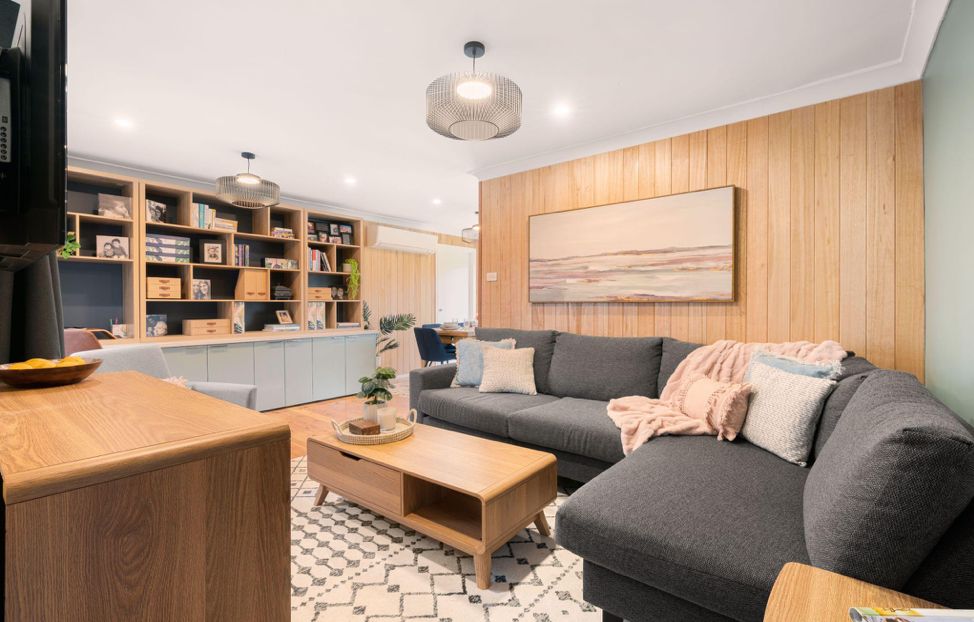 One of the biggest problems with the lounge room was that it desperately needed a clever storage solution for all the family's bits n pieces. I created a custom storage nook wall, simply by installing a row of Kaboodle flat pack cabinetry in the "paint your own door" range with 3 coats of Taubmans "Sprig of Ivy" on top. I placed a laminate benchtop from Trademaster on top of the Kaboodle cabinets, then painted the wall above in Taubmans Oil Shale. Once dry, I installed 3 Coda Bookshelves from Fantastic Furniture on top of the benchtop. This was a cost-effective way to create a bespoke storage wall, using off the shelf, flat pack cabinetry! It now works as a practical storage & display space.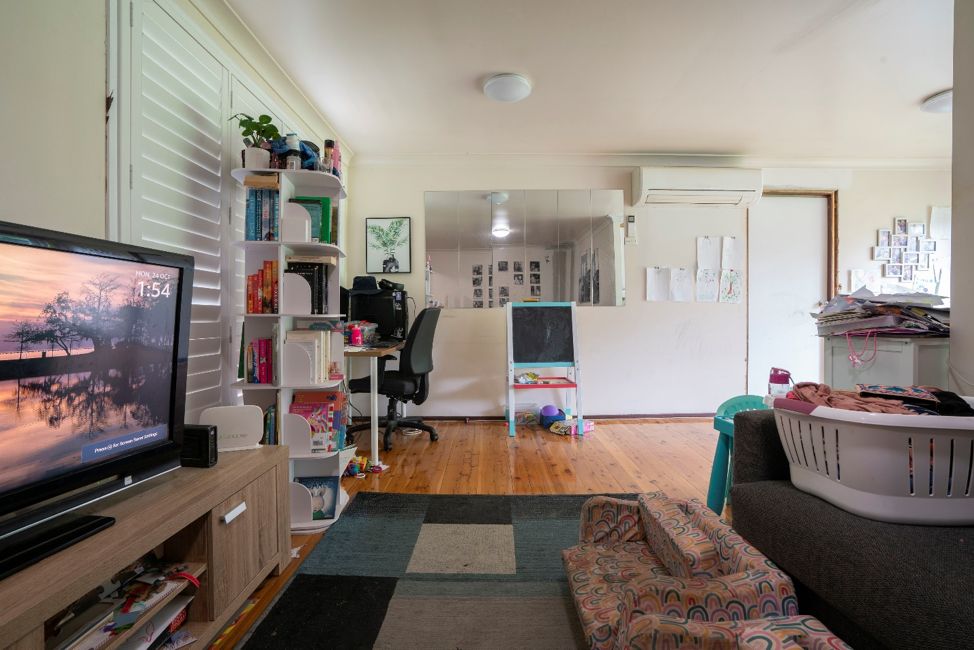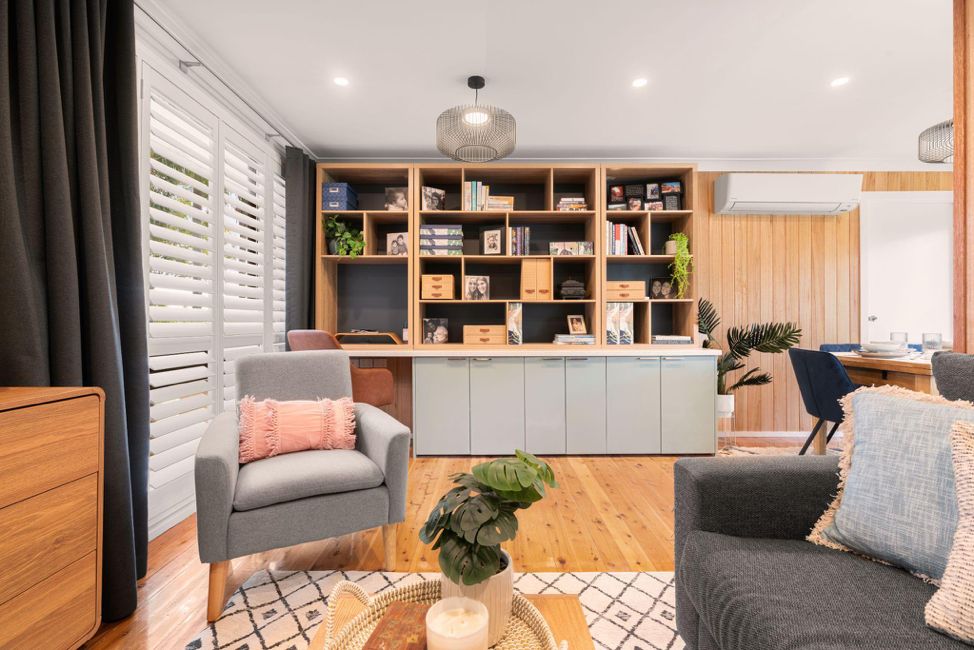 THE DINING ROOM
Thankfully, the dining room only needed a quick cosmetic refresh. All the unfinished plasterwork was fixed, sanded & painted & new lighting (downlights & a feature light) make a world of difference. A timber table was selected to continue the nature theme with the Reyna Dining Chairs from Fantastic Furniture adding a pop of colour.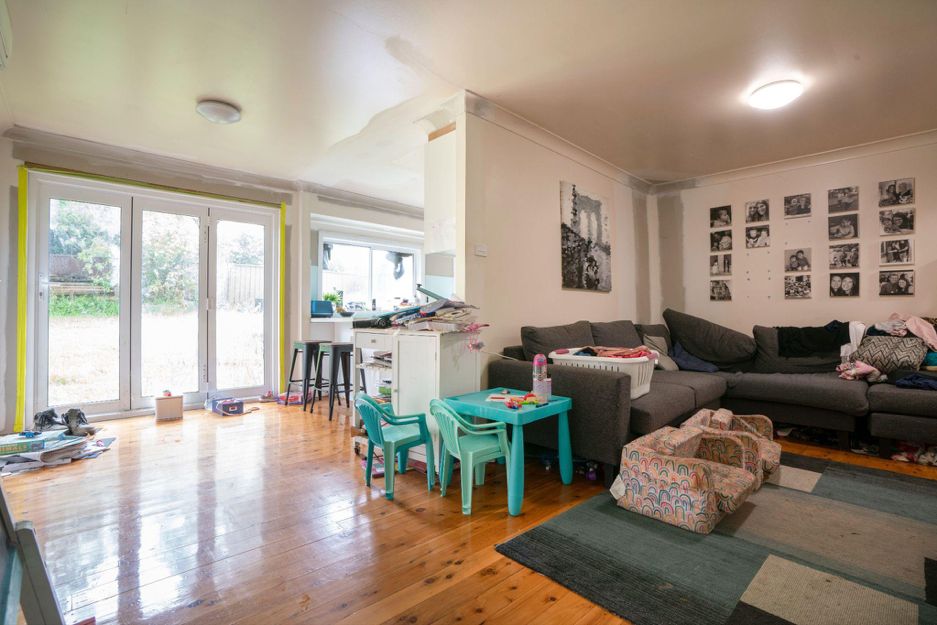 THE BATHROOM
Now, to the troublesome part of the home, the bathroom – the room where everything that could wrong, did go wrong. The vanity was crumbling, the tiles were falling off the walls & the shower had major water leaks. This was always going to be a big job that would push our schedule & budget, but we had no idea what lay behind the walls & floors of this bathroom.
Once we started the demo, we uncovered every renovator's nightmare, asbestos. Not only that, but the floor foundations & wall structure had been eaten away by termites & were only being held up by old pieces of roof sheeting. It was only a matter of time, before the bathroom floor would have caved in …
3 rounds of asbestos removal were done by a professional asbestos removal team (we kept finding more & more) & once that was completed, new floor bearers & joists were installed, along with new wall & ceiling framing. With everything now structurally in perfect condition, it was time to install the new bathroom.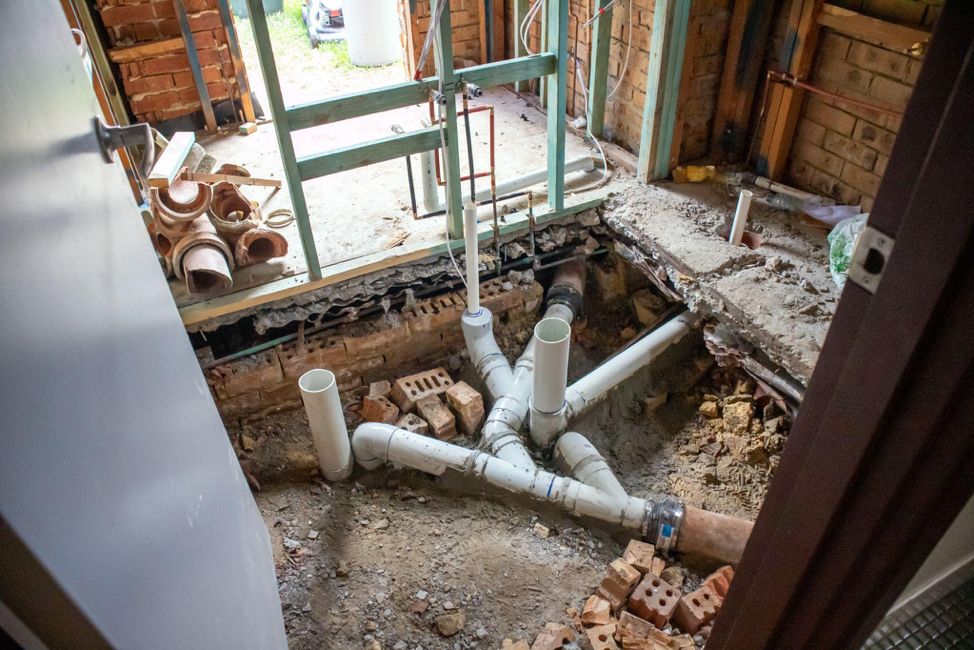 I continued the nature theme into the bathroom so all the rooms in the home tied together cohesively. Being such a small room (2.6 metres wide x 1.8 m deep) & the homeowners wanting to keep the separate bath & shower, the old layout made perfect sense.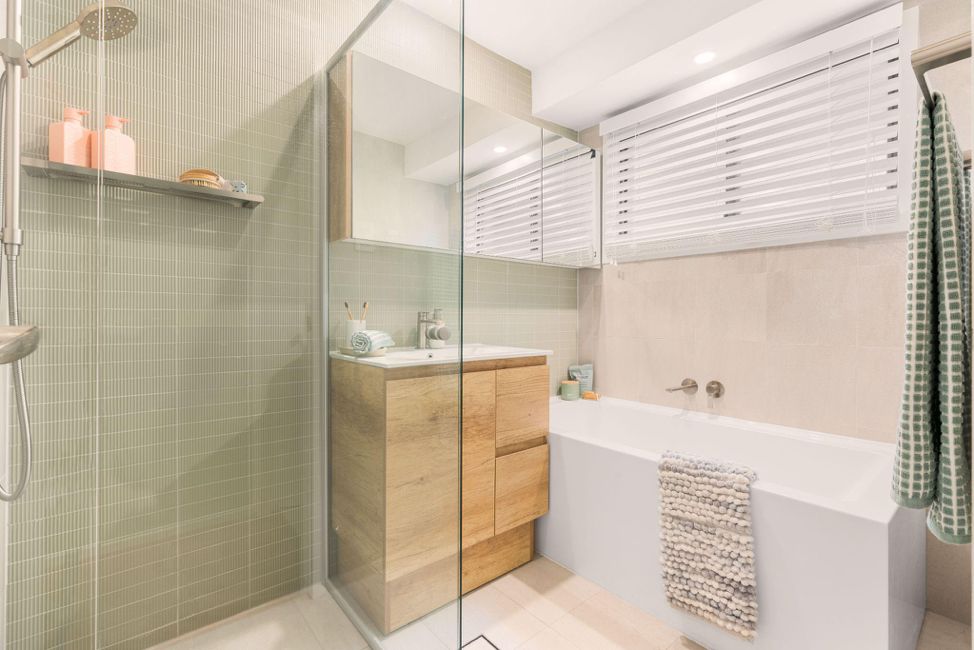 To ensure the room felt as spacious as possible, I kept the colour scheme on the lighter side. I installed the textural Barcelona Strip Green Tile from Beaumont Tiles for the feature wall with a light stone tile for the remainder of the walls & floor. Continuing with the organic palette, the Edge Vanity in Scandi Oak & matching mirrored shaving cabinet, offer plenty of storage in this otherwise small space & the modern nickel tapware finishes off the bathroom. This room was a LOT of hard work, but the end result was worth it.
THE LAUNDRY
Another room in desperate need of attention was the external laundry. With no external door & unfinished building works in this room also, it needed a complete redesign. The old hot water heater took up a lot of room, so it made sense to relocate that to the side of the house externally.
Once again, I installed my trusty go to flat pack cabinets, Kaboodle in Antique White with an Alpine profile to add that extra touch of detail. Continuing on with the homeowners love of blue, I chose the Majorca Palm Springs Deep Blue Matt Tile for the floor & paired it with the Boulevard Denim Gloss Tile for the splashback. A timber benchtop helps bring that nature feel to this room also & a large stainless-steel sink was dropped in for real practicality. The washer & dryer now have their own dedicated space & look at how much practical bench space, this tiny room now has!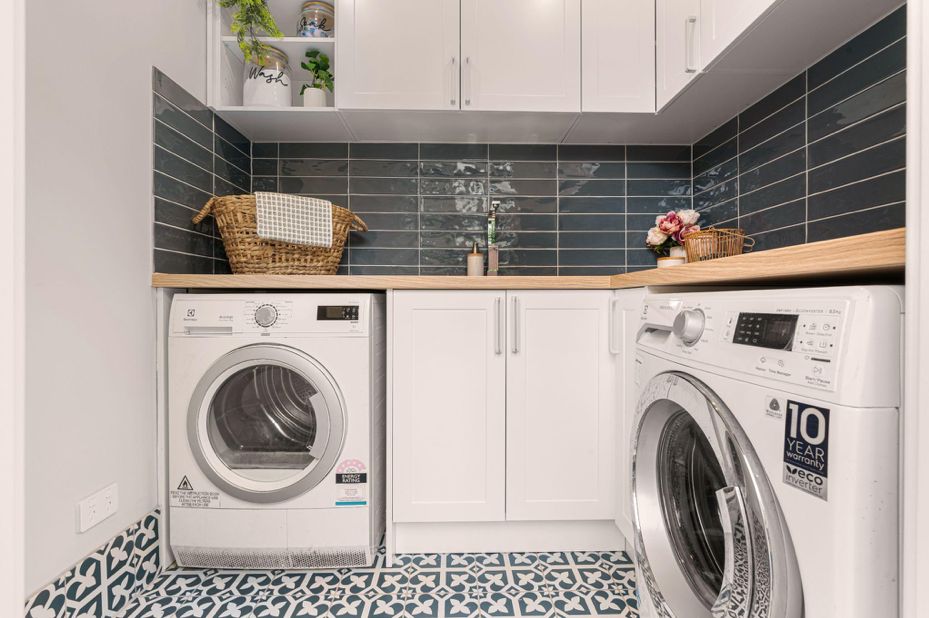 THE KIDS ROOM
The last room we transformed was little, 3-year-old, Isabella's room. It was time for her to move from a cot to a big girl bed in a room that was safe & had plenty of room for her to play in. Isabella is absolutely obsessed with dinosaurs so when I saw this dinosaur wallpaper from Luxe Walls, I knew it would be perfect. Being such a bold print, I used it on the window wall, so the curtains & window break it up so it's not too visually overpowering. The Lunar Kids range from Fantastic Furniture brings in those nature elements whilst pops of girly pink are scattered throughout. I finished the room off with the gorgeous Amore Pleated Wall Bracket Light in Brass as a reading light above the bed, perfect for bedtime stories.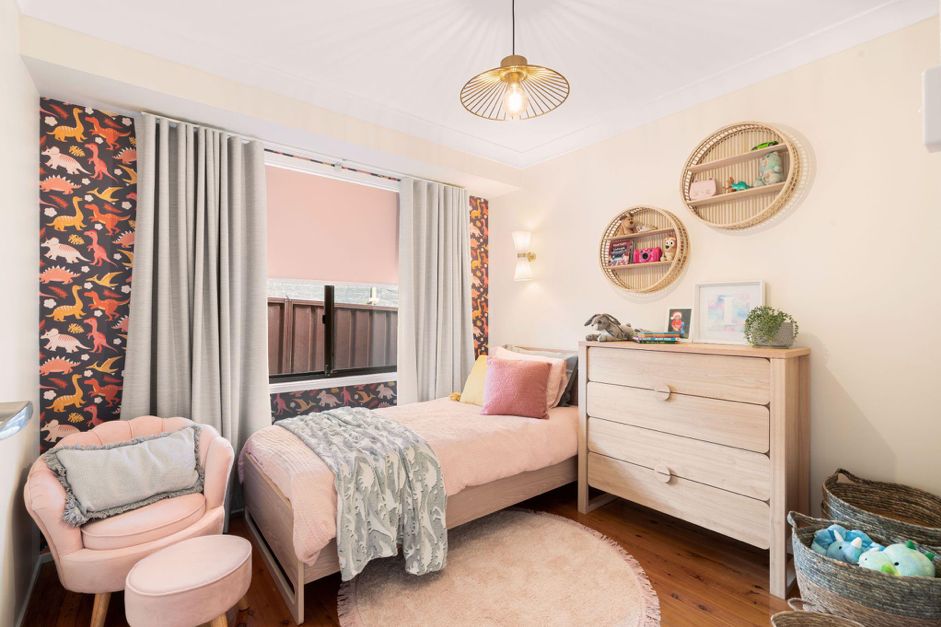 All up, this renovation cost $88,078.46 for all the materials, labour, new furniture & styling items at full retail cost. Of this, materials accounted for $36,025.96 & labour at $52,052.50. The uplift in the property value was a whopping $ 320,000, resulting in a net renovation profit of $231,921.54.
One thing is for sure, this was an absolute whopper of a reno that pushed my team & I to our limits in just 9 days, but we're not a team to ever back down from a challenge. I'm so happy to have transformed the home of Georgina & Nathan to help them get their lives back on track.
What this reno does show is the power of a good renovation & it's the reason I'm such a big advocate of renovating for profit. If you want to learn the art & science of renovating for profit, be sure to enrol now in my brand new 2023 Cosmetic Renovations For Profit Course. I've spent the last 12 months completely rewriting & filming this course, for the post Covid property market (in between my renos) & I must say, its nothing short of world-class! Hand on my heart, you'll be hard pressed to find a better property investment & renovation course around, than this one.
Love to save money & get good stuff for free? For the next 48 hours, we're knocking 500 bucks off your course enrolment fee & giving you 1 year's free access to our Home SuperSaver group, giving you thousands of dollars of discounts off all your renovation materials, fixtures & fittings such as 25% off Taubmans paints, 18% off Kaboodle, the list goes on … With all those savings, it means you really get the course for free. To enrol now, simply CLICK HERE. Offer ends this Saturday 22/4/23 at 10.30am sharp.
As a student, we've noticed you haven't yet upgraded your existing Cosmetic Renovations For Profit course across to the brand new 2023 version. You can do so now by simply upgrading to the course for just $395.00. To do that now, simply CLICK HERE.
As a student, if you haven't yet upgraded your existing Cosmetic Renovations For Profit course across to the brand new 2023 version, you can do so now for FREE. Simply CLICK HERE to do that now.
As always, if you have any questions on this renovation, be sure to ask them in the comments box below & my team or I will answer them promptly for you. Until next time …
Much love,
Cherie x