From Bland To Beautiful – Cherie's 4 Day Reno
Hi There,
I hope you're well! You may have noticed I've been a little quiet on the blog front for the last 4 weeks, having taken some time off to wind down & log onto life which meant taking my toolbelt off & putting the tools down. So, to make up for my absence, I decided to write a slightly longer blog this time, taking you on a bit of a journey of how I turned a dull, lacklustre property into a more functional home of greater beauty & inspiration.
In a world where our surroundings greatly influence our mood & well-being, it's essential our homes are our living spaces that truly resonate with our own unique personalities & aspirations. We all know that feeling when you step into your home, but something doesn't feel quite right. It lacks practicality, vibrancy & it fails to make you, feel like you.
Darren & Holly's home in suburban NSW did just that. It was not a true reflection of their souls & left them feeling uninspired with a heavy sinking feeling, every time they entered it. Their walls were adorned with a monotony of plain white paint, furniture that has lost its lustre, a haphazard arrangement of toys & personal effects, making their space feel sterile & mundane. But fear not, I'm about to share what I did in each room that will hopefully give you some practical ideas for your own home & perhaps go so far to ignite your own passion for interior design. We've got a lot to get through so let's get cracking!
THE LOUNGE ROOM
The first space you're confronted with when entering Darren & Holly's home is the living room. Completely overrun by toys & featuring impractical storage that left their whole life on display, it's a visual mess that makes you go "arrghh!" The two large sofas visually dominated this room, eradicating any chance of squeezing a dining table in, for this family to sit & eat meals together.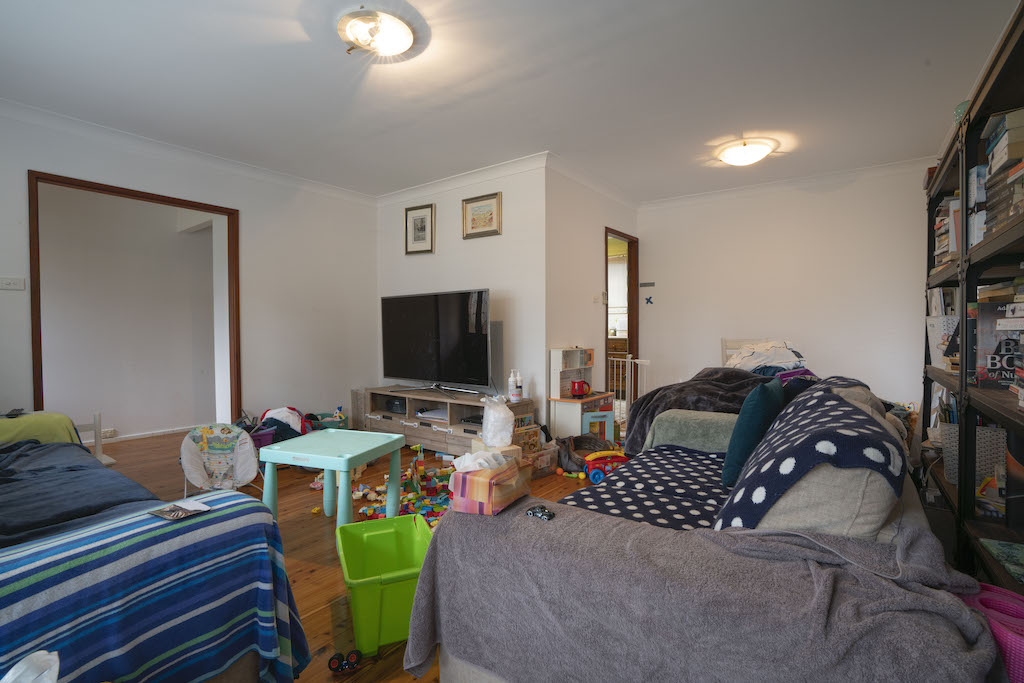 First up, the room needed a structural change. With the doorway into the kitchen being tucked around the corner, the kitchen felt very cut off from the living space, also making that part of the room unusable. I got my chippies to close up the old doorway & create a new wall opening, where the old TV unit was located. Whilst that all sounds easy enough in theory, in reality, that wall was load bearing. A quick phone call to my structural engineer got a small structural beam specified & a private certifier signed it off, once installed by my chippies. The wall change, all said & done, consumed about $3,500 of my budget.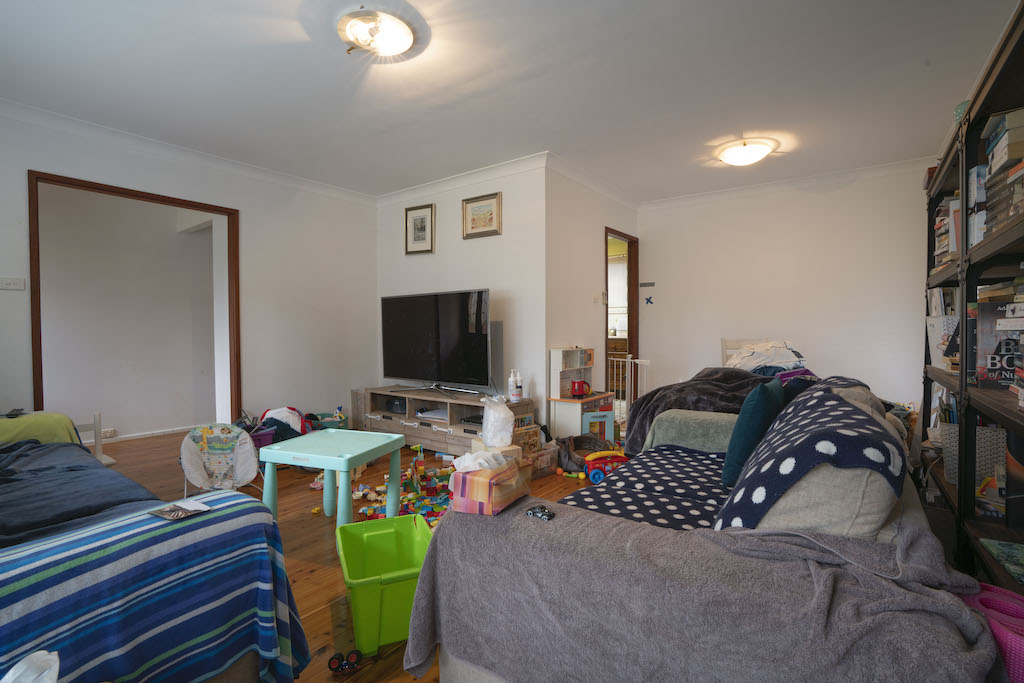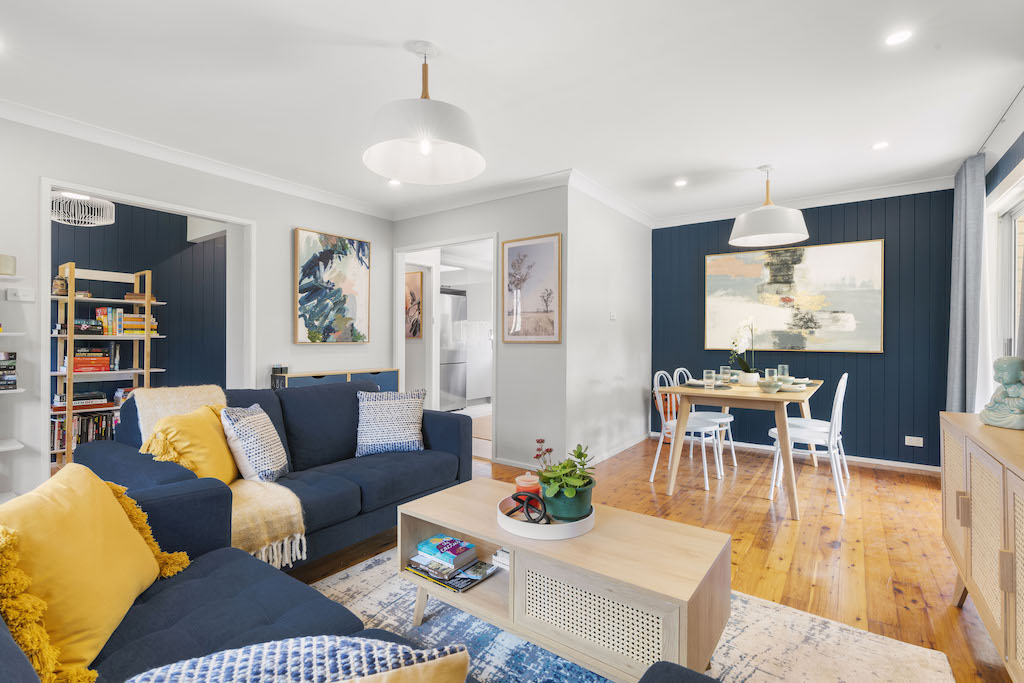 With the doorway moved, I was now able to create a much more practical furniture layout for this room. I moved the TV & orientated new sofas towards a new TV & storage wall. To give the room some much needed texture & visual interest, I added off-the-shelf VJ cladding from Bunnings to a couple of walls, direct in the line of focus when you first enter the room.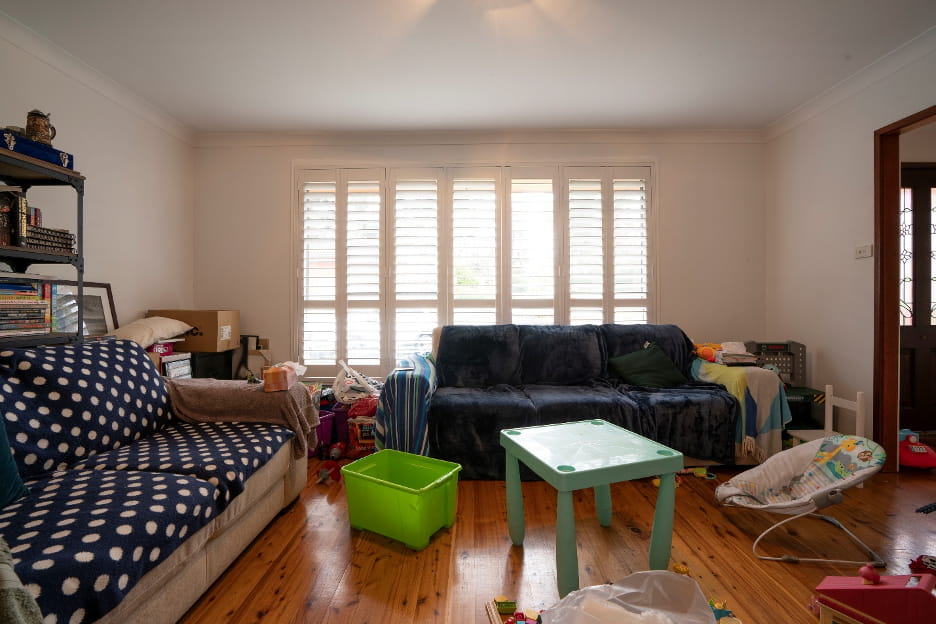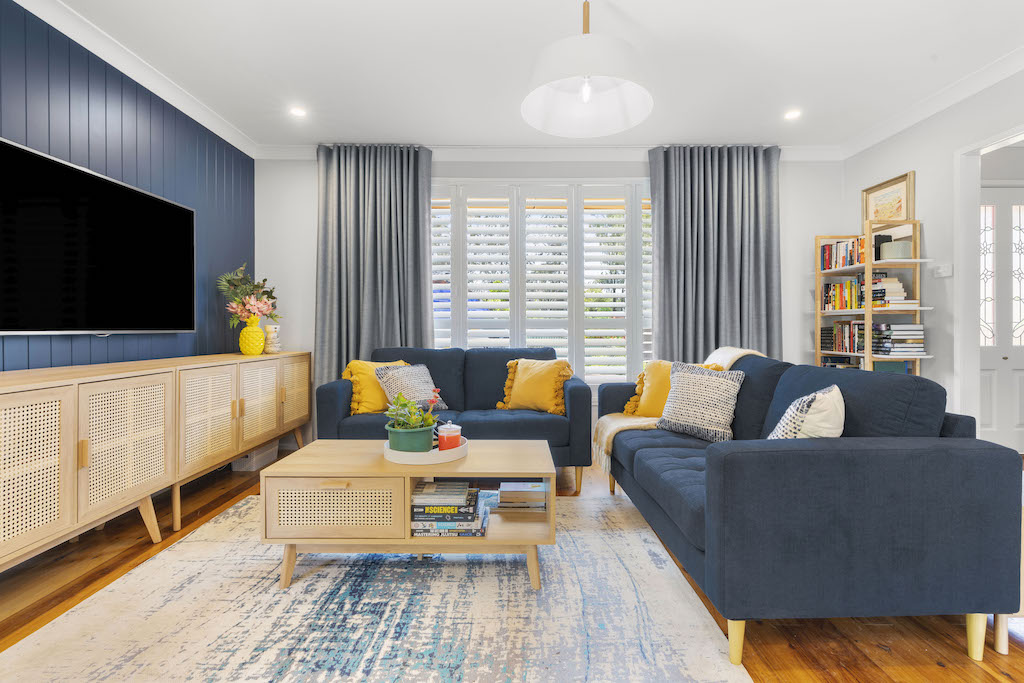 Homeowners, Holly & Darren's favourite colour is royal blue so I used this as the design inspiration for the whole house. Royal blue can often be a bit bright for a wall colour so I took it a few shades darker & used Taubmans Elegant Evening, using it as the feature wall colour instead. Mixed with Taubmans Tundra Mist which is a pale grey colour, it's a winning combination. A bit like mild & spicy all in the one meal!
THE DINING ROOM
The former floorplan was in such a haphazard arrangement that it never afforded this family, the luxury of a dining room area. That doorway from the kitchen made absolutely no sense in its current position so this was closed in, to create a dedicated eating nook.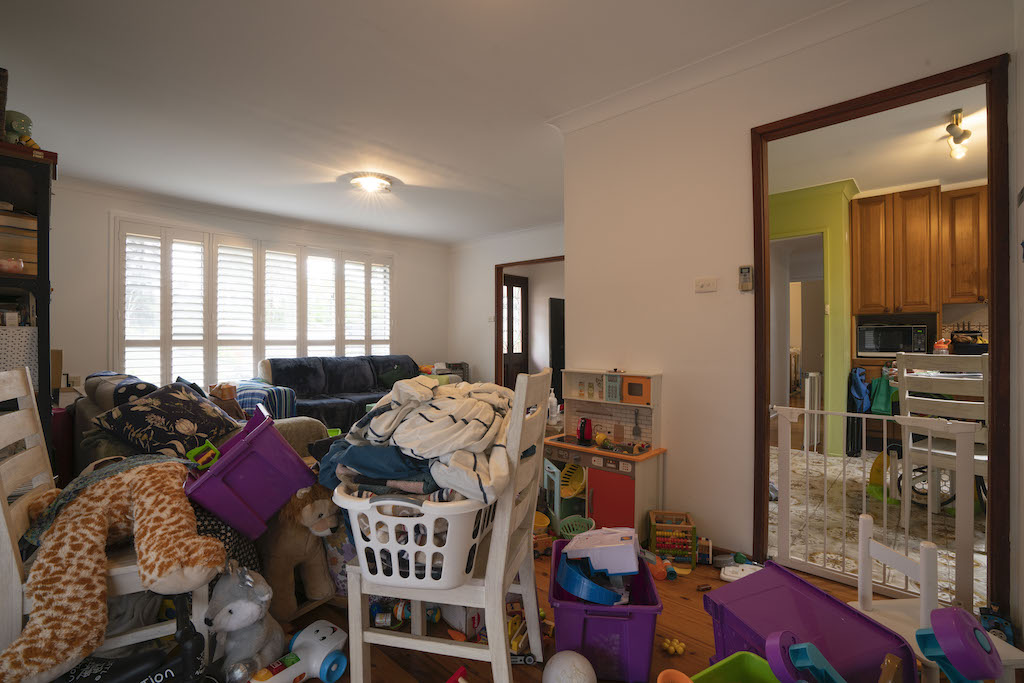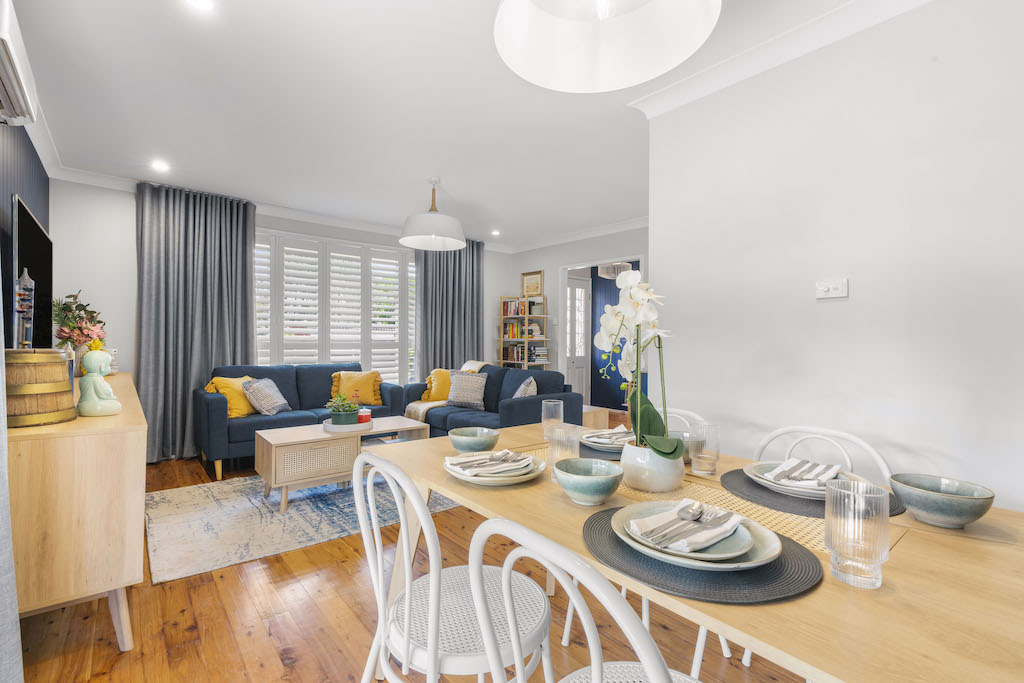 As their newly created dining room still sat in an open plan layout in their lounge room, I continued all the same colours throughout so the space felt connected & cohesive. New ceiling pendants add depth to the room & curtains help make the room feel fuller.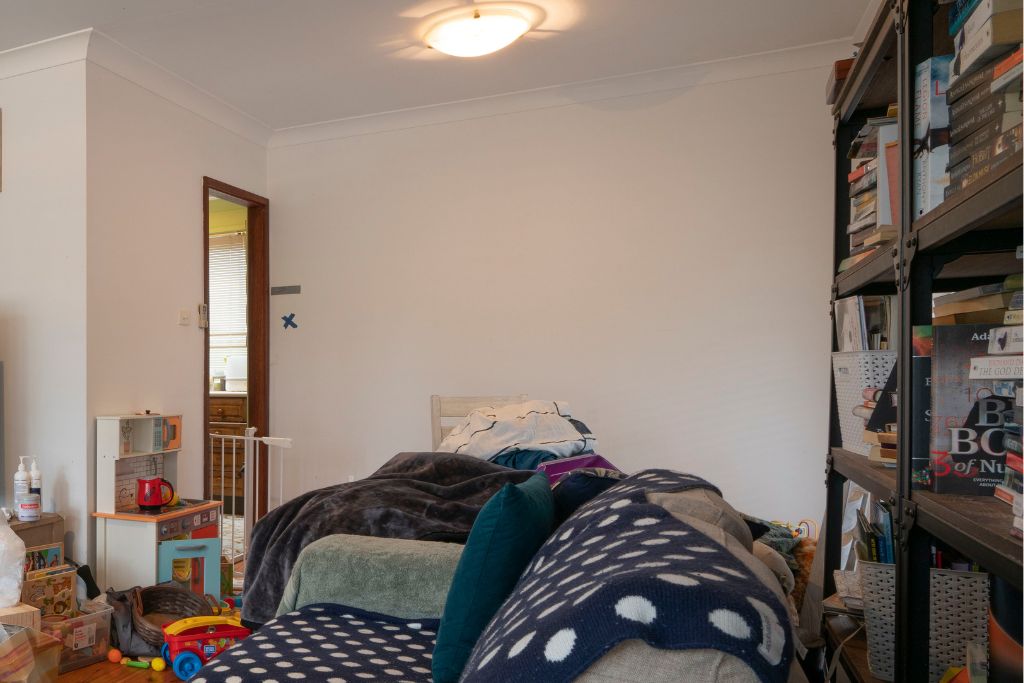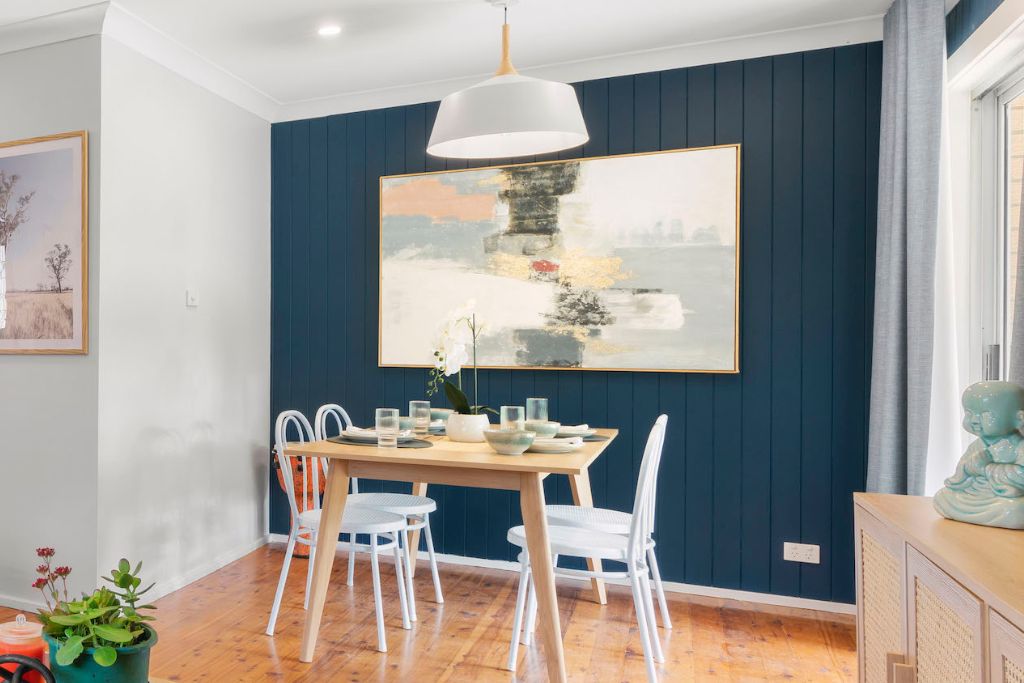 THE KITCHEN
Now onto the kitchen, which is up there with one of the daggiest kitchens I've ever seen. Crazy patterned 70's floor tiles, timber bevelled cabinets, another pattern in the splashback & green walls – I didn't know where to look!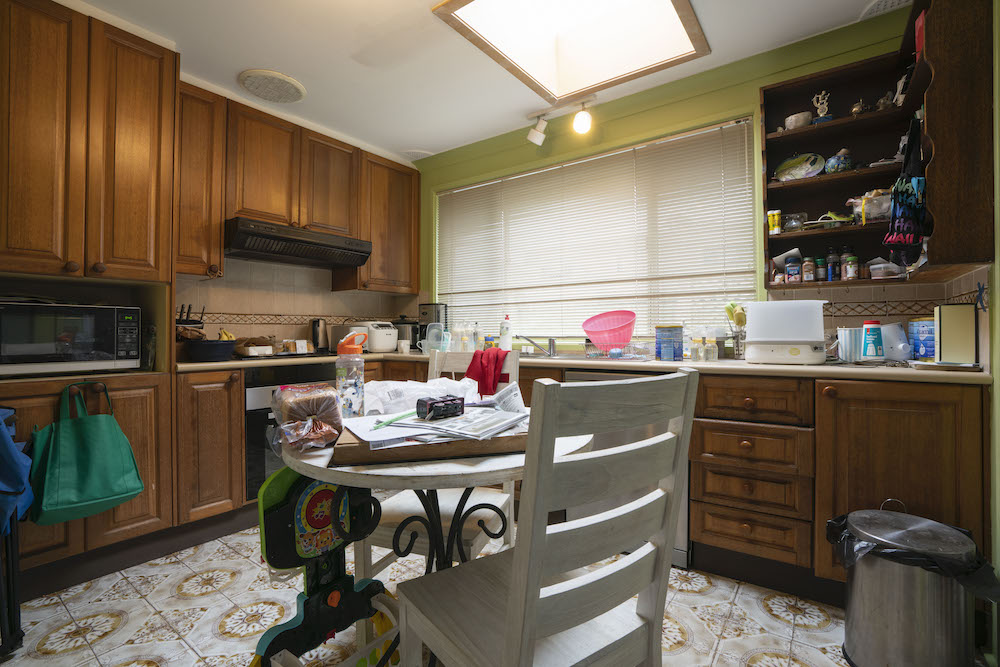 In all truthfulness, I could have cosmetically refreshed this kitchen & got an OK result but the layout would have still been fundamentally flawed. I made the decision to rip the old kitchen out & start again ….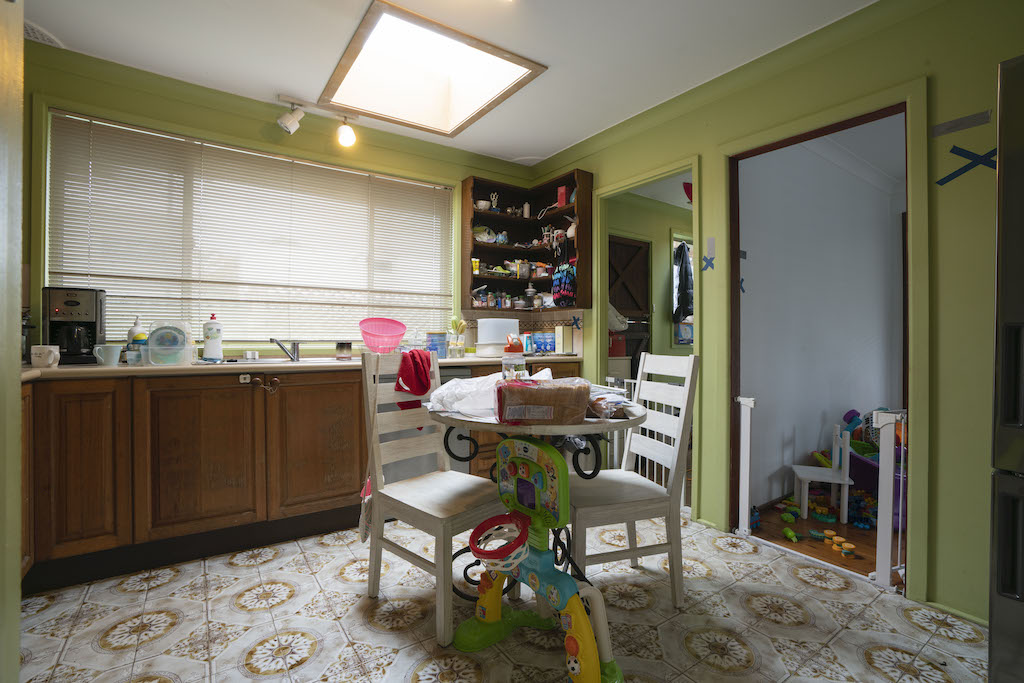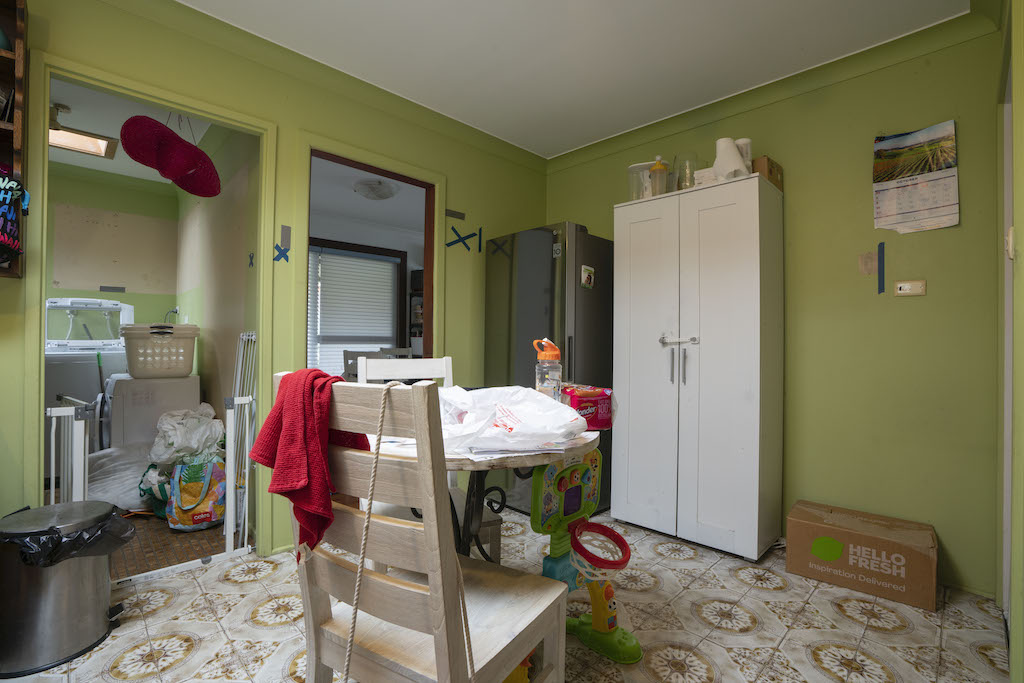 When designing the layout of your kitchen, you want to group things based on 3 different zones;
(1) Food Storage (pantry & fridge)
(2) Cooking (oven & microwave)
(3) Cleaning (sink & dishwasher).
Lumping these things together makes it super seamless to move around the kitchen, plus closing in the doorway to the dining room, enabled me to reconfigure a new kitchen, utilising three solid walls, that integrated the fridge more strategically.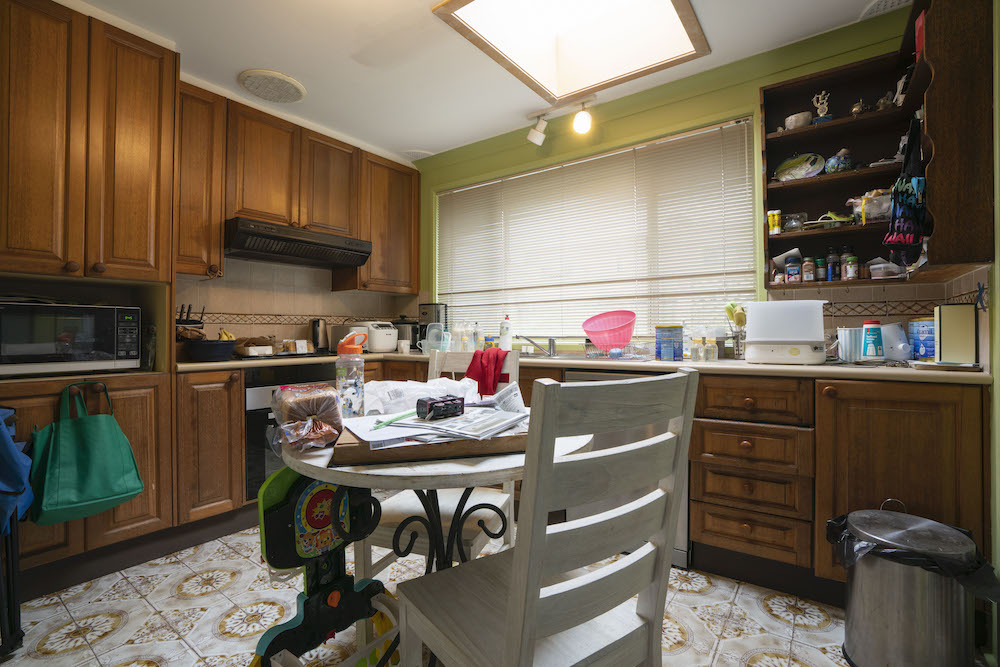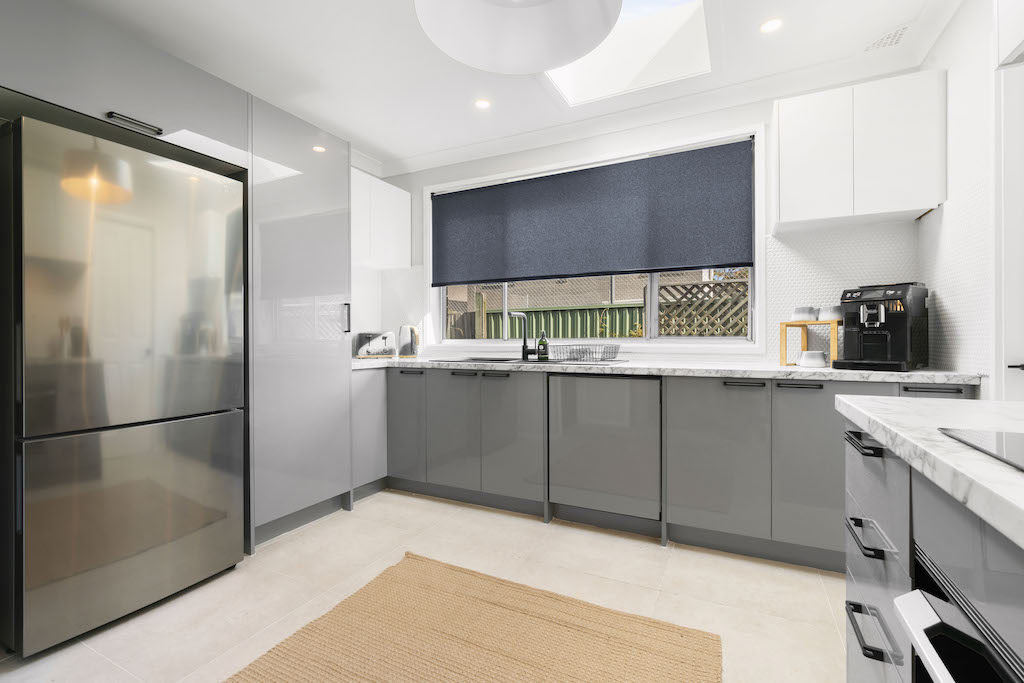 As I'm always renovating on a budget, my carpenters installed flatpack cabinetry from the Mitre 10 Principal Kitchens range. I chose the "Brighton Light Grey" gloss finish for the base cabinets to tie in with the cool tones in the living / dining room, but I wanted the kitchen to still feel bright & open so I chose white gloss cabinets for the wall uppers. A laminate benchtop was placed on top of the base cabinets that mimicks the look of marble, while white penny round splashback tiles give a softer touch to the room, helping the kitchen feel balanced. That dark blue feature wall colour in the lounge room, is now repeated in a new roller blind from Wynstan in the colour "Night Sky".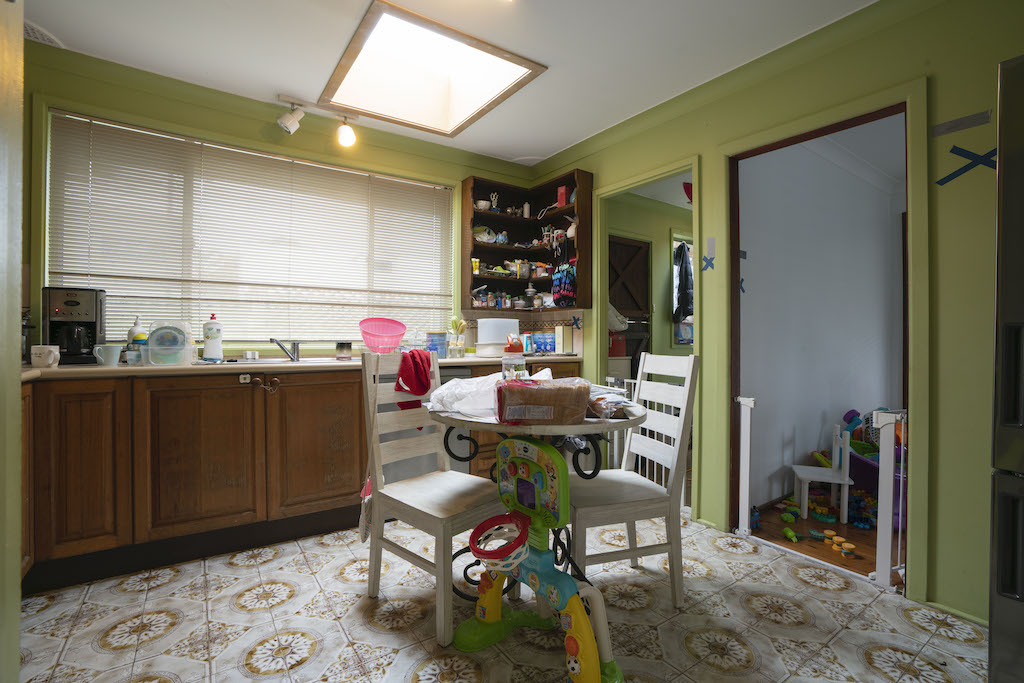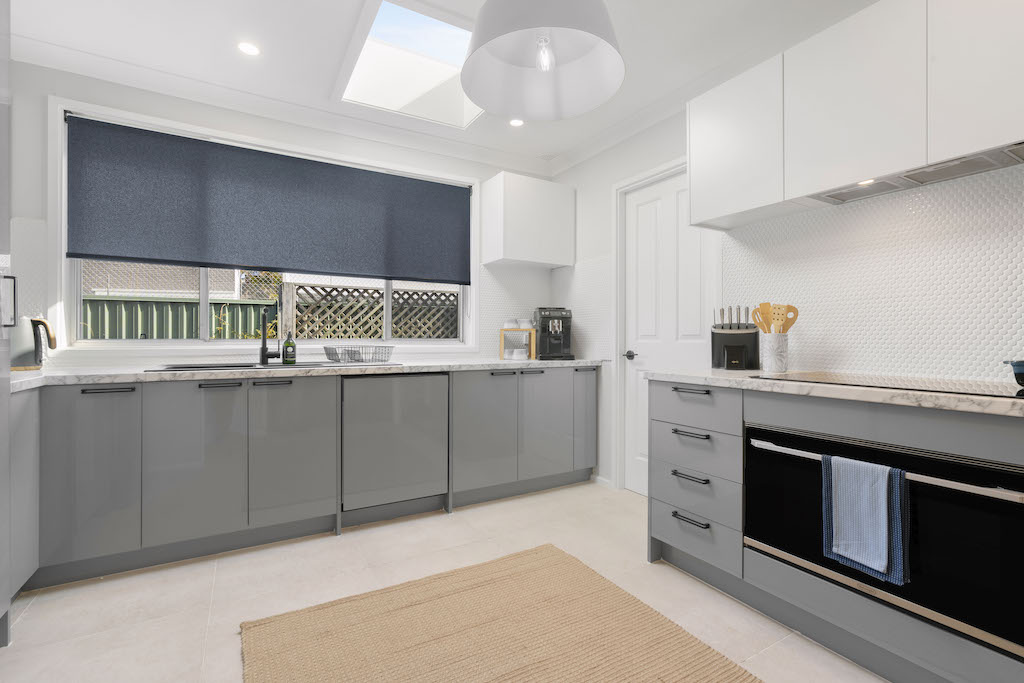 THE HALLWAY
Not too much to report in the hallway. I simply repeated the VJ feature wall onto one side of the hallway wall that helps visually tie this space to the lounge room. That dark blue feature wall colour has been repeated again for design continuity & the other walls painted in Taubmans Cloudburst to soften the room.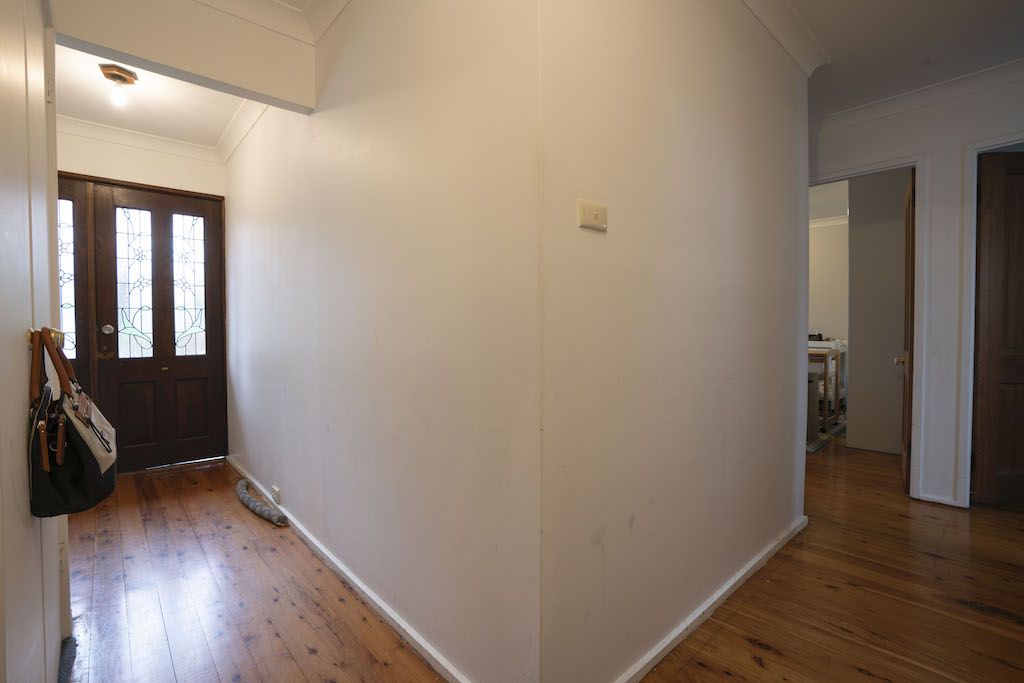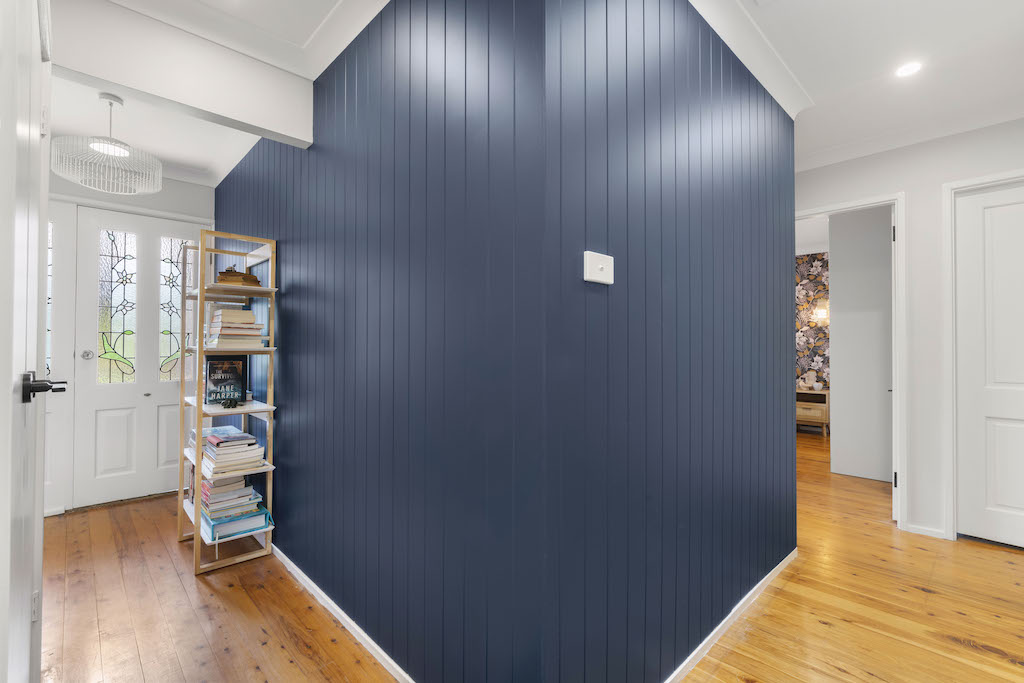 THE MASTER BEDROOM
Next up, we're looking at the master bedroom. As the before photo shows, it's hardly a space that conjures up any images of romance. I wanted this important room to feel like Holly & Darren's private retreat & have its own feel but not be out of sync with the rest of the house. Holly indicated she loved native botanical prints which I used as my design cue.
The Native Floral Wallpaper from Luxe Walls was a super easy addition that packs a lot of punch into this bedroom, especially when you're not working on a huge budget. It was quite a good wallpaper option because even though it's quite a busy print, the dark blue colour base in the wallpaper, ties beautifully with those dark blue feature walls in the other parts of the home. New charcoal coloured blockout curtains from Wynstan were added in, a new Bravo King Bed in Graphite from Fantastic Furniture & the Elliot Squat Pendant in Copper & Corbelle 1 Light Wall Bracket in Antique Brass add much needed light to the room.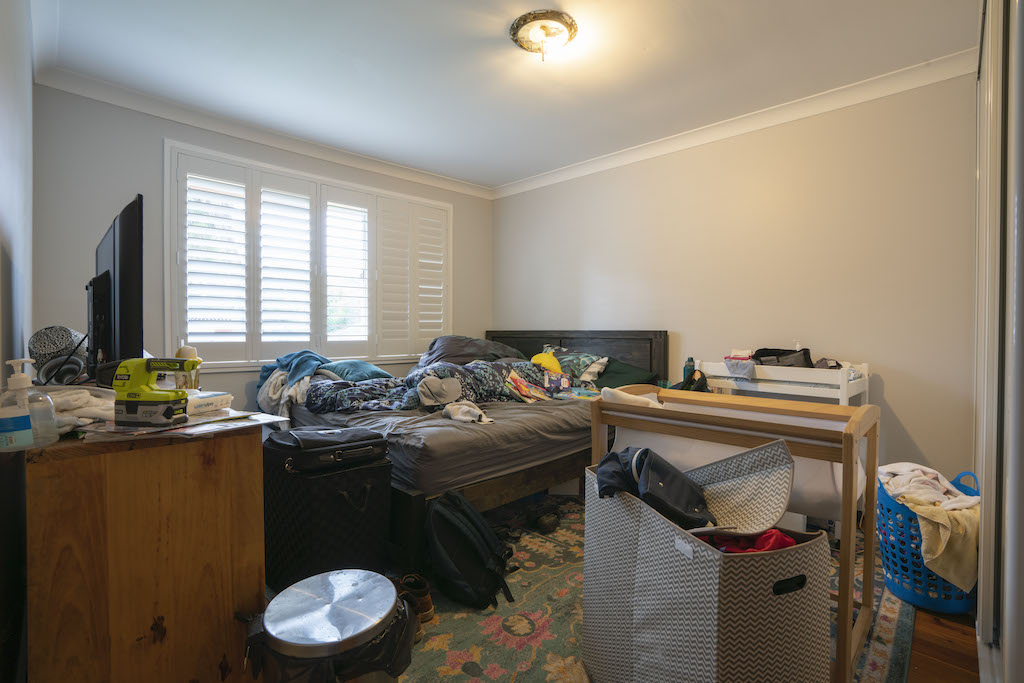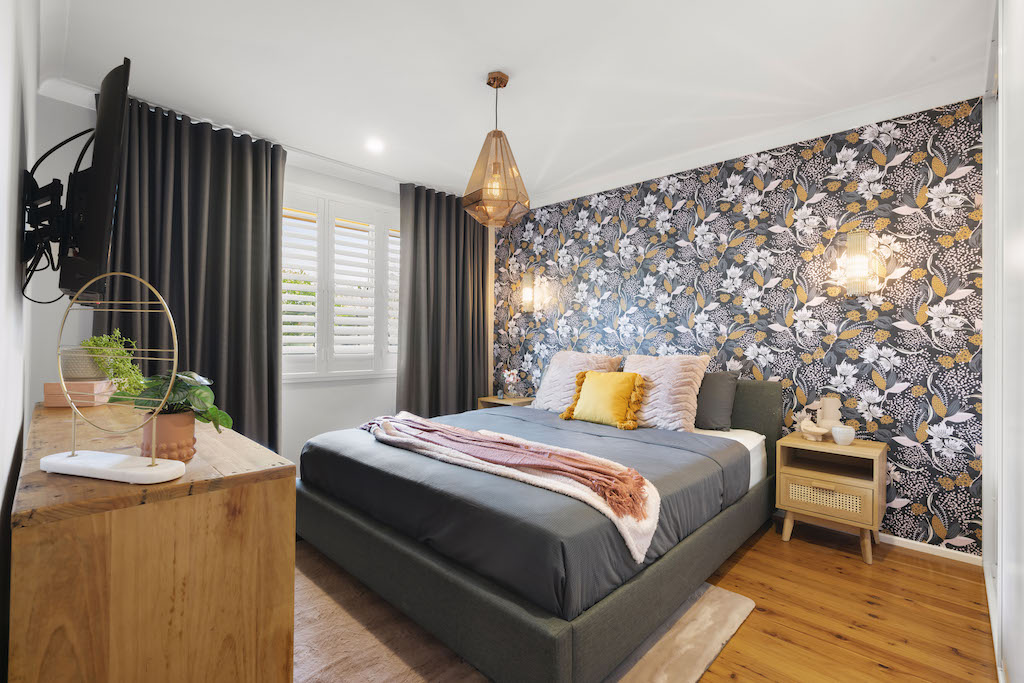 THE KIDS ROOM
Let's have a quick look at the kiddies room, slash nursery. It was time Holy & Darren's little 2 year old boy upgraded to a toddlers bed & the 12 month old bubba shared the room with her little brother so mum & dad have their own special space. I selected the Woodland Theme Wallpaper in Mint from Luxe Walls which adds a light & whimsical detail to the tiny room. Picking up on the green colours in the wallpaper, I added pale green curtains again from Wynstan for colour cohesion & the Phoenix Pendant from Beacon Lighting to add depth to the room. The oak Cabin Toddler Bed from Fantastic Furniture was a pretty close match with the existing cot & I completed it with new bedding from Kmart.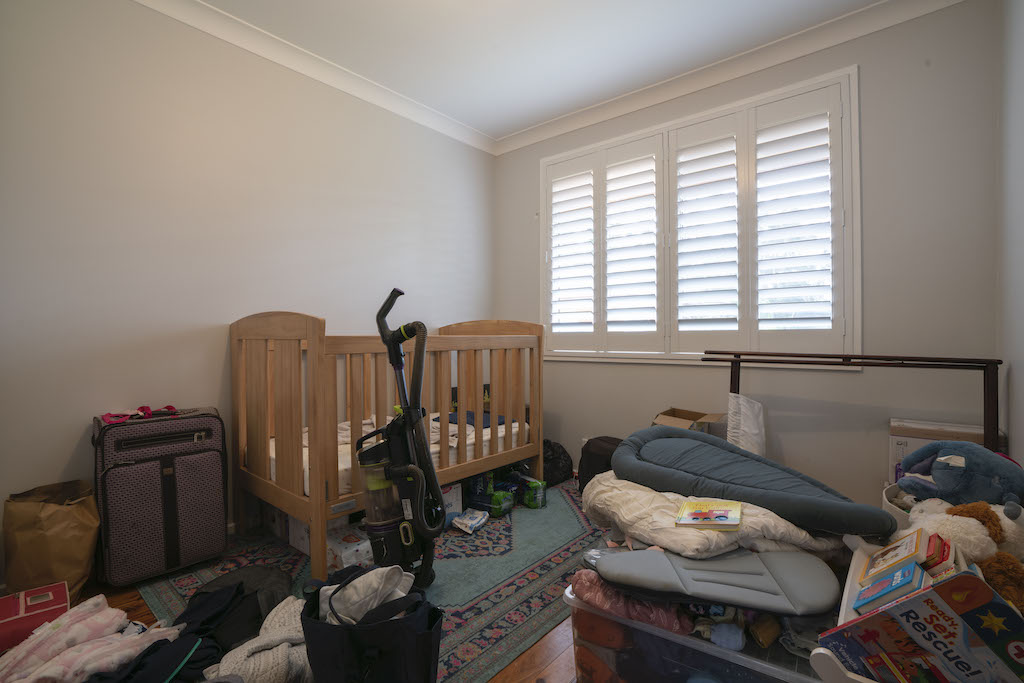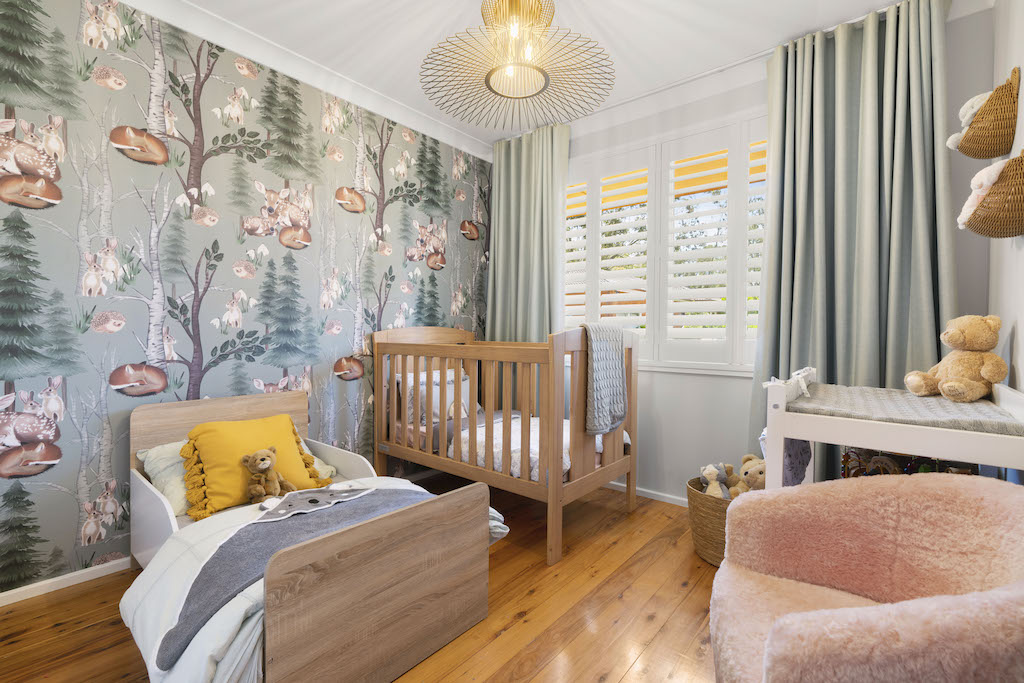 THE BATHROOM
Last but not least, we tackled the bathroom. We only had a few thousand to spend in this room so whilst perfectly functional, it did have a dated appearance, which would have become even more obvious with the improvements I'd made to all the other rooms. With a growing workload, I called in Megasealed to lay new floor tiles & they regrouted all the tiled areas so this bathroom is 100% water tight for many more years to come.
Continuing with the blue theme from the living / dining rooms, I chose the Majorca Palm Springs Deep Blue Matt Tile from Beaumont Tiles & painted the upper walls in Taubmans Elegant Evening. At the time, I wasn't entirely sure I'd made the right decision painting the walls in that darker colour but all the tradies on site loved it, so I ran with it. I still look back on these photos, thinking I should have painted those upper walls in white. You be the judge!
I freshened up the existing wall tiles with White Knight Renew Tile & Laminate Paint & got my sparkies to install a simple wall light above the vanity for practical lighting. Taking out the frosted glass shower screen & replacing it with a new clear glass screen, did wonders for this bathroom, instantly making the room feel so more spacious.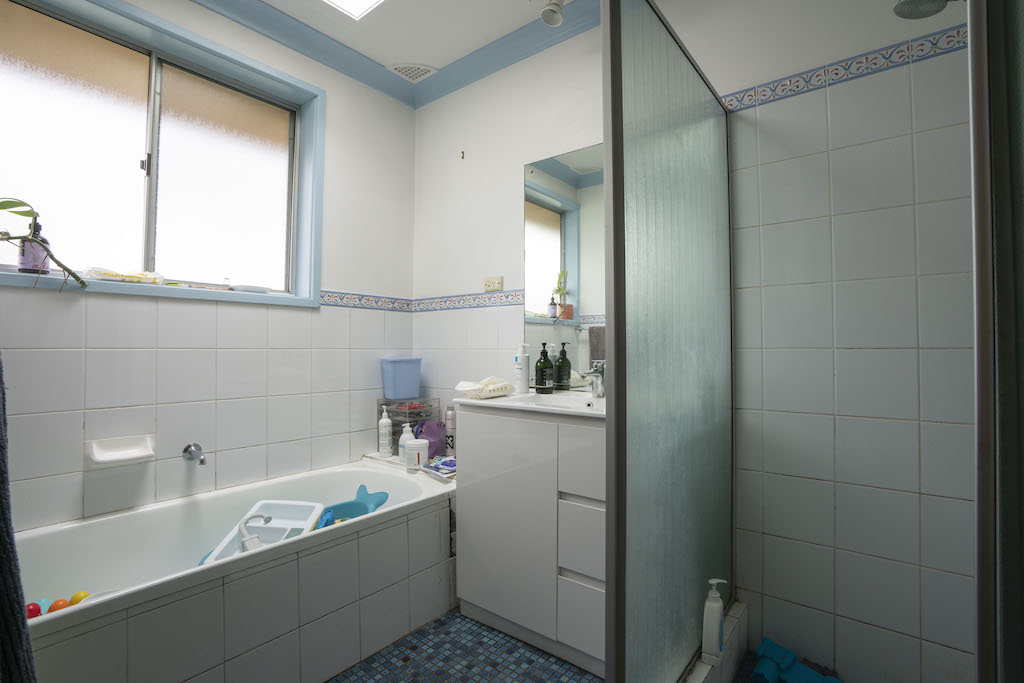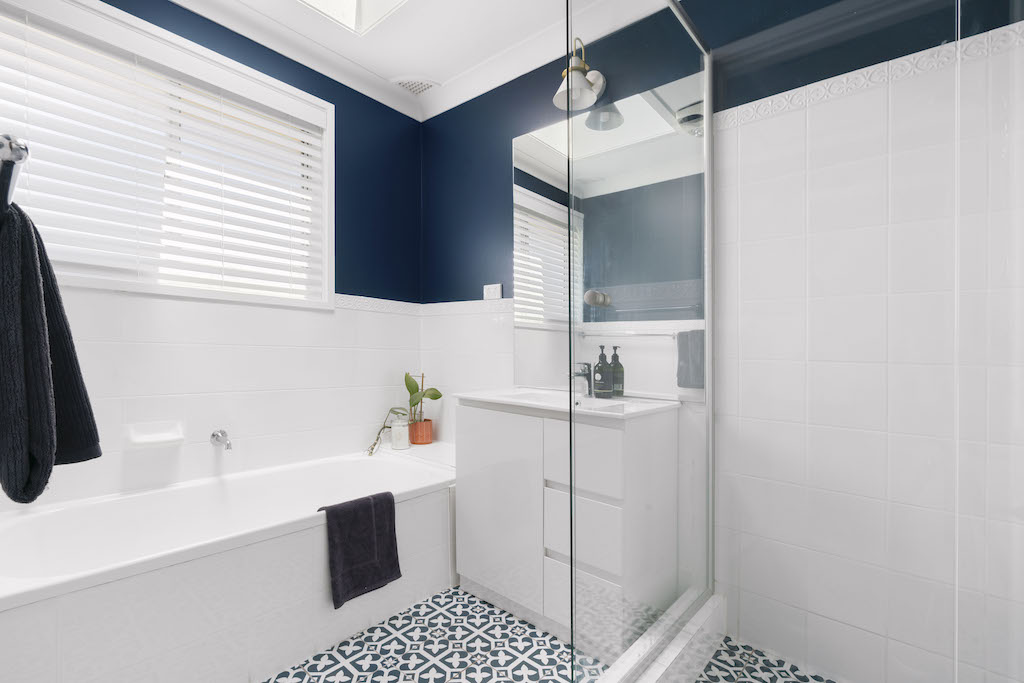 All up, this renovation cost $68,145.79 for all the materials, labour, furniture & styling items at full retail cost. Of this, building materials accounted for $35,322.87, labour at $17,286.00 (excluding my time only) & all the new furniture & styling items at $15,536.92. The uplift in the property value was a whopping $ 210,000, resulting in a net renovation profit of $141,854.21.
On first glance of their newly renovated home, Holly burst into tears, with Darren not far behind. It's not their forever dream home but it does feel like home to them, for now. Whether you're a passionate DIY enthusiast, a budding interior designer or simply someone seeking to create a home that truly feels like a reflection of your soul, this renovation shows the remarkable power of a well thought-out & executed renovation that cultivated a space that not only looks great, but is also nurturing to your spirit.
As always, if you'd like to learn how to do this sort of stuff yourself, be sure to check out my flagship course,
Cosmetic Renovations For Profit
. It was the first course of its kind in Australia & still remains one of the most popular renovation courses in Australia to this day. It's also been fully refilmed & updated this year, taking the post covid property market into consideration. BUT, I must heed a work of warning …. it's only for those of you who want to be ridiculously smart in property & renovating 😊
As always, if you have any questions on this renovation, be sure to reach out to us via [email protected].
Much love,
Cherie x