What students learn to earn $186k clear profit
After completing their first renovation together as Cosmetic Renovations for Profit students Daniel and Melinda bought this Gold Coast unit a couple of doors down.
"We knew first-hand what renovated properties were selling for in our target suburb on the Gold Coast, so we pounced on this property the day it came on the market," says Melinda.
Property: 2 bedroom/2 bathroom apartment on the Gold Coast
Purchased: $335,000 (May 2016)
Sold price: $565,000 (May 2018)
Renovation spend: $24,811
Net profit: $186,000 (after buying/selling/renovation and holding costs)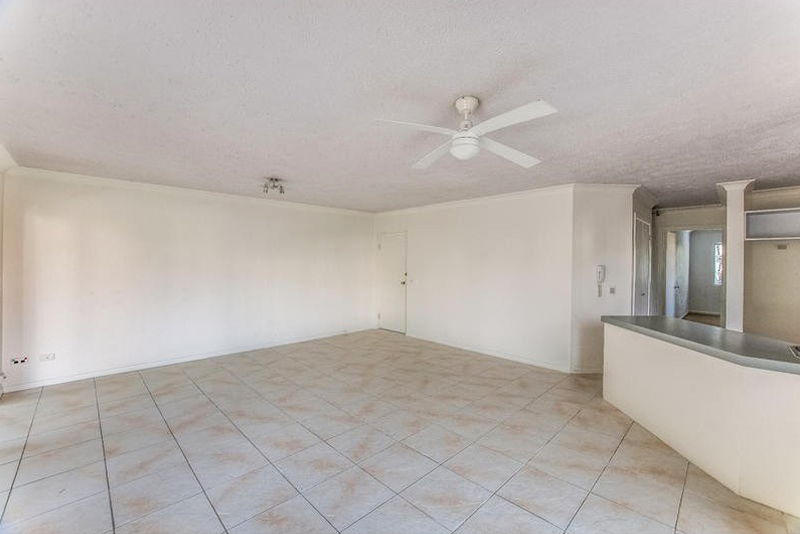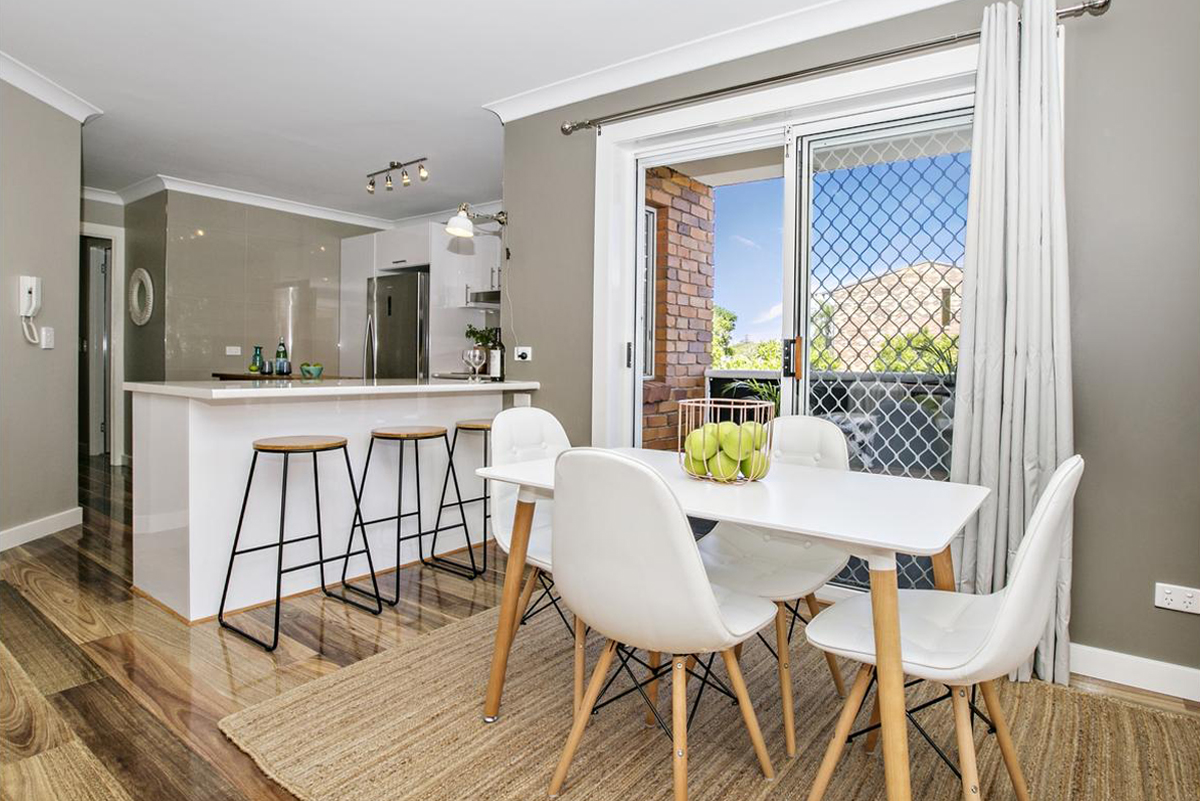 The unit ticked so many boxes and was clearly perfect for a cosmetic makeover. It had a great floor plan, an oversized patio and was just one block back from the beach. "It was located in a 'gentrifying' suburb, with a lot of infrastructure upgrades and new developments happening," says Melinda.
It already offered open-plan living, abundant natural light and an expansive 40 square metre entertainer's terrace with private leafy outlook. On its doorstep was a thriving café, dining and retail scene, schools, a variety of leisure and recreational facilities, supermarkets and it was within easy access to public transport and the motorway.
The property became their Principal Place of Residence (PPOR), thus avoiding capital gains tax, and they renovated it over a two-year period. "Daniel broke his hand mid-way through and was out of action for a few months, which slowed down the DIY parts of the renovation," says Melinda.
Drawing on Cherie's "cookie cutter" guide, they completed the following upgrades;
Jackhammered up the tiles, removed carpet and installed high-gloss "spotted gum" laminate flooring throughout.
Removed dated "stipple" ceiling and re-plastered for a more contemporary feel.
Used Cherie's palette of colours to paint throughout. A darker shade of the main wall colour was used around sliding doors leading to outdoor area to frame the view onto the balcony.
​​Put floor-to-ceiling mirrored wardrobes in the two bedrooms.
Installed ceiling fans in living room and bedrooms, and air-conditioning in living areas to combat the Gold Coast's high humidity in summer.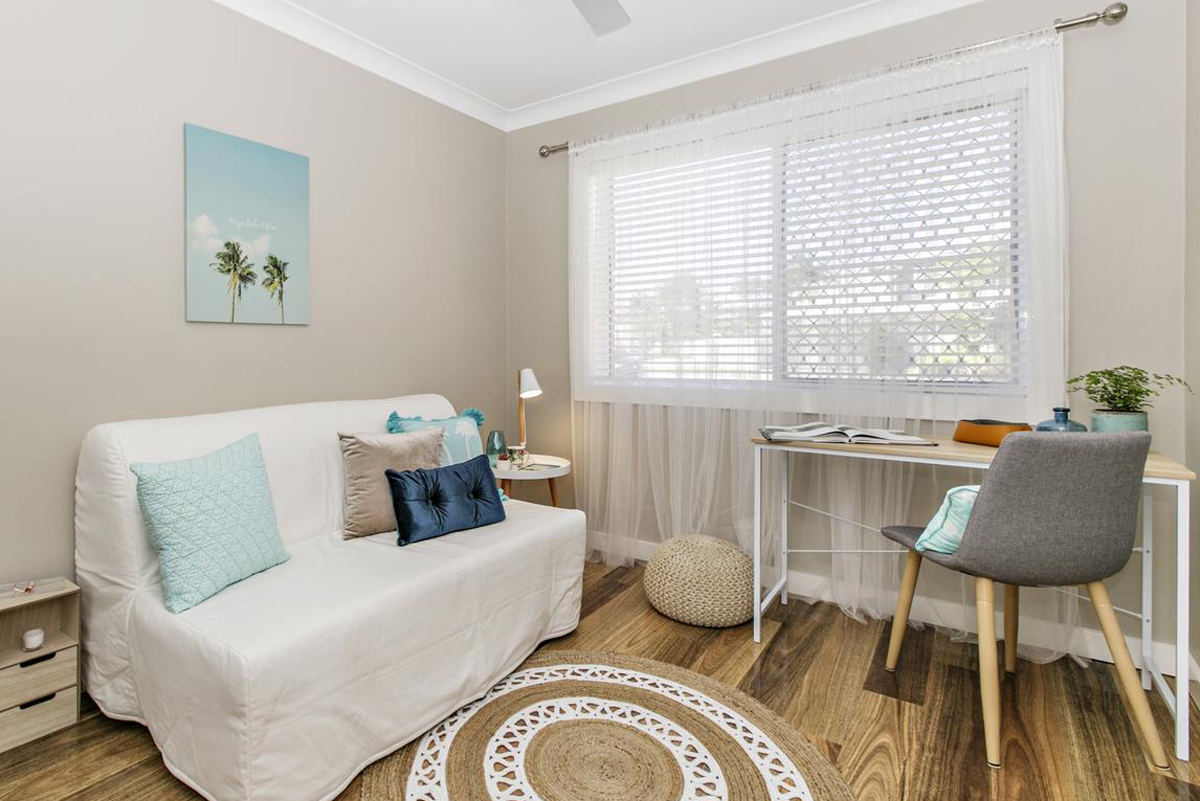 The second bedroom was styled as a multi-purpose study.
Kitchen REVAMP
The open-plan kitchen is the focal point of the living space so the couple knew its renovation was pivotal to the makeover. They decided to rejig the layout, removing the angled breakfast bar and cramped fridge cavity and corner pantry, introducing a more contemporary L-shaped kitchen. They installed a white, high-gloss Kaboodle flat-pack kitchen with soft-closing cabinetry, breakfast bar, feature lighting and shiny new appliances. The kitchen now feels a lot more integrated with the rest of the living space and less "boxed in".

BATHROOM BLITZ
The unit had a main bathroom as well as an ensuite. These were both gutted, plumbing left in the same spot, and new fixtures, fittings and tiles installed. The feature lights were found at a clearance sale. A laundry was integrated into the main bathroom.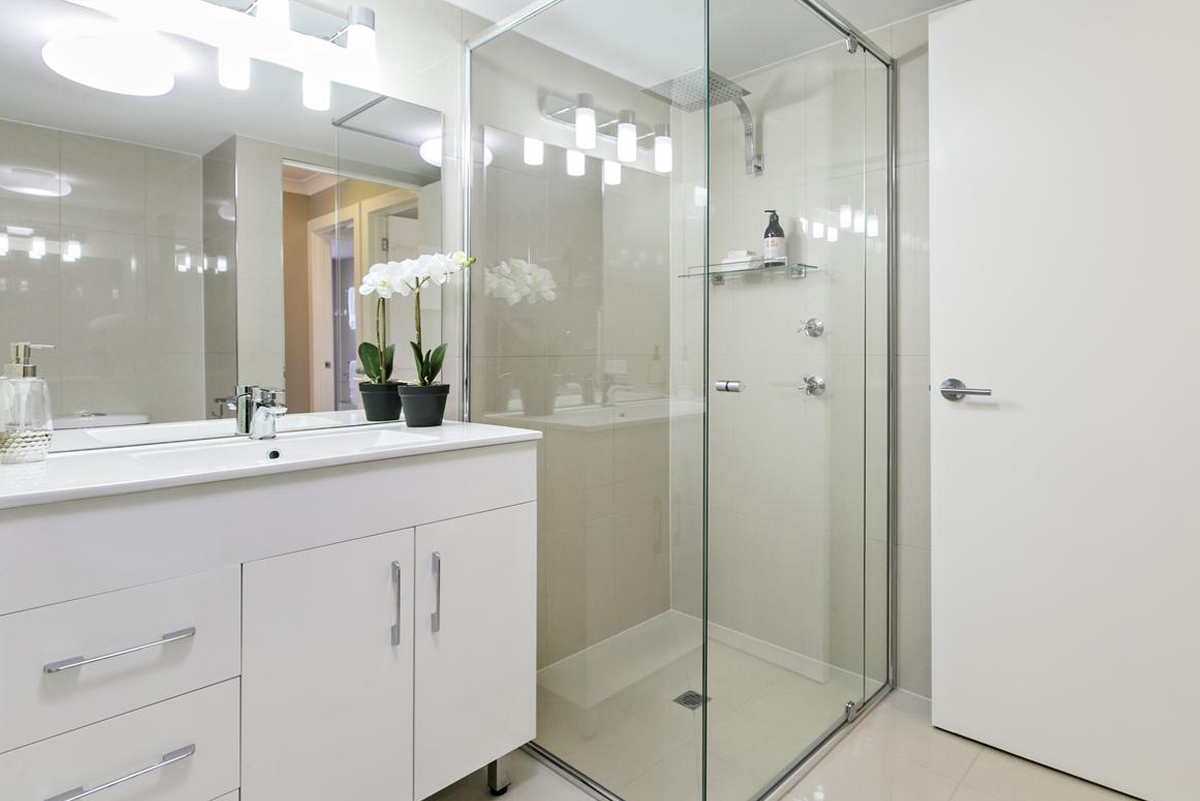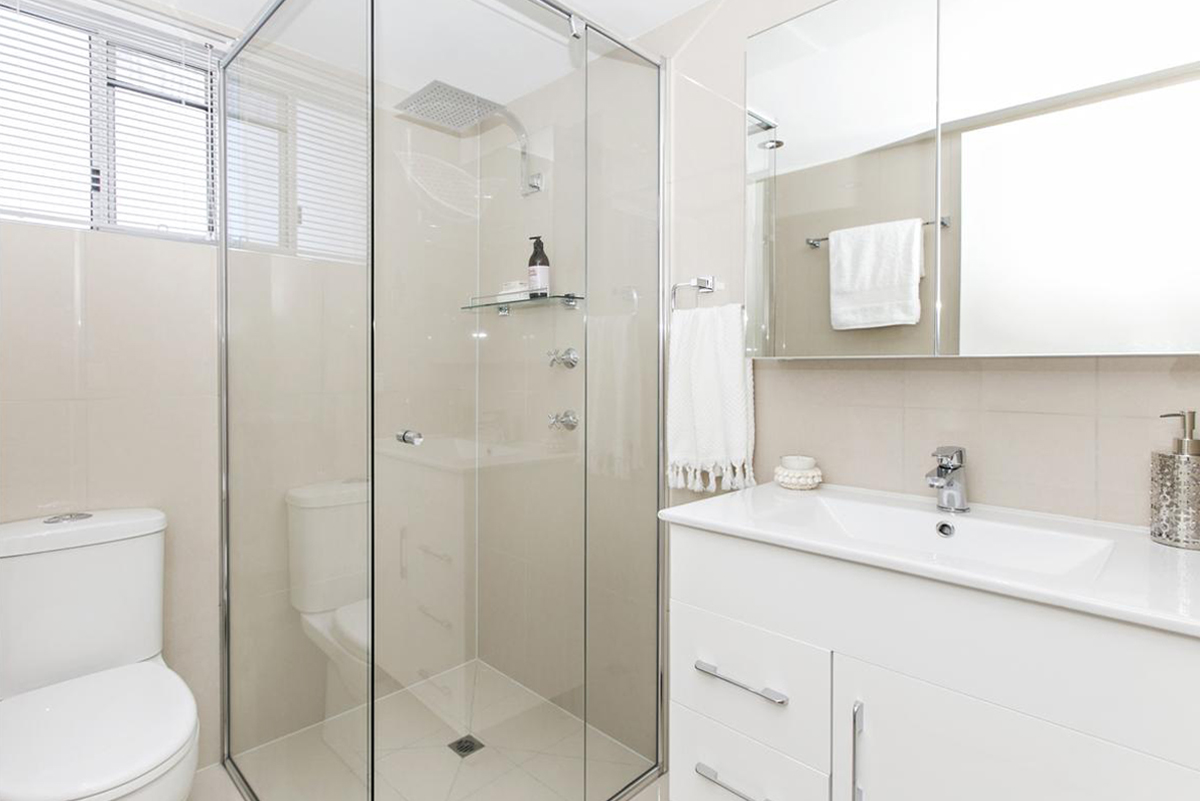 EXTERIOR FOCUS
The huge outdoor area was a major bonus, especially for a Gold Coast apartment, so the couple made sure they capitalised on its full potential, creating a resort-style al fresco entertaining area. They used paving paint for the concrete, installed a flat-pack pergola with a retractable cover, added a timber balcony screen for privacy, and black mesh balistrade screening to block the view from the street. An outdoor drying space was also added. "We put sheer curtains on the pergola for wow factor, planter boxes with tropical palms doubled as bench seating, cordylines plants in pots, and outdoor cushions."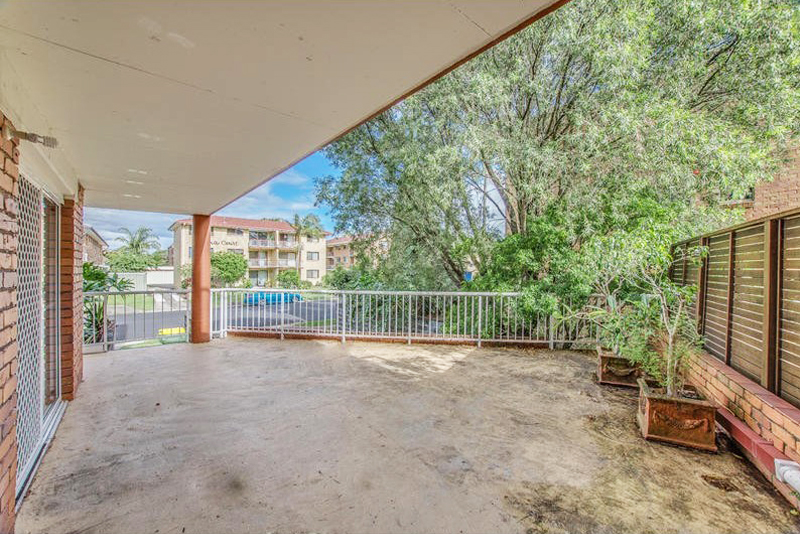 They also tapped into $38,000 of body corporate funds for general improvements to the apartment block. They had the roof re-pointed, sealed and painted; gutters and downpipes replaced; interior staircase painted; added a new garage door; new security intercom; and new turf and landscaping.
When dealing with a body corporate, get quotes very early on for external work as it can take some time to get them through the committee voting
As well as completing the Cosmetic Renovations for Profit bootcamp together in 2015, the couple decided to do the Interior Design for Profit online course so they could style their own properties for sale.  "We styled this property for a relaxed coastal lifestyle, with a strategically chosen colour scheme," says Melinda. "An analogous [complementray] blue/green colour scheme was added to each zone, and pops of burnt orange/copper colours tie in with the warm timber tones of the flooring and outdoor privacy screen.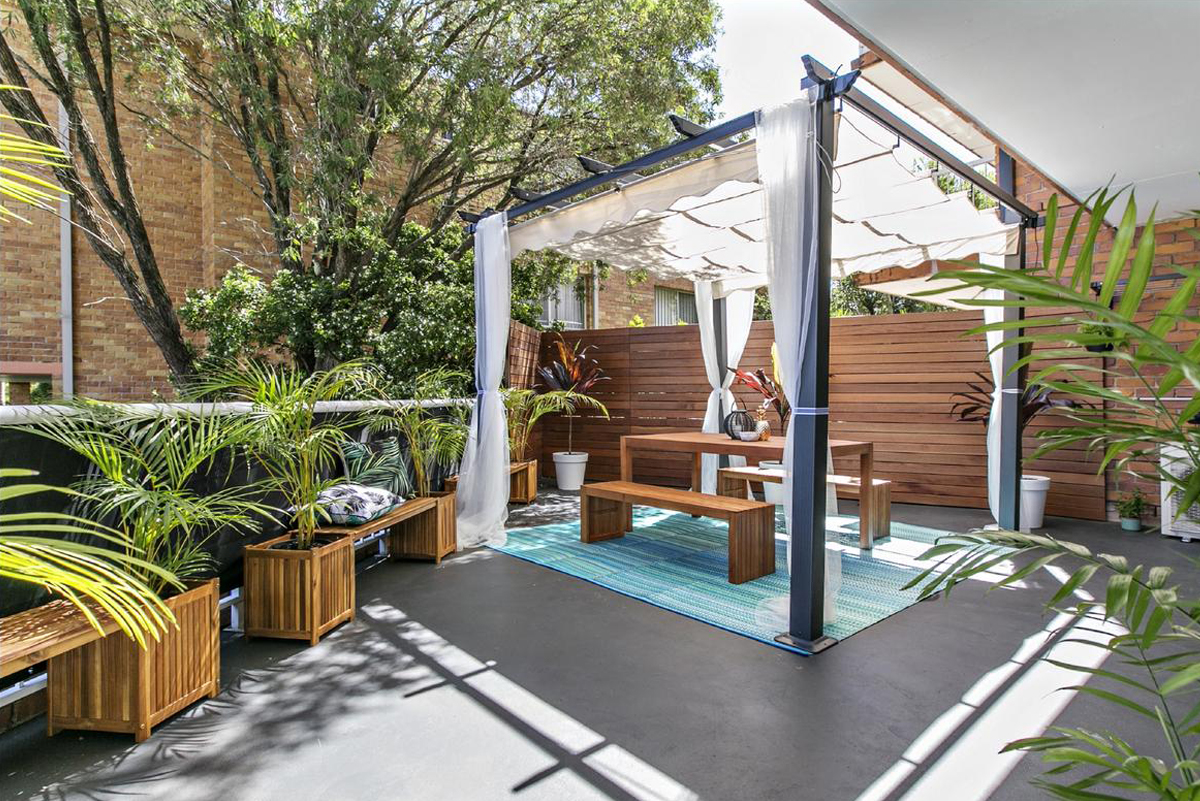 "Due diligence told us that a couple without kids or downsizers would purchase the unit, so we strategically styled the second bedroom as a multi-purpose study with a sofa bed."
As well as attending the RFP bootcamp in 2015, the couple completed the Interior Design for Profit online course so they could style their own properties for sale
Some styling items were purchased new, while others were their own furniture. "We organised real estate photography and floorplan, which cost $340, and wrote our own property spiel," says Melinda. "Daniel also produced a video to showcase the property."
They even marketed and sold the unit themselves, using the real estate platform Property Now, which lists the property on all the major real estate websites. "We saved $16,000 in commission and didn't really have to do much in the way of selling – the property sold itself," says Melinda. "We held open homes and private inspections and attracted both potential buyers and other renovators. It's very rewarding seeing the amazed looks on the faces of potential buyers and listening to their positive feedback was fulfilling. Seeing the excitement of the buyers who secured the purchase from us was priceless."
Never missing an opportunity, when the property valuer inspected the property on behalf of the purchaser's bank, the couple were on site to show all the property's features and also provided the valuer with their own valuation due diligence report using Cherie's template.
Daniel and Melinda have completed three projects together and have just purchased a property in Brisbane which they're about to start work on.
CoreLogic statistics
Suburb median unit price $474,556
Annual Change Median Value 22.7%
3 Year Change Median Value 34.4%
---
SOURCES
*PROFIT STAT: Most common price for renos is between $12k & $40k. Source: HIA