How To Choose The Right Carpet For Your Home
Let's face it, carpet feels so nice under your foot, particularly in the winter months. But selecting the right carpet for your home involves more than merely casting your eyes over a few colour choices in your local carpet showroom! There's a stack of factors to consider so you'll need to know the right questions to ask, during your selection process.
So, chances are you might be sitting there thinking:
Where do I start?
Which rooms should I carpet in my home?
How will the design & look of the carpet mesh with everything else in my home?  
What type of material should I go for?
What pile type should I buy & why?
Colours, gradients, patterns, cost, maintenance…?  
Really, the list goes on.
Got your pen & paper ready?
To make things super easy for you, I've pulled together a carpet selection checklist that will help you make the right decision.
1. Application
Aside from rooms such as bathrooms, laundries & kitchens (which in my opinion, should never be carpeted for practicality reasons), consider the rooms you're thinking of carpeting and ask yourself – is it going to be practical & does the room really need it?
In my opinion:
Kitchens, bathrooms, laundries, dining rooms & areas with lots of direct outdoor access should never be carpeted.
Bedrooms, hallways, staircases, walk-in robes are good contenders for carpet.
Lounge, living or rumpus rooms need to be thought through, depending on how much traffic comes through those rooms.
Other things to consider:
If a room gets a lot of foot traffic, you might opt for floorboards instead or a shorter piled carpet.
If the room receives a lot of natural sunlight, you might want to opt for a lighter carpet colour to avoid fading.
If you want to carpet your living room that has direct outdoor access, you could lay a small area of floor tiles at the entryway (to capture dirt), then carpet the remainder of the room.
2. Practicality
Many people believe carpet is just not practical for today's busy lifestyles, especially if you have children & pets in residence. On the flipside, plenty of designers will disagree. There's a lot of good reasons to choose carpet over other flooring options:
It's a warmer surface under your foot than floorboards or tiles;
It has soundproofing qualities so can be good for reducing noise;
It provides a safe, non-slip surface on stairs;
Carpet cushions the fall of anyone or anything that lands on it;
Can add softness & texture to a room to help with basic interior design principles;
More comfortable for pets to walk on than floorboards;
You can easily lift carpet if sub floor access is required (for whatever reason).
But there are also many factors to take into consideration when it comes to practicality. A bump on a little person's head might be cushioned by carpet but having to vacuum dog hair out daily might be enough to pull your own hair out.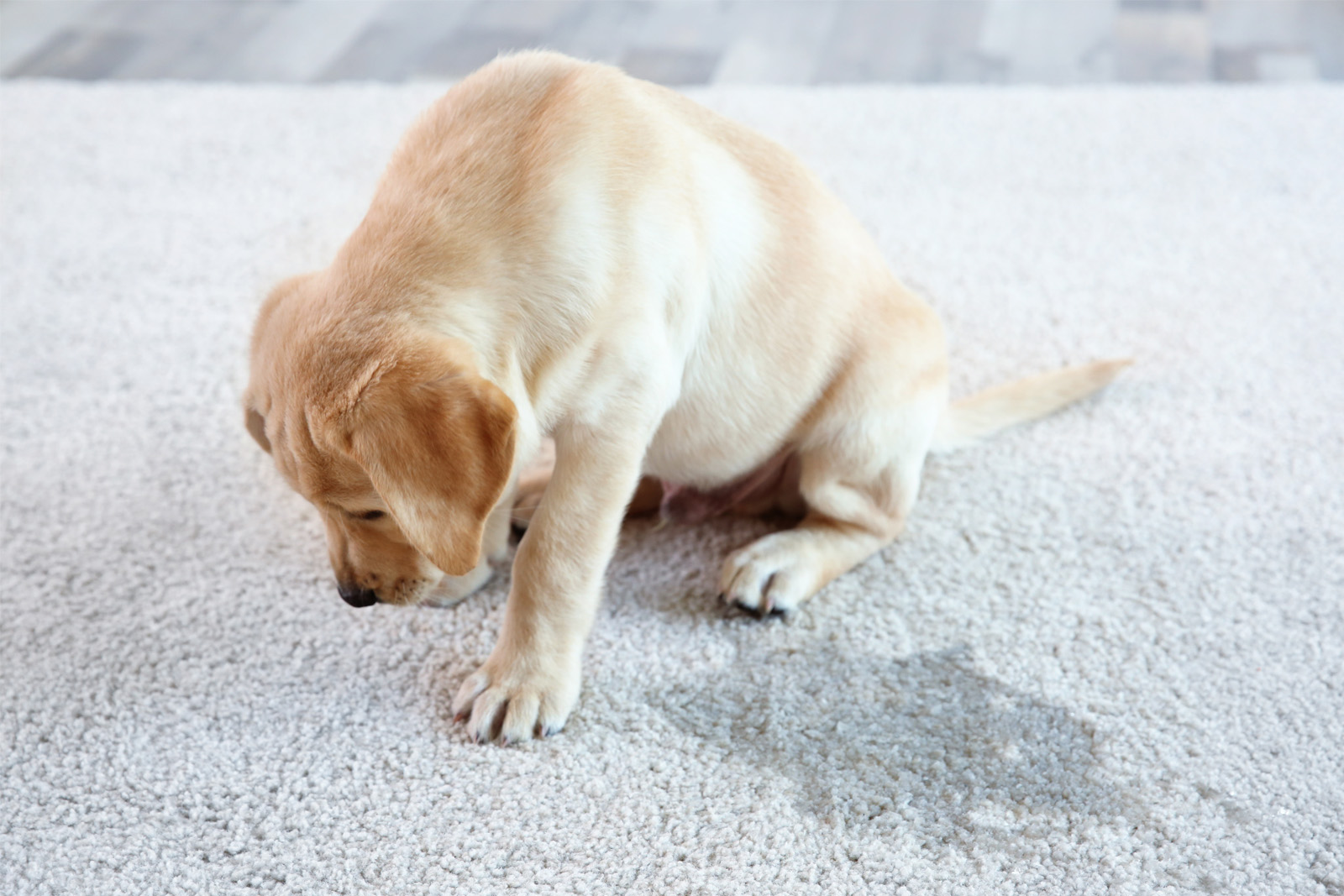 Other practicality considerations:
High traffic foot areas: Loop carpets are typically hard-wearing & practical so this is a good option to suit hallways & staircases.
Outdoor access: Will the carpeted area have direct access to the outdoors which may be exposed to extra moisture & dirt? If it's a yes, then consider darker colours with a shorter pile to disguise mud & dirt.
Kids: Loop carpets are a great option for children's playrooms & bedrooms as they can put up with a bit of a beating.
Pets: How prepared are you to allow your pets to roam the floors of your home, potentially at times with muddy paws & malting fur? If you have pets, wear, tear & dirt are inevitable. Choose a dark coloured carpet that's durable, so it will disguise these stains. No-one wants to be getting their carpets steam cleaned every few months. If you do have pets, steer clear of loop carpets as claws can get caught in them.
Bedrooms: plush, velvety carpets are practical for low-traffic bedrooms as they can insulate a room & provide soundproofing, allowing you to relax into your peaceful space. They also add a touch of luxury!
Natural sunlight: If your space receives plenty of natural sunlight, then go for a lighter colour to avoid colour fading.
The bottom line for practicality is this – choose a carpet type that will stand the test of time & think logically as to how the room will be used. Try to match your carpet to the use.
3. Aesthetics
How will the design & look of your carpet mesh with other elements in your rooms and your home as a whole?
Contemporary homes: Modern homes are often furnished and decorated with block colours, so you can afford to go a little bolder with neutral geometric patterns. Just beware of overpowering the rooms with busy designs – in which case, opt for a single shade, high-density, good-quality nylon/wool blend.
Example of a busy geometric pattern that may be too overpowering for most homes.
Hampton style homes: For that sophisticated, classic look, go for something fresh & minimalist with light tones, to complement traditional & neutral furnishings.
Older homes can tend to have limited natural sunlight. Give your dark space a facelift with simple furnishings & fresh, neutral coloured carpet that will lighten the space.
Country style homes can instantly feel more comfortable when you go for a bold, floral, classic plaid carpet design or even a neutral coloured carpet with a natural shade. For a bit of personality and individuality, go for a warm & lively pattern.
4. Material
When selecting the type of carpet for your home, you should consider how you want your room to look & feel.
The type of carpet you select should also correspond with the value of your home. A more expensive option like wool will suit a home of higher value. A less expensive option such as polypropylene will suit rental properties and homes with a lower value.
Wool: Typically, wool is one of the most expensive materials, but it's without a doubt, the softest of all carpets. It's luxurious aesthetic, gives it a feeling of warmth &  comfort rarely achieved in any other carpet materials.
Nylon: while it achieves a similar look & softness as wool, nylon costs less and offers more variety in style & pile types. It's easier to clean than wool and preserves its colour longer. It's a very popular choice for people today.  You can also buy a wool & nylon blend which is a combination of both that provides luxury with durability.
Polypropylene: this synthetic material is coloured with solution dye and is water, sunlight & dirt resistant. Polypropylene is less resilient to weight so works best in a low pile and areas of less foot traffic.
Polyester: known for its high-value, low-cost attributes, polyester holds many of the same styling characteristics as nylon with a choice of a loop or cut-loop finish. Though not as buoyant and responsive to weight, it's easier to clean, making it an excellent option for rooms such as playrooms, kids' bedrooms & investment properties. It also holds colour much longer than other fibres, so works well in areas with lots of sunlight.
Natural: some manufacturers have developed clever ways to recycle pre-loved carpet. Others have developed materials from recycled plastics or natural fibres like sisal, coir or seagrass. Speak to your carpet supplier about eco-friendly carpet options, if this is important to you.
Example of natural carpet.
5. Pile Type
Generally speaking, there are 2 main pile types: cut pile or loop pile. The two types can be combined to create another option called a cut & loop combination which can produce a wide range of designs, textures and surface effects.
Cut Pile: a cut pile carpet is made by cutting the yarn loop, giving the carpet fibres an upright appearance. Variations of this include velvet – a short pile – that can be uniform in height or at different heights to create the desired pattern. Longer piles have an opulent feel to them & work well in bedrooms and living spaces. Typically, any cut pile works well in luxurious, modern and formal settings; it's merely a matter of how much weight your carpet will be exposed to that should guide your decision.
Example of cut pile.
Loop Pile: A loop pile is made from strands of fibres that are looped through carpet backing. Though looped piles can be rough on the feet, they're still a popular choice for classic homes with character because of their simple beauty.
Example of loop pile.
Cut & Loop: this pile type combines a cut & loop design that can create sculptured, geometric and grid-like patterns. While this combination produces an aesthetically pleasing textural appearance, they tend not to work in areas with high foot traffic as they can wear out over time. Opt out of this option for stairways and entrances but consider them for bedrooms and living rooms.
Cut & loop example.
6. Colour
Getting the colour of your carpet right will set the overall tone for your home. Colour does a wonderful job of making rooms feel cosier, more relaxed or more spacious and can accentuate the reflection of natural light.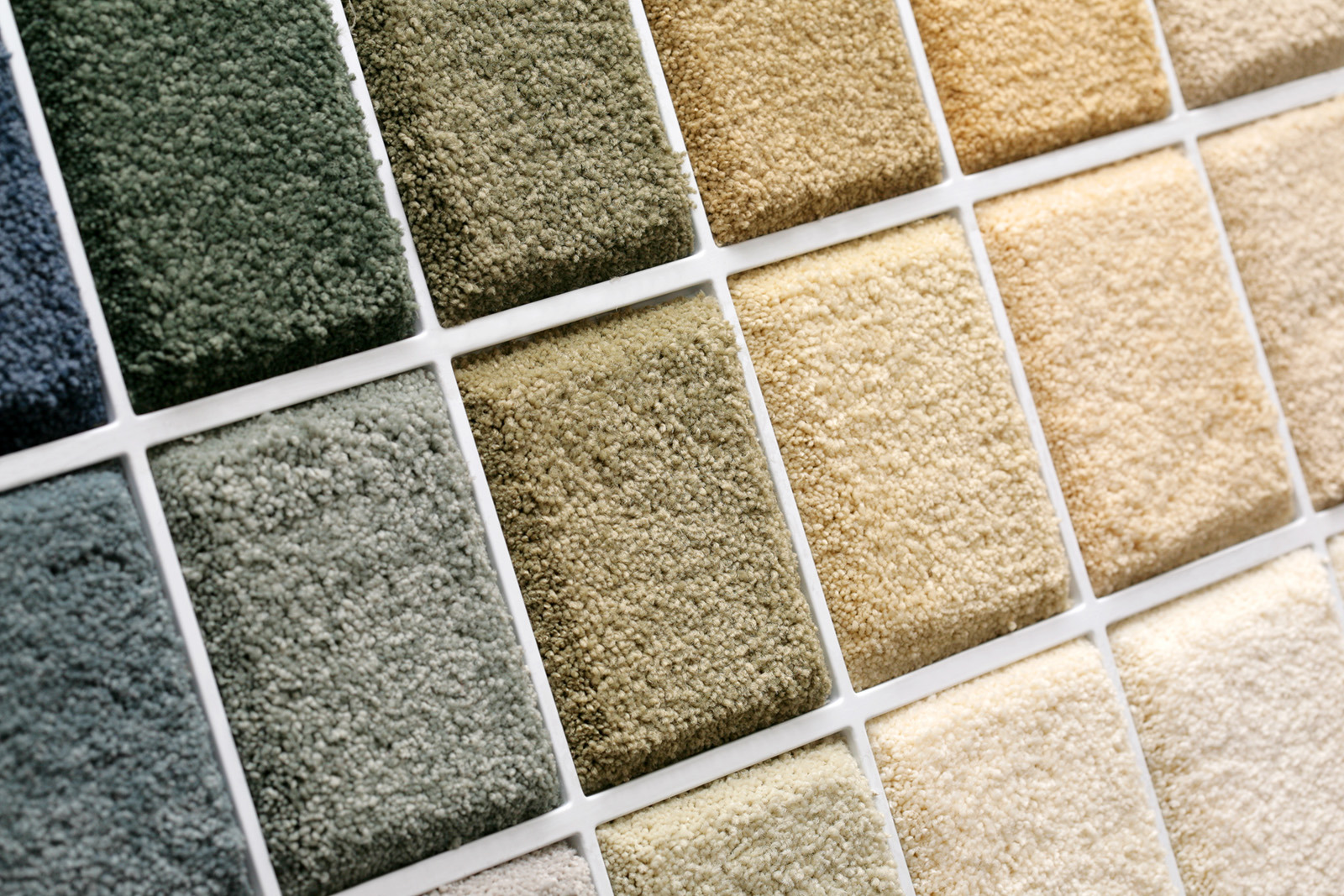 Neutral colours: beige, cream & light charcoals suit virtually any colour scheme and can make a room feel more spacious & peaceful. You can get creative with patterns and textures if you're concerned neutral colours might make your room feel bland. Wool fibres tend to come in more natural tones.
Example of neutral coloured patterned carpet.
Dark or Light: use darker tones to create intimate, cosy spaces but be sure to offset the harshness in tone with lighter furniture & décor accents. Lighter shades can open up a cramped room and make them feel really spacious, though aren't as practical.
Bright colours: if you're game enough to make a statement, go for bold & lively colours like greens, pinks and reds. They're stimulating and can evoke a sense of excitement, but too much of it can overwhelm the eye so minimise this type of carpet cover to small areas only. Nylon fibres tend to have more choice in bright colours as does moving across to commercial carpets which often offer a wider range of bold & striking patterns.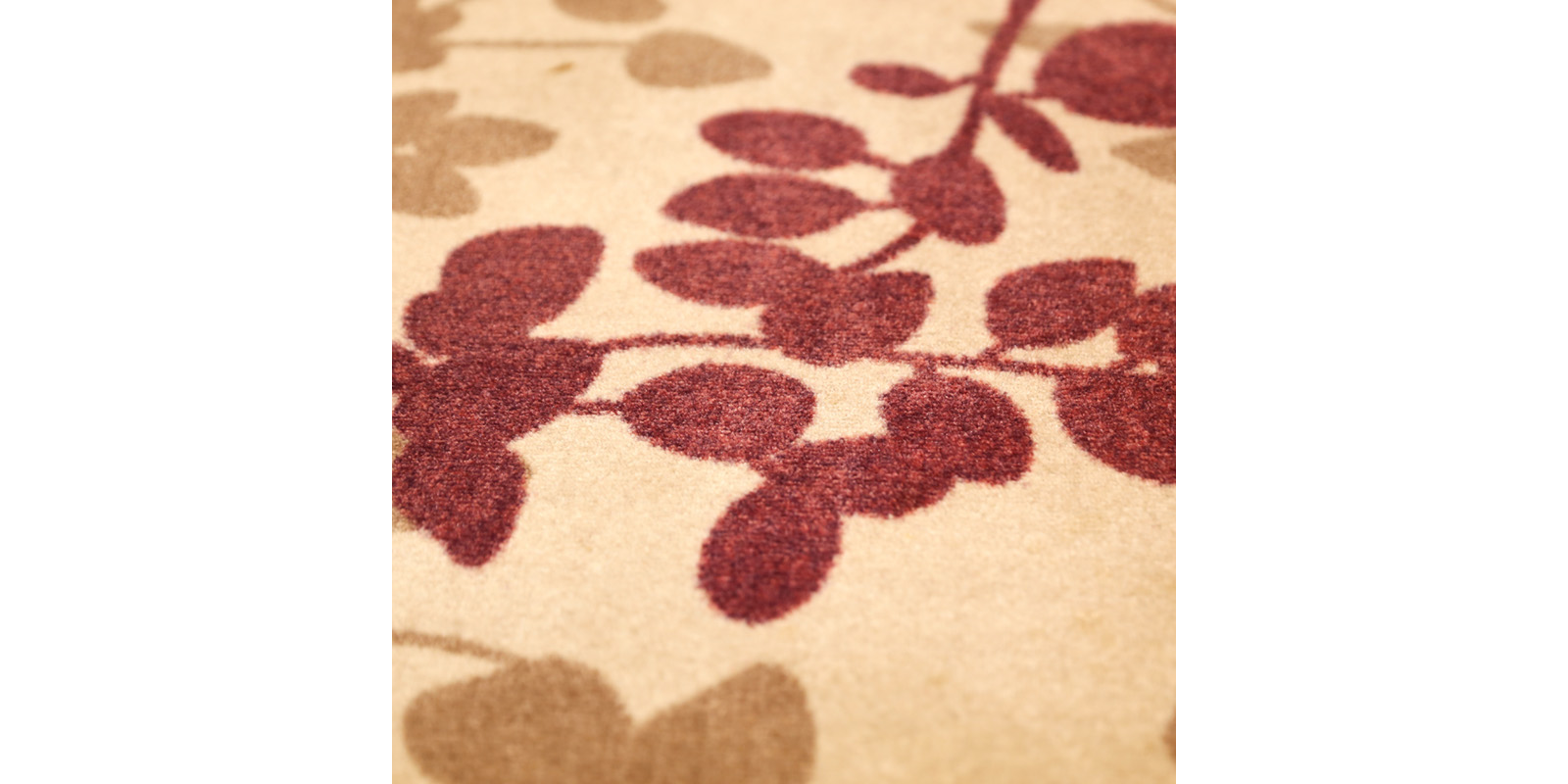 Commercial carpets offer lots of design choice.
Speckled colours: A combined mixture of both light and dark will disguise dirt, stains and material pills.
7. Durability 
Most designers will tell you – the denser the carpet, the longer it will last. Density is a combination of carpet face weight & pile height and represents the total volume of fibres a carpet contains in a specified area. Type 6.6 nylon carpets have always been considered as having the highest level of durability & longevity.
So, when should you be letting durability guide your carpet decision?
If you're renovating say an investment property, then you're likely to not be so concerned with selecting a carpet that is built to last – its purpose is cosmetic and to keep your tenants happy.
If you're renovating your home to live in, then – budget permitting – go for something you love, is of great quality and will stand the test of time, like a high-density nylon carpet.
Gauging the durability of carpet options can be hard for the average home renovator. But online resources like the Australian Carpet Classification Scheme (ACCS) give you access to a consolidated grading system for carpets of all different types & their suppliers.
It's important you know that residential carpets have a rating system out of 6 stars &  they're judged on how well they perform in wear & tear tests. They also provide suggestions on how well they perform in dense traffic areas so be sure to ask about your carpets star rating with your carpet supplier.
 8. Health Limitations
Allergies are frustrating! But, what's even more frustrating is consistently suffering from allergies in your own home.
Be aware that carpet can trap dust, mould, allergens & grime from its surrounding environment, leaving them to linger in rooms. Shoes can also transport contaminants from outside, and open windows are an invitation for air born pollutants.
If you suffer from allergies, carpet may not be the best option for your home. Hardwood flooring or finely grouted tiling might be a better choice. But, if you insist, there are options you can choose that will lower your risk of reactions.
Keep in mind:
High-pile carpets like shag or frieze have long fibres and are a welcoming resting place for unwanted allergens. This type of carpet is hard to clean & disinfect and can become a breeding ground for mould.
Low-pile carpets have a much tighter fibre & shorter weave. For allergens, there's not a lot of room to fall into, making this type of carpet easier to clean. Low-pile options are, however, not a fix-all. They can still trap unwanted particles so you'll need to be super diligent when it comes to maintenance & cleaning.
Wool is one of the safest material options for people with asthma & eczema because many wool carpets contains hypoallergenic properties. It also sucks in airborne contaminants like cooking fumes, deodorants, cleaning solutions and smoke, further improving the surrounding air quality.
9. Cost
Budget will be a big one for many people so consider all your costs including your underlay & installation.
Carpet comes in a range of prices, depending on quality, material & pile type.
Type
Cost
Low-grade (20-year lifespan)
Polypropylene
$20.00 – $30.00 per m2
Basic nylon
$30.00 per m2
Low pile nylon
$40.00 per m2
Medium to high-grade (30+ year life span)
Low pile twist nylon
$40.00 – $45.00 per m2
Natural
$50.00 -$75.00 per m2
Thick & deep pile twist nylon
$60.00 per m2
Wool
$60.00 -$65.00 per m2
Premium wool/nylon blends
$100.00 -$150.00 per m2
When selecting the right carpet for your home, consider your budget & remember, there's more to the cost of carpet than the material itself!
10. Purpose
Are you renovating to increase your income or renovating to live in?
Renovating for income: if you're renovating to get more rent out of your property, then be guided by a suitable style & budget. Do you really need to spend $150 per m2 for an area that you're a) never going to enjoy & b) runs the risk of potential tenant damage?
Renovating to live in: if you're renovating your own home, then be guided by your personal taste, style & budget. You might be more willing to stretch your budget to get what you're after. Comfort will be more important than financial returns. 
11. Maintenance
 When selecting carpet, consider how much maintenance you're willing to dedicate to keep it looking good as some carpets require more upkeep than others.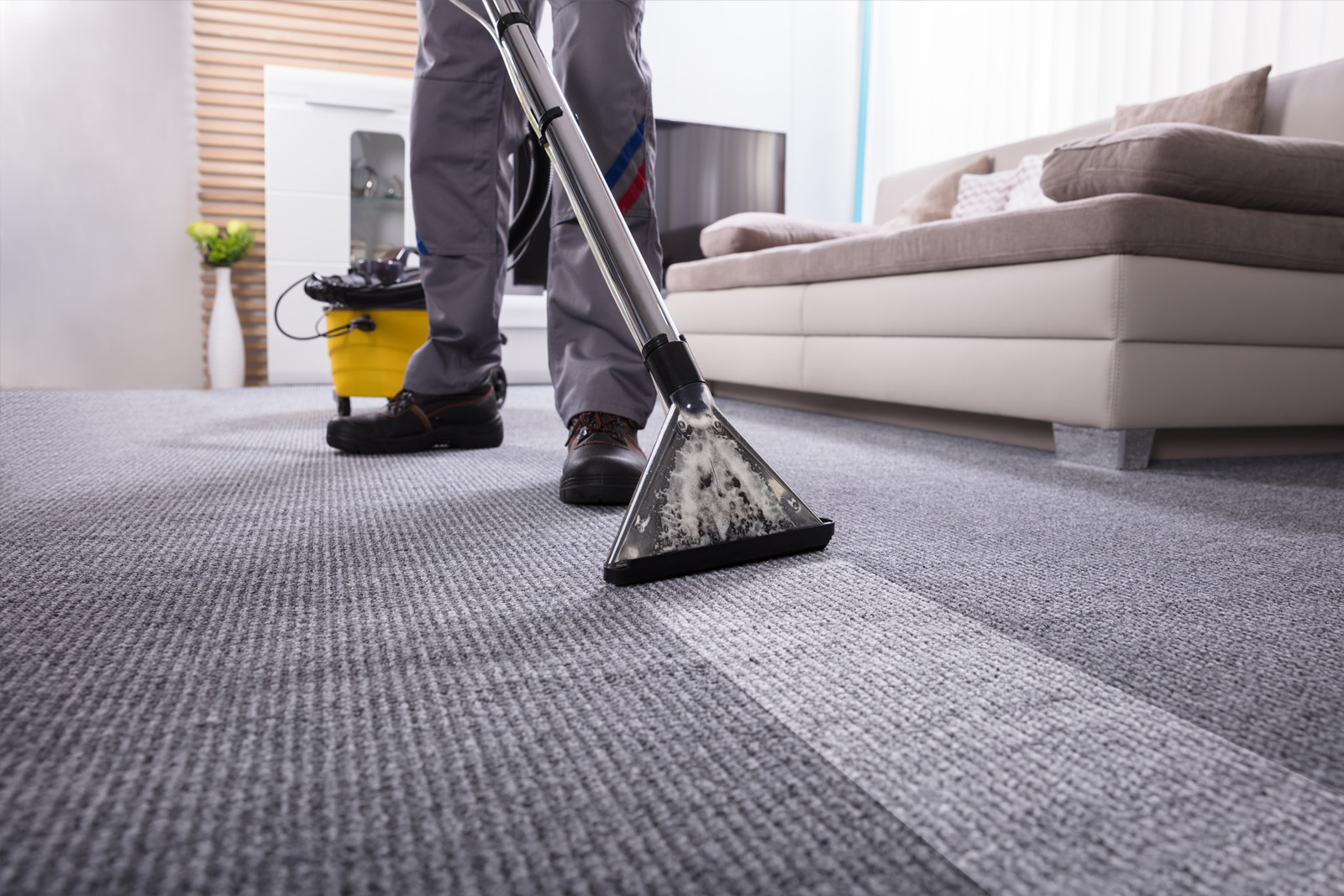 For high-traffic areas: nylon generally requires the least amount of vacuuming & cleaning so it's built to last and can withstand consistent weight.
For kids' rooms & homes with pets: Nylon also works well because it's doesn't absorb as much liquid as other options, so is less likely to stain.
Low traffic areas: polyester is stain resistant, soft & fluffy under your feet. But, it's harder to clean, prone to shedding and isn't as durable as nylon, so is best used in low traffic areas.
High-traffic living areas: Polypropylene is inexpensive, strong & resistant but not as resilient to weight as nylon. It tends to conceal dirt, resist stains & mildew more than other options, so works best in living rooms and shared spaces.
12. Underlay
Underlay is the foam-like base layer that is laid underneath your carpet. It works to cushion the feel of the carpet above, level the surface below & act as an additional protective and insulative layer between your floor base & the carpet itself.
If your carpet has latex or rubber-like backing, then you'll need to install underlay to avoid uneven flooring.
If you have underfloor heating, an underlay may actually stop the carpet from expelling heat to the surface – not a favourable outcome! You'll need a specific carpet type so be sure to speak to your carpet supplier about what carpets & underlay are suitable when being used in combination with underfloor heating.
If you want to save money on your electricity bills, some underlays are better at insulating your rooms.
For more expensive carpet options, you could spend less on underlay material to subsidise the premium carpet cost.
For cheaper carpet options, you could provide more of a cushion by laying a thicker underlay underneath your more modest priced carpet.
13. Property Value
Few things frustrate me more than seeing a high-value home cheapened by low-quality carpet. Conversely, seeing a homeowner over-capitalise with exorbitantly expensive carpet in a low budget property.
For "nearing knockdown" homes: If your carpet has any chance of being replaced and / or ripped up in the next 3 years, then don't waste precious dollars on high-quality carpet, no matter how much you love it.
For moderately valued homes: go for something understated & not too busy, like medium-range low-pile twist nylon.
For multi-million-dollar homes: you want a premium carpet with a quality that reflects the high-quality features in your home, like a 100% wool or combination wool & nylon blend.
Don't run the risk of cheapening or over-capitalising your space. Always choose a carpet option that is relative to your property value.
Application
Dos:
✅   Bedrooms
✅   Staircases
✅   Walk-in robes
✅   Hallways
✅   Lounge, living or rumpus rooms
Don'ts:
❌  Kitchens
❌  Bathrooms
❌  Dining areas
❌  Rooms with direct outdoor access
❌  Outdoor rooms
Practicality Considerations
High traffic
Outdoor
Kids
Pets
Bedrooms
Natural sunlight
Health Limitations
Aesthetics
Modern
Contemporary
Hamptons style
Older homes
Country style homes
Material
Wool
Nylon
Polypropylene
Polyester
Natural
Pile type
Cut
Loop
Cut & loop combination
Colour
Neutral
Light
Dark
Speckled
Patterned
Durability
Rental Property
Principal Place of Residence
Cost
Polypropylene
Basic nylon
Low-pile nylon
Low-pile twist nylon
Thick & deep pile twist nylon
Natural
Wool
Wool and nylon blend
Maintenance
Vacuuming
Steam cleaning
Presence of pets
Underlay 
Underfloor heating
Non heated floors
Saving on utilities important
Property value
Nearing knockdown
Moderately priced
High value property
This is probably the longest blog I've ever written and if you've made it to the end of this article, you deserve a medal 😃  But as you can see, there's a lot you need to think about to get your carpet selection right. With that said, happy shopping!
Cherie x
---
SOURCES
Cut & loop pile image source:  www.brintons.net