How To Create A Happy & Healthy Home
In this blog, you're going to learn some of the ways to create a happy & healthy home through the power of interior design & styling. With most of us spending almost all our time at home right now, it's more important than ever to get this right ….
When you start to think about the concept of a happy & healthy home, what doesn't spring to mind is the modern world we live in today. It's hard to imagine life before mobile phones, laptops, iPads & all the other modern devices we enjoy today. But the difficulty is … tearing ourselves away from these very things, when in all truthfulness, we probably should be quietly curled up on the lounge with a good book & a cuppa. It's like we almost have to force ourselves to take time out from the digital world we live in.
With this infiltration of digital technology in our lives every single day, homeowners & renters have been very quick to hop on the fast-growing trend to create home environments … that sort of cocoon us …. from this manufactured, artificial world to one that reconnects us with the natural world. More than ever, we want to bring peace & Zen into our homes & lives generally.
Now, of course, wouldn't it be lovely if we all could live in a beautiful beach house by the sea or that tranquil country estate on 25 acres …. but for most of us, that's just not reality. You might be living in a 3-bedroom home in suburbia or a 2-bedroom apartment in the city. Regardless of where you do live, you'll need to find ways to create that happy & healthy home & as a starting point, it's often done by turning your attention to nature.
Now the good thing is … there's plenty of easy ways to connect yourself back to nature in & around your home & they won't cost you the earth. Designers have really cottoned onto this. By choosing colours, textures, materials & even smells that remind us of nature, and by creating homes filled with sunlight, natural ventilation, green plants & leafy views, we can get as close as possible to the natural world outside.
Now there's actually a term for this called "Biophilic Design". It's a whole design movement that's focused on improving your health & wellbeing in your built environment. Biophilia literally translates to "love of nature". Now I'm not going to get too bogged down in all the theory, but basically it's a design concept used within the building industry to get us all more connected with nature, in our homes, that ultimately leads to greater levels of happiness!
It operates on the basis that all humans have an evolutionary need to connect to nature. It's part of our DNA. That's why we're happy to spend big bucks to travel to see amazing natural places in the world like The Antarctica, the Grand Canyon or Niagara Falls – they have this awe about them, that we as humans feel absolutely drawn to.
And you can get that connection on a smaller scale by bushwalking in a national park or hiking up a mountain or swimming in the ocean – or even just pottering around in your garden in the sunshine. It's that inherent pull of nature & its calming effects – and that's what modern architects & designers are now trying to incorporate into our built environment. It's a way to counteract the highly urban, high-tech world we live in that makes us feel more grounded.
A good example you might have seen of this is vertical gardens. That's those big walls of greenery you might find cascading down the exterior of a modern apartment block, or running along the interior wall of a cool little bar, all backlit to make the greenery stand out.
And roof gardens or "green roofs" as they're often called, are another example. Many new apartment blocks contain park like gardens on their roofs & in some cases have edible gardens for residents to grow their own fruit & vege's, giving them that farm feel, even though they might be in a high-rise block in the middle of the city.
Then there's things like fountains & water features, that replicate waterfalls in nature.
Another great example in biophilic design is designing buildings to maximise natural light, whether that's by adding skylights into your home, having north-facing windows, floor to ceiling windows & doors or even something like a big glass atrium.
Another key element of connecting ourselves to nature is providing adequate crossflow ventilation in your home so you can feel the natural air flow passing through your home. That can be achieved through fixtures in your home such as louvre windows …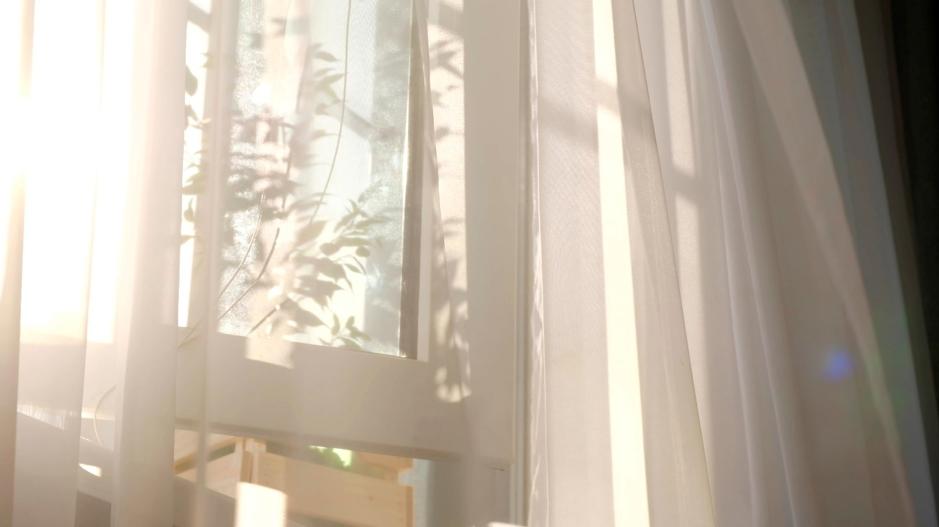 Well, Biophilic Design is about all of these kinds of direct ways to experience nature through the way buildings are designed. But it also incorporates indirect ways, like using organic shapes & materials, like wood & stone. And colours that evoke nature.
As I've said many times previously, colour is one of the easiest & cheapest ways to transform your home, especially through the power of paint & the furnishings & accessories you choose to suit your colour scheme. It's no accident that certain colours can make us feel one way or another. It's actually a proven science that colour has a powerful impact on our mental state & emotions.
For example, red is a colour from the warm side of the colour spectrum. It has the ability to get your heart rate up & have you feeling pumped & energised. In interior design, that's not always a positive. Red, for example, is not a great colour to choose for a room where you want to unwind & relax like your bedroom.
On the cool side of the colour spectrum (or the colour wheel as we know it), you've got blues & greens, calming colours that remind us of grass & water. These can be perfect for creating serene, nature-based colour schemes that naturally relax us.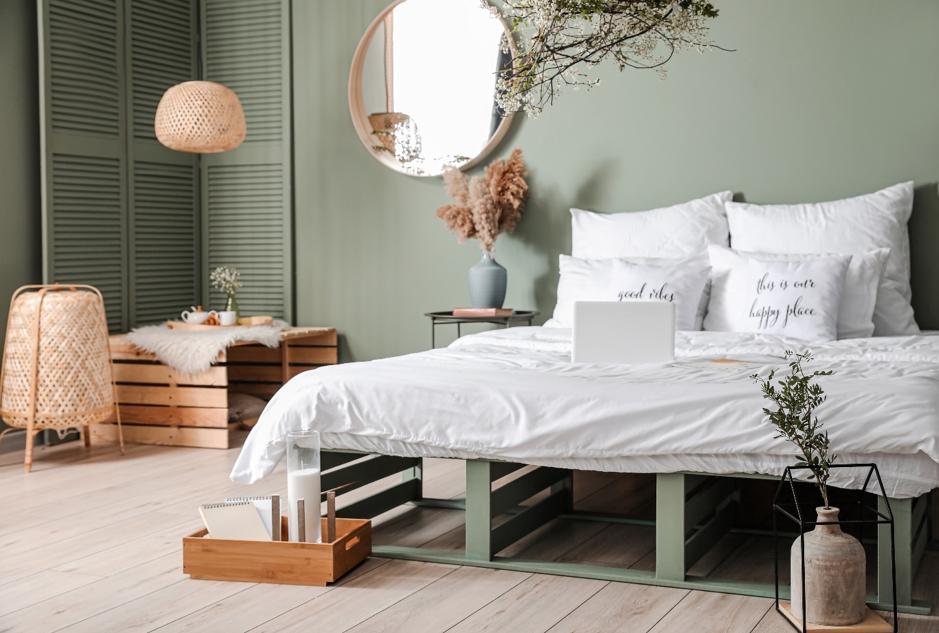 Now, of course, this whole nature movement hasn't been lost on the major paint companies, who spend hundreds of thousands of dollars on market research, forecasting trends & coming up with colours that are in tune with what their customers want. So not surprisingly, in the last few years we've seen a real push towards colour schemes that answer the call of nature. For example, Dulux's Colour of the Year for 2020 was called Tranquil Dawn – well, the name itself pretty much sums that one up! It's actually a really lovely pale mint green. The Dulux marketers call it a "colour inspired by the morning sky, to help give homes the human touch." The Dulux colour of the year for 2021 is called Brave Ground. It's an earthy beige that the Dulux marketing team have described as: "A shade that connects us back to nature & the simple things".
Over at Taubmans, they created a series of colour palettes for 2020 under the marketing name "Nurture". Again, this is no fluke …. "The theme of Nurture reflects a collective desire to slow down, to take time to reconnect with nature & community & to also take time out for ourselves." And on it goes. You can see this real shift towards colour schemes for your home that really do mimic the shades you find in nature.
If you're looking for some colour inspo for your home, just put "nature-based colour palettes" into Pinterest and you'll find a zillion calming colour schemes.
Also look at the websites of those big paint companies I spoke about – Dulux, Taubmans, Wattyl. They've all made it super easy for us, normal people, to have these nature-based colour schemes in our homes by putting these colour palettes already together for us online, based on the feel you're after.
Once you've got your paint colours for your walls worked out, you can bring in the other accent colours, textures, patterns & accessories that help to bring the outdoors in.
For example, botanical prints & patterns have been hugely popular in recent years, anything printed with lush green foliage or silhouettes of trees. This can be easily achieved with just a few cushions on your lounge or a wallpaper feature, but don't overdo it.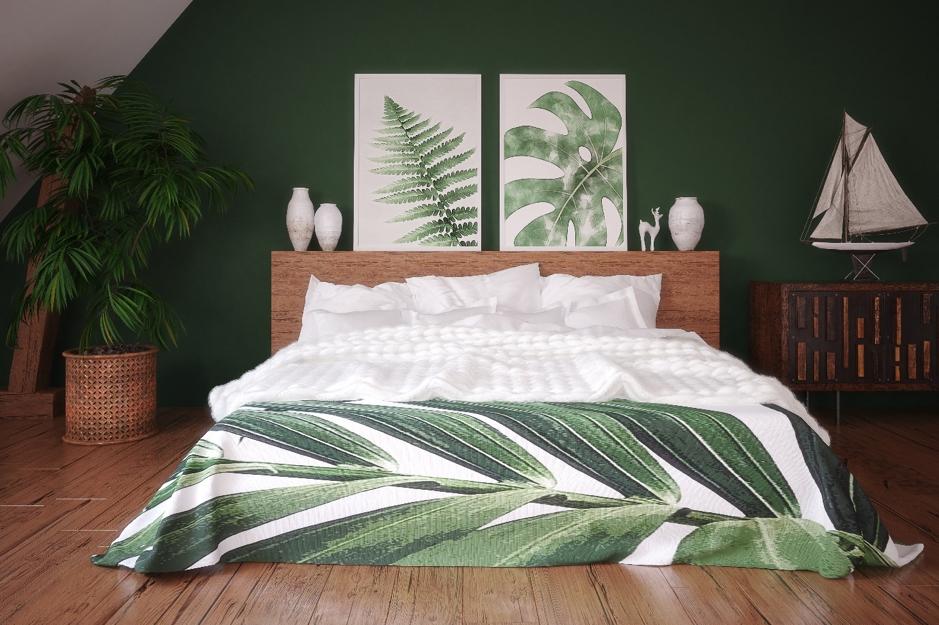 And then there's indoor plants themselves. Apart from looking beautiful & having a calming influence, house plants also have a positive effect on our health because they remove toxins from the air we breathe, in our homes. To avoid being a plant killer, you should do your research to find out what sort of plants are suited to your home: certain ones need filtered light, full sun, high humidity, that kind of thing. You don't want to spend $200 on some feature plants, only to have them die on you, a few weeks later.
The great thing about indoor plants is that whether you're a renter or a homeowner, you can create your own indoor garden & just transport it all to your next place when you move. Trailing hanging plants are great on a bookshelf or even on kitchen shelves, dangling down your cabinetry. You can have potted herbs, sitting on your kitchen bench for cooking. What I'm saying here is …. there are so many places you can incorporate plants for fresher air within your home.
And we talked earlier about vertical gardens, a living green wall. They're great for when you don't have much floor space or for balcony walls in an apartment, so you get that feeling of being cocooned in greenery. There's lots of good off-the-shelf options from hardware stores where you can create your own vertical green wall DIY!
Now there's also another whole body of research dedicated to the power of scent. You've probably heard of aromatherapy. It's the use of plant oils, including essential oils, to promote psychological & physical wellbeing. Some research says that the sense of smell affects about 75% of our daily emotions & is a really strong trigger for memory. I think we've all experienced that at some point. You get a whiff of a perfume or aftershave that takes you straight back to the memory of a person or place from your childhood. Well, in the same way, you can quite literally bottle the scents of nature & let them waft through your home. We've all walked into homes that smell musty & damp – you just want to get out of them. Well by the same token, having a home that smells fresh & enticing is going to help you unwind & feel more at home.
It's well known that certain essential oils can help you relax, mentally & physically, & make it easier for you to fall asleep & sleep more soundly. For example, lavender is used as a natural remedy for anxiety & to help you sleep.
It's said that citrus oils contain antioxidant properties that help neutralise free radicals, those nasty airborne particles, responsible for damage to our cells & tissues. There's all kinds of citrus oils you can get & use in diffusers around your home, like orange, lemon myrtle, bergamot, lime. These citrus oils can be either stimulating or sleep-promoting, depending on your individual reaction & the type of citrus oil used. Then there's all the woody scents of the bush, like cedarwood, sandalwood & cypress oil.
Now the next important thing to creating your happy & healthy home is the furnishings, textiles & finishes you choose for your home. These are so instrumental in pulling together that natural, organic feel. Tactile textures & weaves, & warm finishes like timber will really set the tone.
In one of my projects, I used old, recycled timber planks as feature walls in the living area & bedrooms. They were rustic looking with the old paint & nail holes still on them.
This is a good example using these kinds of contrasting textures – the smooth marble stone & rustic timber – that's the trick to nailing a really natural feeling home environment. Styling a room all in the one colour would be pretty boring visually. You need to mix & match different textures for visual interest. A timber floor with a patterned wool rug for example. That kind of thing.
Let's turn our attention for a second to kitchens & bathrooms. You see a lot of timber-veneer cabinetry in these rooms nowadays, with the timber grain giving people that really earthy feel. Again, for that texture contrast I keep speaking about, in a kitchen, you could have white base cabinets mixed with overhead cabinets in timber grain.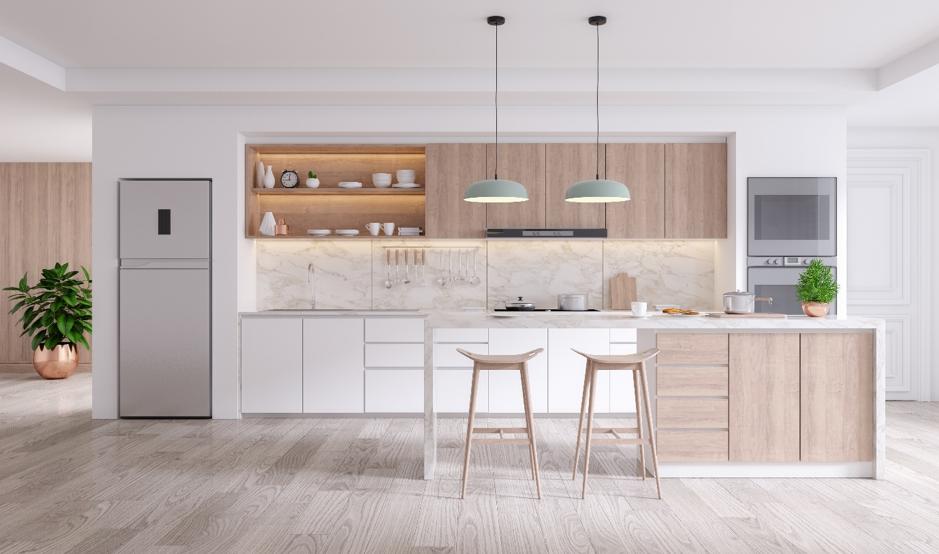 In these rooms, we're really seeing organic shapes & natural materials becoming super popular. If you watch The Block, you'll definitely have seen this "nature-based" trend being used a lot by winning contestants. Concrete bathroom basins in all sorts of natural colours, like clay, terracotta & charcoal. And rather than rectangular or square, they're irregular shapes, like you find in nature. You see them teamed with a warm timber vanity top, so again, you're getting that contrasting hot & cold texture. Tapware in kitchens & bathrooms is a lot less manufactured looking than the polished chrome taps we're so used to seeing. So instead, taps in brass, brushed nickel or even brushed gold are more popular these days. Rather than big pops of colour, the trend is towards more toned down, neutral colour schemes & textures.
A really good example of this is the whole Scandi look that's so popular now. And even the Hamptons look, to a certain extent. If you jump on sites like Pinterest or Houzz & type in "Scandi", you'll see exactly what I mean. Those styles are very much centred around nature-based textures, fabrics & paint colours. The key to pulling off a nature-based theme is to introduce textural elements into your room that are as close to nature as possible – timber furniture, timber picture frames & perhaps something like a jute or sisal type rug which are materials very close to nature anyway.
Wicker baskets, seagrass mats, rattan furniture, linen bedlinen… these are all lovely textural elements to introduce to any room & they're 100% natural fibres. And they look fabulous combined with glossy green indoor plants.
Let's not forget wallpaper! It can be another really effective way to introduce texture into your home. Not all wallpapers are decorative & meant to be a stand-out feature. Many of the ones you can buy now are purely just for their textural effect. For example, you can get seagrass wallpapers which are a lot less interesting to look at visually, but they add another layout of texture to any room that can help your home feel like it's more connected to nature.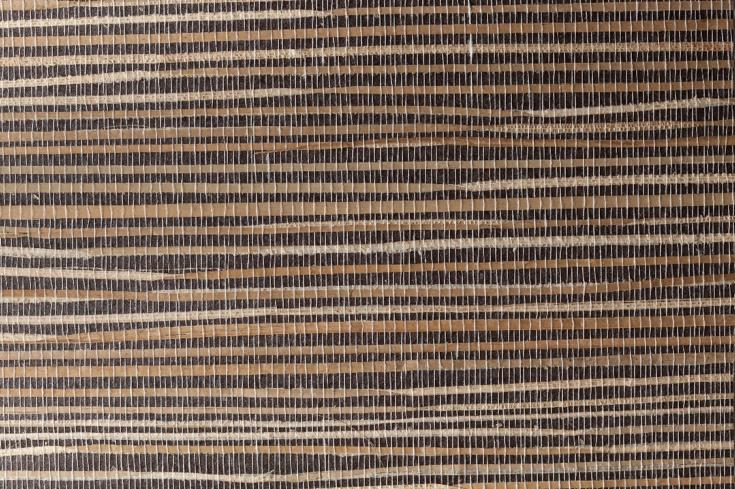 Here's another thing that's absolutely central to creating a happy, healthy home. The absence of clutter! Houses crammed with too much stuff & objects covering every surface, can instantly make you feel anxious & uptight. In fact – it's a scientific fact that mess does trigger anxiety. That's right, clutter can trigger the release of the stress hormone cortisol, which increases tension & anxiety. So, our brains actually have a natural desire for order & tidiness in our homes. The old mantra "a place for everything & everything in its place" is important. You want enough storage so that everything can be neatly stored away when it's not being used. Don't over-style your rooms with too many furnishings so you can't freely move around. And don't clutter surfaces. When in doubt, remember, "less is definitely more".
Now, the final thing I want to talk about here is actually one of the most important elements of creating a home that nurtures you & connects with nature. It's one of the central foundations of Biophilic Design, which we kicked off this blog with. It's about the power of sunlight & getting as much natural light into your home as possible. I mean, "Oh I really love living in a dark, dingy home", said no one ever! As humans, we're designed to be out in nature & under the sun in daylight hours, not cooped up in front of our computers under artificial lighting.
Sunlight triggers the production of serotonin, the 'feel good' mood enhancing hormone. So, you want as much of that as possible during the day. Not enough serotonin is actually thought to be a trigger for depression. The brighter your daylight exposure, the more melatonin you produce at night, the sleep-producing hormone.
The trouble is – most of us are guilty of spending too much time indoors, we don't get enough access to sunshine & the natural light we crave. So, the solution is, especially with more of us working from home, to harness as much natural light as possible in your home.
To maximise daylight in your home, remember these things:
Keep your windows clean & pull the blinds or curtains open as soon as you're up & about.
Place mirrors strategically around your home to bounce natural light around your rooms.
Pull your furniture out from windows a little bit to allow the sun to fully shine into & around your rooms.
Open your windows wherever you can to allow fresh air to waft through your home, even in winter, which will also inhibit the growth of mould.
And while we're talking of light, this is something to keep in mind. The main sources of artificial blue light are from screens – mobile phones, tablets, computers, energy-efficient fluorescent light bulbs & LED lights. And unfortunately, artificial blue light can have a major impact on your sleep. So, the trick here, is to cut out all blue light screen time, an hour or 2 before you go to bed. If you can discipline yourself to do this, it will help you power down & have a major impact on improving your sleep. Better still, remove all devices from your bedroom & keep it as a screen-free zone. How about even scheduling in some technology-free time slots each day that your family & you rigidly stick to? Use it instead to disappear into the garden for a couple of hours, do some exercise, chat face to face with the people you care about when you can… just reconnect with the real world.
At the end of the day, creating a happy & healthy home is all about striking a healthy balance between the digital world & the natural world. It's that push for our homes to be our own private spaces, connected as best we can to nature & less from the technology-driven universe we live in.
To listen to the podcast on this blog, click on the below:
Would love to hear of any other ways you have created a happy & healthy home at your place.
Until next time,
Much love,
Cherie x