Kitchen renovation challenge: 1 Kitchen – 2 Ways
A creative kitchen renovation project: learn how to maximise a small apartment space and renovate a kitchen within a small footprint – creatively and on a budget.
What will you learn in this article?
 A kitchen renovation project within a small studio space
How this studio project creatively integrates this kitchen for dual use
4 x key kitchen renovation highlights
This kitchen renovation was part of a studio project in a converted Sydney warehouse. In order to reconfigure the apartment to make better use of the space, the kitchen had to be moved from its existing spot – with minimum cost and disruption. In our favour was the fact the renovation included new floating floors and gyprock walls, which provided the necessary cavities to relocate plumbing and electricals with relative ease.
The kitchen is proven* to be

one of the  HIGHEST ROI rooms


in any property.
Kitchen Renovation Key #1: Quick flip
The idea was to move the kitchen from its location at the far end of the unit, to the entryway. This was a win-win, as it freed up space to create a new dedicated bedroom and media nook, and the new kitchen would occupy otherwise dead space.
Kitchen Renovation Key #2: Cabinet Reshuffle
To reduce costs, I wanted to retain as much of the original kitchen as possible, and simply add to it. After the new floors went down, all the kitchen cabinets were relocated to the raised platform that now defines the kitchen.
Kitchen Renovation Key #3: New Additions
The new fixtures and fittings for the kitchen were acquired at a very modest price: oven and cooktop from Seconds World for $550; laminate benchtop for $180; kitchen sink, $125. The underbench LED lighting – a necessity for both dramatic effect and task lighting – was the biggest indulgence, at $600. The new 3.6 metre benchtop allows for a breakfast bar, which again really capitalises on space in a small apartment.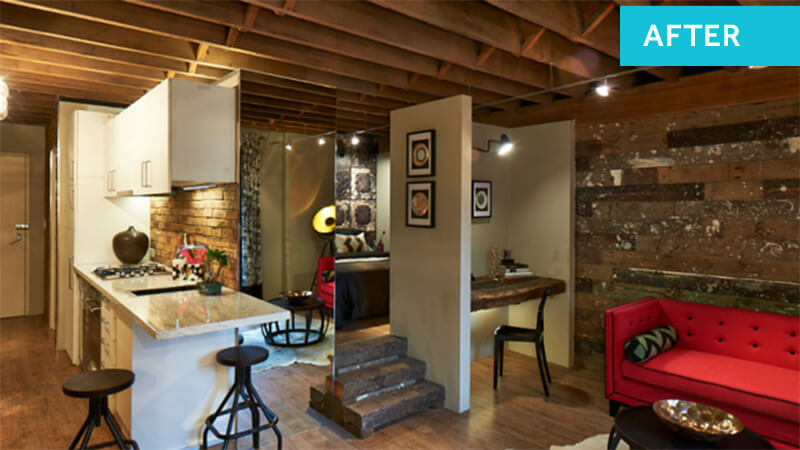 Kitchen Renovation Key #4: Make a splash
A splashback always creates the opportunity for wow factor, especially if you've kept the rest of the palette neutral, as I have here. Today's tiles offer plenty of scope to make a stunning focal point. These faux brick tiles cost just $90 and really tap into the rustic vibe of the warehouse. With the wash of light from the underbench lighting, they're an arty statement in an otherwise plain kitchen.
The big take-out from this clever kitchen manoeuvre is to think outside the box when you're approaching any renovation. What might at first seem complicated and expensive, can turn out to be a really cost-effective solution to a tricky problem – in this case, how to reconfigure the layout to squeeze in a separate bedroom.
Strategies applied in this project are covered in detail in Cherie's #1 Renovation Course – Cosmetic Renovations For Profit – which includes step-by-step templates and systems to streamline your renovation and help you maximise your renovation profit and minimise renovation mistakes!