A bathroom and kitchen transformation for $9000
Few real estate agents will dispute the selling power of a modern kitchen and bathroom, whether you're trying to attract a quality tenant or the best possible price for your property.
But without a keen eye on the bottom line, renovation costs can quickly spiral and your prudent investment can turn into a runaway train. So the trick is to follow the cardinal rule of renovating for profit: maximum impact for minimum spend.
A first glance at this bathroom and kitchen might have many people reaching for the demolition tools, but the trick is to not focus on what needs to go, but rather to zero in on what can be salvaged and updated, using the raft of creative products now on the market. Anything that can stay exactly where it is will save you big dollars on labour costs.
Complete bathroom renovation
As this was a family home, I knew it would bump up the value to add a second toilet as part of the bathroom renovation (the house already had a separate toilet). To accommodate the toilet, I had to move the bath, but calculated the additional cost was worth the investment. Removing the old recessed bath also provided the opportunity to install a modern freestanding bath, which I picked up for $700.
Unfortunately there was no getting around those gaudy yellow and blue floor tiles – they had to go. The upside was that laying new floor tiles enabled me to remove the mouldy shower stall and replace it with a modern open shower.  A feature wall of patterned hexagonal tiles provided some subtle wow factor.
The existing bathroom cabinetry provided great storage, so an inventive solution for updating the doors was to simply add some MDF architrave moulding, which instantly turned them into fashionable shaker-style doors. We gave them a coat of laminate paint, and then added a new benchtop with twin basins and overhead lighting – and updated the taps and hardware.
Kitchen plan of action
The timber cupboards, while dated, were actually in excellent condition, so there was no question they would stay. The cabinetry, benchtop and yellow tiles were all simply painted using White Knight specialty paints. The only other significant expense was updating all the hardware, like handles and taps, and replacing the coloured glass inset door panels with frosted glass – all of which were essential to a contemporary look.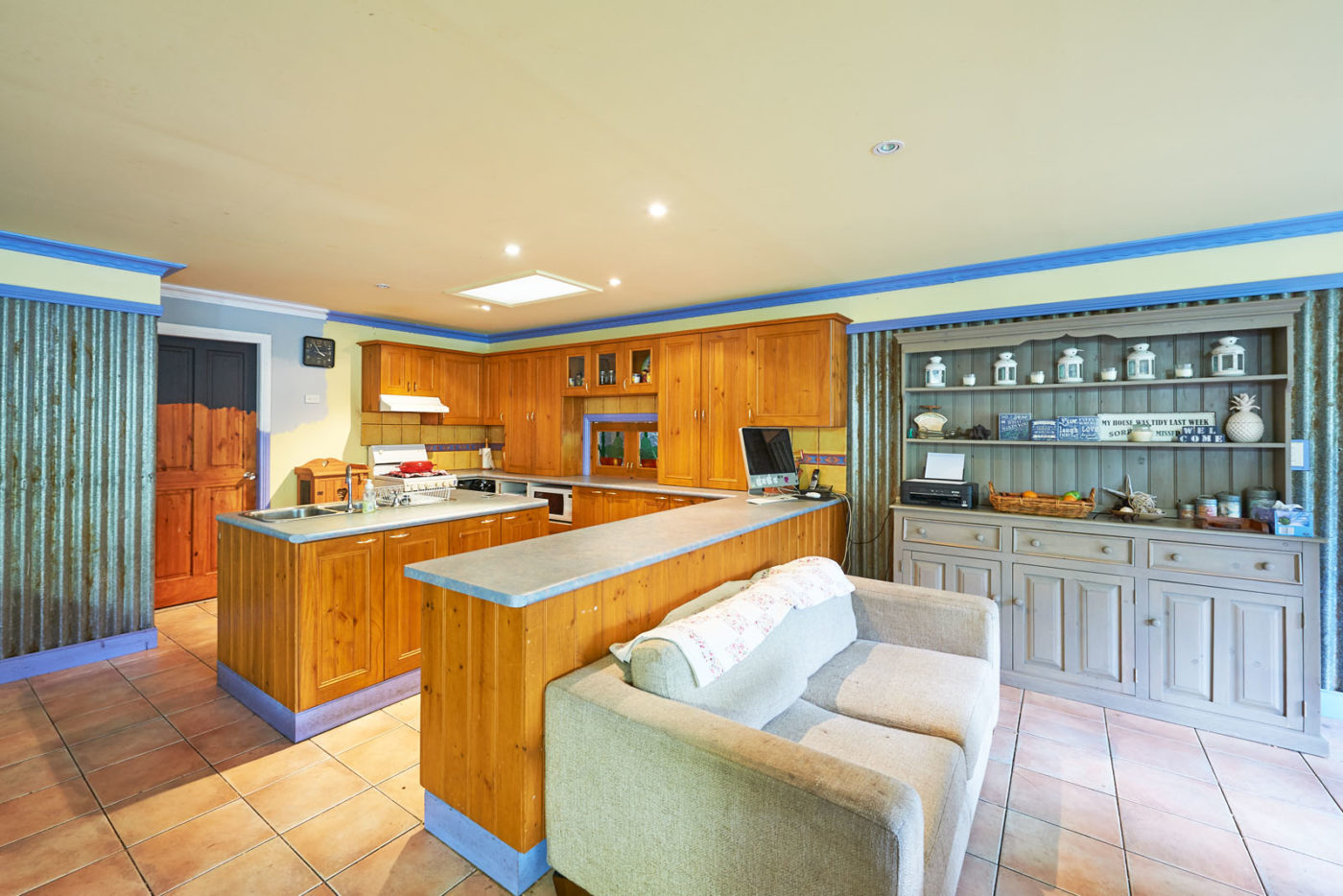 Never underestimate the significance of detail. You might not think replacing seemingly unimportant things like power points, light switches, handles, shelving, towel racks, etc, will make much of an impact, but together, they create the big picture – the overall impression buyers or renters are greeted with when they first walk into a room.
The final touch for this combined kitchen/dining/living area was a coat of paint throughout, which helped to tone down the "not to everyone's taste" corrugated iron feature wall. Renovating for profit is about renovating for mass appeal, so avoid any look that might polarise your target market.
Property Value (Before Renovation):      $450,000
Renovation Spend Total:                       $9000
Property Value (After Renovation):     $500,000
Gross Profit:                                      $41,000