Star student makes $67k profit in Rosebud, Victoria
Fiona Bouchier has definitely earned the label of  "professional renovator".
This marks yet another successful flip since completing the Cosmetic Renovations for Profit bootcamp in 2014.
Having successfully renovated three properties in Frankston, Victoria, she moved a little further down the Mornington Peninsula to the seaside town of Rosebud for this makeover of a three-bedroom, brick-clad cottage located less than a kilometre from the beach. While humble looking from the outside, inside were beautiful floorboards and light-filled rooms courtesy of the north-facing windows.
Purchased August 2017 for $435,000
Renovation spend: $40,600
Sold November 2017 for $595,000 
Time on market: 17 days
Renovator Profit: $67,000 before tax
First up was some much-needed street appeal. "We clad the front bricks with weatherboards to give a more cottage/beach feel and painted the entire exterior in Dulux 'Domino' with white trims, which made the house pop," says Fiona. The addition of a side and back deck created new outdoor entertaining areas, while an outdoor hot and cold shower lent a resort, beach feel to the home.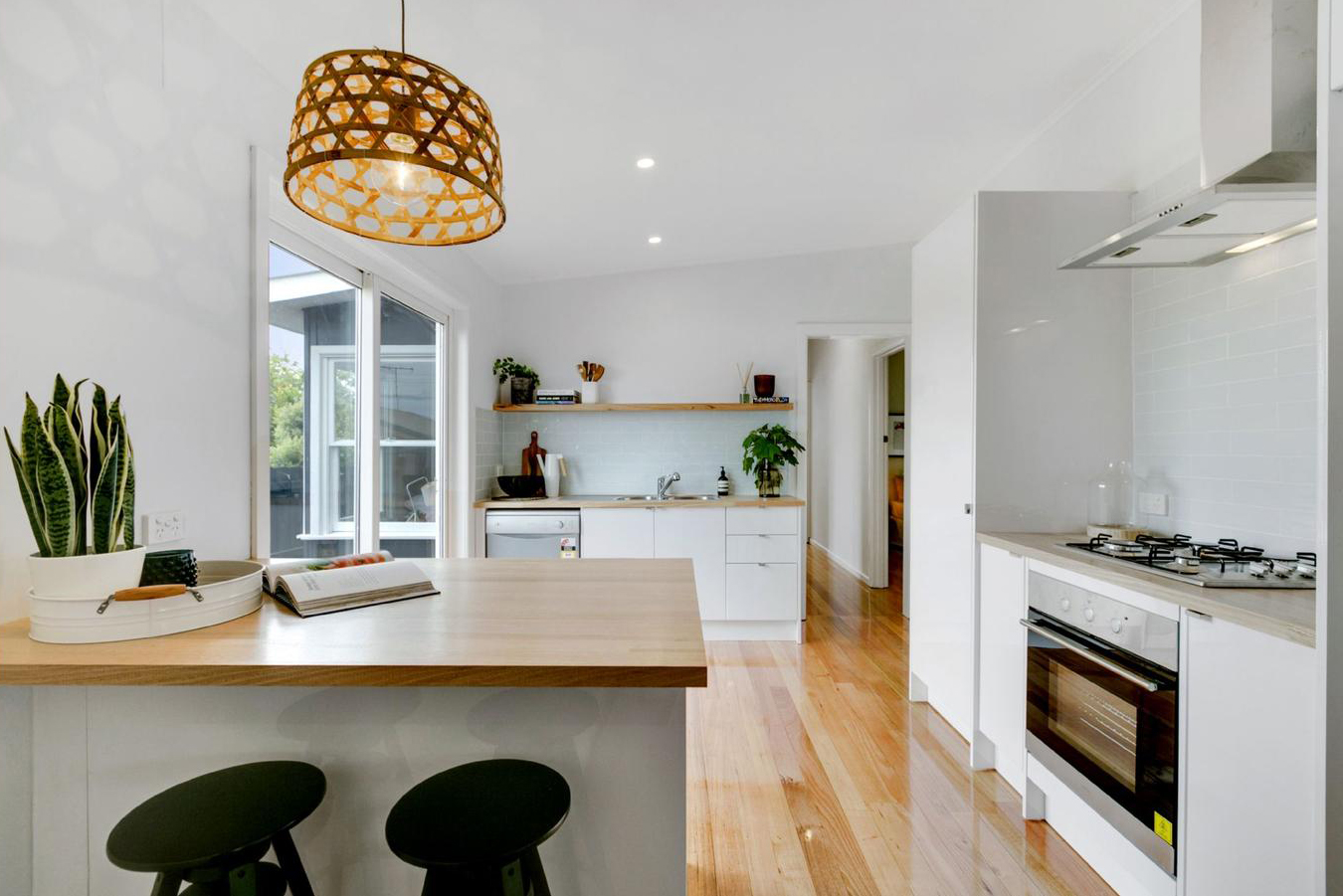 Inside, the floorboards were sanded and polished, and old wallpaper stripped from the walls. A newly configured white Kaboodle kitchen was added; Victorian Ash benchtops created more work space, storage and a breakfast bar.
"The existing bathroom was originally opening up to the living room which is not ideal, so we closed off this door and opened it up instead to the main bedroom to convert it to an ensuite," says Fiona. A second bathroom was added towards the back of the house in an existing space that had little purpose.
The second bathroom has his and hers vanities and a modern walk-in shower. "The second bathroom is something that most buyers look for these days," says Fiona. A new bench and trough was put in the laundry.
Cherie's lessons in finding the right property are invaluable
And the most satisfying part of the renovation?
"Probably the exterior… the colour scheme, decking, new front fence, driveway and plantings really improved its street appeal.
"It's always satisfying to be able to not only improve the cosmetic look, but to add value by creating additional spaces or improving the design and functionality of the property."
Much of the design and planning for the renovation, and purchase of materials, was done in the six weeks prior to settlement. As always, Fiona made an astute decision with her purchase. Over the last three years, Rosebud house prices have increased a whopping 45%.
"I think Cherie's lessons in finding the right property are invaluable," says renovator – Fiona. "There are so many properties around and making the right decision is the key to success. From her teachings I have created my own feasibility spreadsheet which is a great quick way to assess properties." As a seasoned renovator, she's now on the hunt for the next big project.