Top 5 Bathroom Trends Right Now
Ah, Bathrooms… they're one of the hardest rooms for anyone in a home to renovate. Fixture heavy & trade labour intensive can often mean people get overwhelmed or too scared to tackle this room, for fear of not getting all the steps of the process right…
Now we've become a nation of #stayathomes, there's been a massive boom in home renovating with kitchens & bathrooms being transformed like no other. Not only will these rooms add real value to your property, they'll create an environment for you to cocoon in, all in comfort of your own home. As we spend more & more time in our homes (in light of the current pandemic), the need to create spaces we love is gaining importance.
If your bathroom has seen better days & is in need of an overhaul, don't be scared to give it the full 5-star treatment. But before you do so, it might be handy to know what the latest design trends are before you go all gung ho with the sledgehammer…
1.  LEAVE NO STONE UNTURNED
While plain white ceramic basins will never go out of style, there's a definite move towards natural materials like stone, quartz & concrete basins – and materials that mimic these looks. We all live in a highly digitised world (iphones, ipads, laptops etc) so there's a strong desire for people to now connect with nature through the materials and textures we install & use in our homes.
Stone gives that raw, earthy quality to any bathroom & can be teamed with a timber vanity for warmth, or a stone countertop for a more austere look (think industrial style). Homeowners who love the minimalist look will love these types of fixtures mounted on a pedestal.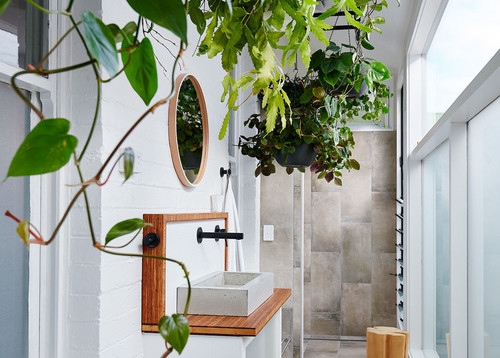 Don't think you always need to go for bleak prison-grey concrete; today's concrete basins come in a sea of colours ranging from dusty pinks to powder blues & everything in between. Make no mistake about it, we're embracing colour like never before.
Gone are the days where it was hip to be square, our fixtures and basins are also embracing shapes of all kinds. Let it be known… curves are officially back in 😉
2.  MARBLE TONES
Let's face it, marble has never really gone out of fashion & probably never will. It adds high-stakes glamour to any bathroom. But thankfully these days, you don't need to buy a whole marble slab in order to get the look. You'll love that there's marble-look porcelain tiles and plenty of composite stone or solid-surface products that can cover your bathroom in beautiful marbled tones, without the hefty, out-of-the-question price tag of real marble.
CaesarStone™ manufactures engineered quartz to mimic the look of marble & you can use it in vanities, bath surrounds, shower recesses, floor panels & window sills. Companies such as Dekton make man-made sheets that come in a range of thicknesses that will make you swear your surfaces are real marble.  Fake it till you make it, eh?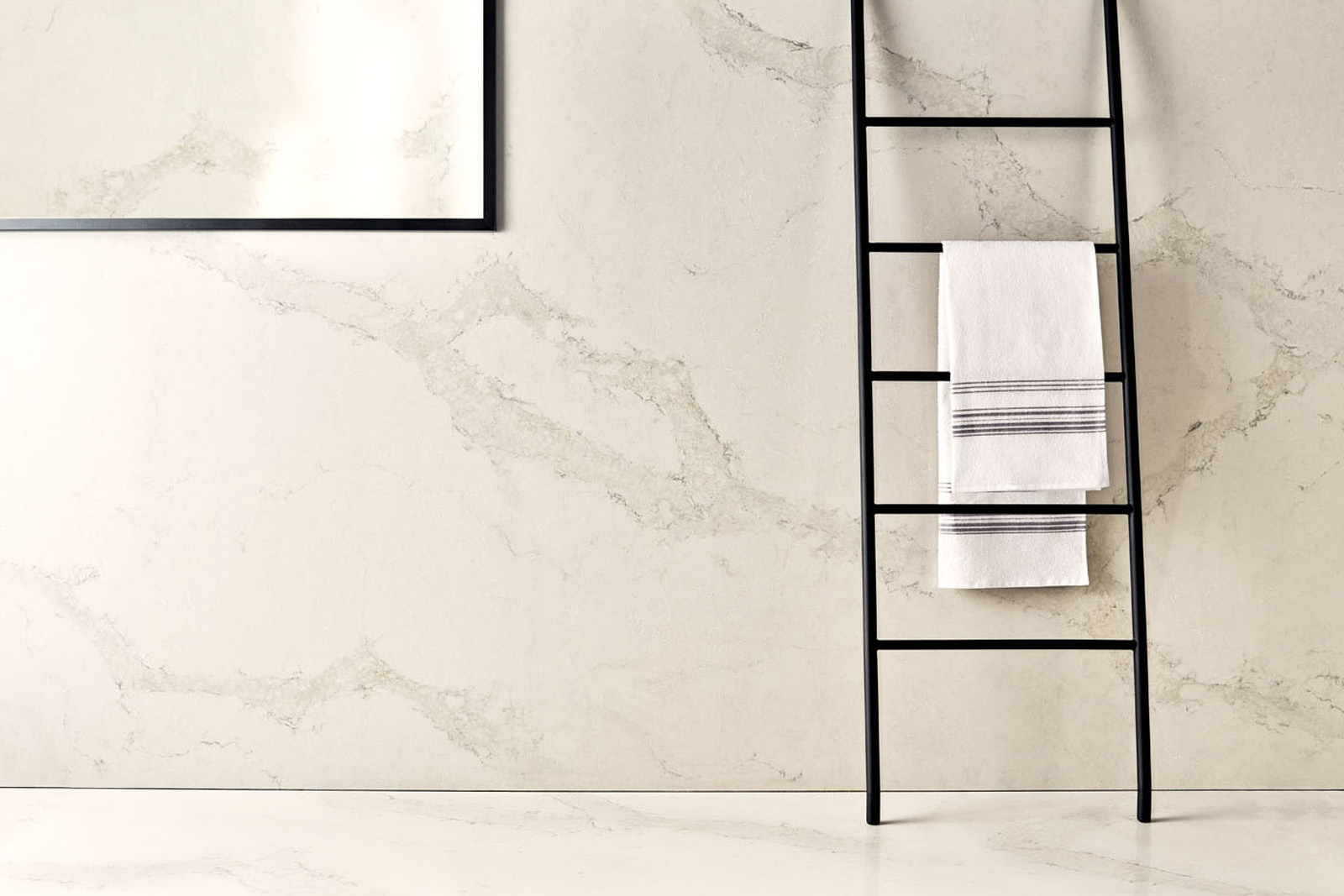 3.  KEEP THE LOO FROM VIEW
Now, many of you have heard me bang on over the years about my pet hate: your toilet in full view as you enter a bathroom. No matter how cool or expensive your new loo is, a focal point it's not. So, I'm secretly loving the trend towards a toilet with its own separate domain, whether it's a privacy half wall, frameless textured glass – or even contained in its very own glass cubicle. It's a leaf straight out of the design book of top resorts that gets a big tick from me! Last year's Blockheads featured this look in a couple of bathrooms, which no doubt nudged it into the public domain.
4.  TAP INTO A WORLD OF COLOUR
When it comes to tapware, chrome has definitely taken a back seat to a whole range of inventive finishes. Matt black has been in for a while, along with brass, copper, gold, rose gold and, well, just about any metallic finish you can think of. It's official … metals are having their moment right now.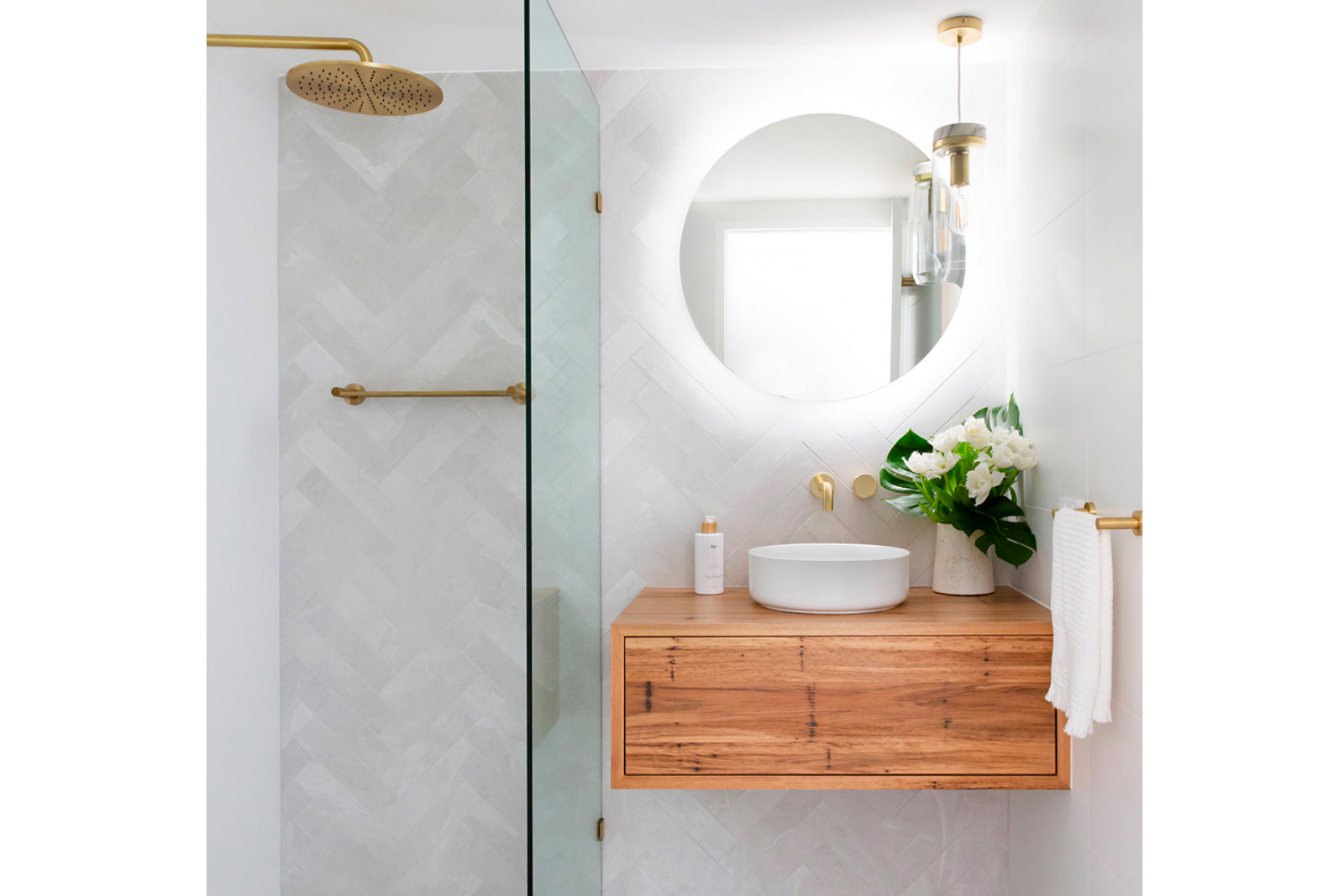 But, the newest trend for those who like the pared back, natural Scandi look is matte white tapware. It gives you the ability to make your tapware completely disappear into a sea of white tiles & fixtures for a completely minimalist look (think "chemist laboratory"). You can team it with a contrasting colour like a charcoal basin or with blonde timber for an authentic Scandi look. If you're going to experiment with any trend that's likely to date, tapware is probably your safest bet in a bathroom. Like costume jewellery, you can always change it at same point when the novelty wears off.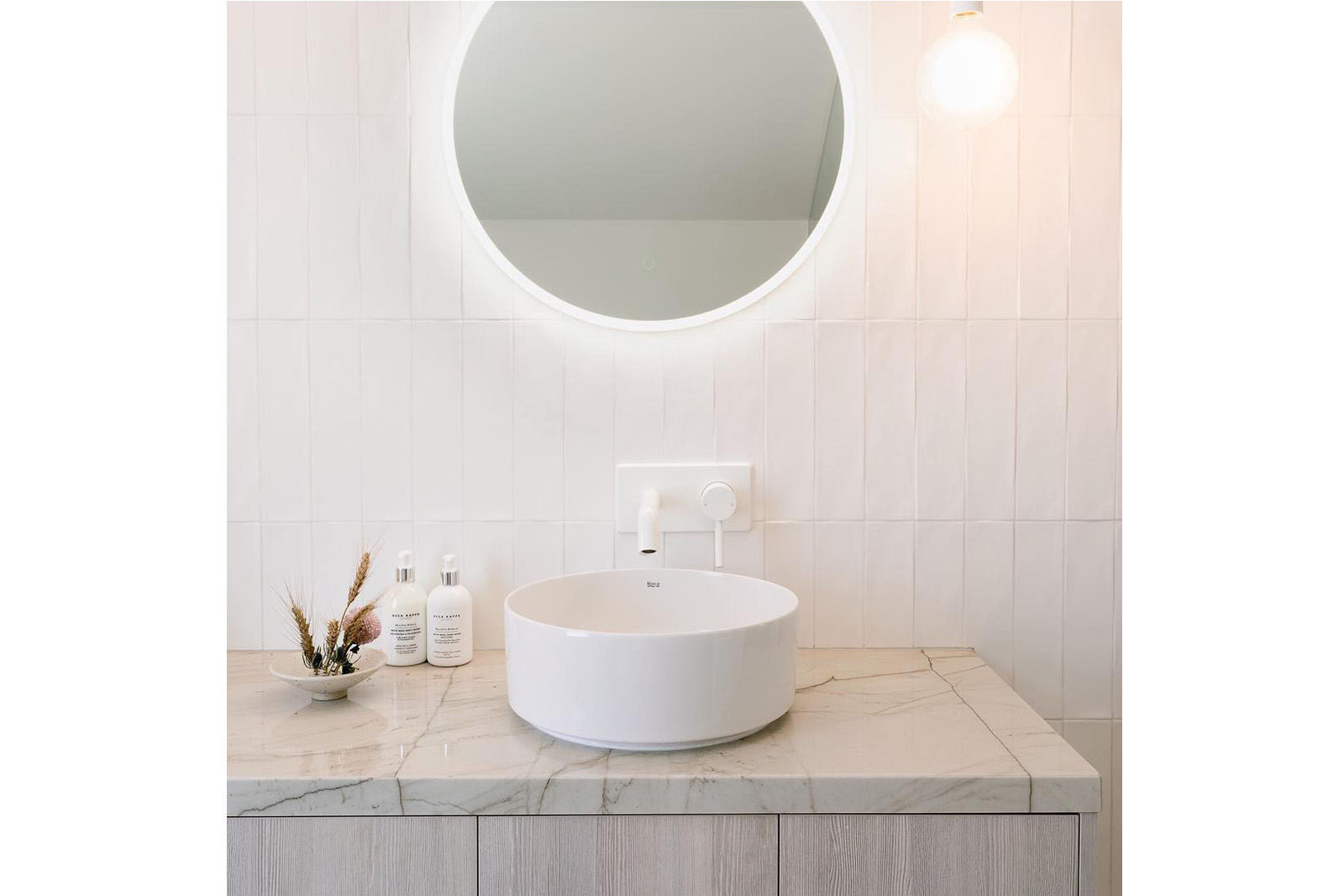 5.  BESPOKE LIGHTING
Last, but certainly not least, you'd be crazy not to take advantage of some of the fantastic lighting trends now available for bathrooms, particularly in the age of LED lighting. This crucial aspect of bathroom design often gets overlooked in the frenzy of tile shopping, sizing up vanities & tapware!
To create atmosphere in your bathroom, you won't get that 5-star resort feeling if you fail to install a thoughtful mix of general lighting, task lighting & mood lighting.
Bathroom mirrors with built-in LED lighting are a hot trend right now besides being dead practical. It takes care of task lighting when you're applying your lippy (ladies) or having a shave you can actually see (fella's).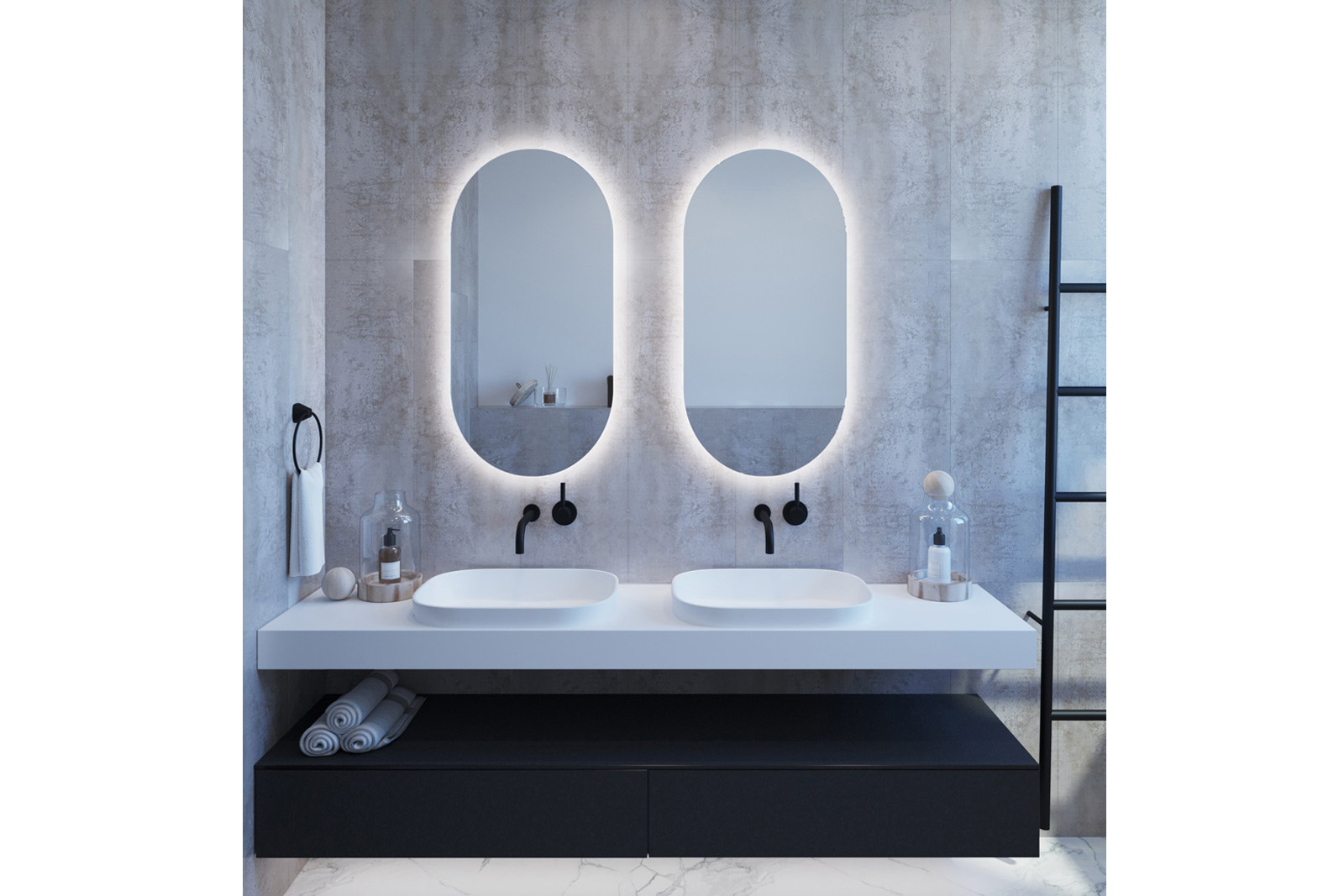 For a futuristic look, you could incorporate LED strip lighting into your walls, floors, ceiling or around the base of your vanity. For general overhead lighting, it's hard to go past LED recessed ceiling lights which are so perfectly suited to bathrooms.
For mood lighting, you got to love a beautiful wash of soft light that a tasteful wall sconce or 2 delivers. One things for certain, we've sure moved on from that oyster light or fluoro strip lighting in the dead centre of your bathroom ceiling!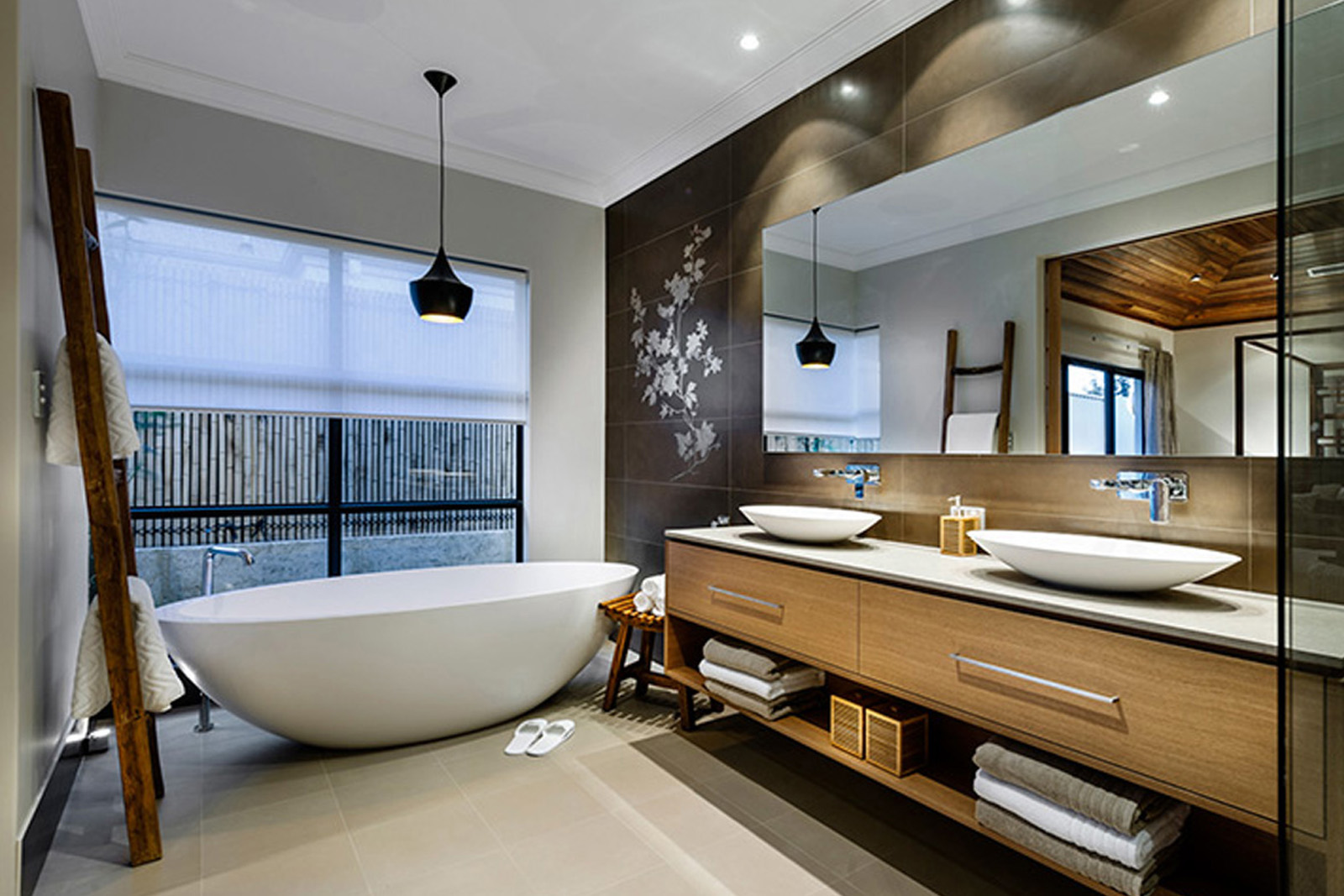 At the end of the day, renovating your bathroom can be scary but its not a reason not to do it. If you're not feeling brave enough to co-ordinate all the licensed tradies yourself, rest easy knowing there's plenty of good companies around that can manage the whole process for you.
As we spend more time at home, bathrooms can be a good place to unwind … who doesn't love the thought of kicking back and soaking in the tub in your own spa like sanctuary?
Have you noticed any other hot bathroom trends in 2020? Share your thoughts.
Much love,
Cherie x