Cherie's Retro Renovation
CHERIE'S RETRO RENOVATION
In recent weeks, Season 2 of Space Invaders has been beaming brightly into television screens around the country. For those of you who missed Episode 1, it featured Lisa and Jason, a lovely Western Sydney couple and their 5-year-old daughter Willow, drowning in a sea of clutter.
What I've come to learn working on this show is that people defined as 'clutterers', nearly always get to this point, as a symptom of coping with some sort of personal crisis that's occurred in their life.
In Lisa's case, the diagnosis of her mother and grandmother with breast cancer at the very same time, was all too much for her to bear. Her mum recovered but sadly her grandmother didn't. The trauma of it all sent Lisa into a downward spiral, regaining weight and accumulating so much clutter, the family home became one giant obstacle course.
More often than not, these sorts of situations require some form of expert intervention to help people get their lives back on track.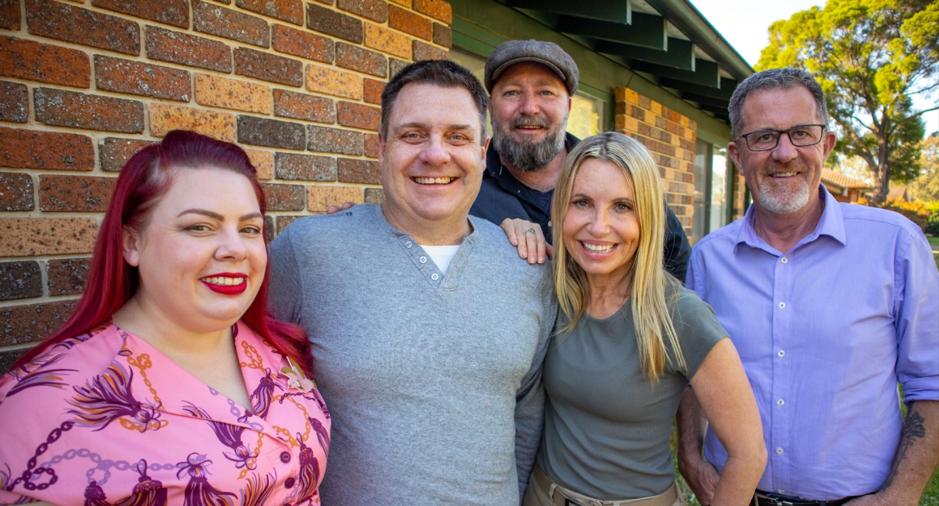 Lisa and husband Jason with the Space Invaders team.
DAWN OF A NEW ERA
Lisa and Jason's living room was dominated by chunky black '80s couches and gloomy colours. There was no sense of style in the space and the room felt lifeless, despite it brimming with stuff.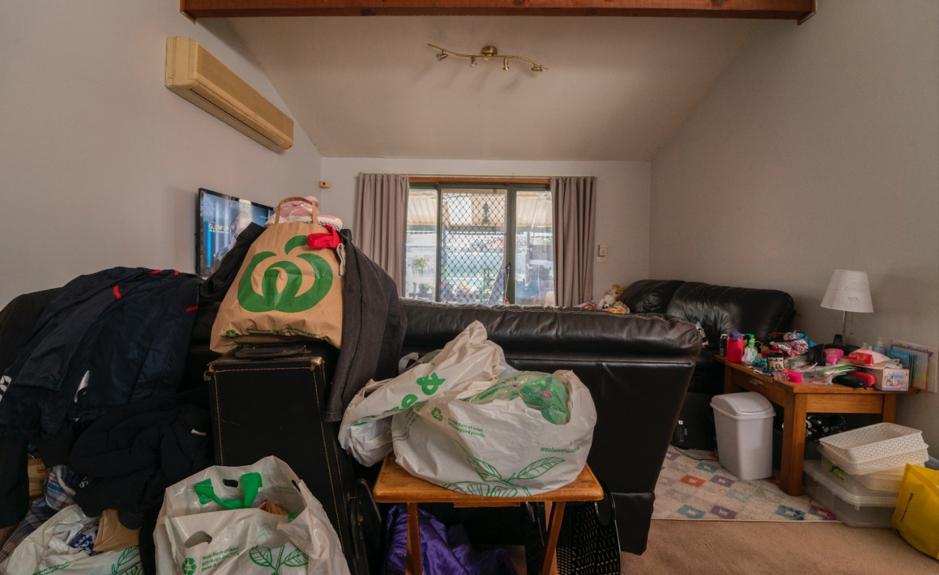 The couple told me they were in love with the 1950s (also a favourite era of mine), so I knew I'd have some fun renovating this home, choosing funky patterns and colours, reminiscent of mid-century design. Lisa and Jason had already collected a lot of authentic 1950's furniture – it was just buried under all that clutter that no-one could see.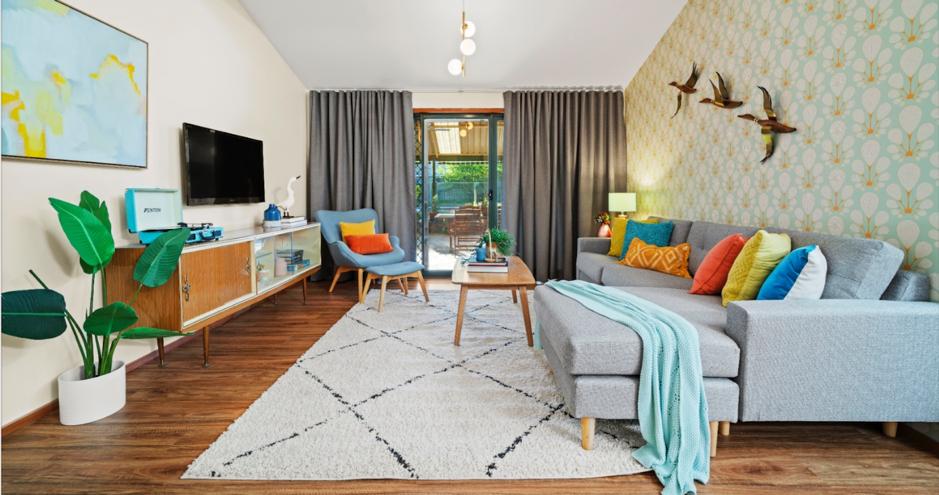 Notice how the furnishings and rug have been carefully chosen to visually lengthen the room. The muted wall colour allows the bright accessories to 'pop'.
Starting with the floor, I ripped up the old beige carpet and laid down new hybrid floating floorboards which I continued through to the adjoining dining area and hall to create one uniform space. I knew the new floorboards would be so much easier to keep clean than carpet and they make the rooms appear larger, even though they're physically not. I deliberately ran the floorboards in the direction of the hallway, then followed that direction everywhere else which naturally increases the sense of flow throughout a home.
I couldn't go past that very prominent sized wall in the lounge room without doing something special to it. I turned it into a feature wall, choosing a pastel-toned vintage wallpaper, so those fabulous flying ducks pop against its backdrop. The couple's original vintage sideboard is now a key focal point in the room and the brown-coloured, double-fullness curtains add colour and much-needed softness to the room.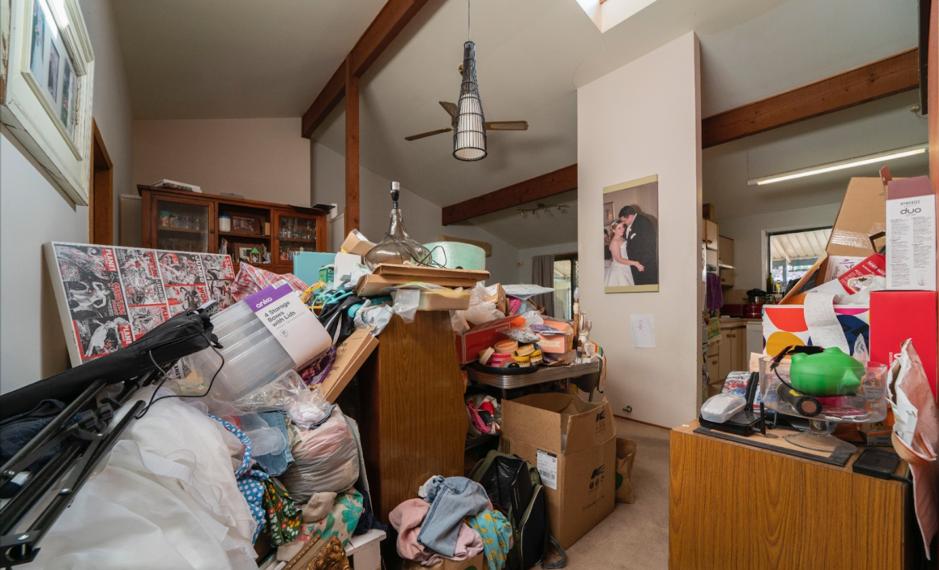 FIFTIES DINER
When I saw a genuine 1950's dining table and chairs buried under all those piles of clutter, I couldn't believe my eyes! A completely original 1958 setting in mint condition, which had never actually been used by the couple. I immediately knew it would become the centrepiece of my new retro dining area, which flowed through in open-plan style to the kitchen and adjoining lounge room.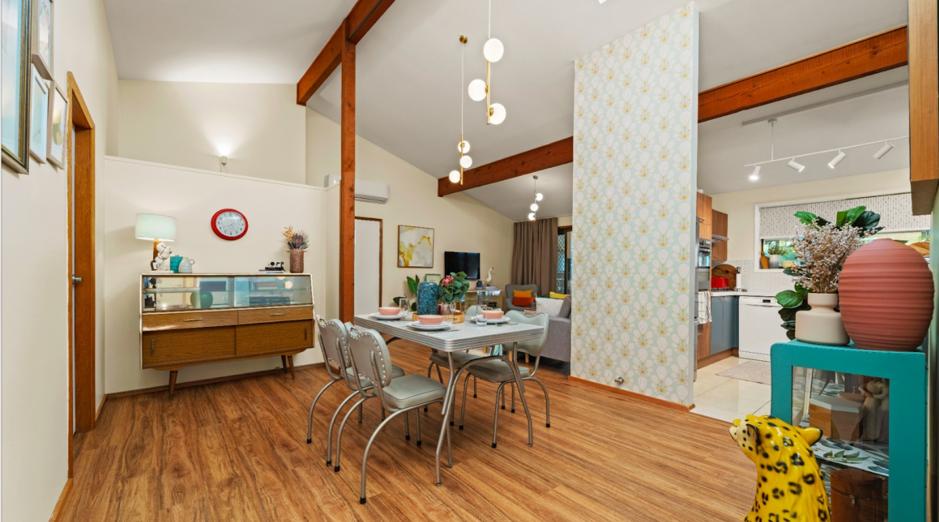 Running the floorboards in the same direction as the foot traffic increases the sense of flow through the home.
Using the same wallpaper and lights that I used in the lounge room was an effective linking device. There's terrific height in that sloping ceiling, accentuated by the exposed timber beams and light-coloured walls, so these feature pendant lights become an eye-catching focal point, bouncing light all around the room. The owners' vintage buffet finally has its own place to call home.
I posted the photos of this dining room recently on my Facebook page and many were quick to ask why I didn't paint the exposed beams, skirting boards and door architraves. Back in the 1950s, walnut was a predominant colour. Painting all of these things white would have completely modernised these rooms making them feel less true to the era. Also, why paint something that's not really needed?
Looking back on this reno I felt the dining room looked a little bare, mainly because of my decision not to put a big rug under the dining room table. The practical side of my brain kicked in with food scraps fermenting away with a little 5-year-old at the table. Sometimes you can get torn as a renovator – do you go for looks or practicality? Ideally, you should aim to achieve both!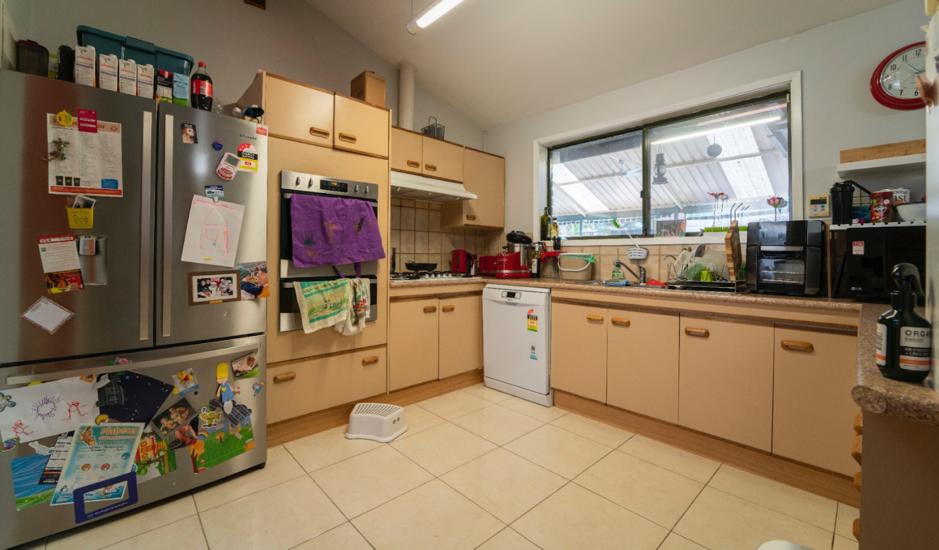 RETRO KITCHEN CHIC
Lisa and Jason's dowdy kitchen was perfectly functional and structurally in good nick so it would have been a terrible shame to rip it out and throw it into landfill. Owner Lisa, admitted she dreaded stepping foot in her kitchen to prepare meals and the room didn't feel great to be in.
The great thing about modern roller blinds is they come in so many different patterns. This one complements those vintage tiles perfectly!
I certainly didn't have the time or budget for a $30,000 kitchen, so I did the next best thing, create the illusion of a brand-new kitchen instead. I replaced the old cabinet doors with a combo of inky blue and walnut new door fronts instead at the owners' request. I beefed up the kitchen with one new wall cabinet over the fridge which by default, made the kitchen appear larger and therefore look more valuable. I installed a new retro tiled splashback, added a vintage-inspired roller blind and an overhead track light with multi-directional spotlights that allows light to be positioned exactly where it's needed.
But the real masterpiece in this room is the benchtops! I bought the Granite Transformations team in who, within a few short hours, left the old benchtops in place and simply placed a thin layer of stone benchtop straight over the top of the old benchtops. Perfect if you're on a tight budget and can't wait four to eight weeks for new ones the traditional way!
THE END RESULT
This renovation was done in three fast days though I'd warn you not to attempt the same yourself. TV renos are one thing, real life another. All up, I spent just under $35,000 for all materials and labour inclusive with an uplift of value that doubled that. Once Lisa and Jason renovate the remainder of their home, that's when the greatest return on investment will be achieved.
Lisa burst into tears when she saw her new vintage inspired home and prized pieces of 1950's furniture finally in a setting where they could be appreciated. With the "crushing clutter" gone, she and husband Jason & 5-year-old daughter Willow can finally enjoy the retro-styled home they'd always intended to create.
GET THE LOOK
Style: Hybrid FlooringProduct Number: Coastal Haven Fingal

Colour: Spotted Gum

Board Size:1480mm (l) x 223mm (w) x 5.5mm (h)

Supplier: Flooring Xtra

Link to Product: Coastal Haven Floorboards
Product Number: Bulbs WallpaperSupplier: Luxe Walls

Link to Product: Bulbs Wallpaper
Product Description: Helix 3 Light Pendant with Frosted Glass Shades in Brass.Product Number: 010141

Supplier: Beacon Lighting

Link to Product: Helix Pendant
Product Description: Emery Blockout CurtainColour: Pebble

Fullness: Double

Supplier: Wynstan

Link to Product: Emery Curtain
Product Description: Jazz 3-Seater SofaColour: Standard Groove Grey

Supplier: Fantastic Furniture

Link to Product: Jazz Sofa
Product Description: Nova Coffee TableColour: Oak

Supplier: Fantastic Furniture

Link to Product: Niva Coffee Table
Benchtop: Ocean PearlBase Cabinets: Polytec Habitat

Upper Cabinets: Polytec Notaio Walnut

Supplier: Granite Transformations

Link to Supplier: Granite Transformations
Product Description: Nevada 5 Light Adjustable PendantProduct Number: 011851

Supplier: Beacon Lighting

Link to Product: Nevada Pendant
PAINT COLOURS:
Lounge & DiningRoom Walls: Taubmans Modest Mint

Taubmans Prairie Sun

Taubmans Mountain Grey

Front Door: Taubmans Husk Gold

Taubmans Endure Paint Used.