How To Have The Best Shower!
In the cluttered world of emails, I bet that image above caught your attention, right? In times like this, we all need a little dose of humour …
However, when it comes to showers, I'll share my wisest words of wisdom right up front:
Don't sing in the shower …
Because singing leads to dancing …
Dancing leads to slipping …
Slipping leads to paramedics seeing you naked 😊

Now, let's be frank. Your shower is something you use at least once every day… well, hopefully! While many of us are still enduring covid-induced lockdowns & working from home, it's not a legitimate excuse to stay in your PJ's all day & skip that all essential shower time. Ewwww ….
You may not know it but the average Aussie spends 7 minutes of their daily life in the shower which cumulatively adds up to almost an hour each week. In all seriousness, have you ever really given your shower space a second thought?
Great showers don't happen by fluke, they're often the result of someone buying a decent shower head to begin with. Watch my latest Cook's Plumbing Supplies video to see what I mean …
As the video highlights, when it comes to showers, there's no one size fits all. Next time you're considering a bathroom reno, you might want to give this part of your home, a little more serious attention. After all, isn't this the place you make some of life's most important decisions?
THE MAIN TYPES OF SHOWER HEADS
If you're on a mission from God to get a decent shower from here on in, you'll need to buy the right shower head. These are the main types that each perform differently:
Ceiling Mounted Shower – These only use to be the domain of luxury hotels & high-end homes but are increasingly popular in homes of all values these days. This shower head is mounted into your ceiling or on an arm from your ceiling, with water flowing straight down like rainfall. This type of shower head is great to wash your whole body all at once, but the downside is, you can't adjust the water direction. If you're someone who hates to get their hair wet every day, this shower head aint for you!

Adjustable Wall Shower – this type of shower is the most common, mounted directly on your shower wall. The adjustable shower head means you can direct your water spray to various heights & at different angles to suit people of all heights & body sizes.

Fixed Wall Shower – are shower heads mounted to your shower wall which don't have any capacity for the shower head to be moved in any way. They can be a good option for people who don't like re-adjusting the shower head after other people have used the shower previously.

Rail shower – Sitting on a vertical rail bolted to your shower wall, this shower head offers the flexibility to adjust your shower head height – simply by sliding it up or down the rail. It's perfect for people at all heights to get a comfortable shower experience.

Handheld shower – this type of shower head is attached to a hose that is fixed to your shower wall. You can use it like a normal wall shower but it also has the added flexibility where you can grab the handpiece away from the wall to clean yourself wherever you like! They're even great for things like washing your pet in the bathtub.

Twin shower – My personal favourite is the twin shower. Think of it, like all the shower heads rolled into 1! You have the luxury of an overhead rain shower with the flexibility of an adjustable hand-held shower that slides up & down on a rail, all controlled at the flick of a dial. You'll get no complaints from any family members on this one!
LUXURY OPTIONS
Now, there are showers & then there are next level-up showers! Just like everything these days, some showers go that few notches up with luxury for those with the budget & inclination …
Variety of settings – Fancier shower heads can be adjusted to have larger, smaller or different spray patterns & pressures, including a mist or massage setting.
Thermostatic shower mixers – You can control your water temperature & set it to a precise degree.
High tech – Some shower heads feature Bluetooth speakers & coloured LED lights. Why you would is a little baffling to me though 😊
HOW DO YOU CHOOSE "THE ONE"?
If a bathroom reno is in your future plans, it'll be easy for you to be seduced by the huge array of lovely looking shower heads at your local Cook's Plumbing Showroom. How do you narrow it down to the perfect one? Before you 'splash' out (pun intended), consider a few things:
Water pressure – How much force is behind the water being pushed through your water lines & out of your shower head? You don't want to feel like you're standing under a fire hose, nor under a sprinkler, so choose a shower head that's suited to your current water pressure. A showroom consultant can help you with this.
Energy efficiency – Just like your electrical appliances, your water fixtures have a WELS rating. The more stars your shower head has, the more water efficient it is. The more money you'll also save. A shower head with a 3-star WELS rating (out of 6 stars) uses 9 litres of water or less per minute. It doesn't mean water will be trickling out … you can still get a strong shower whilst also being water efficient. Boom!
Your existing plumbing – If you're building a new home, you'll be able to install whatever shower head your heart desires. If you're remodelling an existing bathroom & not changing your plumbing lines around, you'll need to buy a shower head that suits your existing plumbing lines.
Who will use the shower? If it's a shower in your family bathroom, you might want to choose a more flexible shower head, such as a rail shower with adjustable height to accommodate everyone. If it's for a master bedroom ensuite, you might choose a ceiling shower with more luxurious options.
Does it suit your bathroom? – Shower heads come in a variety of shapes including square, round or semi-round. They also come in a wide range of materials including chrome, stainless steel, brass, nickel, bronze, copper, gunmetal & porcelain. Choose a shower head that suits your bathroom style. Your shower head should also be in the same colour as your bathroom taps & accessories for continuity too. Also note that the shape of your shower head also determines what spray coverage you get so be sure to discuss that with your showroom consultant.
Your Budget – If you're on a budget, you'll gravitate towards a more basic, adjustable wall shower option. If you've got money to burn, you'll be investigating the ceiling mounted or the twin shower options with a sprinkling of technological features!
Cleaning – Handheld showers are by far the most useful for cleaning.
TO SCREEN OR NOT TO SCREEN?
Showers can be enclosed with screens & a door, known as a shower enclosure, or open, otherwise known as a walk-in shower.
A shower enclosure is the traditional option, where the shower is fully enclosed. These are more affordable & are better suited for smaller bathrooms as they prevent water from spraying everywhere.
A walk-in shower, otherwise known as an open shower, is not enclosed, with no door, but it may have some screening like a tiled nook wall. Walk-in showers typically have larger strip drains on the floor capturing water in lieu of being enclosed. These types of showers are quite popular now & tend to work well in more modern, bigger bathrooms, where you have more space to play with. They also significantly reduce cleaning in lieu of the fact there's no glass.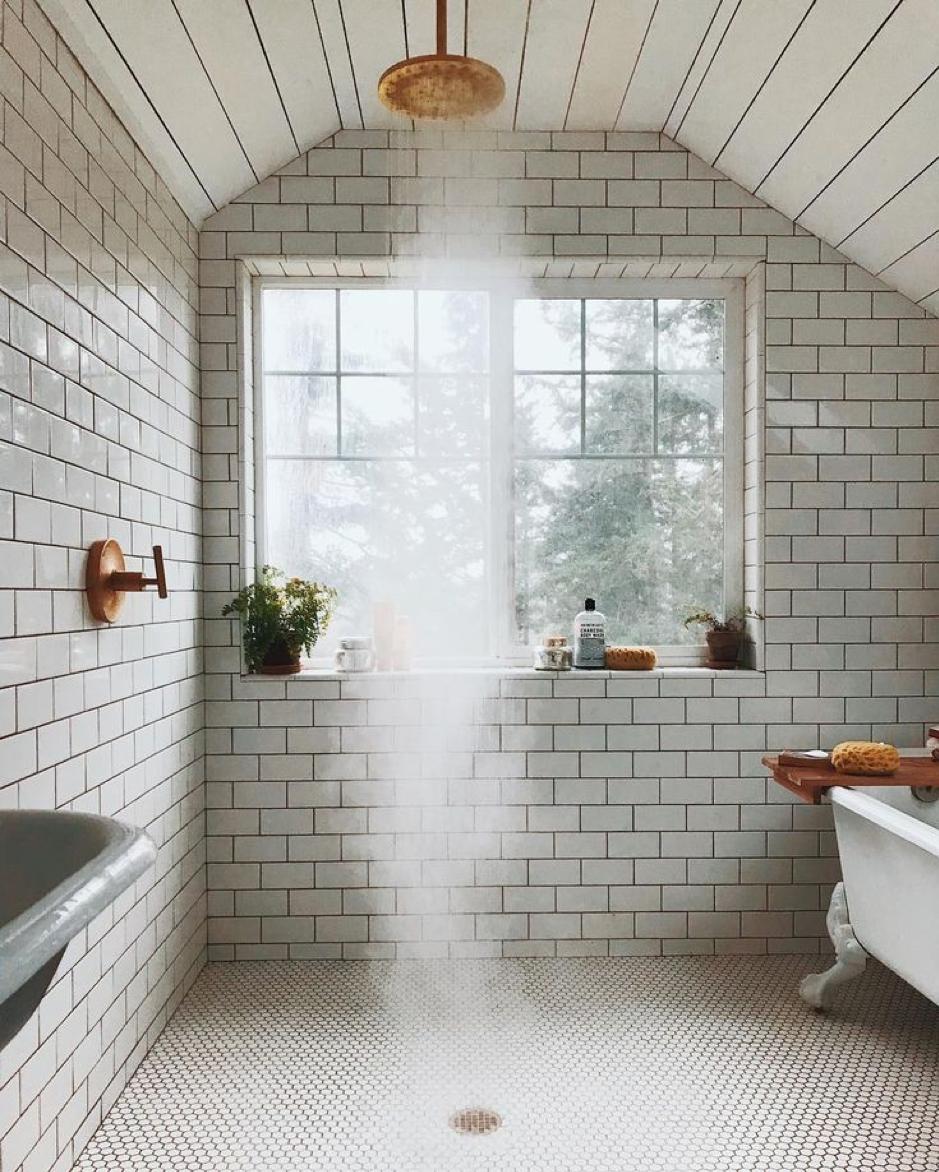 So, who would have thought you had so many options when it comes to your shower! Getting stark naked has never been so much fun 😊
Before I go … I've saved the best for last … for the month of September, 2021, Cook's Plumbing Supplies are offering everyone a whopping 30% off all showers!! If a bathroom reno is in the foreseeable future, jump onto www.cooksplumbing.com.au now to save more of your hard-earned pennies.
Until next time …
Much love,
Cherie x