How To Update Your Kitchen For Less
We all know your kitchen is the most important room in your home, but if you've been putting off that reno because it all sounds too hard, you'll be pleased to know there are some clever shortcuts you can take, to make the process, a whole lot easier.
Firstly, got big kitchen dreams but not much cash? Don't worry, you're not alone. The average kitchen in Oz these days, rolls in at the hefty amount of $25,000 to $50,000. Not a small amount of money to save up, that's for sure! Run-away material costs & a national shortage of tradies, add another layer of complication to the mix.
To minimise all this heartache …. and before you demolish your kitchen to smithereens, ask yourself … can you keep your current kitchen & cosmetically refresh it instead? Sure, it's not going to last you forever, but you may get another 5 years life out of your existing kitchen, whilst you save for your ultimate one?
We have 2 great product ranges in Australia that make this task easier than you'd think – White Knight® Renew Tile & Laminate Paints or the Dulux Renovation Range. These are great specialty paints that are easy to apply & inexpensive to purchase. Simply paint over your old cupboards & benchtops to give that old-timer kitchen of yours, a fresh new feel. I've achieved amazing transformations this way, on shoestring budgets.
If your kitchen is in sound shape, with no rotted carcasses or cracked splashback tiles, then one trip to your local hardware store & a weekend's work of elbow grease, could be all you need for a complete overhaul. With this kind of "cosmetic refresh", your kitchen tiles, benchtops & cupboard fronts can all be painted in fresh, modern colours.
I transformed the kitchen below with less than $2,000, which included adding a pantry & reshuffling the layout slightly. You'd have to agree that modern pastel green colour has stripped decades off those old timber cabinet fronts.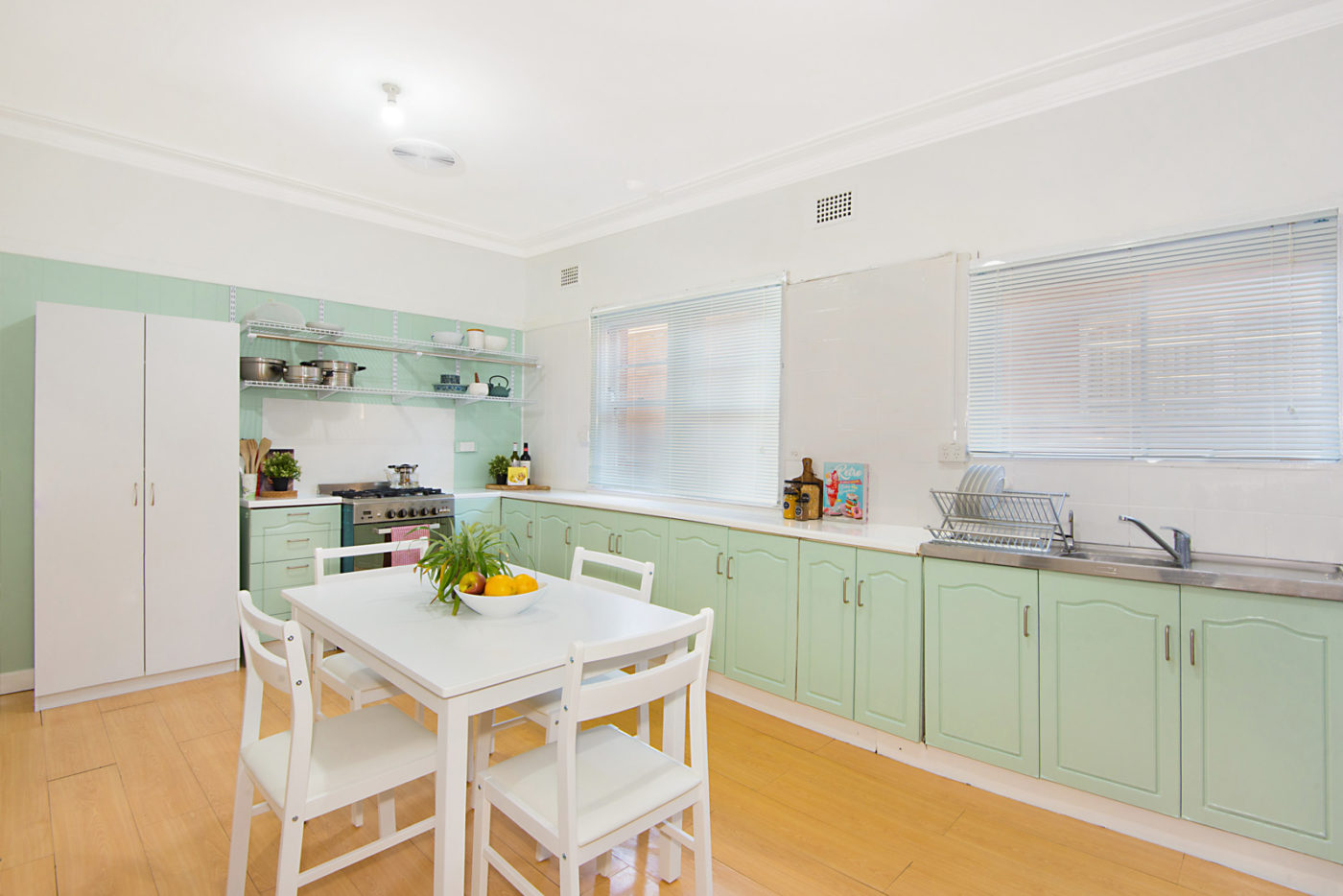 A NEW FAÇADE FOR A GOLDEN OLDIE
Don't need to go that frugal & got a bit more extra cash to spend? Perfect! If you want something the next step up, but still don't have anywhere enough for a brand-new kitchen, a great middle of the road option is to update your cabinetry with new cabinet fronts. Companies like Granite Transformations can manufacture & install new door fronts, drawer fronts & end panels, in a wide range of contemporary materials & colours, along with sleek new hardware. This is a great way to save a heap of money, getting the look of a brand-new kitchen, without gutting the whole entire room. You simply keep all your existing carcasses (provided they're still in good shape) & reskin your kitchen with new cabinetry fronts.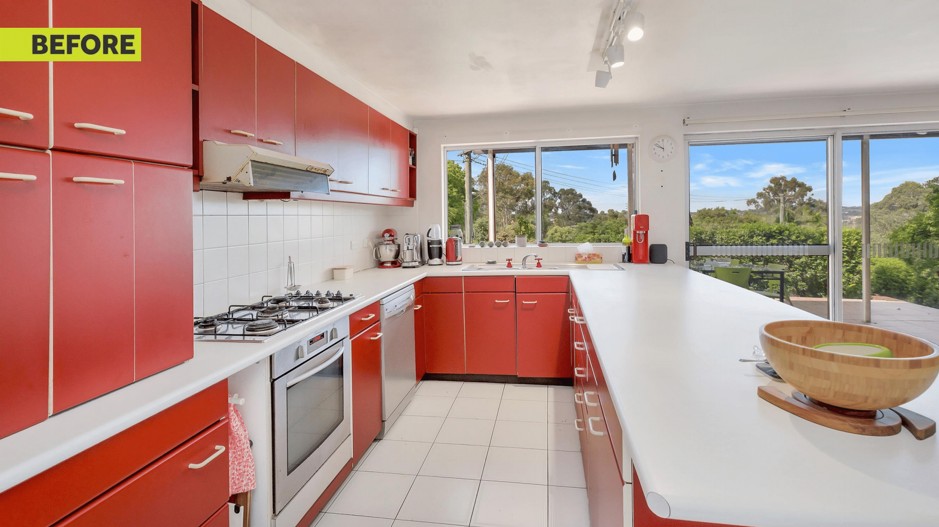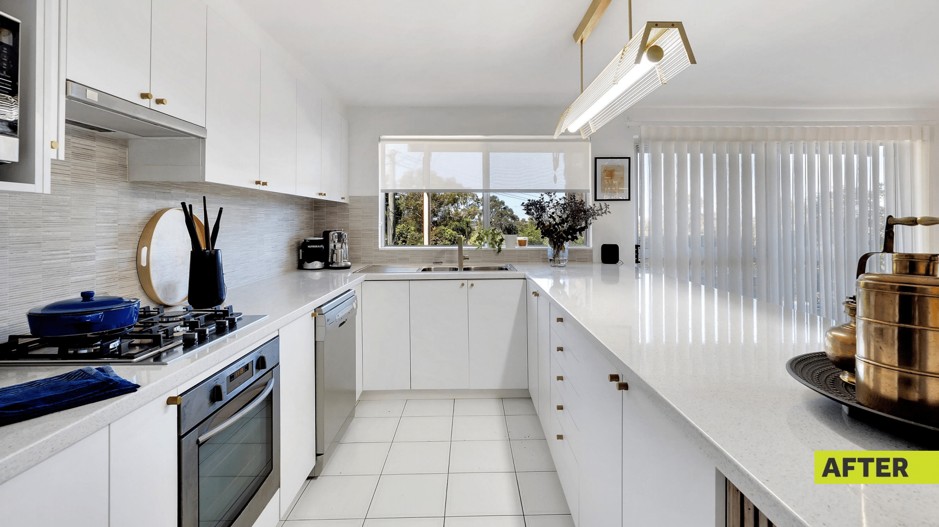 If you can afford it, new benchtops, splashback & appliances are all good optional extras that can take your old kitchen to a whole new level. Again, companies like Granite Transformations can reskin your old benchtops, simply by laying a thin layer of granite over the top of your existing benchtops.
Take a look at the kitchen below which cost me just under $5,000. You might think it's a totally new kitchen but it's not. I simply used some of the methods described above to give the illusion of a brand-new kitchen, utilising a lot of what was originally in the space.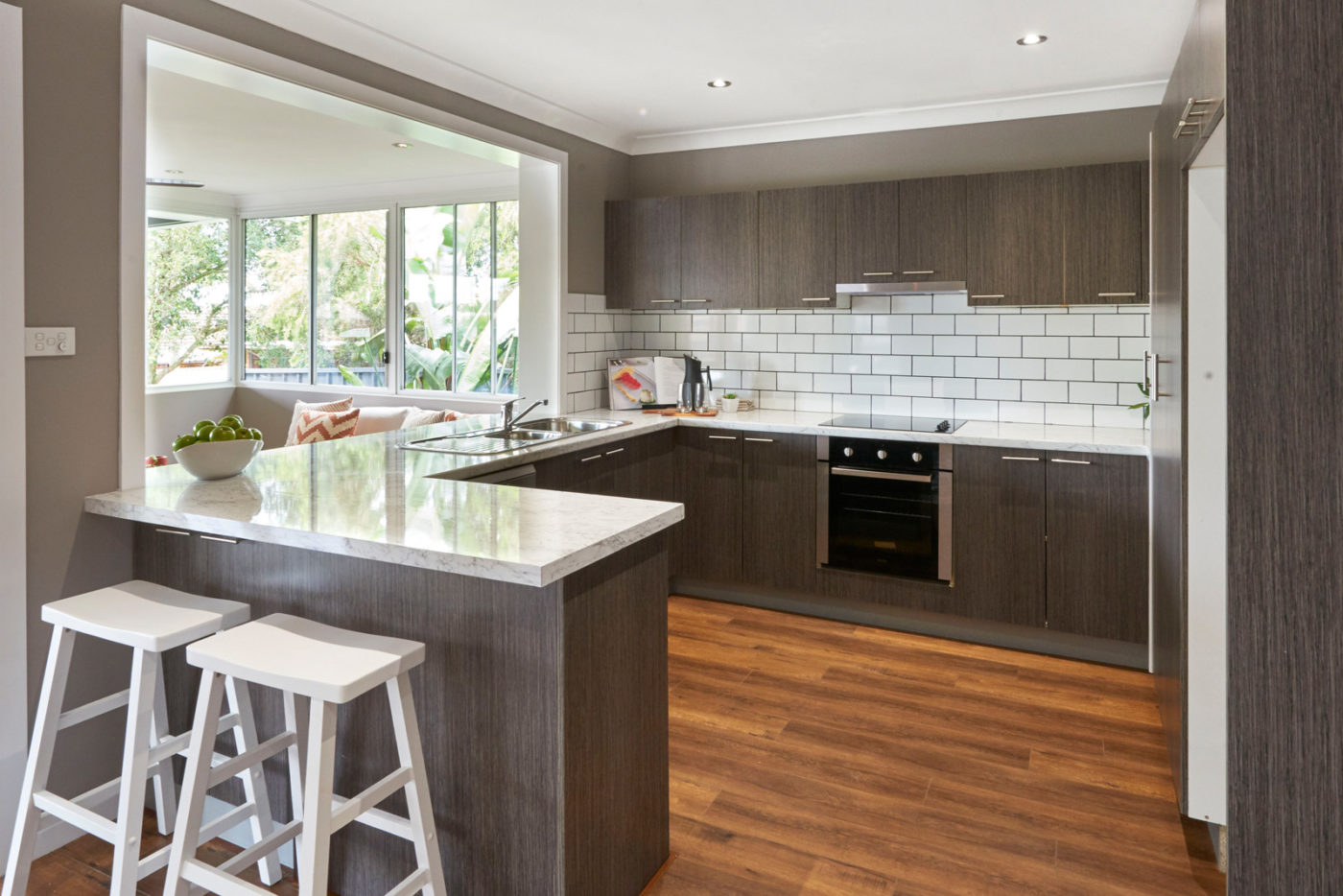 OUT WITH THE OLD, IN WITH THE NEW!
Ok, so you've decided to go for broke & get a brand spanking new kitchen. This is a great opportunity to improve on the original layout, perhaps adding in more bench space, extra cabinets, a breakfast bar or an island bench, if space allows.
The reality is, new kitchens aren't cheap. By the time you factor in demolition, materials, appliances, planning approvals & all the numerous tradies required to make it happen, large chunks of cash will be flying out of your bank account at an alarming rate. Your kitchen could be out of action for anything from 2 weeks to a couple of months, depending on the magnitude of your job & whether any structural works are involved, like moving walls, doors & windows or generally extending the space. But they're not reasons, to put the task off …
A new kitchen starts at around $15k for a super basic, off-the-shelf option that can fit into your existing layout, with a very basic appliance package in tow.
Start going custom-made, extra-large cabinets, luxurious finishes or flashy appliances & you'll easily start climbing to well over $40K before you know it. $100k kitchens are certainly not out of the question, these days.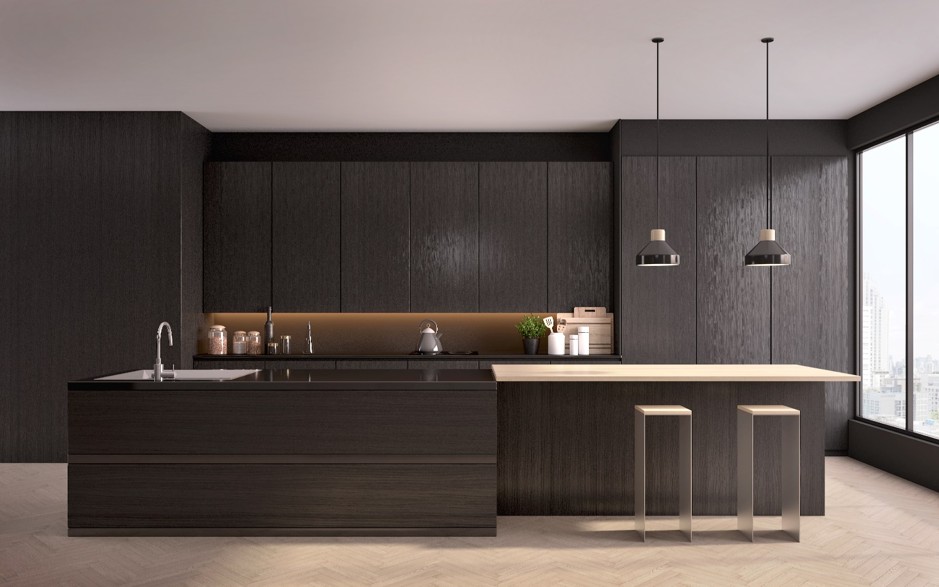 While it's tempting to leave the management of your brand-new kitchen installation in the hands of a kitchen showroom or a licensed builder (who will take care of every step of the process for you), unfortunately, you will pay dearly for that service. Expect to pay at least a 25% premium to your kitchen cost for this luxury.
Project managing your kitchen renovation can save you serious dollars, but you definitely need to know what you're up for: it's not for the disorganised or faint-hearted. If you've made the decision to outsource your kitchen to a builder or kitchen showroom, you'll still need to have a good understanding of the kitchen renovation process, so you can have educated & informed conversations with those, you've employed. It's the very reason, I created my online course, Create Your Perfect Kitchen. Having done well over 50+ kitchens throughout my renovation career, I know there's more to know with most kitchen renovations, than most people realise. Failing to design your kitchen well & not planning properly right up front, is a fast way to unplanned hiccups & costs spiralling out of control.
Of course, there are other smart ways to try & keep your kitchen costs under control. My Home SuperSaver group is a national buying community (think people-power) that enables anyone to get big discounts off a plethora of items you're likely to need for your kitchen reno. From your cabinetry to your benchtops, your appliances, tiles & everything in between, those big discounts you get, will ultimately mean, more money in your pocket. Be sure to check it out: Home SuperSaver.
If you're contemplating a kitchen reno or better still, actually committed to do it, be sure to download my free KITCHEN RENO EBOOK first. Let me know the most difficult thing you think you'll experience in doing your own kitchen reno. Your problems might just inspire me to address those in another blog.

Much love,
Cherie x