Leave Your Troubles In The Bubbles
How To Select The Perfect Bath
Aren't baths supposed to be relaxing? For most of us, yes! Others, not so much 😊
If you've ever watched any reno show on telly before, you'll know a beautiful bath can often be that jaw-dropping, showstopper piece that can make or break any bathroom renovation.
But with thousands of baths in a mind-boggling array of styles, shapes, colours and materials to choose from, you can't be blamed for feeling a little confused as to which one to buy.
It begs the question… how do you select the perfect bath? Well, my friends, it's wise to begin with the basics first – understanding the different styles of baths which will help you naturally narrow down your selections. My latest Cook's Plumbing Supplies video summarises this up nicely:
THE MAIN STYLES OF BATHS
Inset baths (otherwise known as a built-in or recessed bath)
I think we can all say we've all sat in this type of bath before! Traditionally, inset baths have been the most common type of bath in Aussie homes, until the freestanding bath (more on this next) came along and stole its thunder. With this type of bath, your tub sits in a timber or brick frame which is then usually tiled over the top.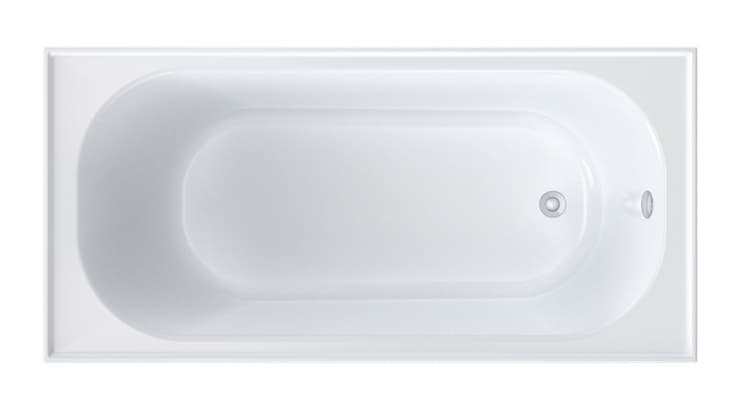 Inset baths can be very stylish with the right tiling, are practical as they have a ledge to put your accessories on and are generally pretty easy to clean. They're also great space-savers if your bathroom is on the smallish side, giving you the option to have a shower-over-bath combo.
It's important for me to point out that a shower over your bath is a fairly contentious issue amongst Aussie homeowners. Some will be quick to say it's not ideal while others will sing its merits when space is genuinely tight. The way I see it, better to have a shower over your bath rather than no bath at all, especially if small children reside in your household.
Freestanding baths
As the name suggests, this is a bath that sits on your bathroom floor with no walls or frame to support it.
Freestanding baths have grown in popularity over the last decade, simply because they look so damn good – and these days everyone wants an Insta-worthy bathroom! They're also easy to install with no framing or tiling required.
The only downside of this type of bath is that they generally don't have room to store your toiletries, accessories or your wine! But this can be easily solved by investing in a caddy shelf that sits over the top of the bath, having a table nearby or even a wall niche.
Back to wall freestanding saths
Can't decide if you want a recessed or a freestanding bath? Don't worry, have both! This is where back to wall freestanding baths come into play. They're a combination of a freestanding bath mixed with an inset/recessed bath. This type of bath has one flat side that sits flush against your wall, while the rest of the bath is freestanding.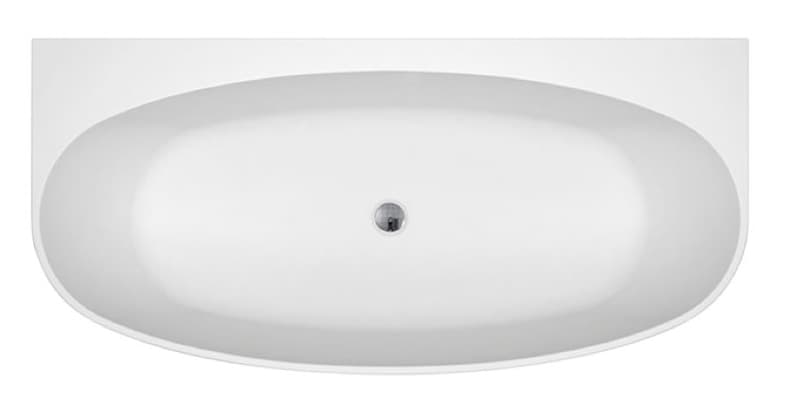 This type of bath is a very cool option if you have your heart set on a freestanding bath but you don't quite have the space required. It also comes with the convenience of a shelf to put all your stuff on like your shampoo, soap etc.
Back to wall corner bath
Very similar to your standard back to wall bath, this type of bath is designed to be pushed into a corner of a bathroom so is the ultimate space-saving option.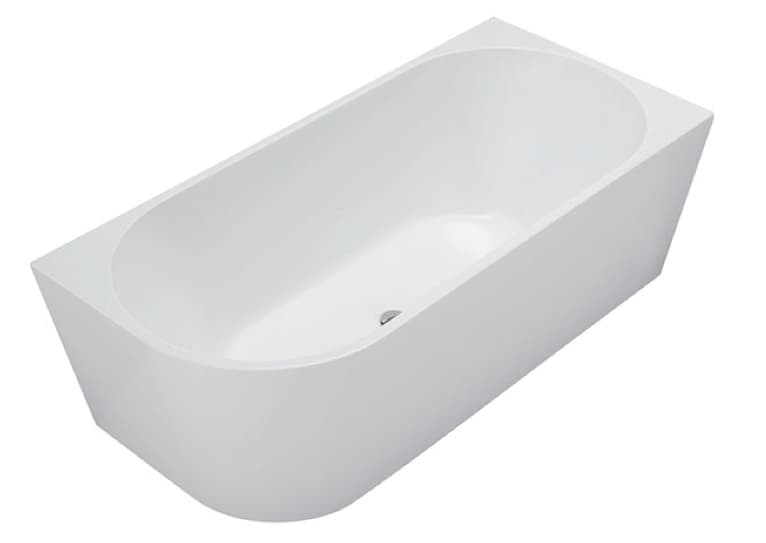 Available in a left- or right-hand corner configuration, this style of bath comes with two flat sides that can be pushed right into a corner with the remaining sides – normally curved – creating that freestanding bath look.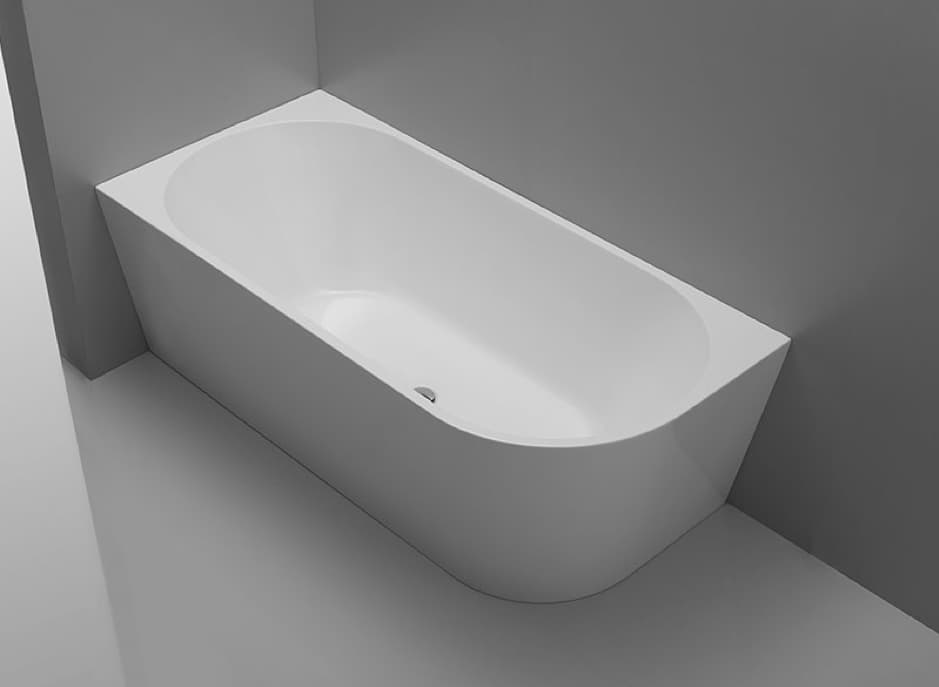 Corner baths
No doubt you'll be familiar with corner baths… perhaps you grew up in a household with one of these present when you were younger? Less popular these days, corner baths are often triangular in shape and normally pushed into one corner of your bathroom.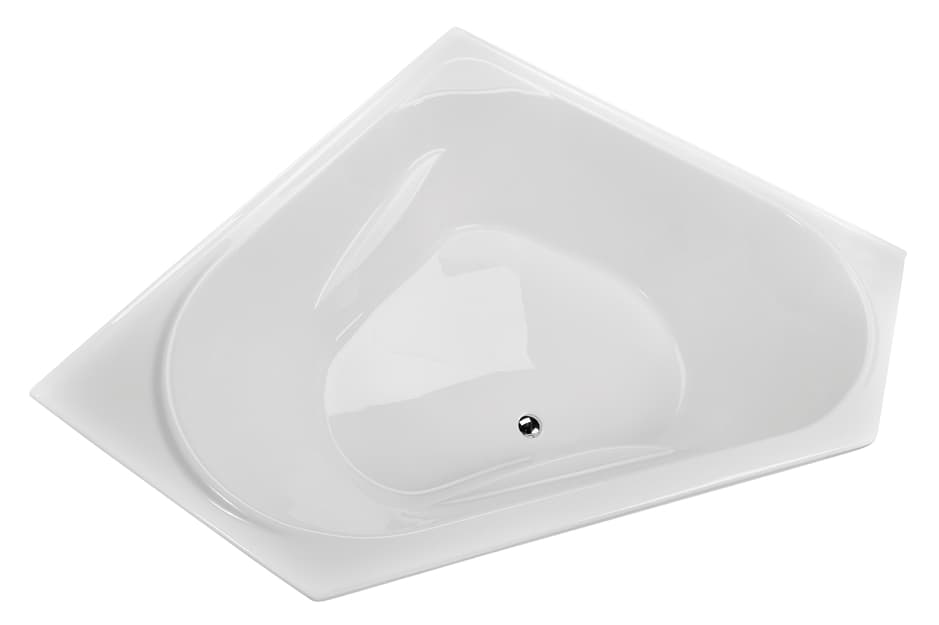 These types of baths are great for those who want a bigger bath to relax in, and often feature accessories such as massage jets for a more spa-like experience. The downsides are, they take up a lot of space so you'll need a bigger bathroom to house one of these units. They also don't look as sleek as freestanding baths so are less fashionable these days. Cleaning can also be a lot trickier with a bigger, deeper bath so take this into consideration, especially if you aren't that flexible!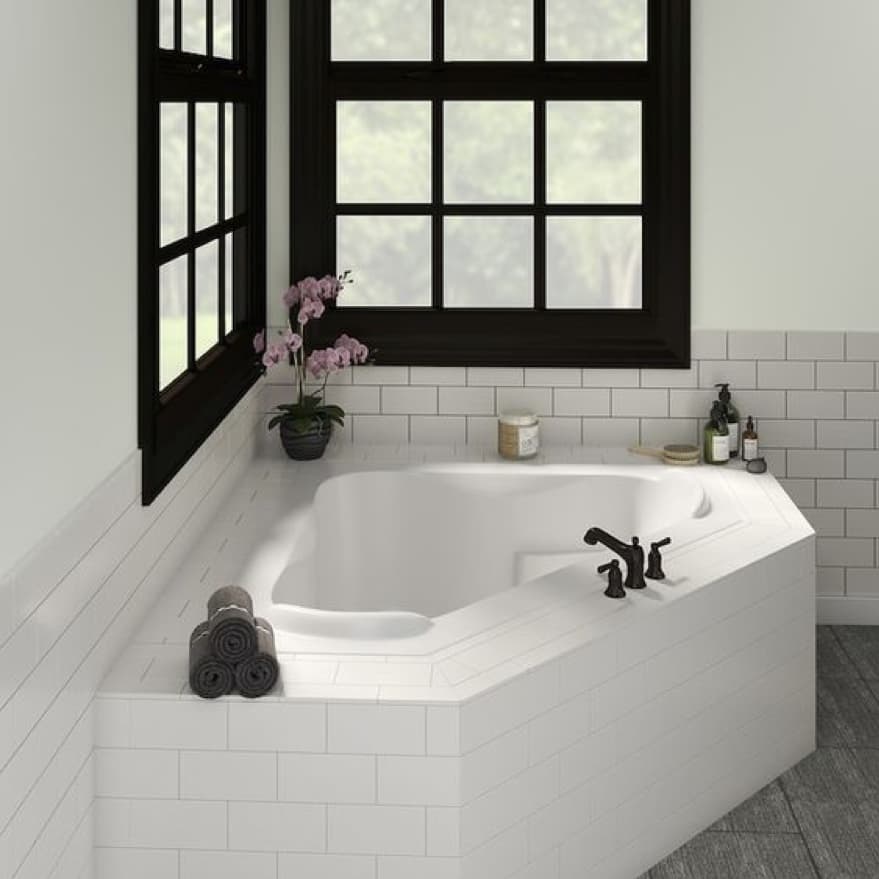 CONSIDER YOUR BATH MATERIAL
The most common – and budget-friendly – materials for baths these days are acrylic, fibreglass or enamelled steel. These options mean baths are now lightweight and durable, and surprisingly they're pretty good at keeping your water warm so you can soak in the tub for a while.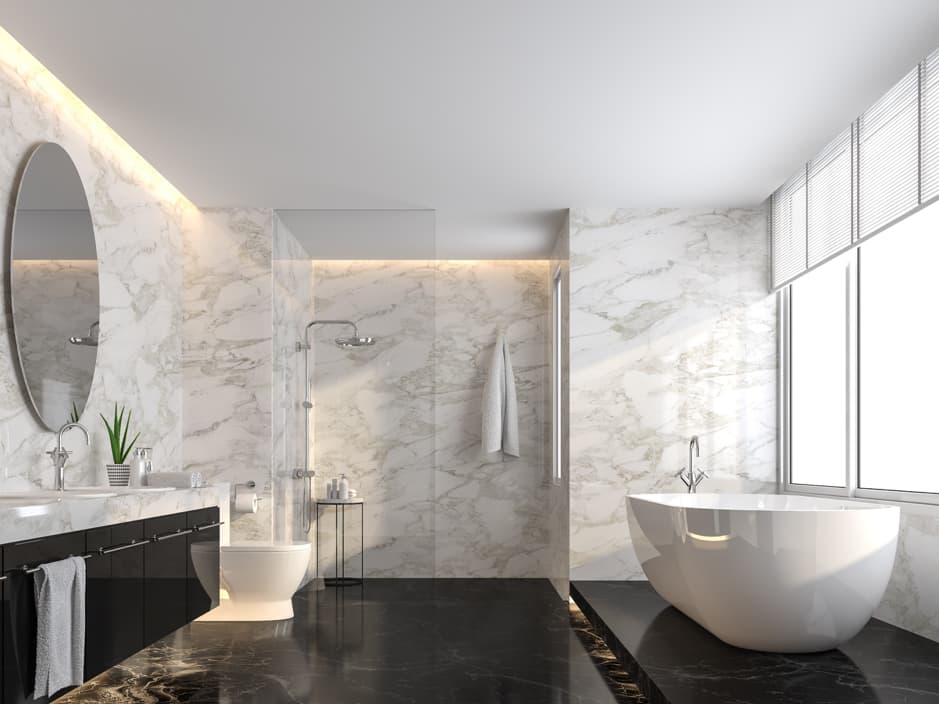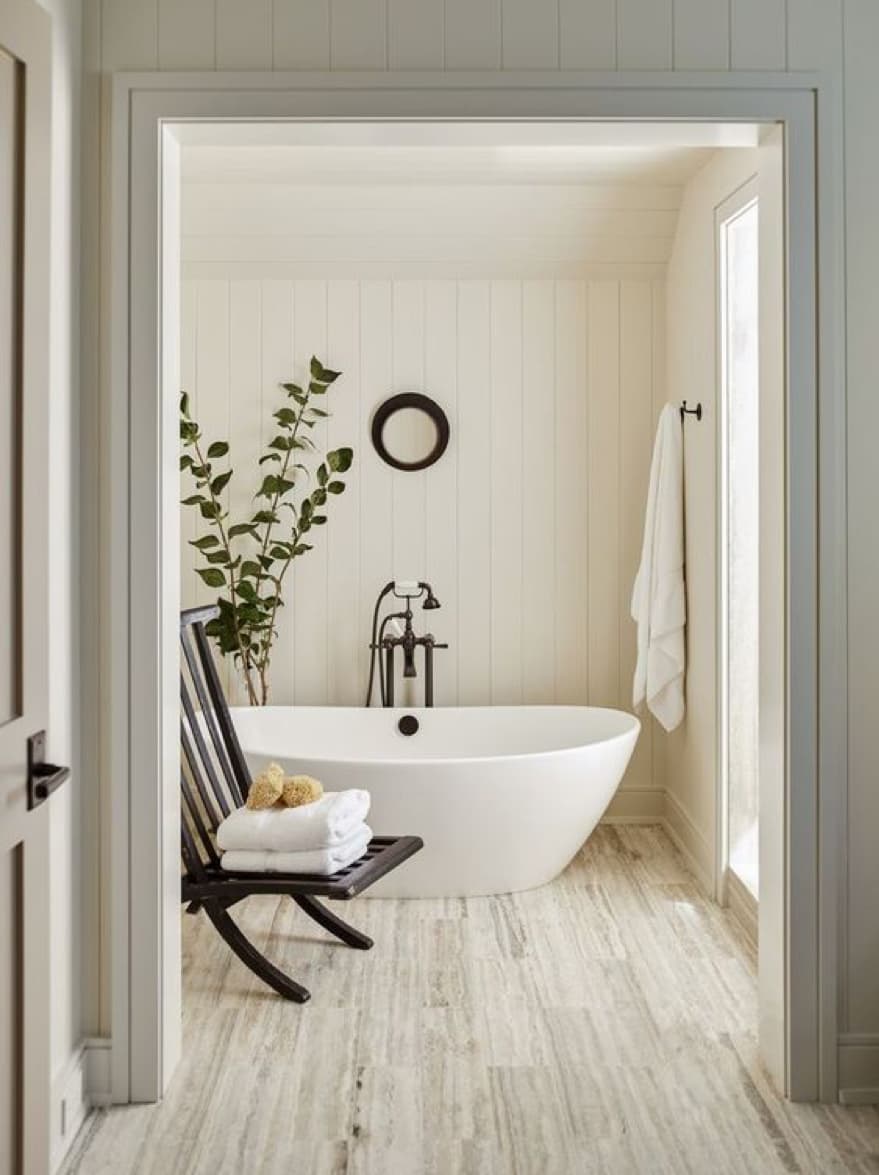 For those with bigger budgets the options are seemingly endless, including stone, stone composite, porcelain, concrete, cast polymer, copper, timber, steel and solid surfaces such as Corian. There's even cast iron, but it's come a long way from the days of old!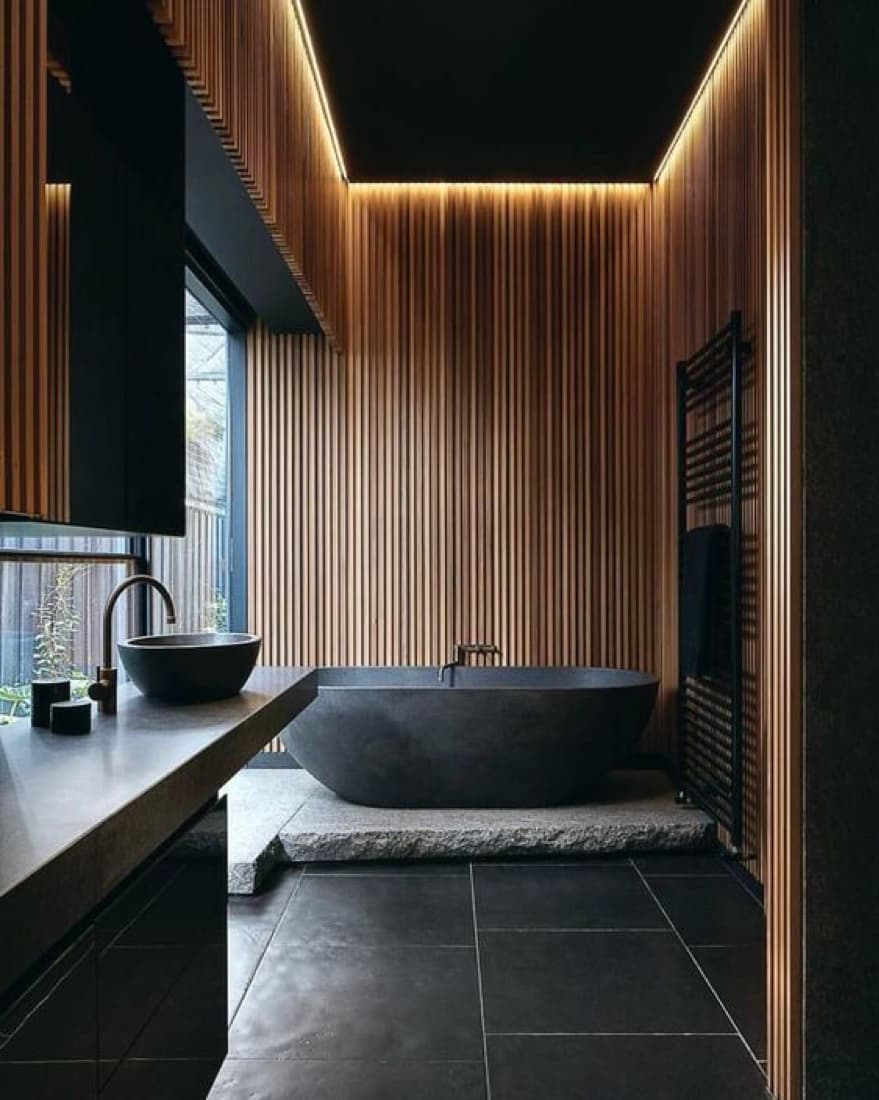 OTHER CONSIDERATIONS
Size matters
When I do a bathroom reno, I naturally gravitate to the biggest bath, but sometimes bigger isn't always better! You need to choose the right size bath for your space so it doesn't visually overpower the room and you can still move around easily.
A freestanding bath usually isn't the best option for smaller bathrooms as it requires more space, needing at least 100mm each side of its perimeter for cleaning. Inset/recessed baths or back to wall freestanding baths are great for smaller bathrooms as they tuck in neatly against your walls.
Before you buy your bath, record all your bathroom measurements on paper including the width of your doorway to make sure you can actually get the bath into your room. Lots of people get tripped up right there! When you're looking at options make sure you look at the length, width and height of the bath so it's scaled proportionately to the size of your room.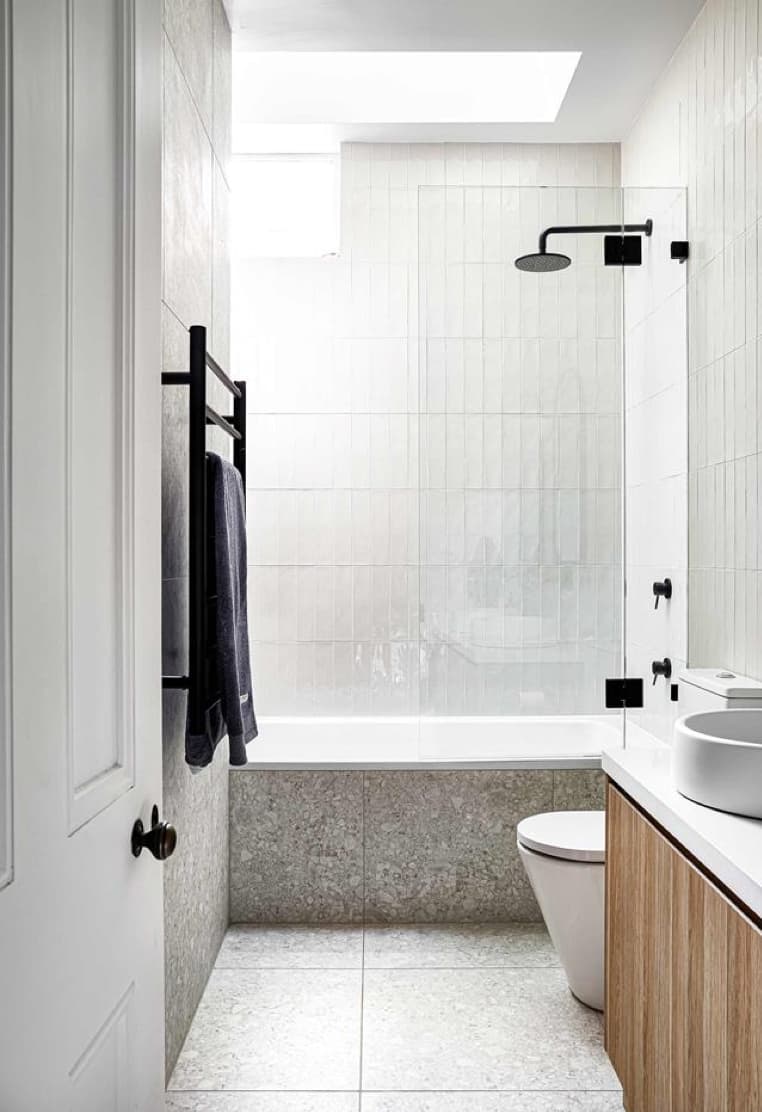 Looks
There's no avoiding it, good-looking fixtures and fittings play a huge part in a bathroom that's sure to impress. Select a bath that looks good but also suits the style of your bathroom and your home generally.
Weight
Some baths – such as stone or cast iron – can weigh hundreds of kilograms, and that's before you add any water.
If you're choosing any sort of stone or cast-iron bath, it'll pay to check with your architect or builder if your existing floor can support that sort of weight, particularly if your bathroom is on your second-storey level. You don't want to end up with a bath in your living room! A structural engineer can advise if you'll need structural reinforcement in your floor. If that's the case, it might be easier to go for a more lightweight option such as acrylic to avoid all that expense.
Practicality
You want your bath to look good, but it also needs to be practical. Think about who is using the bath – whether it's your whole family or just you. Your bath needs to suit the needs of its users, in terms of being able to get in and out of it easily, wash yourself properly, and relaxing if you choose too. Your bath should also be practical in terms of heat retention. There's nothing more frustrating than wanting to take a long soak in your bath but having to top up the hot water every five minutes! Don't assume all baths tick these boxes. You'll also need to consider how practical it is for ease of cleaning.
Comfort
A lot of people love their baths for pure relaxation purposes. If you're on the taller side, you'll want a longer bath so you don't have to fold yourself up once in.
Ergonomics are also important so check out the inside shape of the bath so you can lay in it comfortably. Some baths are straight up and down with no curves to lay your body against – guaranteed to give you a crook neck or back for sure!
Don't be afraid to lie in any bath you're considering buying in your plumbing supplies showroom. Try before you buy to ensure you end up with the perfect bath.
Great news! If you're contemplating a bathroom reno now or in the foreseeable future and want to a 15% discount on baths and other bathroom essentials at Cook's Plumbing Supplies check out our Home SuperSaver membership card. For just $195 you can get access to a range of discounts that are normally reserved only for individuals or companies ordering up big. Trust me, your membership will end up paying for itself by the end of your reno!
And if you are updating your entire bathroom be sure to check out my toilet buyer's guide and shower head buyer's guide for even more tips and tricks that will help you make the right choices.
Much love,
Cherie x