How To Transform An Old Bathroom For Just $4,000.

You've got to love Aussie bathrooms from the 70's & 80's. With their way-out patterned wall & floor tiles, hallmark out there colour schemes & clinical white fixtures, there's plenty of things to both love & loathe about them.
Many people across the country have these sorts of bathrooms. They were rather sexy back in their day but border more on the sad side now. But I give it to them – they built these bathrooms to last. Whilst they look dated & daggy now, you'll find them in perfect structural condition, presenting the perfect canvas for renovators on a budget to work their magic.
With the average bathroom renovation cost currently hovering around the $20,000 mark, it's a room that is trade labour intensive & fixtures heavy.  Whilst a new bathroom is always ideal, the costs to do so can be prohibitive for many.
So, in this blog, I'm aiming to show you how I transformed an old bathroom on a much tighter budget. The subject bathroom is in a rental property in Sydney's western suburbs. The homeowner plans to save up & install a new bathroom in the next 5 to 10 years. In the meantime, she wanted to freshen up the existing bathroom for her tenant. Isn't that nice? 🙂
So where did I start?
Firstly, I assessed what was good & bad about the room …
The shower & bath were in great condition so they could stay. No point ripping out something that is perfectly good …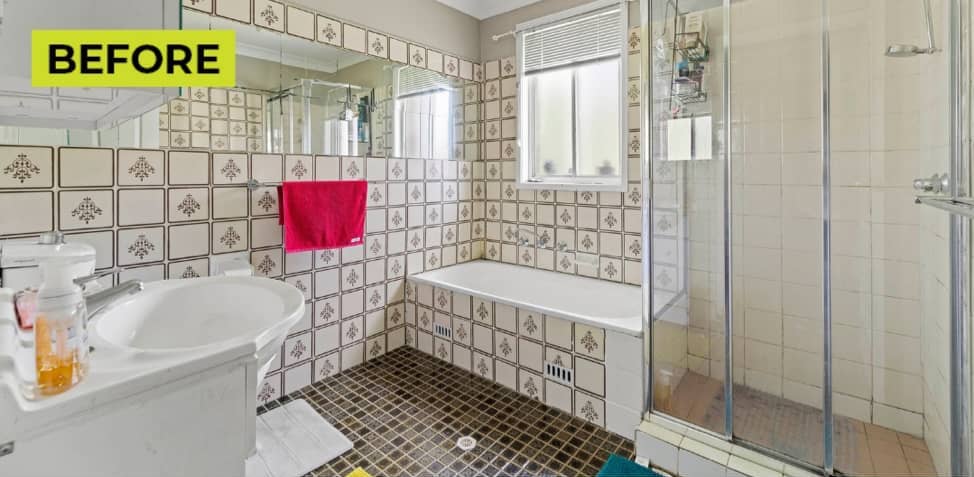 My plumber removed the vanity & toilet to make way for some modern new alternatives …
The shower, bath & vanity taps were removed however could have been kept if the budget had been tighter …
The old toilet roll holder & towel rail were removed …
With all the old fixtures out, it was time to start putting it all back together again …
First up, the walls above the tiles got a fresh lick of crisp white paint. I used a cool, not warm white to help increase the sense of space within the room.
The strip of mirrors on one wall was an unsightly addition. Instead of smashing these off, we simply glued moisture resistant planks of VJ panelling straight over the whole wall on that side of the room, then painting those in Taubmans "Diesel Engine" colour. If I had removed the tiles, the waterproofing membrane would have been damaged, possibly tipping the bathroom to the point of needing to be gutted completely.
With the bath in good structural shape, we installed a black tile trim around the front of the bath front then extended the same VJ panelling underneath for design cohesion.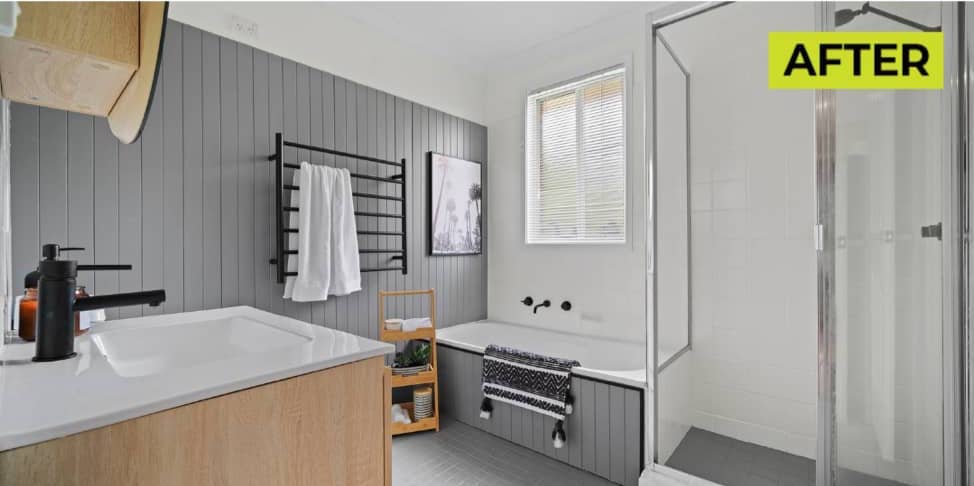 Next up, we waved bye-bye to those unsightly wall tiles. Instead of ripping them out, we sanded & undercoated them first with White Knight Tile & Laminate Primer. That's the undercoat that helps your tile paint bond to your tiles for long term adhesion. Miss that step and your tile paint could peel off in days. We waited an hour for that to dry, then applied the first coat of tile paint to all the other walls. As this needs to dry overnight, I turned my attention to the floor.
With no tradies around, I swept & wiped down the floor tiles, making sure they were spotlessly clean. I then used Rustoleum's Tile Transformations Kit in Slate Grey colour to cosmetically transform the floor tiles. Most people don't know you can't use regular tile paint on your floor tiles, only your walls. This product comes in 2 parts – the paint & an activator which you mix together. Once you mix these 2 bits, you need to work at lightning speed as this product dries quickly. It's key your floor is ready to go as soon as you mix the 2 parts together. I worked in sections, brushing the edges in first with a paint brush then quickly rolling larger sections in with a foam roller, patch by patch. Be careful not to get this tile paint on any other surfaces as once it dries, it tends to not come off anything! We unfortunately got a small patch of it on the floorboards outside the bathroom … boy, was it hard to get off. This tile paint sets seriously hard so be fast but super careful when applying it. With that done, I decided to call it a day, allowing both the wall tile & floor tile paint to dry overnight.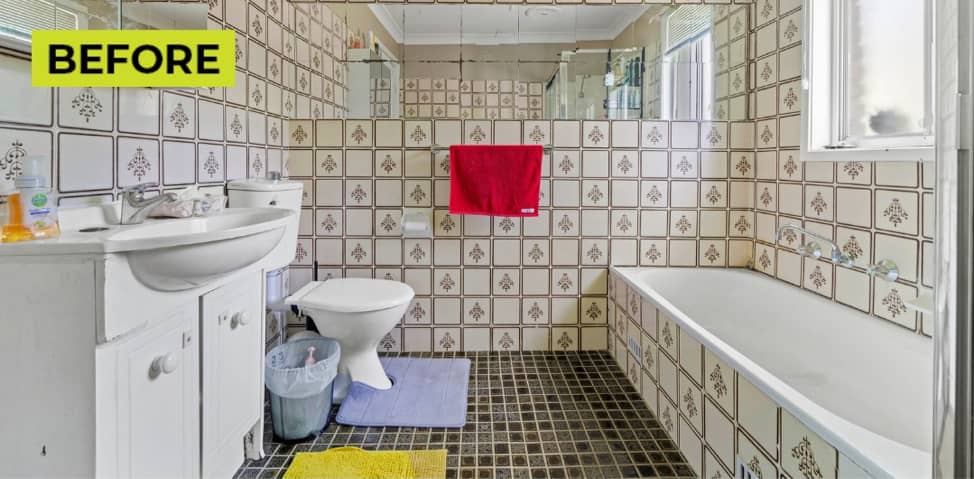 The very next morning it was time for all the new fixtures to go back in …
My plumber installed a new toilet & a beautiful oak vanity from Bunnings (Cibo Design $426.00). The timber tones soften the room against the backdrop of grey. The matching round mirror provides practical storage behind in the concealed cabinet which can be recessed in or out of your wall cavity. The circular shape of the mirror again, helps soften the room.
Next up, it was time for a series of black fixtures to be installed to provide an element of contrast in the room. A black non heated towel ladder was added to the VJ panelled wall to visually break it up. It's also more practical & by far more eye catching than a single chrome towel rail. A black toilet roll holder finishes off that wall.
A family of black bath, shower & vanity taps were installed, all relatively cost-effective fixtures sourced from my local Bunnings store.
Last but not least, a few styling items were added to visually fill the space. The timber caddy sourced from Kmart for just $22, provides a bit of extra storage for all those bath essentials (bath salts, face washers, that sort of stuff!). Another cheapie addition was the L.A inspired print from Kmart. You can lay in the bath now & imagine yourself there, even though you're in Sydney's west. A bath mat, candle & bottle of hand wash complete the look.

This bathroom, all up with materials, trade labour & styling included, rolled in at just under $4,000. What we do know is that it's not a forever bathroom but it sure as hell beats the original 70's number that was there previously. With a very happy tenant, it goes to show, anything is possible for even those on a budget.
Much love,
Cherie x