5 Things Every Airbnb Superhost Does
With so many people jumping on the Airbnb bandwagon, it's easy to seize on the upsides (all that extra cash rolling in for one) and play down the time and effort involved if you want to be a truly successful host.
Gaining Superhost status (an average 4.8 overall rating, 50% review rate or higher, excellent response time to requests, etc) gives you that all-important badge that automatically signals to potential guests that you offer a premium service. It's hard to achieve, even harder to keep hold of with Superhosts evaluated four times a year so you have to always be on top of your game.
BECOMING A SUPERHOST
Cosmetic Renovations For Profit student Nadine has experience of both hosting guests in her own home and managing entire properties, so she's certainly had her fair share of learning curves along the way. But she recently confirmed an added benefit of the short-term rental market when her luxury Gold Coast property proved trickier than expected to sell.
The property was listed before Christmas and is still on the market, due in part to the fact several other properties of similar value are up for sale in the area and to tight restrictions on foreign buyers. But the fact it's rented out on Airbnb means Nadine can afford to be patient.
The four-bedroom "absolute waterfront" property, in the Gold Coast suburb of Runaway Bay, was originally her home. It became an exclusive Airbnb rental after Nadine and her partner split – "and neither of us could afford to buy each other out". Putting in a long-term tenant didn't appeal, as it would mean they wouldn't have regular access to keep the property in tip-top shape.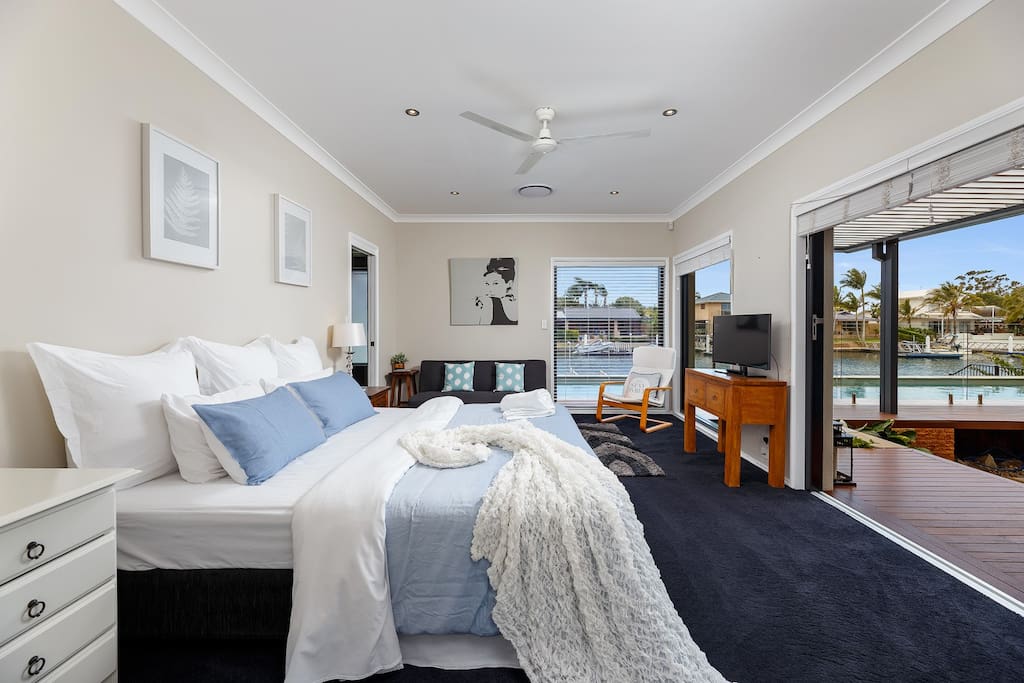 "It's located in a quiet residential neighbourhood and the council has a zero party policy, so it's mainly families with kids who rent it," says Nadine. They had meticulously renovated the home while they lived there, and rented out rooms on Airbnb, so the transition to listing the entire house on the short-term rental market wasn't a huge hurdle.
In peak season, it rents out for $1000 to $1100 a night; mid-winter or mid-week it can drop to $250 a night. It's rented out approximately 50% of the time, with income fluctuating according to the season.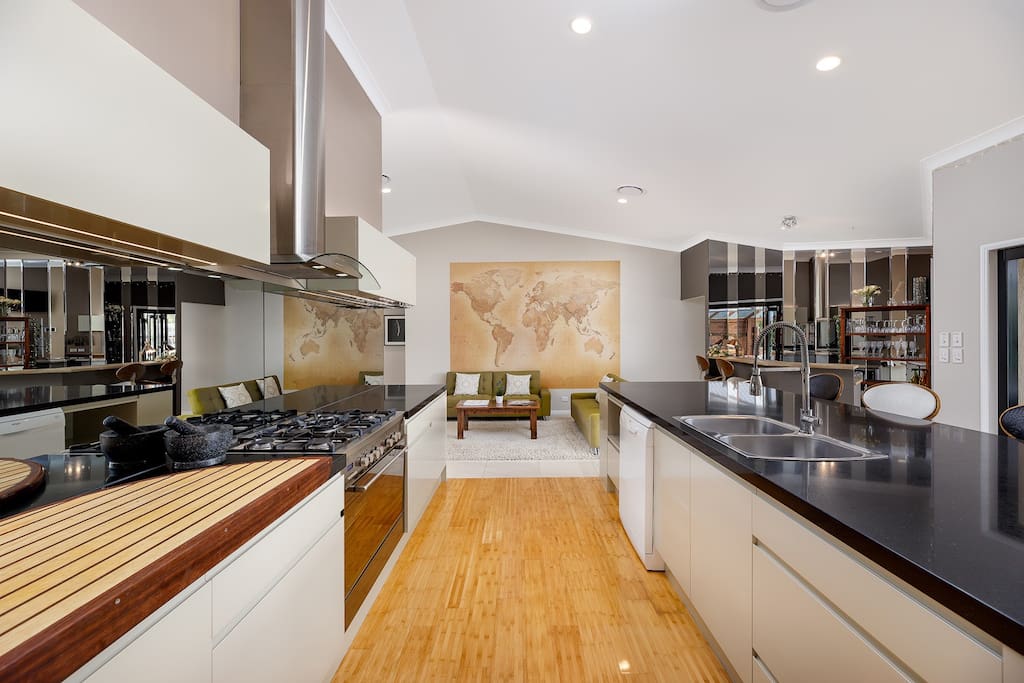 "If I pushed harder, I could definitely have it rented out more," says Nadine, who also manages two other properties for people, using Airbnb's co-hosting tool. This enables owners to nominate someone to help manage their property, with clear division of responsibilities and revenue split.
"Whether you're letting an entire house or a single room inside your private residence, you will likely come across the same kind challenges: noise control and having guests check out on time," says Nadine. But her experience highlights some challenges that are unique to each situation.

COMMON CHALLENGES
Entire place – "It's easy for damage to go unnoticed with an entire property to check and sneaky cover-up tactics at play. Even seemingly obvious damage can go undetected for multiple bookings, making it impossible to tell who it was.  Minimise clutter and employ an eagle eyed cleaner to spot damage more easily."
Private room – "If you rent multiple rooms and share all living areas with your guests, the number one challenge is likely to be your lack of privacy and personal space. To save your sanity and avoid burnout I urge you to put some boundaries in place. Recommend they have a car so they're not stuck at home, put a TV in their bedroom and if kids aren't your thing, add an age restriction to your house rules."
NADINE'S TOP FIVE TIPS FOR SUPERHOST SUCCESS
Declutter – Guests arrive with a lot of baggage; give them everything they need and nothing they don't, except for a dash of styling. Make it easy for them to leave your property clean and tidy.
Awesome amenities – Provide the touches that make their stay effortless: complimentary toiletries, Netflix, free wifi and use of the laundry, spices in the kitchen, a bedroom mirror. Have everything they need, but keep it simple. 
Professional cleaners – It's worth paying for a good one!  But even the best cleaner can only work with what you give them. Team up to establish a routine and organise your linen/stock cupboard for efficient use, they'll love you for it.   
Instructions – Let guests know exactly what to expect in their arrival details prior to check in. Search the property address in google maps and paste the link along with step by step instructions about how to gain entry.  You'd be amazed how much time and frustration can be saved. 
Set the terms – If you do nothing else you must put your terms and conditions (your absolute musts) in writing in the House Rules. Not only does it deter the problem guests, but Airbnb is far more likely to help you should the need arise.
However, there are literally hundreds of decisions you needs to make as an Airbnb host to set up and run a successful rental. Put a foot wrong and your Airbnb Superhost status could disappear. Positive guest reviews and star ratings are your free marketing tool so a few negative guest experiences could prove detrimental.
That's why I've created a detailed Airbnb for Profit course that will lead you through every step of the process. It's based on my own experiences as an Airbnb host, learning from the mistakes I've made, the knowledge I've gained, and my expertise as a professional renovator, skilled at anticipating what my target market is after in a property. Be sure to check it out if you're thinking of taking the plunge and becoming a host, or if you're already a host but wanting to take your operation to the next level.