Toilet Mistakes You Didn't Know You Could Make
I have to wonder if my career has hit an all-time low, to be writing about the different types of toilets…it's not exactly glamorous, is it?
The internet is bursting at the seams with free information about baths, showers, taps, sinks and every other fixture in-between… but get to the subject of the humble dunny and information definitely thins out. While no-one gets excited to talk about toilets, I'll think you'll agree life would be pretty crappy without one.
Now, I already know what you're thinking… 'how hard can it be to buy a toilet, Cherie?'. Well, guess what? There's actually a lot you need to know before you go shopping. Watch this quick little video that's super-informative… as you've never seen me before 😊.
GETTING TRAPPED
I know… now you've seen the video, you're wetting your pants with excitement to go toilet shopping at Cook's Plumbing Supplies, aren't you? But before you do, you must check this first… what type of trap you already have. This dictates what type of toilet you're able to buy. Most homeowners renovating their bathroom or laundry, often stuff this part up!
'What's a trap?' I hear you ask? It's the plastic bend that traps smells and sits towards the back of your toilet. It pushes your dirty water out of your toilet into the external sewer lines. Your "stuff" just doesn't magically disappear into thin air, right? That's the purpose of your trap with four main ones:

S-traps push waste through your floor;
P-traps push waste through your wall;
Skew traps push waste out the left or right side of your toilet;
Uni-trap pushes waste through your floor or wall but has some limitations.
In other words, if you go out and buy that nice-looking S trap toilet when your plumbing lines are through your wall (P trap), you'll soon realise you're up sh*t creek!
The only caveat to this is… if you're demolishing your whole bathroom and changing all your plumbing lines around, you can buy any goddam toilet you like. But if you're not changing your plumbing lines, then you'll need to identify your existing trap. A quick look at your existing toilet trap is all that's needed. Pretty simple, huh?
TRAP SET-OUT LOCATION
Okay, we're taking it up a notch now but stay with me….
Once you know what type of trap you have (S, P, Skew or Uni-trap), you need to measure the distance from the centre of your trap to the floor or wall. This is called your "plumbing set-out" and is one of the first things that licensed plumbers look at when they inspect your toilet.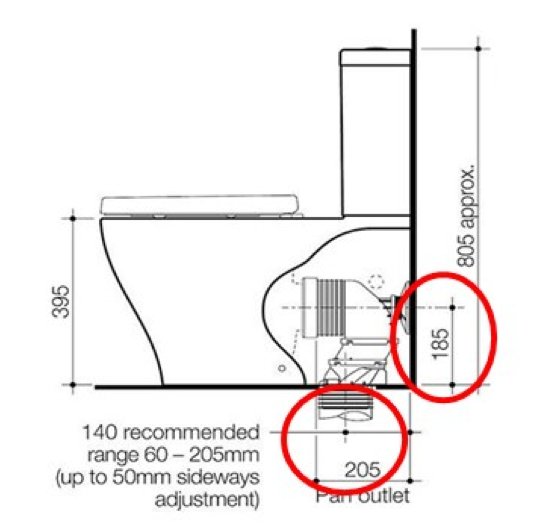 Most new homes have a standard set-out of about 140-165mm from your wall or floor, which is suited to most toilet suites. However, if the centre of your existing toilet trap is less than 100mm or greater than 200mm from the centre of your floor trap back to your wall or from your floor height to the centre of your wall trap, your toilet choices become a lot more limited. You need to know this before you go shopping, otherwise your new toilet won't fit properly. Don't assume all stores will give you a refund for an incorrectly selected new thunderbox!
WATER INLET TYPE
Soooo many people forget to check this. Your toilet has a water line where clean water enters your toilet called a water inlet. There are two types:
Bottom Inlet – where the water connection has a hose and tap in your wall, with the water inlet attached on the side of your toilet pan.
Back Inlet – This is where the water inlet is fully concealed inside the top of your cistern, so no external hose is visible.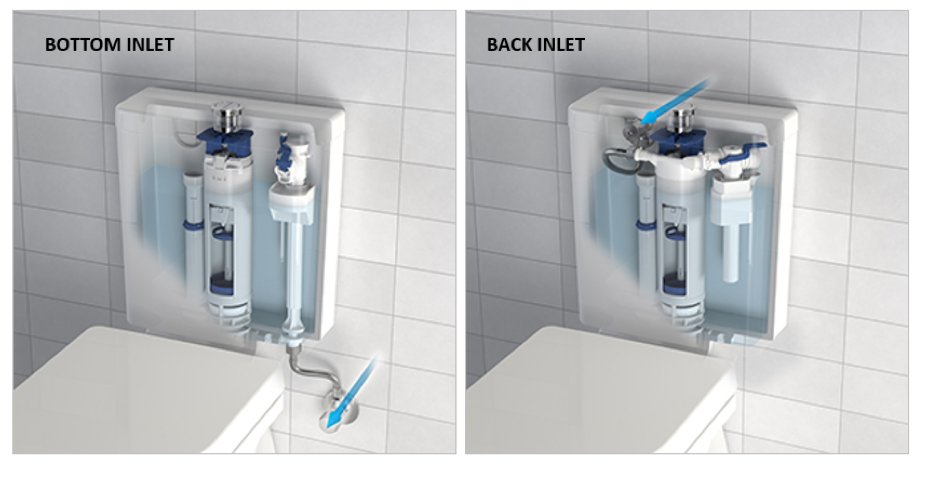 Again, if you're not demolishing your bathroom and changing your plumbing lines around, you'll need to check this before you go toilet shopping! It will dictate what toilet you must buy.
TOILET STYLES
Now you're standing in the loo shop and you're getting slightly bogged down with so many toilets to choose from. Which one do you buy? Besides one that suits your existing trap type, plumbing set-out location and water inlet type (which you now know how to identify yourself), you'll then be left with a range of options, purely focussed on looks. There are six main styles of toilets: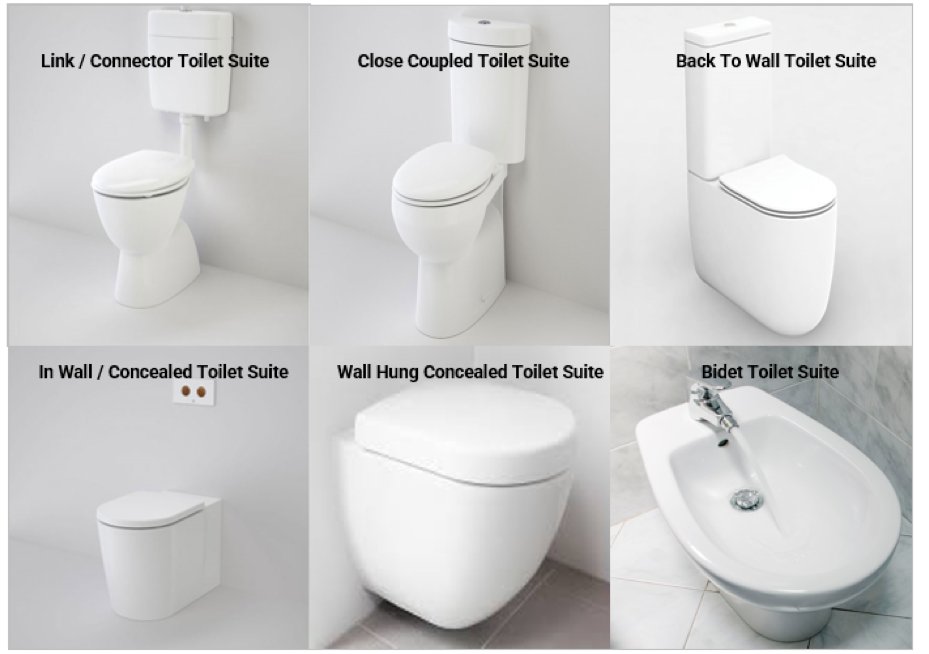 Connector or "linked" toilets – the cheapest type of toilet which comes in two pieces. Perfect if you can't change your plumbing lines around however not as good-looking as other styles.
Close-coupled toilet – the most traditional style of toilet that's still modern, affordable and easiest to install. Everything is fully integrated with less ugly bits on display.
Back-to-wall (or wall-faced) toilet – very similar to close-coupled toilets with everything fully integrated. This style of toilet sits flush against your wall so you don't need to clean behind your toilet and is the most common in new builds and renovations today.
In-wall (concealed) toilet – now we're bring sexy back. The cistern is hidden in your wall with only your pan on display. Great for looks and creating the illusion of space. Downsides: more expensive & slightly more complex to fix future plumbing issues.
Wall-hung toilet – now we're at supermodel status, the Rolls Royce of dunnies so to speak. The cistern is fully concealed but the pan is suspended off your floor. It looks sleek, is more hygienic and easier to clean but more expensive again.
Bidets – they squirt water up, you know where, to keep your private parts squeaky clean. Downsides are they're not the most attractive and pricey to buy but definitely growing in popularity.
LUXURY EXTRAS
The average cost of a toilet these days is typically anywhere between $150 to $750, with some fancy, schmancy ones running into the thousands!
The more expensive ones are really fit for a king thus your royal "throne" can come with:
Soft-close seats and lids – avoiding arguments – seat up or down?
Rimless toilets – for easier cleaning;
Self-cleaning toilets – for literally no cleaning;
UV illuminated bowls – automatically kills germs and the illuminated bowl means you can er, see where you're going when nature calls at 2am!
Heated seats – nothing better than a warm toush, eh?
Antibacterial seats – for a germ-free butt which is highly important, right?
WATER EFFICIENCY
Last but not least, consider the WELS scheme (Water Efficiency Labelling and Standards). Just like most electrical appliances, the more stars your toilet has, the more water efficient it is.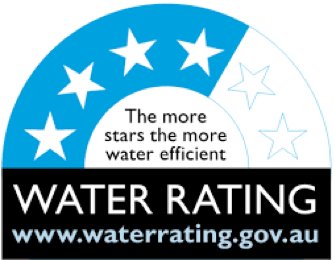 The most water-efficient toilets today have at least four stars. Here's a fun fact: If a typical family of four replaces an old single-flush toilet, which used 12 litres of water for every flush, with a modern toilet that has an average flush volume of 3.5 litres, they'd save a mega 50,000 litres of water a year! So be sure to give this some serious thought when you're purchasing your new crapper!
KEEP IT OUT OF SIGHT
Even though we've evolved as humans from a stinky hole in the ground, people still don't want toilets in their face. No matter how luxurious your new bathroom is, never make your toilet the feature of your bathroom. It should never be the first thing you see and ideally out of the direct line of sight; behind a door, wall or concealed by your vanity.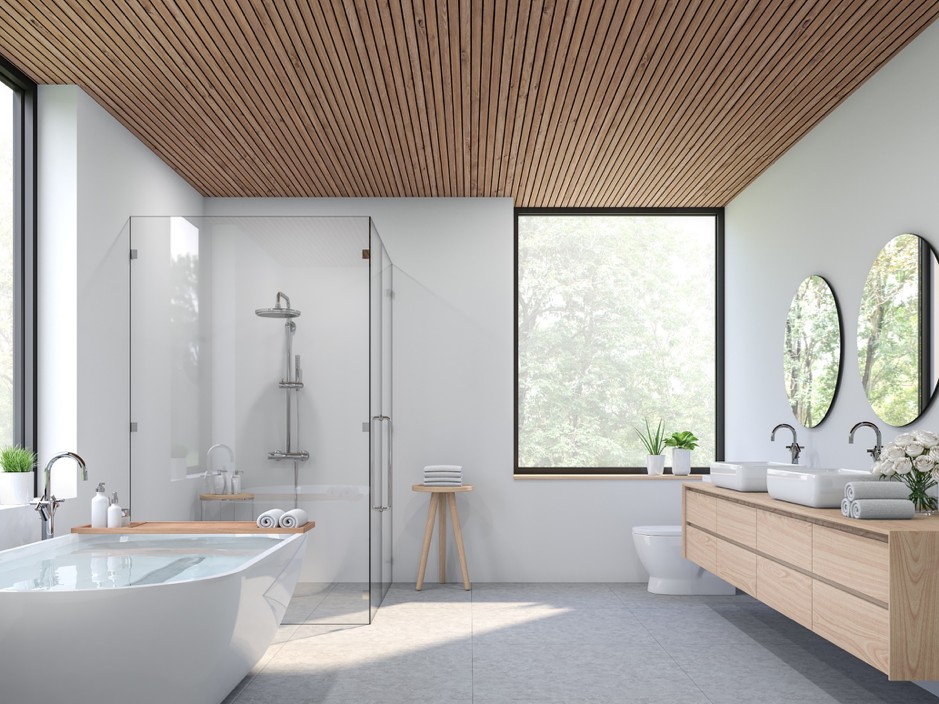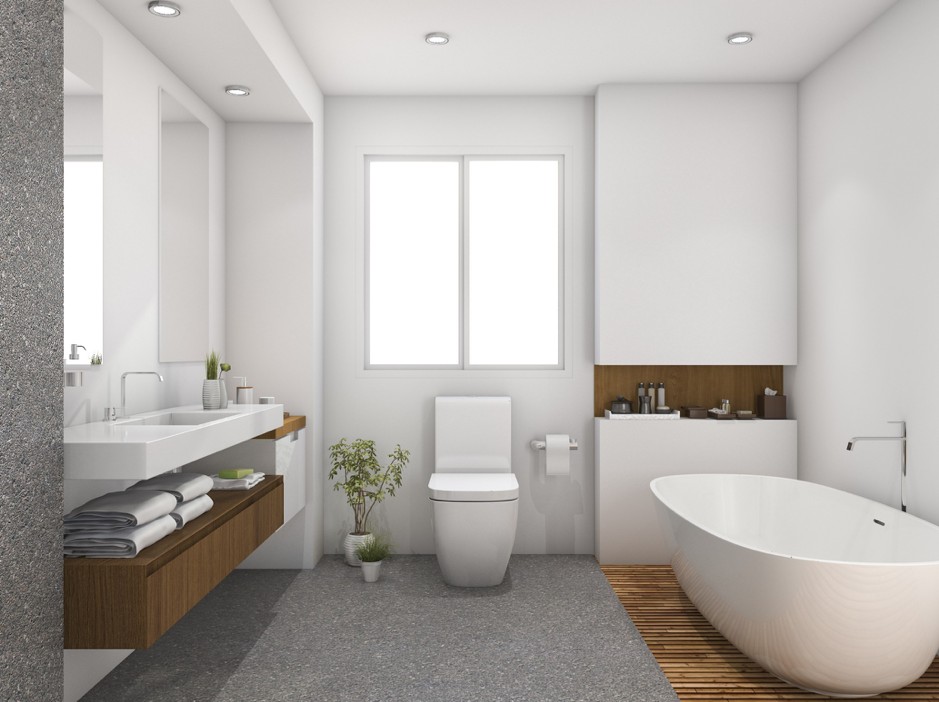 We're on the home stretch folks and if your eyes haven't glazed over and you're still with me at this point, you honestly deserve a medal! I can't give you that but how about a 15% discount on toilets and other bathroom essentials at Cook's Plumbing Supplies with our Home SuperSaver membership card? For just $195 you can get access to a range of discounts that are normally only reserved for individuals or companies with large-scale ordering quantities. Membership will end up paying for itself by the end of your reno!
Much love as always,
Cherie x