10 of Cherie's best kitchen renovations
It's no secret a top-notch kitchen can add value to a property, and you certainly don't need to spend a lot to gain a lot – whether that be getting a few more good years out of your tired engine room, adding rental return to your investment, or potentially earning more come auction day if you're about to offload a property.
But how much should you spend? While a quick, budget-friendly cosmetic update will certainly see you get a few more decent years out of a kitchen, if you can and you have the money to, ideally the cost of your kitchen renovation should be 3% of your current property value. So if you have a house worth $800,000, you'd want to spend $24,000 on your reno – that's fully finished, materials and labour included, all said and done.
In need of a inspiration of what can be achieved? From fast and fabulous flips with flat-pack cabinetry, to full-blown overhauls, these are just some of the kitchens that made the most memorable list.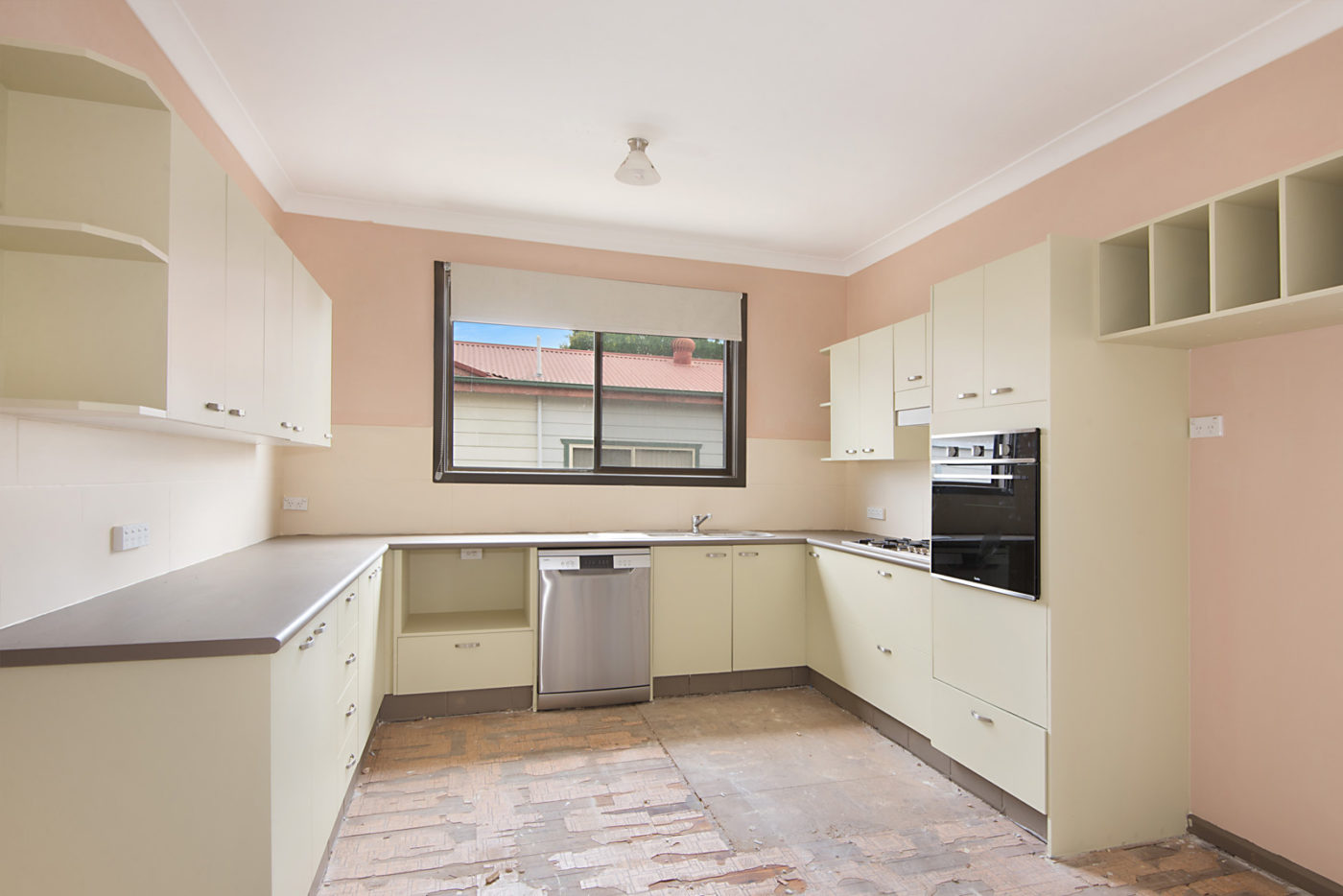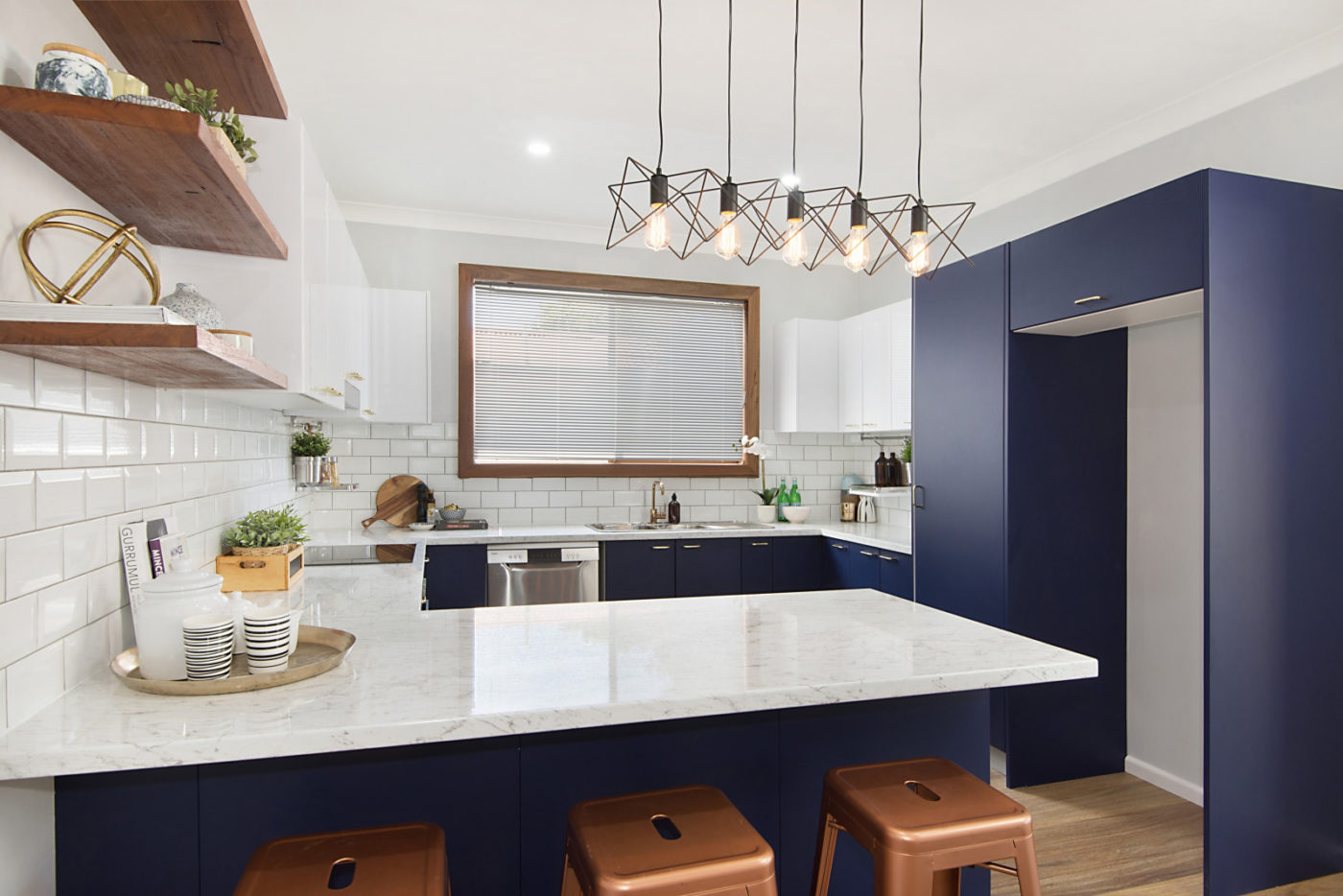 1.  For this Western Sydney rental property, a brand-new flat-pack kitchen was installed. The old kitchen had paid its dues so was demolished to make way for the Kaboodle Kitchens cabinetry, laminate benchtops, fixtures and fittings (sink, sink tap, cabinet handles, blind), tiled backsplash and flooring. However, the appliances were still in good shape so were reinstalled. Remember if you sign up to our Home SuperSaver group you can get 18% off Kaboodle Flatpack Kitchen and Bathroom Cabinetry.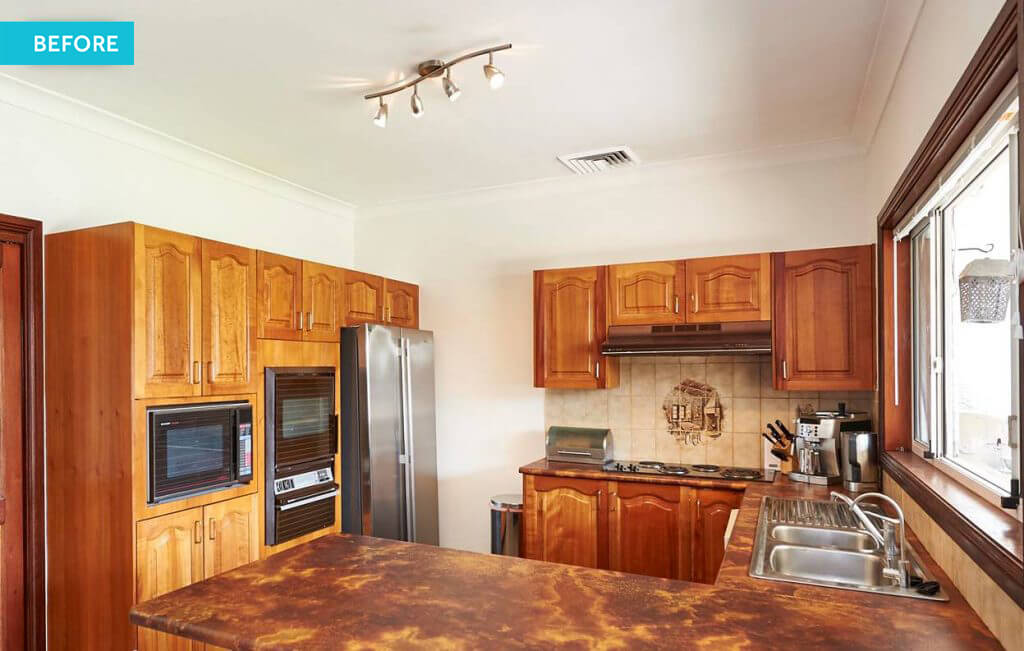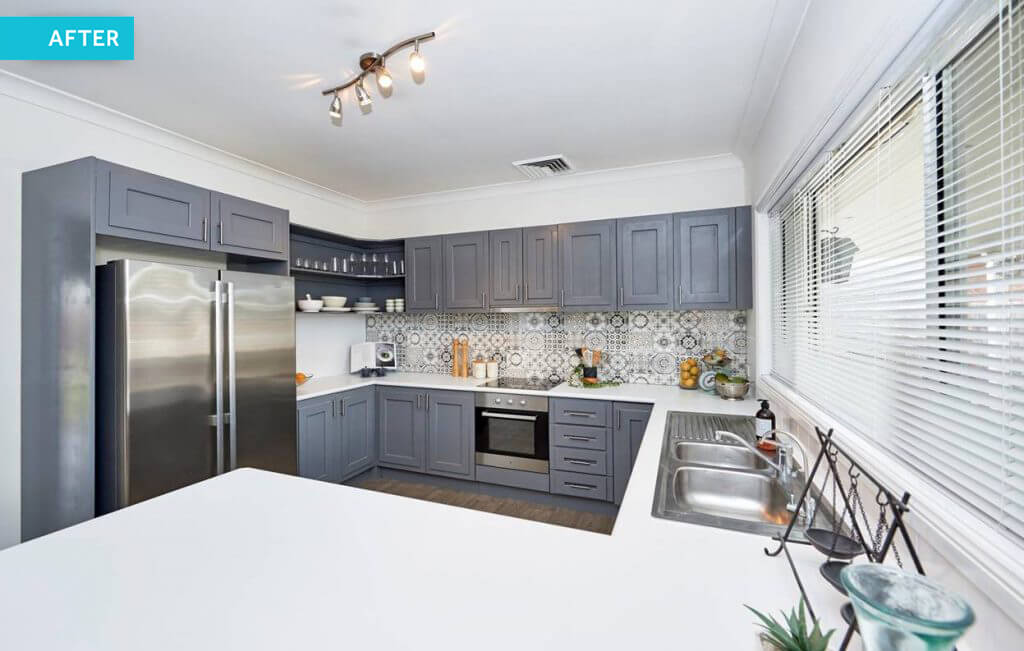 2. The plan for this reno was to create a more modern-looking kitchen whilst also adding more space to accommodate this eight-person family home. Works included moving existing cabinetry to create a more functional layout, new decorative trims for the cabinet doors,  a statement splashback, new benchtops and window treatments. A large pantry was also added making this space even more practical.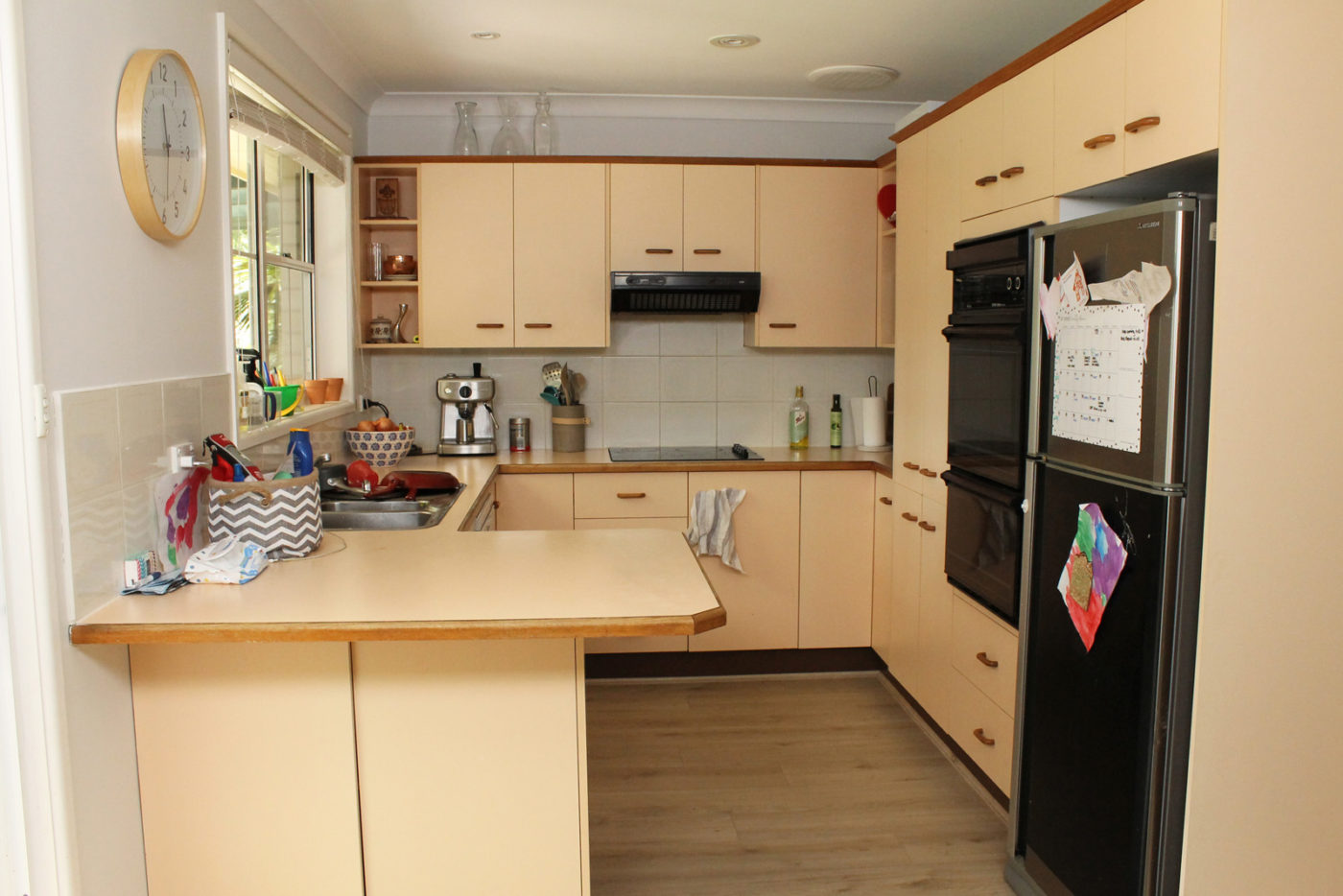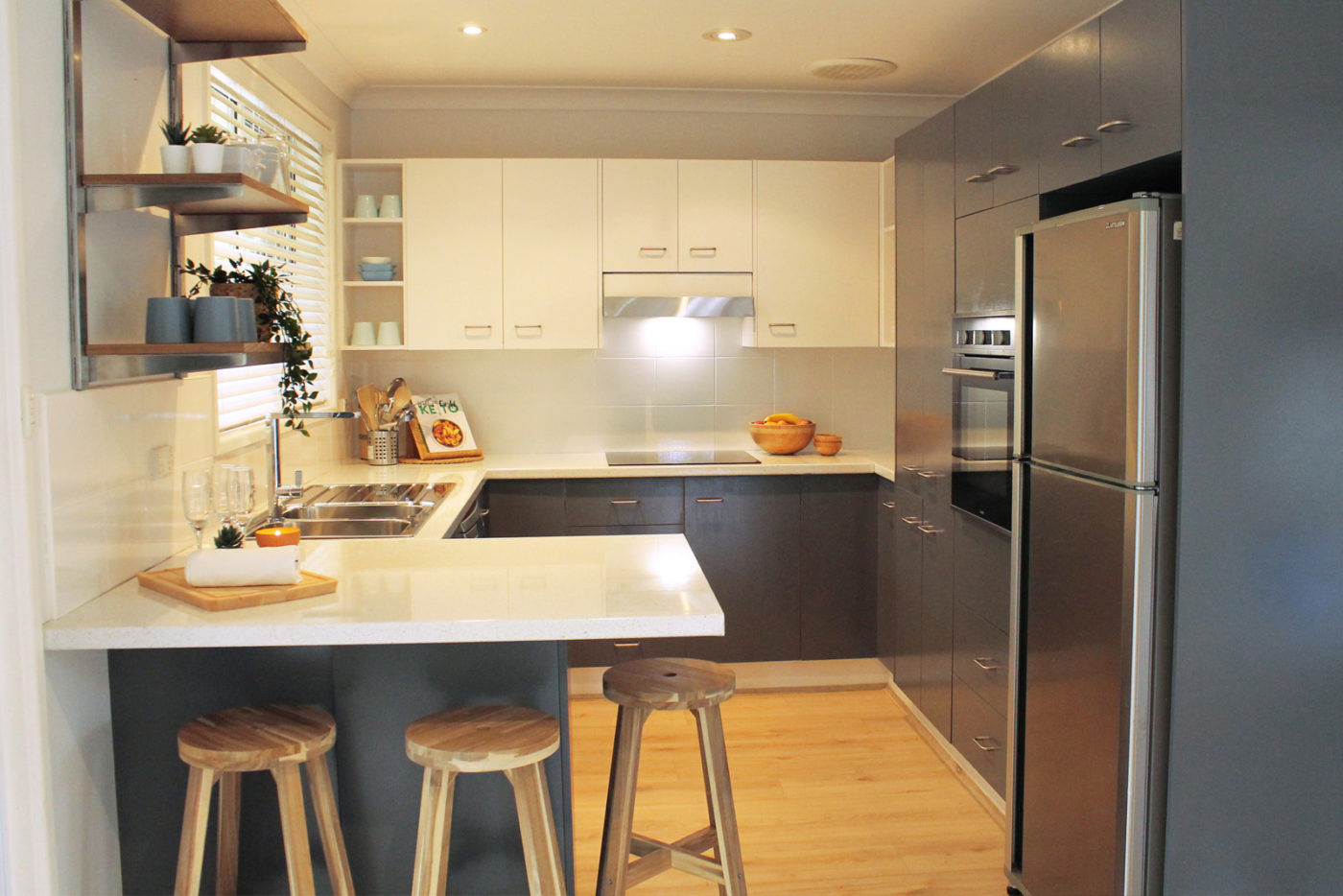 3. Structurally in good nick but showing signs of age, this kitchen was in need of a little TLC. Layout-wise everything was in the right place but the beige-coloured cabinets, matching benchtops and old-school appliances really dated this old timer. Time for a refresh and a new modern colour scheme. As with any cosmetic refresh on a tight budget, tile paint was a gamechanger, as was the laminate paint on the cabinets. The old benchtops were swapped for off-the-shelf laminate benchtops that mimicked the look of stone benchtops. New appliances, cupboard handles, an Ikea storage rack, and styling accessories completed the look. All up, this kitchen was made over for just $3500, inclusive of all materials and labour.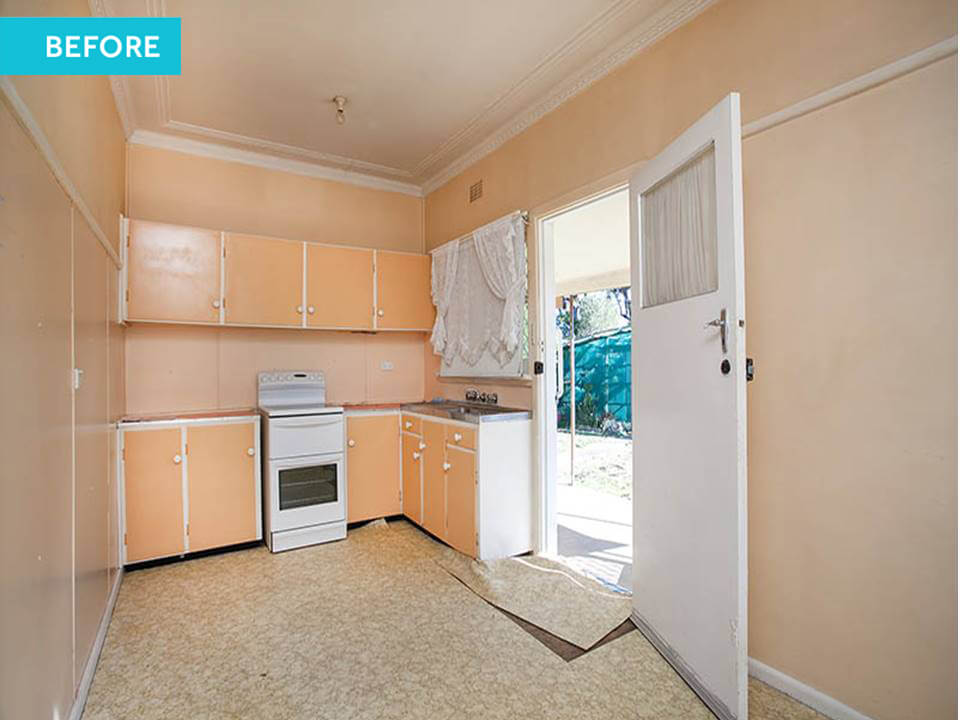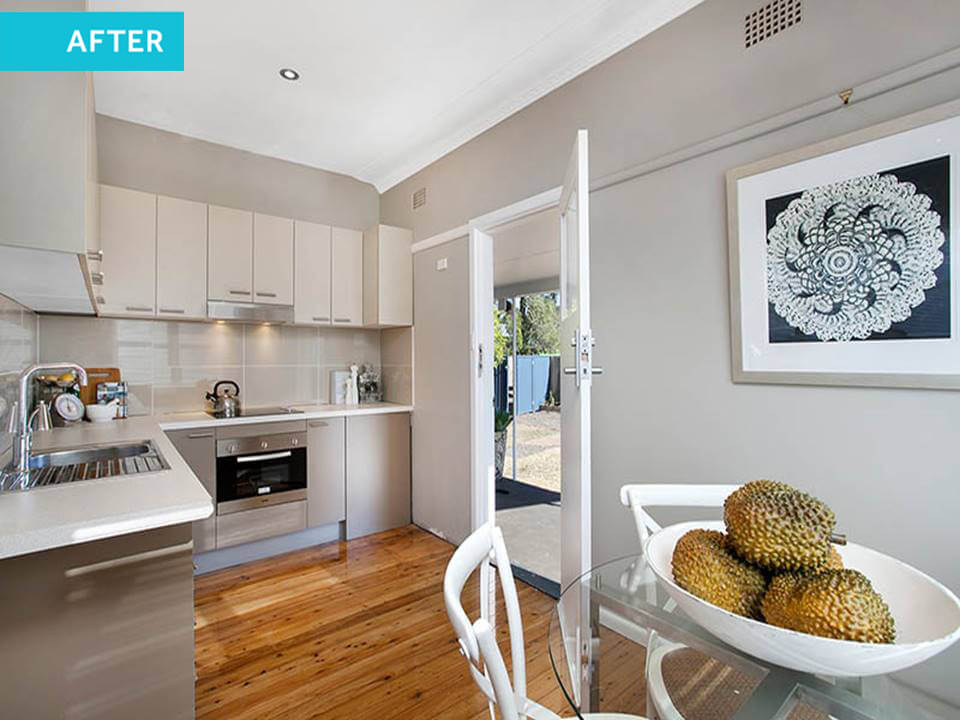 4. Back in 2016, this dated 1960's fibro house in Sydney was given the full Cherie treatment!  The aim of the game was to increase the rental return – and that meant a little investment was needed. Changing the layout made better use of the space while new benchtops, cabinets, appliances and flooring dragged this classic Aussie kitchen – which many of us would have grown up with or seen in our grandparents' home – out of the past and into the modern day.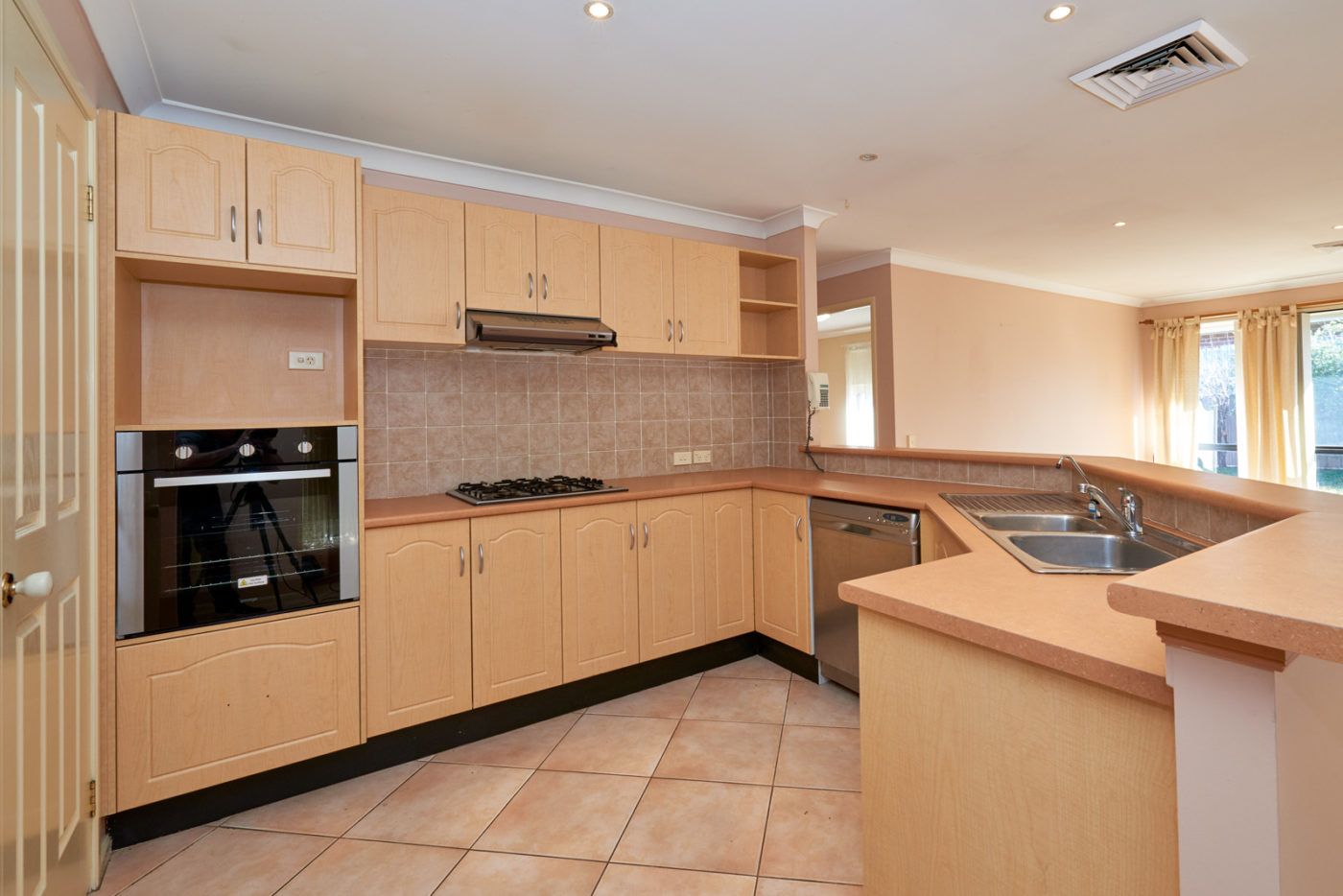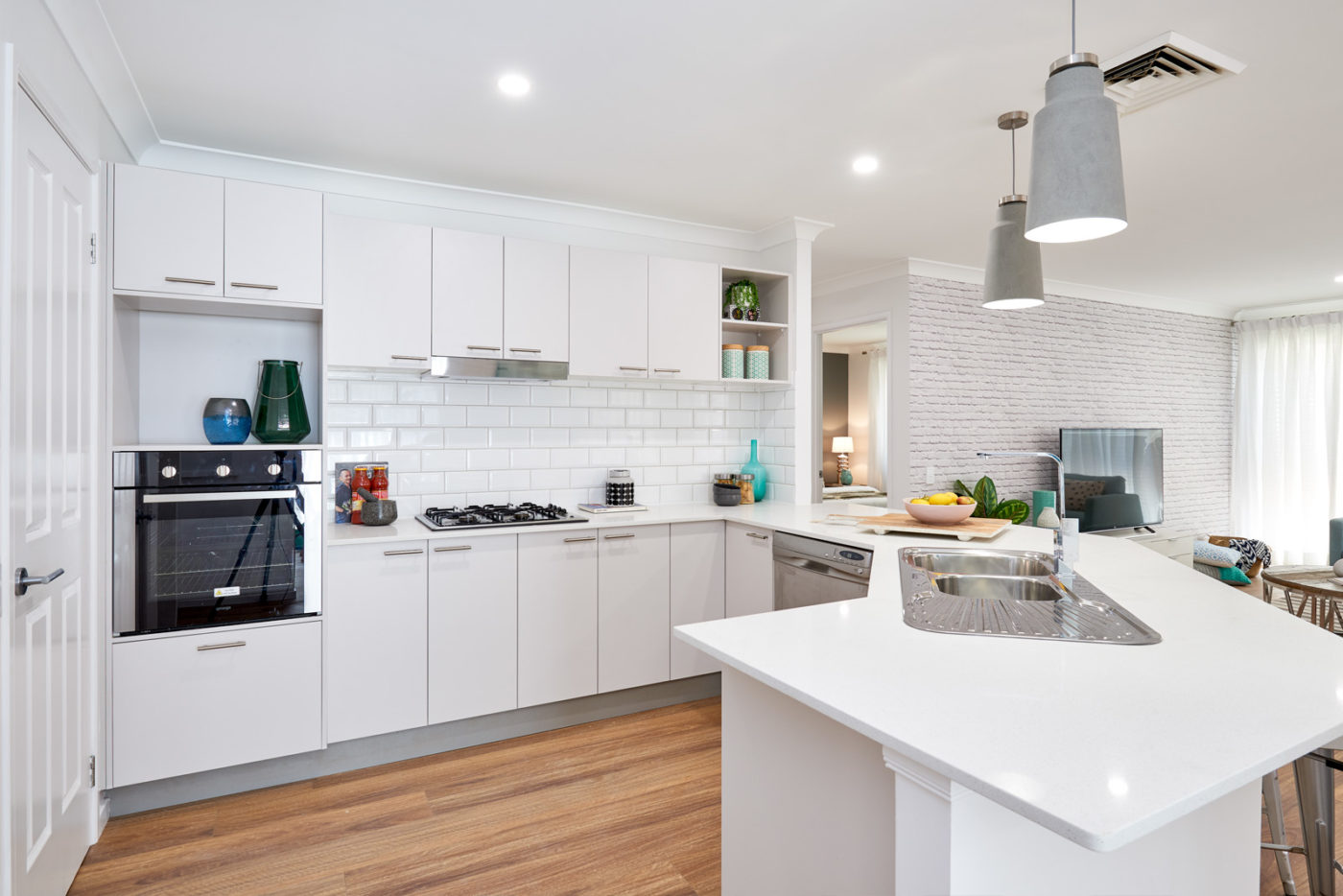 5. This kitchen was in pretty good shape to begin with, just a little dated. So, with little room in the budget, a smart cosmetic update helped modernise it without breaking the bank. Firstly, the cabinet carcasses were kept and only the doors replaced to keep costs down while still making the space feel new. A white subway tile splashback tied the look together and the stone benchtop did wonders to move this space into the 21st Century.
DOWNLOAD YOUR FREE KITCHEN RENOVATION E-BOOK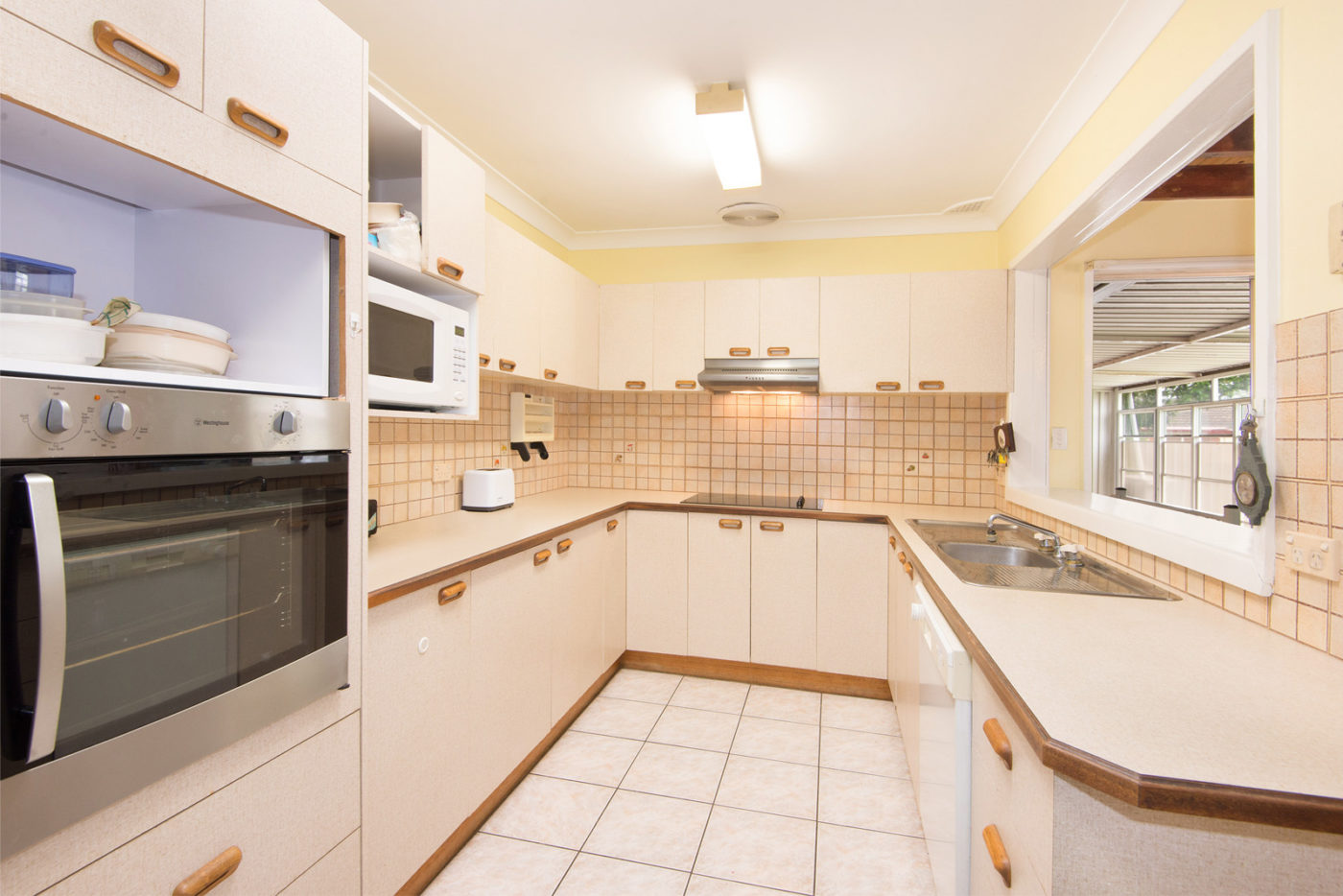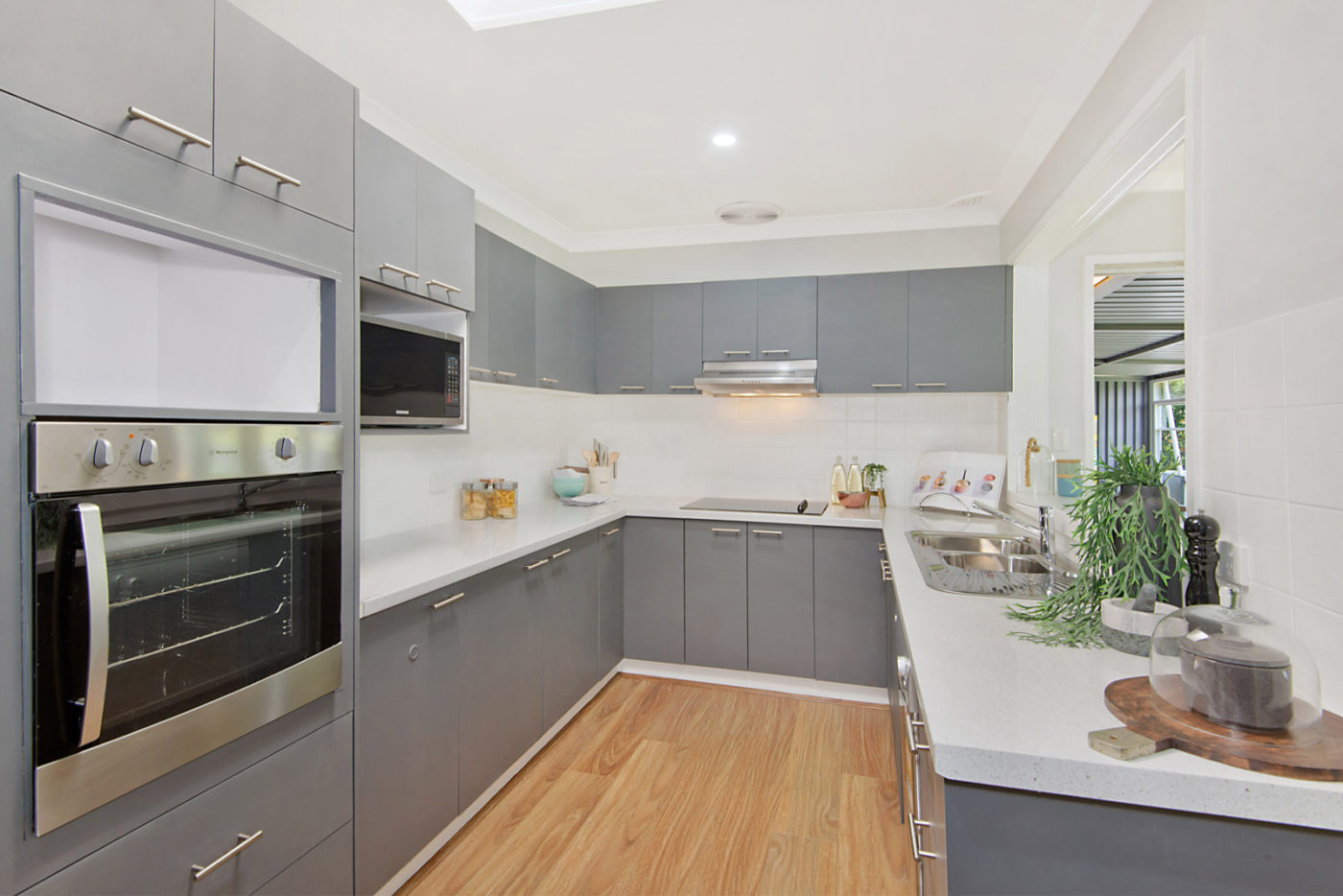 6. It's amazing what a little White Knight laminate paint can do. This was another reno where the budget didn't leave a lot of wiggle room so only smart cosmetic wins were made – new benchtops, handles and a new tiled splashback turned this ugly duckling into a suburban stunner.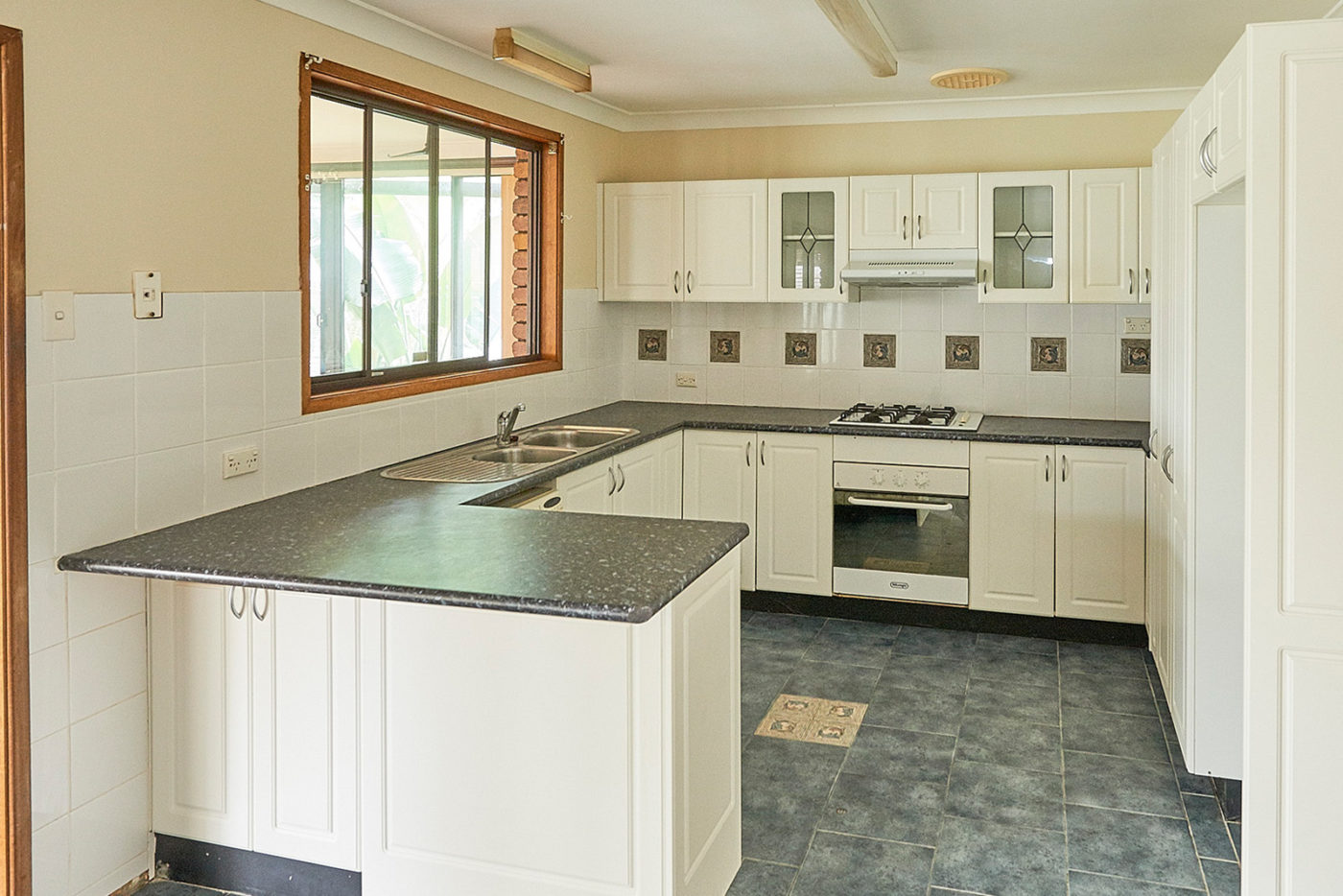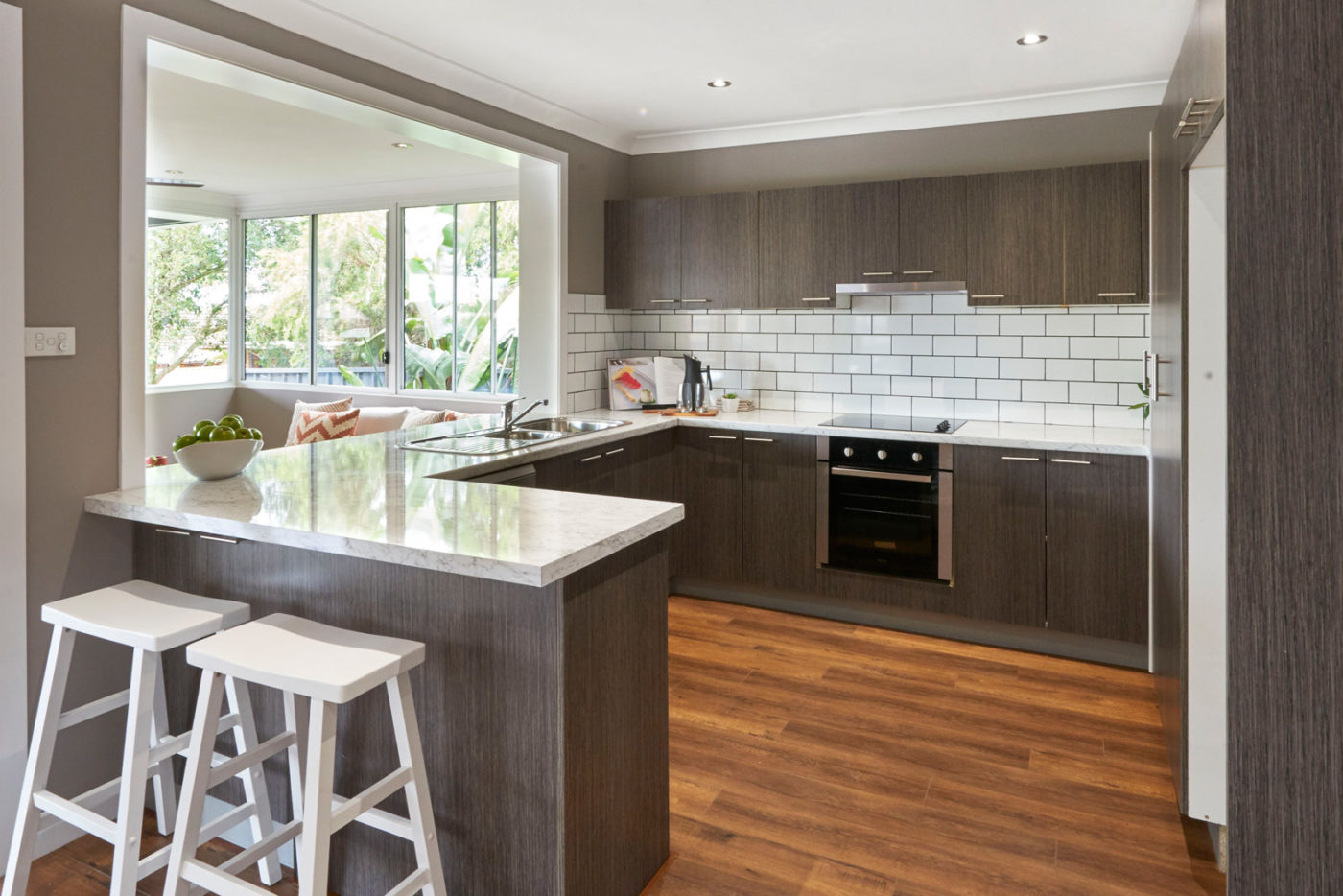 7. Installing a completely new kitchen would have blown the budget for this whole house renovation so smart updates were made instead. By keeping the cabinets and merely replacing the fronts and benchtop, the space was completed – including new appliances – for around $3000, plus labour. Opening up the wall to the adjoining sunroom cut into the budget but gave the kitchen an unfettered view of the back garden, so a worthwhile cost.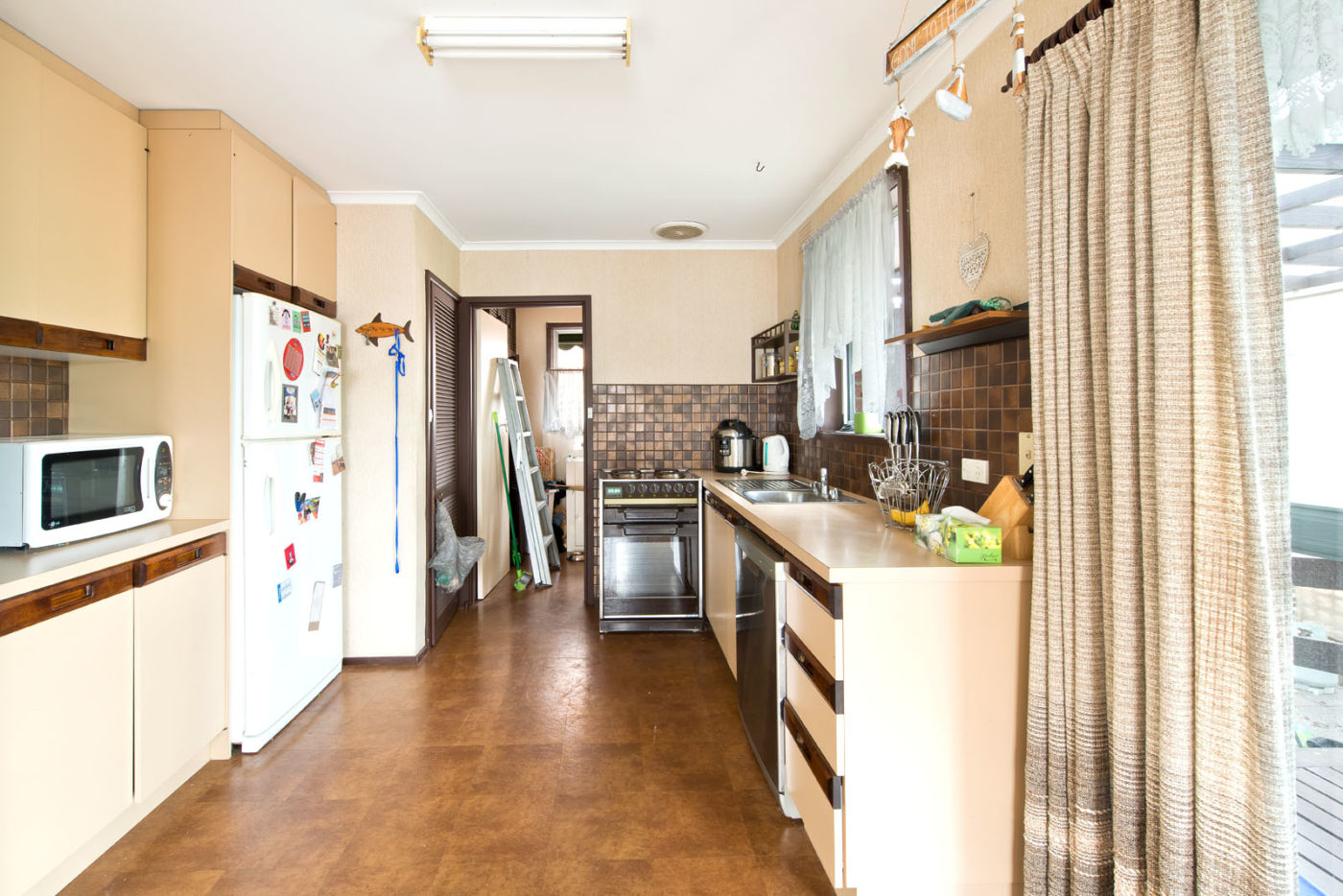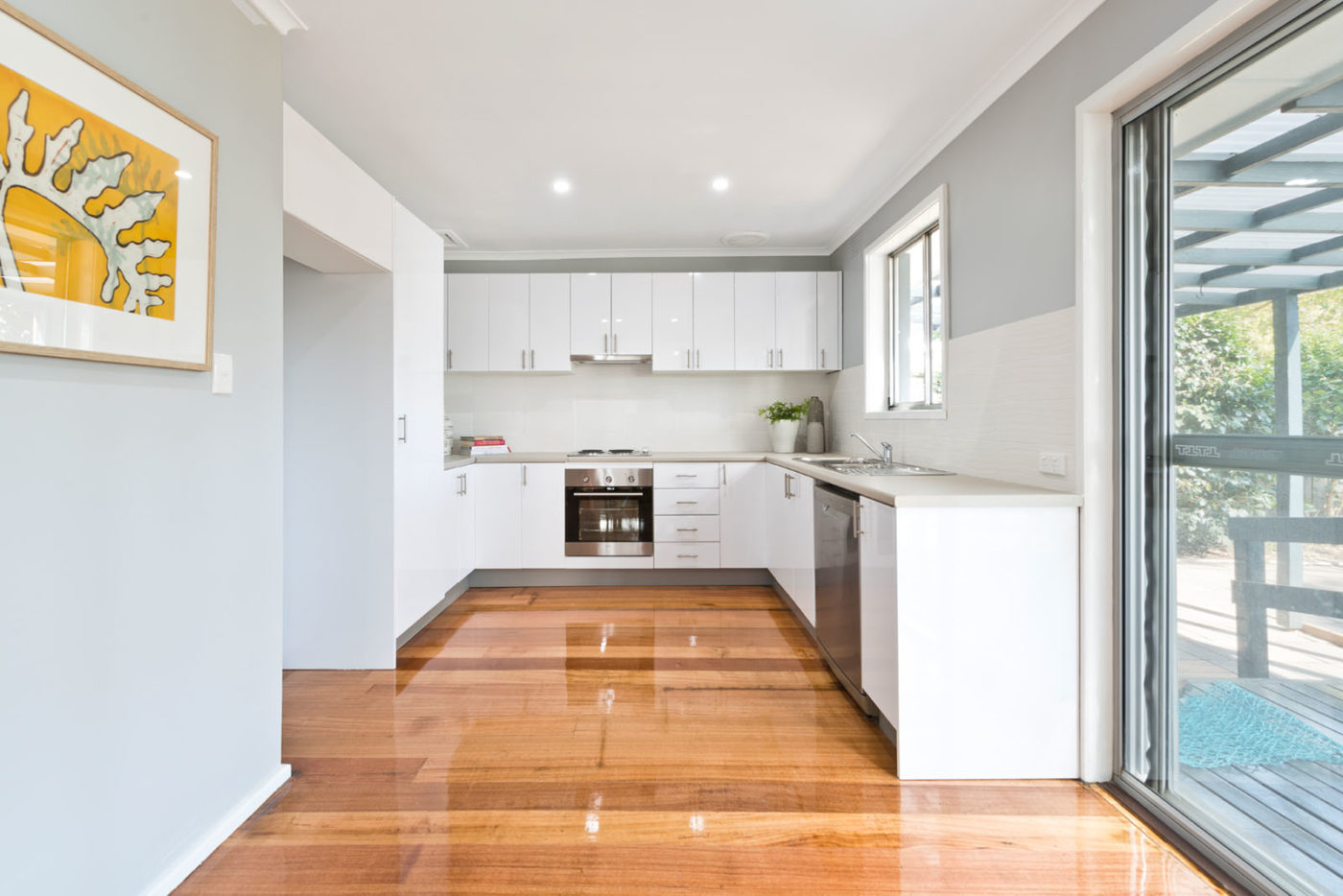 8. An oldie but a goodie. Back in 2016 this south Adelaide property needed a complete overhaul, including a brand-new kitchen. Firstly, the layout need to change to improve the functionality, and create an open-plan for modern living. Structural walls were removed and the door to the laundry relocated to make better use of the space. With this done, new cupboards, backsplash, flooring and appliances were added. Sometimes kitchens can be given a quick update but in this instance, it was better to go all out.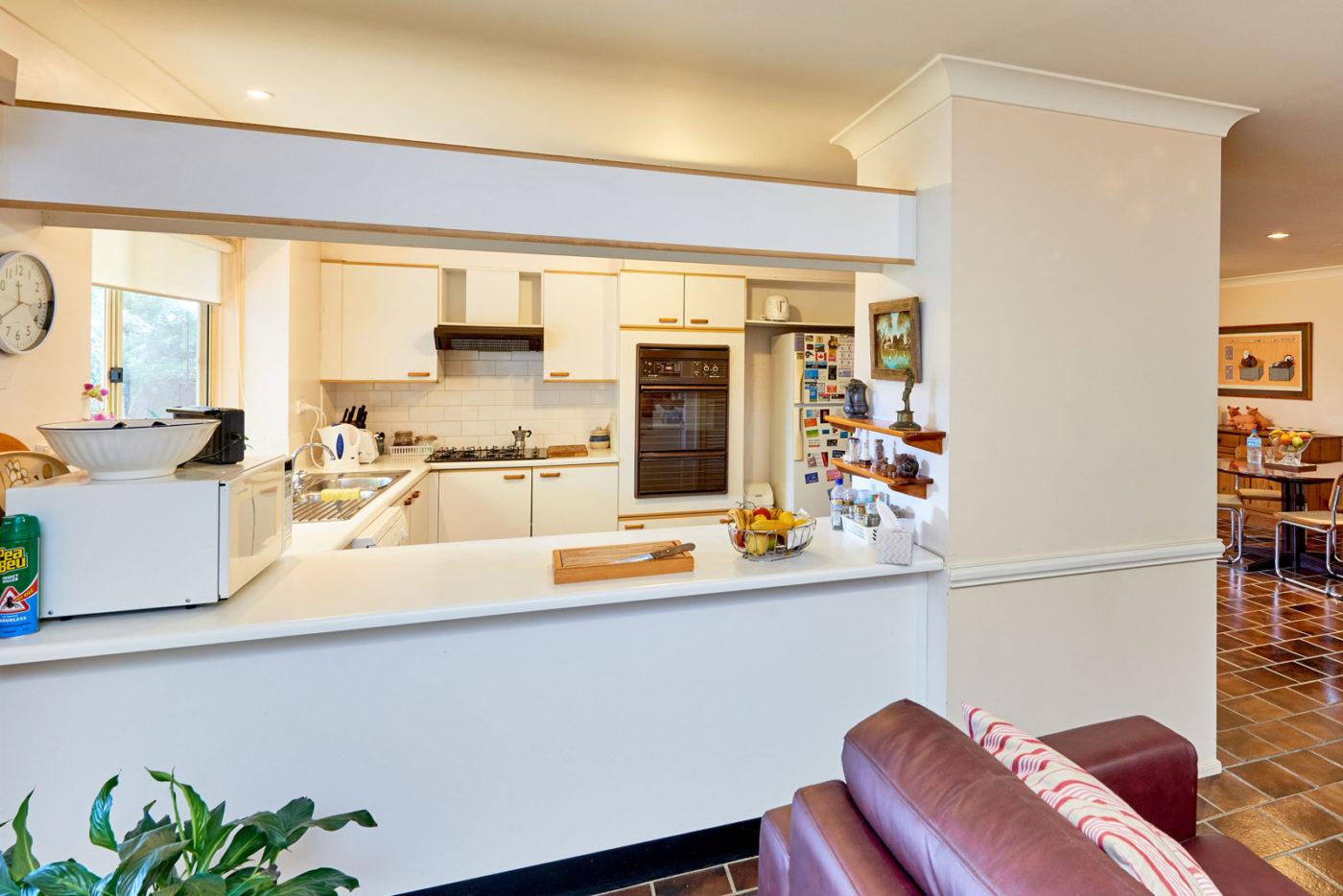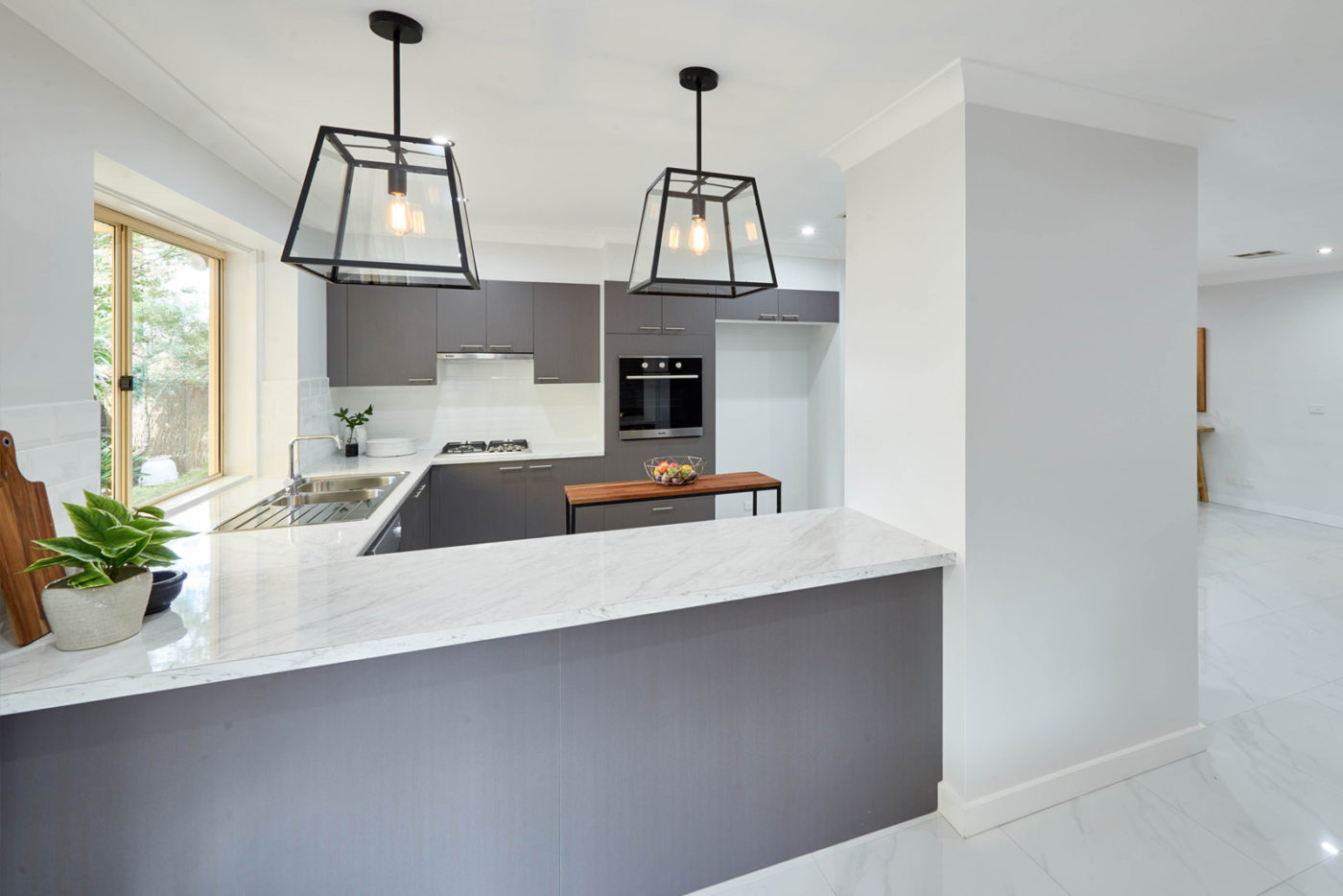 9. In 2017 this Dural property – a semi-rural western suburb of Sydney – was given a full cosmetic update on a $60,000 budget. A brand-new luxury kitchen was out of the question as it would have cost a minimum of around $15,000, but it needed it to look like a new kitchen. So, the carcasses were kept and only the cupboard and drawer fronts updated in a striking charcoal grey laminate. A high-gloss laminate benchtop mimicked the look of Caesarstone without the price-tag that goes with it, and large-format floor tiles that resembled Calacatta marble gave it that classic contemporary look which appeals to buyers in this area.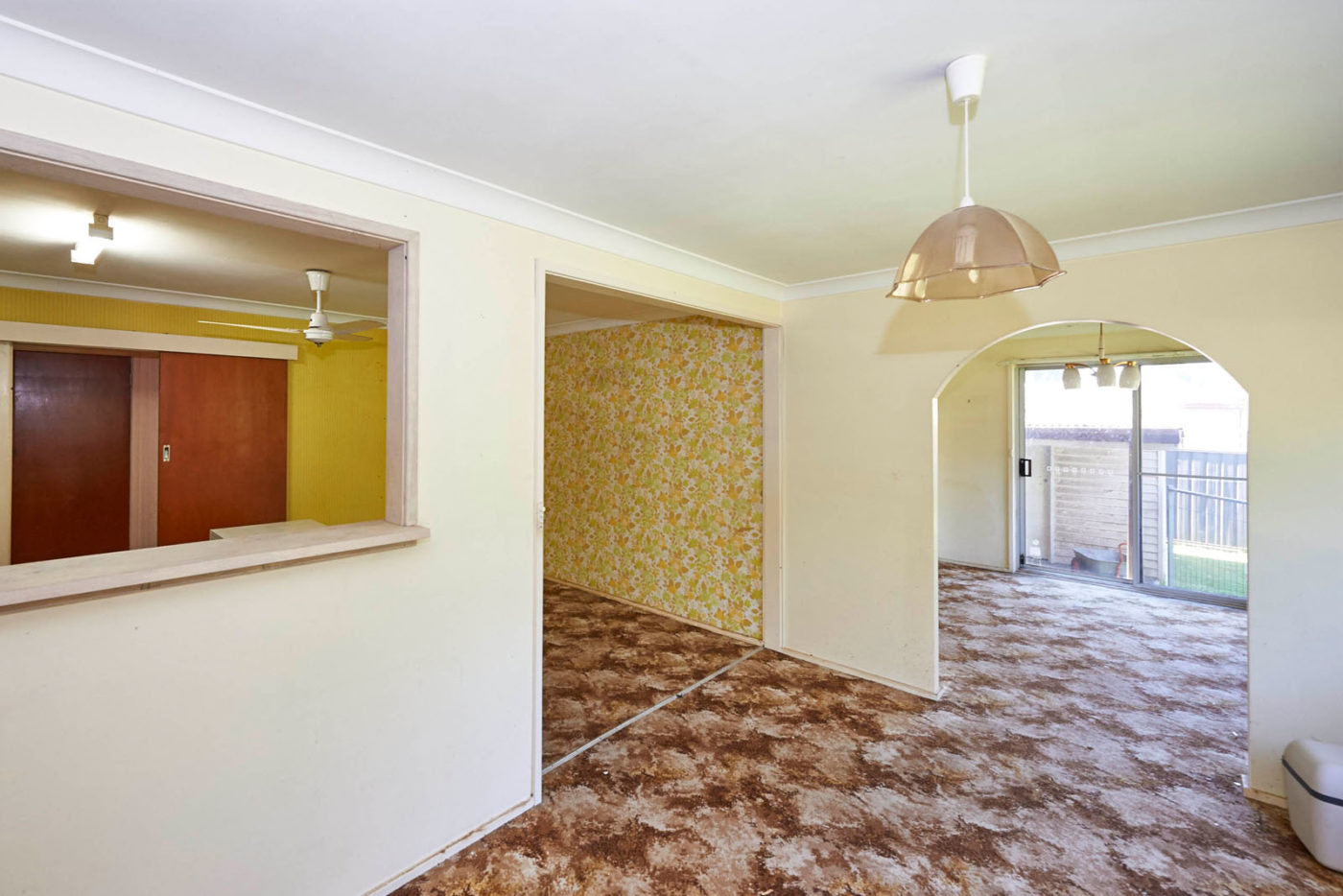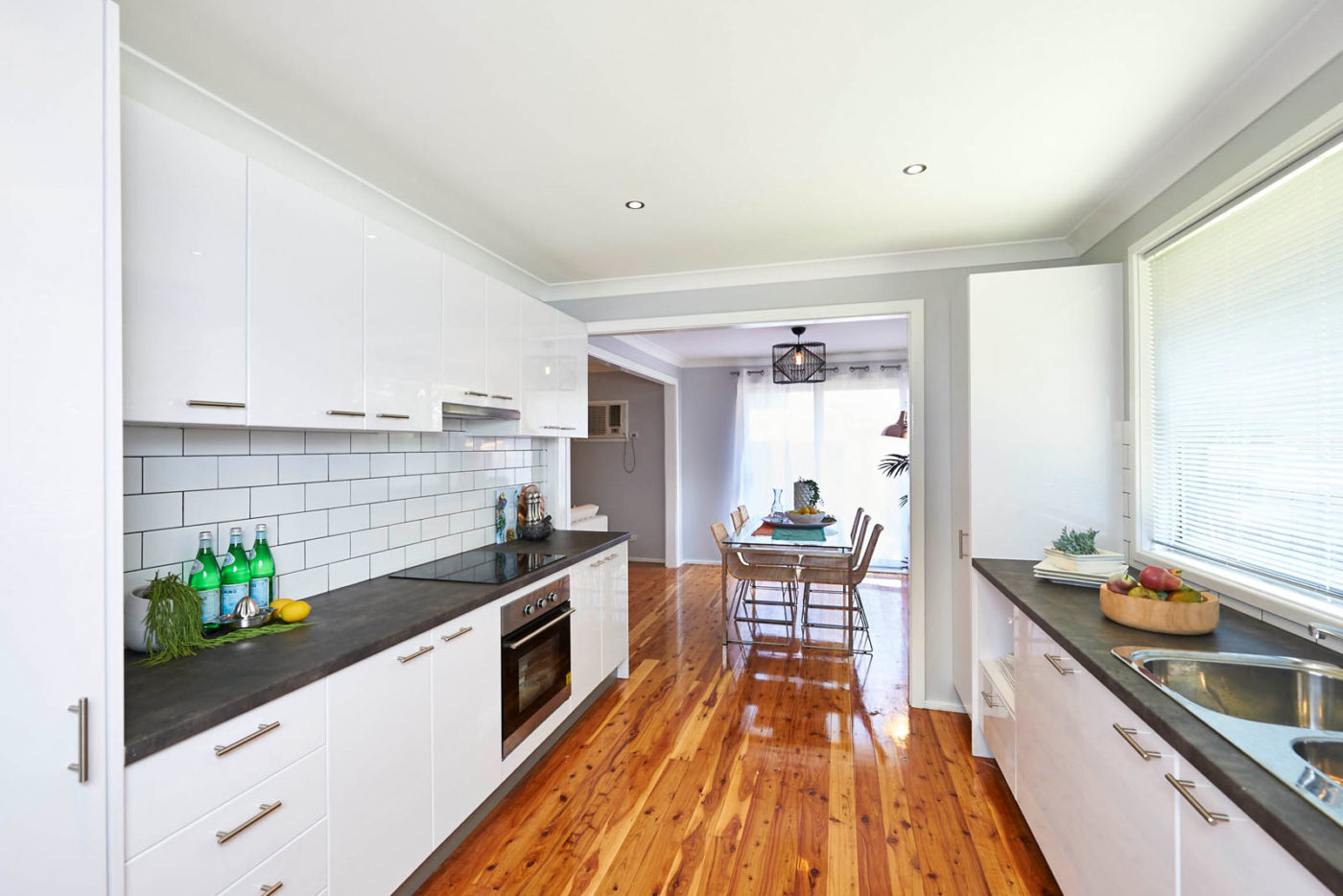 10. Everything about this home was seriously retro – and not in a good way. With little time or budget on side, this Emu Plains home in Sydney was totally transformed inside and out. By removing a wall and repositioning the kitchen to look out over the backyard, a new bedroom in the kitchen's previous location was able to be created therefore making the property a four-bedroom house and increasing resale value.
Feeling ready to tackle your own kitchen reno now? If you're on a budget be sure to download your free kitchen renovation e-book which will help you update your tired engine room for under $5,000.00. Or if you're ready to get stuck in to a full-blown reno but feeling overwhelmed, the Create Your Perfect Kitchen Course will guide you through the ins and outs of keeping your project on track and on budget. Be sure to check it out as having the know-how will end up saving you in the long-run.
And if you want to save even more money, check out our Home SuperSaver membership group, it's a national buying community that enables anyone to get big discounts off a range of items you're likely to need for your fitout; from your cabinetry to benchtops, appliances, tiles and everything in between. Who doesn't love saving money after all!