How To Create The Perfect Hamptons Kitchen
Wouldn't it be nice to wake up feeling like you're on a luxury beach holiday everyday? Why is it that the perennially popular Hamptons look instantly conjures up feelings of relaxation? For many of us it can hard to take holidays and get away so why not bring the beach to you with your very own Hamptons-inspired kitchen?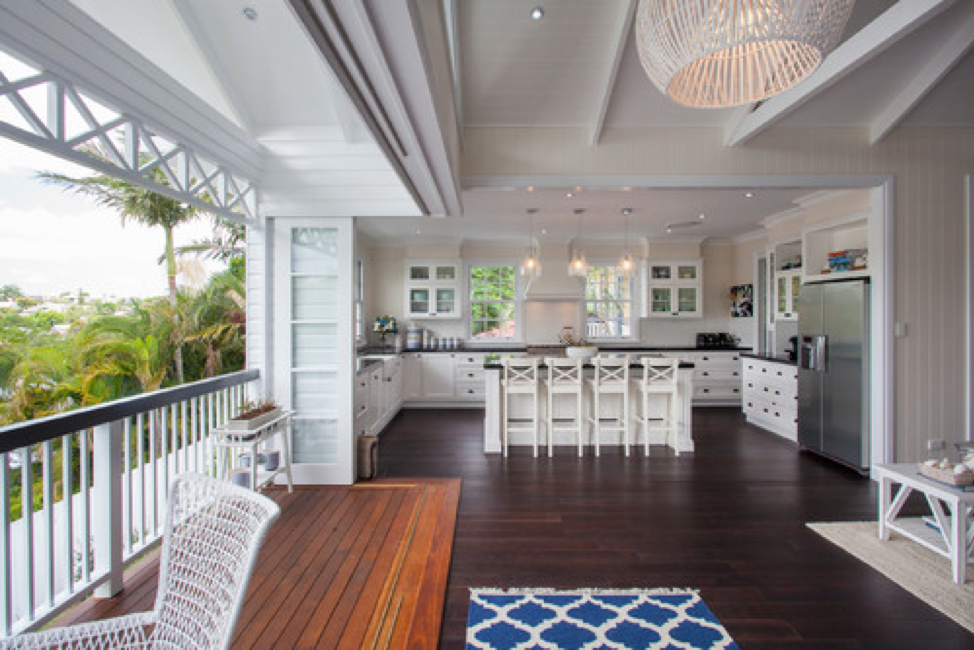 THE ORIGINS OF THE HAMPTON STYLE
The Hamptons style came about in the 19th century as the Hamptons area of Long Island in New York moved away from being a farmland area to a luxury holiday destination. You can see elements of this history in the design; rustic features such as shaker panels & weathered timbers contrast against marble benchtops & large pendants. For the Hamptons look, the saying "opposites attract" really rings true.
COLOURS
The key to successfully nailing a Hamptons inspired kitchen is all in your colour palette. Light, airy and clean is the goal. Your base colours should be cool whites and light neutral shades. Colour accents can be brought in with icy blues and the occasional hint of pale greens if you're feeling adventurous.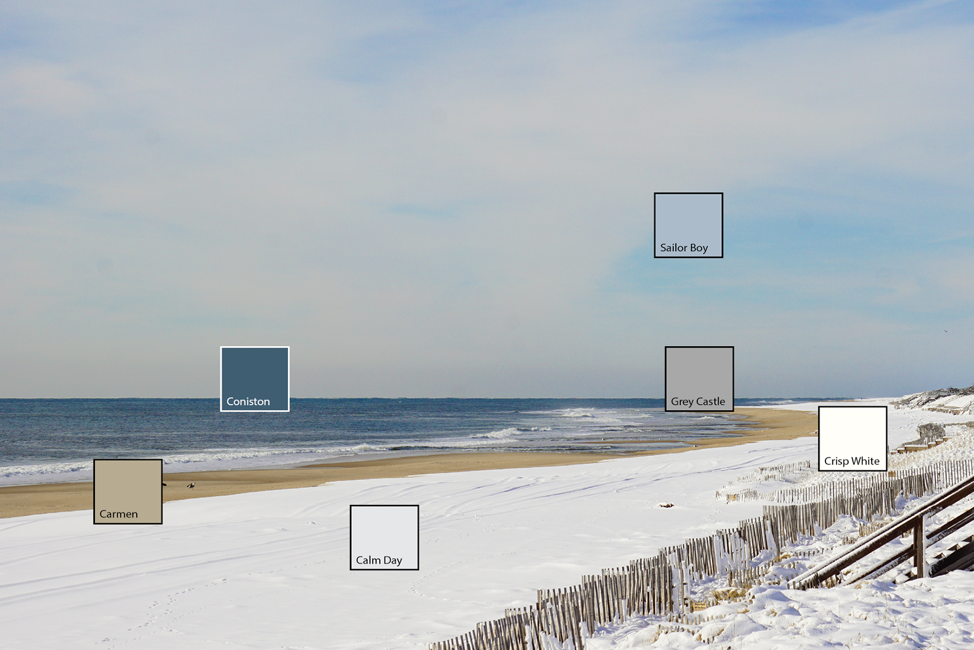 Drawing inspiration from the colours you see naturally occurring in the Hamptons is a sure-fire way to get your colour palette spot on. These Taubmans colours work great:
Crisp White
Calm Day
Grey Castle
Sailor Boy
Carmen
Coniston
Adding in accents of black can be a nifty way to modernise your Hamptons look but take warning – too much black can really change the look and may also enclose your space.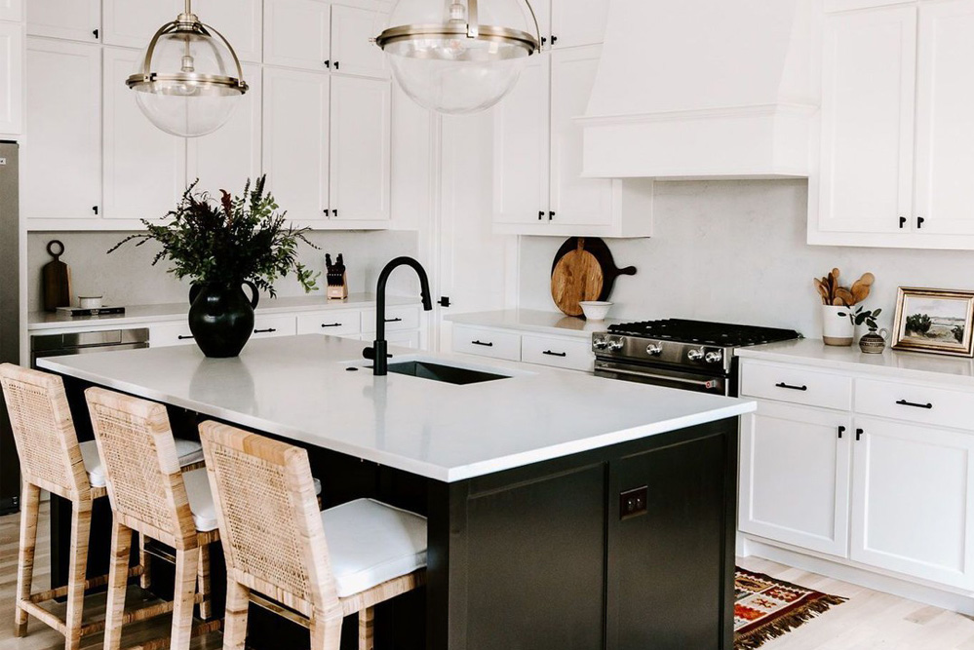 LAYOUT
Getting the layout of your kitchen right will really help you stay true to the Hamptons style. The key is to make your kitchen as open as possible.
An island bench is one of the most critical components in a Hamptons inspired scheme and often the chunkier looking the island, the better. If you're feeling bold you can paint your island underneath with a pop of colour such as Taubmans Coniston or make it moody with Taubmans Grey Castle.
Most standard kitchen layouts can complement Hamptons but if you have a U-shape or gallery style kitchen, you might want to consider making some layout changes to open it up. My Create Your Perfect Kitchen course goes into detail about how you can achieve this. If you're not blessed with the luxury of space in your current kitchen and are tight on budget, don't worry. You can still keep your kitchen feeling bigger than what it really is, simply by using plenty of white.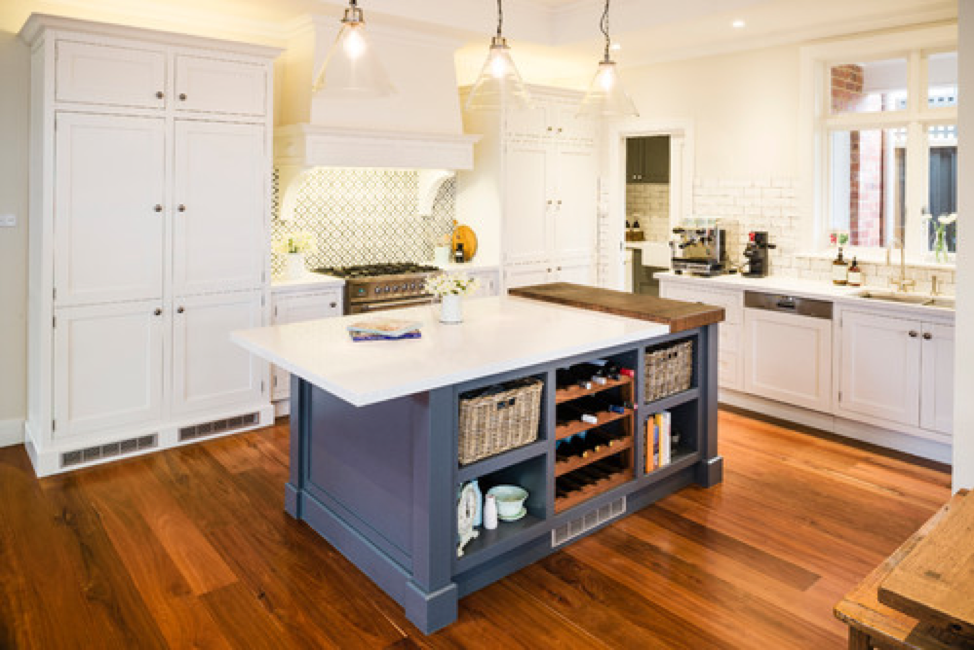 FLOORING
In a Hamptons inspired kitchen, real timber floorboards look amazing if your budget allows. A washed or weathered timber is the definite way to go. Most oak colours will do but be careful of going too grey as you don't want your boards to look too fake. Be sure to continue the floorboards into the rest of your home if you can!
If real flooring isn't an option, opt for an engineered floating floorboards or vinyl flooring in a weathered timber look.
If you're more of a tile person, go for something with a sandstone texture. The colour & texture will fit a Hamptons inspired scheme perfectly & it's a nice little way to really bring that feeling of the beach in!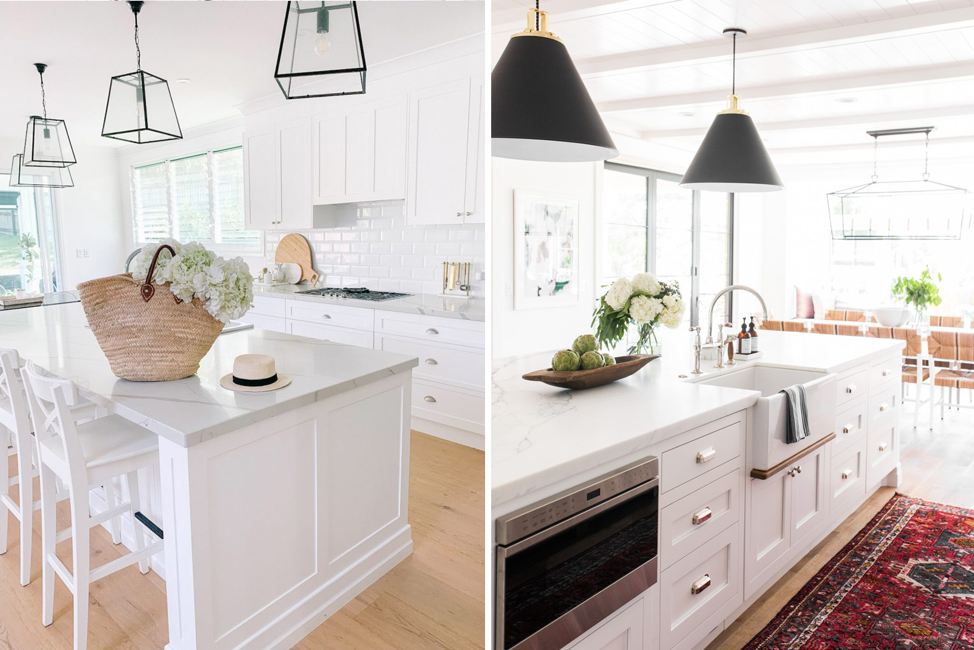 CABINETRY
The next piece of the puzzle is to incorporate the right style of cabinets into your design. It should come as no surprise, that the "shaker" profile reigns supreme here. For those of you who don't know what this is – it's cabinetry that has a symmetrical, rectangular profiling all around the edge of your cabinetry fronts.
If you're getting your cabinets custom made by your local cabinetmaker, you can ask for your cabinets to be painted in colours such as Taubmans Crisp White for a classic Hamptons look. If you want to amplify the look, you could use a soft grey such as Taubmans Calm Grey.
If you're budget doesn't extend to custom made cabinetry, you'll be happy to know that Kaboodle is readily stocked in all Bunnings stores nationally. Simply select the Alpine profile in colours such as Antique white to nail your Hamptons look on a budget.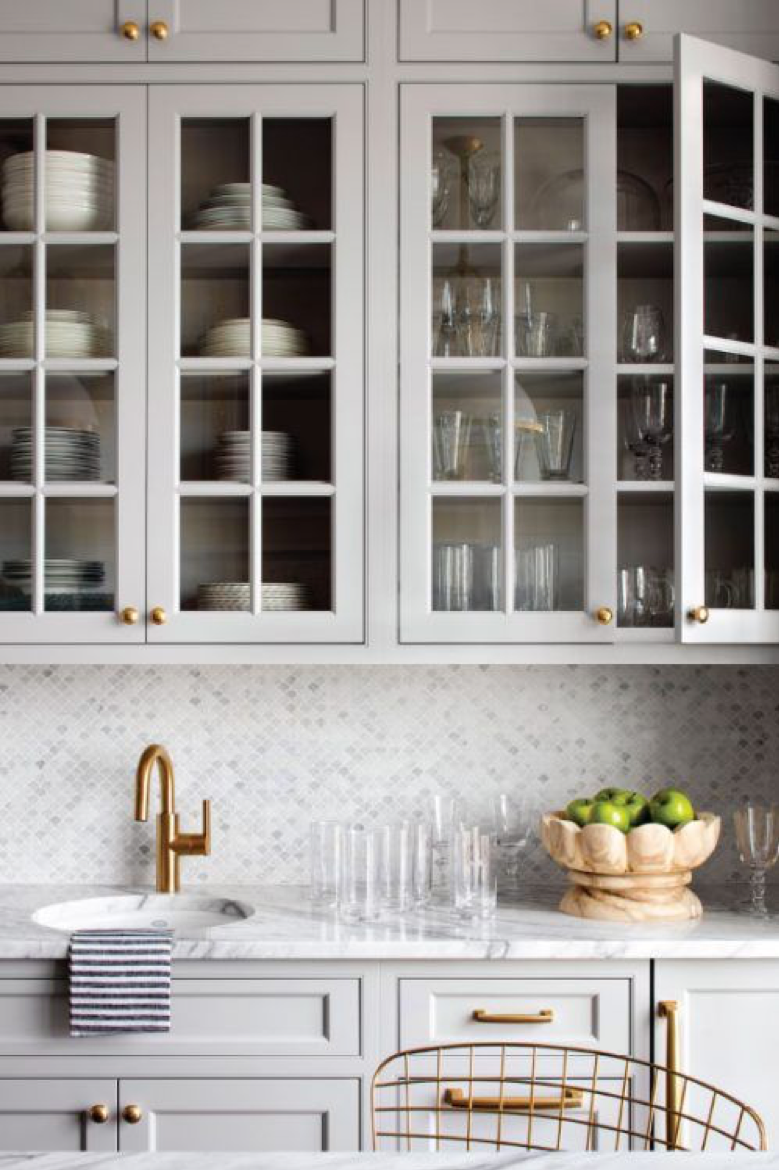 BENCHTOP TYPES
Hamptons inspired kitchens almost always feature real stone benchtops. Marble is the winning material here. It's cool, luxurious but unfortunately, super-expensive.
If you're budget doesn't stretch that far, consider an engineered stone benchtop which costs far less than real marble.
If any type of stone benchtop is simply out of the question for you budget wise, you can still achieve the look with laminate benchtops in a faux marble design instead. The Trademaster Duropal Carrara Marble Benchtop is a great faux option at a slither of the price of real marble. The Calcutta Benchtop by Kaboodle is also very good and available from most Bunnings stores nationally. Stick with white or light grey marbles with a grey vein. Anything darker won't do!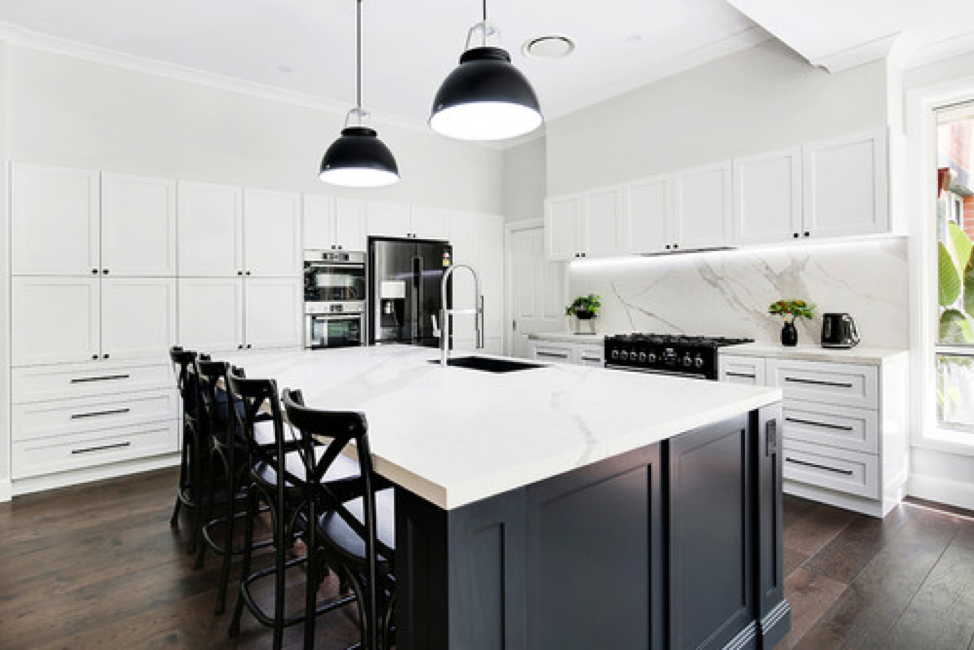 SPLASHBACK
There are a couple of ways you can tackle your kitchen splashback. If budget allows, extend your beautiful stone benchtops up the wall into your splashback area as well. It's a luxurious addition but again, significantly increases your cost.
Tiles are by far the most cost-effective way to run. In a Hamptons kitchen, you can never go wrong with a classic white subway tile. Extra points if it has a marble vein running through it but make sure it doesn't clash with the benchtop. Match Carrara with Carrara, Calcutta with Calcutta etc.… you get the drift.
Another good option is a bevelled white subway tile that is slightly irregular in texture. These are subways tiles that are not perfectly straight, looking almost like they've been handmade, even though they haven't. This classic style of tile adds a little bit of pattern into your space but remember the theme is one of clean lines. To add visual interest, you can lay your splashback tiles in a herringbone pattern.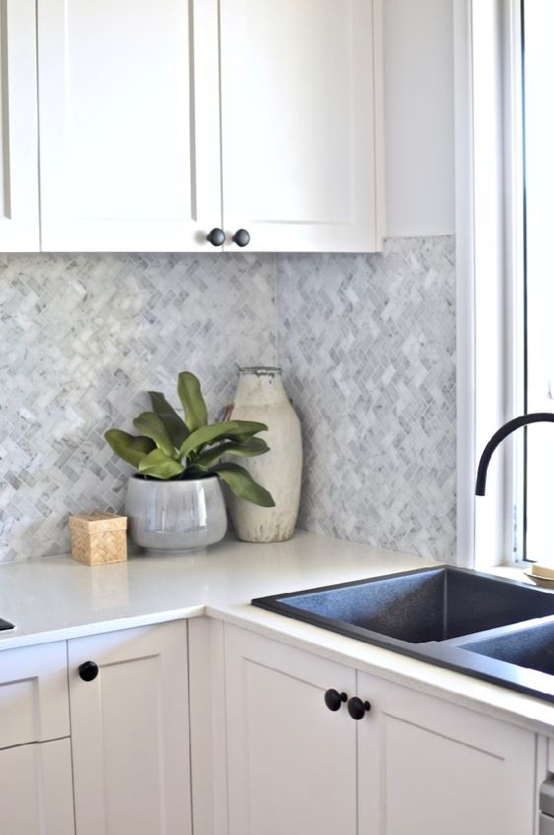 SINKS
If you have the room, a farmhouse style sink is the perfect addition to add that real rustic charm to a Hamptons-inspired kitchen. Not only does it look grand, but the oversized proportions are great for people who like to entertain. If you don't have the room, you can jazz up your sink space with a goose neck mixer tap. A matt black finish tap will really make a statement.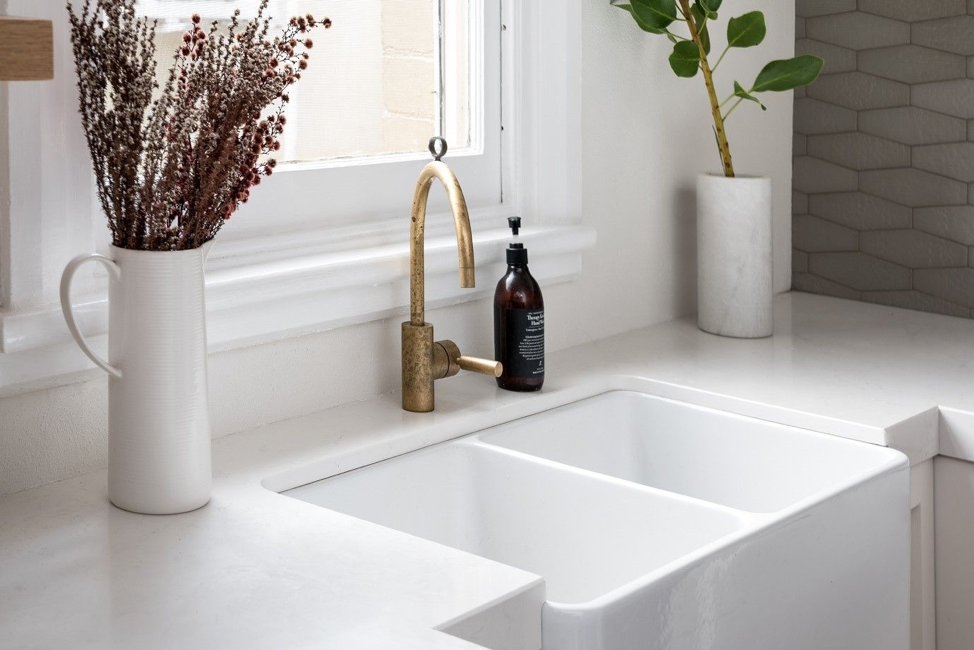 LIGHTING
Another key statement piece is pendant lights. They're a necessary inclusion to perfect the look. Think oversized, glass and metal feature lights. Pendants that have a touch of jute or rope can also be a neat way to bring in some of those nautical features.
For a more traditional look, opt for the glass pendants which are great for transmitting light all around your room. If you're trying to achieve a modern Hamptons look, go for dome style feature lights that predominantly omit light downwards. You'll still need to install other types of task lighting such as recessed white downlights into your ceiling to ensure your whole kitchen is well lit.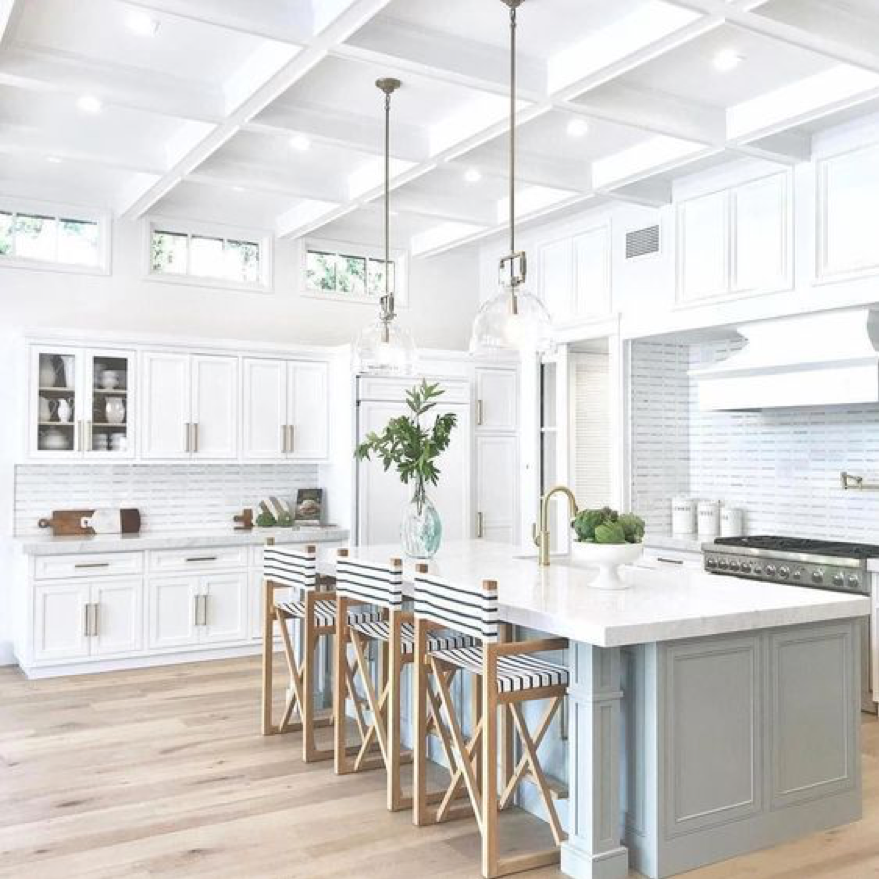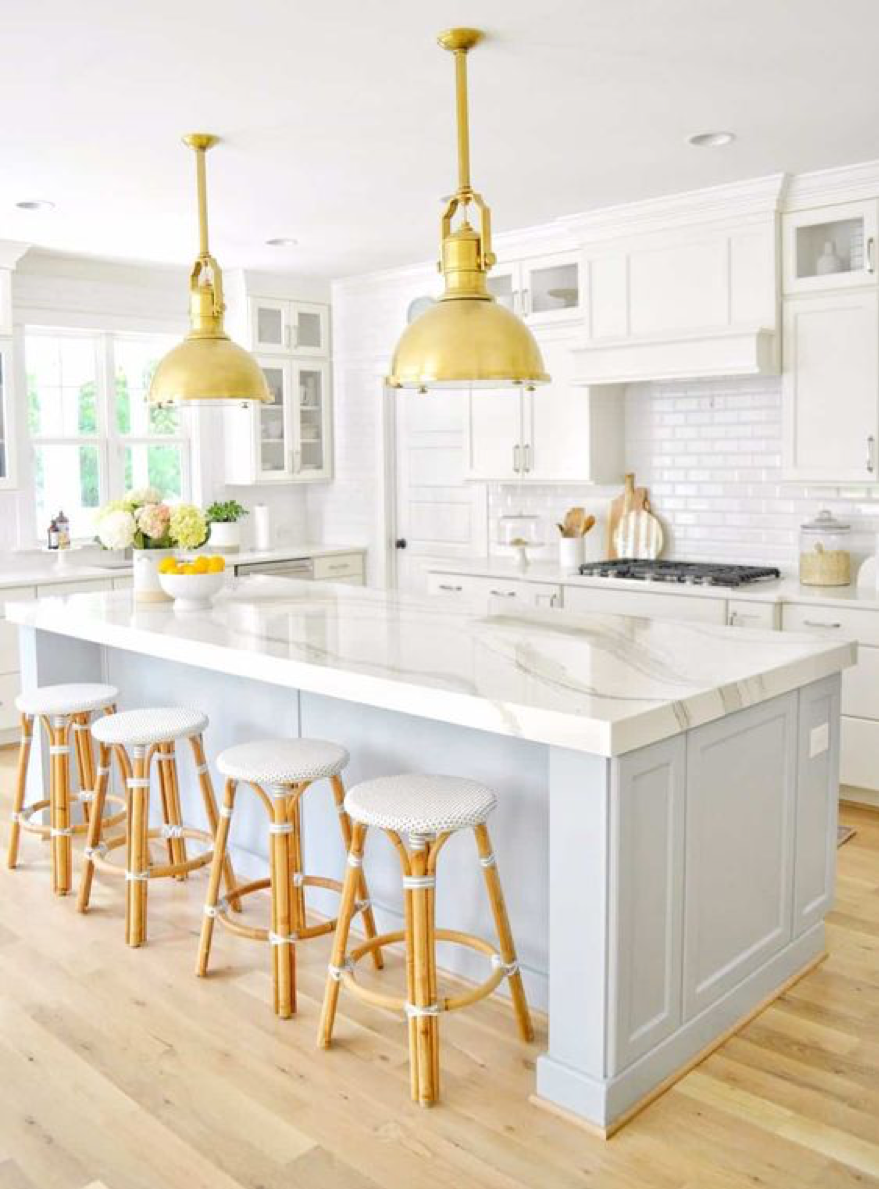 HARDWARE
The type of hardware you install on your cabinetry fronts is also a rather critical element in any Hamptons design. The most common hardware colours are brushed steel or black. They add that bit of rustic hardness into an otherwise light, soft scheme.
Keep it simple and classic for your cupboard and drawer handles. Square pull handles & round knobs are the go-to option for a "modern" Hamptons look. If you want to swing more on the traditional side, opt for a shell / half-moon pull handle instead. Where possible, make sure that all your handles, tapware and accessories are the same metal finish! You'll find that matching your kitchen sink tap to your door handles will be one of the trickier parts of your kitchen renovation.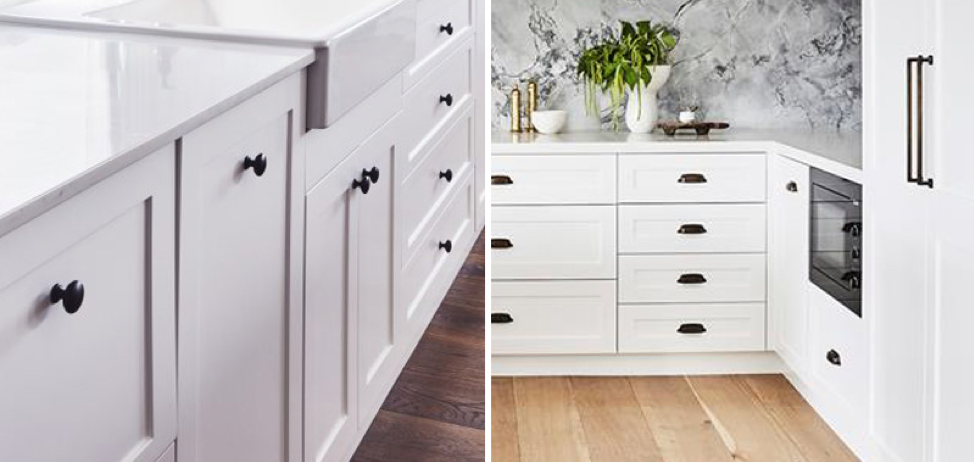 ORGANIC FINISHES
When your new kitchen is installed, the last thing you'll need to do is pop in some nice organic styling items. Bar stools are the perfect way to do this. Go for stools that are either upholstered in linen or linen look fabric or in a timber finish that complements your floor. If you really want to amp up the styling, then add bits and pieces like linen hand towels or an apron hanging from a wall hook in the same colour as your door hardware. Finish off the look with a vase of dried or faux pampas and you're done!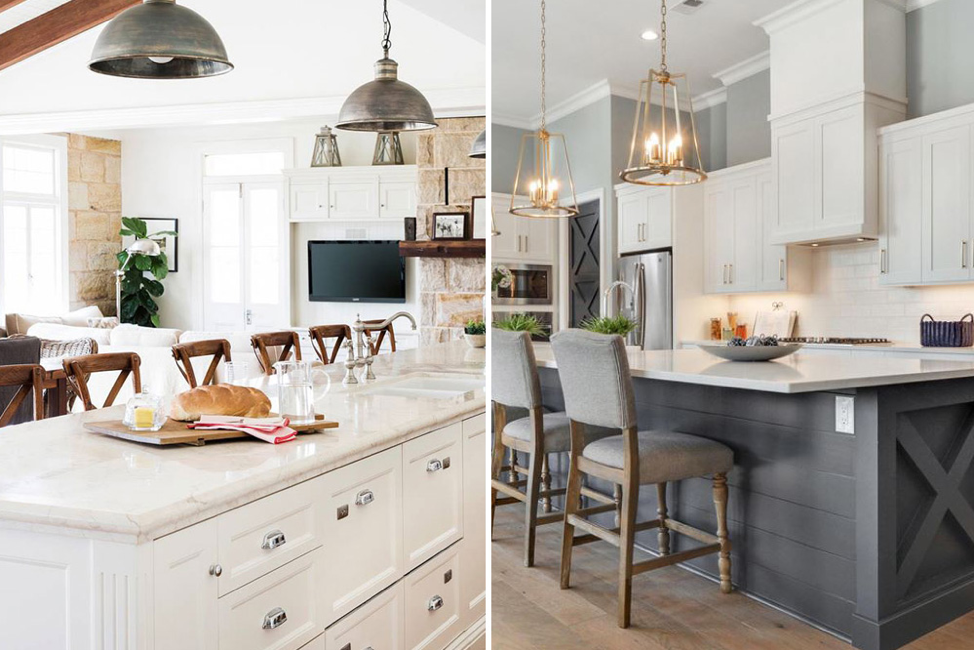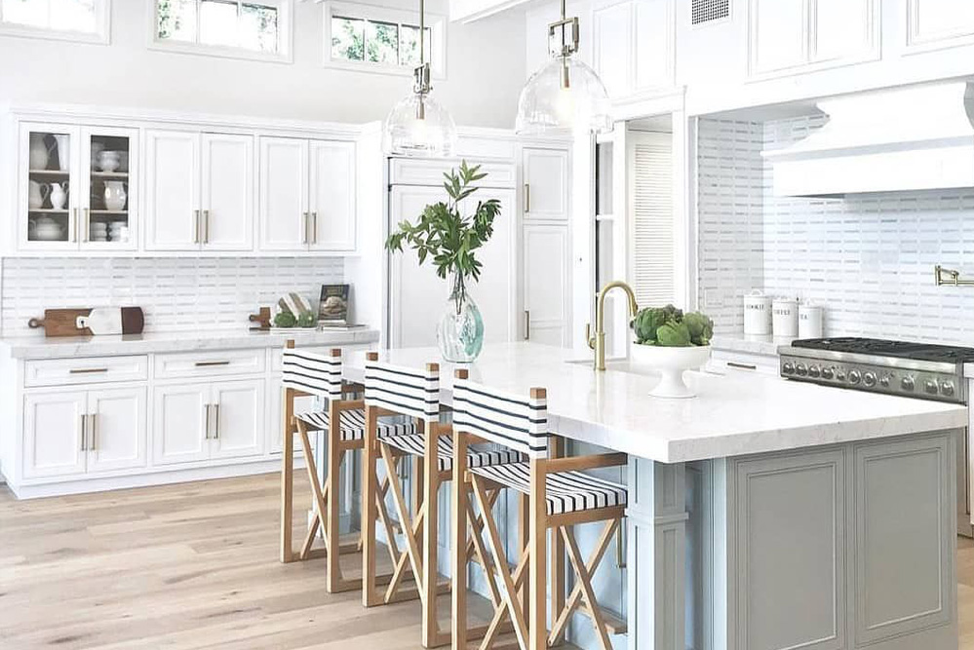 At the end of the day, remember, Hamptons is all about feeling homey and relaxed. If it's your forever home, make it feel like yours by injecting things you truly love. If it's an investment property or Airbnb rental, inject items that really nail the theme of Hamptons so people can picture themselves in the space.
To learn how to create your own perfect kitchen, download our free Kitchen Renovation e-book with all the tips and tricks you'll need for success. If you're ready to roll on your reno then skip ahead to the Create Your Perfect Kitchen course which will help you understand the order in which tasks need to happen, saving you big bucks in the long-run.
Of course, there are other smart ways to try and keep your kitchen costs under control. Check out our Home SuperSaver group, which is a national buying community (think people-power) that enables anyone to get big discounts off a plethora of items you're likely to need for your kitchen reno. From your cabinetry to your benchtops, your appliances, tiles and everything in between, those big discounts you get, will ultimately mean, more money in your pocket. Be sure to check it out: Home SuperSaver.