5 Of My Bathroom Renovations That Will Inspire You
As the old saying goes, "kitchens & bathrooms sell houses" so if yours – like many across the country – is a little tired & dated, there's plenty you can do to get these rooms looking their best again. Whether you have the budget for a full-blown bathroom renovation (which typically costs somewhere between $15,000 – $35,000) or you're ready to tackle a DIY upgrade to modernise your space, these renos will show you what can be achieved.

The general rule of thumb for what you should spend on your bathroom renovation is 2% of your current property value. If for example, your home is currently worth $750,000, your fully finished bathroom budget should be no more than $15,000. Sticking to this formula or less will avoid you overcapitalising on your property.
1. A BUDGET BEAUTY
Back in 2016, I was given the difficult task on national TV to update this 1970's bathroom into something a bit more modern. Let's face it, $2,500 aint a lot to work with, especially in a room that's very trade labour intensive & fittings & fixtures heavy. In order to bring this reno in on budget, I deliberately tried to salvage as much as I could. Relocating the toilet & ditching the bottled brown glass shower screen was the most dramatic improvement in this room. It meant I had to remove the floor tiles and re-waterproof the floor but was a change that was well worth it, to open up the space. The bath, toilet & vanity were all good quality items sourced second-hand for a ridiciously low amount of money. Better still, the local tile shop had a couple of end of line tiles that I picked up for just 8 bucks! Once everything was in place, I tile painted all the existing wall tiles in Taubmans Crisp White.
Now, let's all be honest; this bathroom reno certainly isn't going to win any design awards but you've got to agree, it looks so much better than before! All up, the renovation rolled in at a very low $2,563 for a fully finished bathroom. To read the full fact sheet, CLICK HERE.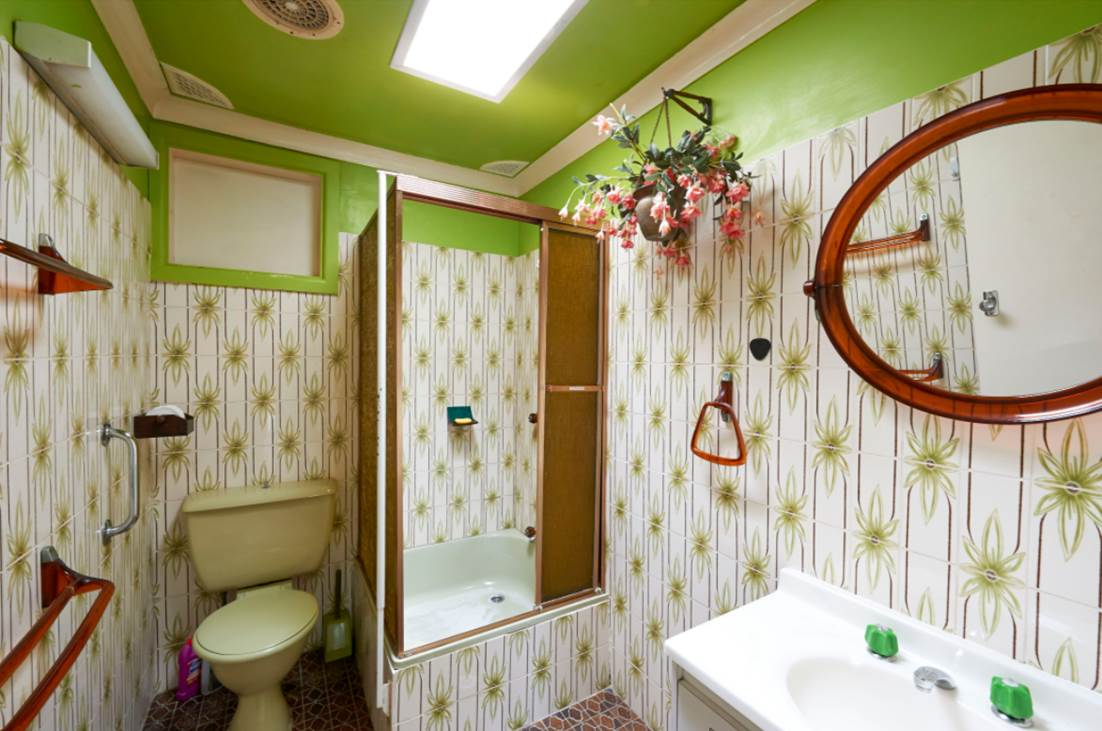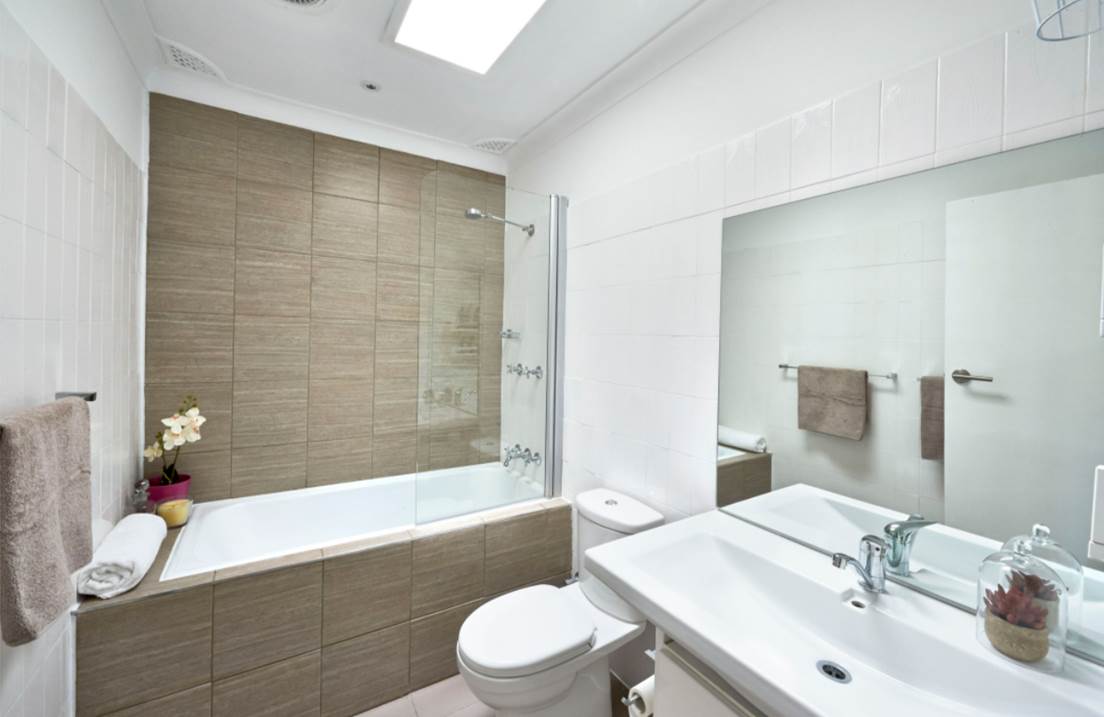 2. A FULL COSMETIC REFRESH
Just $4,000 was all that was needed to get at least another 10 years out of this old, dated bathroom. To keep costs under control, the shower & bath were kept as they were both in great condition. The vanity & toilet were replaced with modern alternatives that instantly modernised the space. As for those unsightly tiles, a few licks of tile paint instantly made them look better whilst the addition of a new waterproof VJ panel feature wall added a bit of textural interest to the room. Some cost-effective fittings & fixtures completed the look. If you want more detail on this reno, simply click here: SEE THE FULL RENOVATION.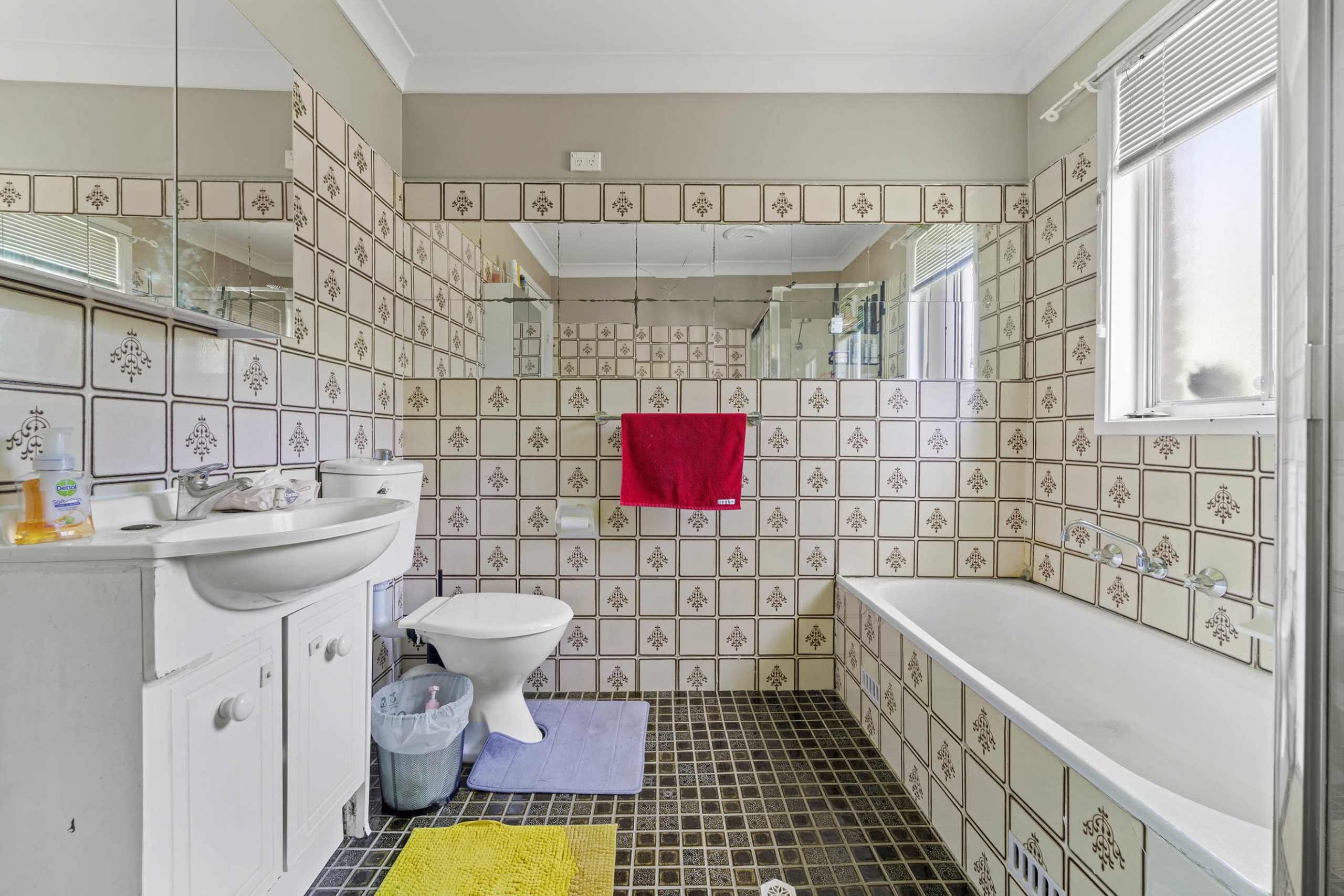 3. CHANGING THE LAYOUT
For this bathroom, the biggest change was the layout. That big spa took up way too much space so by removing it, room was freed up for a standard size bath & a new toilet to be squeezed into the layout. By keeping all the plumbing on one wall, plumbing costs were kept to a minimum. Inexpensive white subway tiles with a classic bevelled edge were laid in a brick pattern with light grey grout to give the tiles an element of contrast. The patterned floor tiles & black taps & accessories bring an element of visual drama to the room. SEE THE FULL RENOVATION.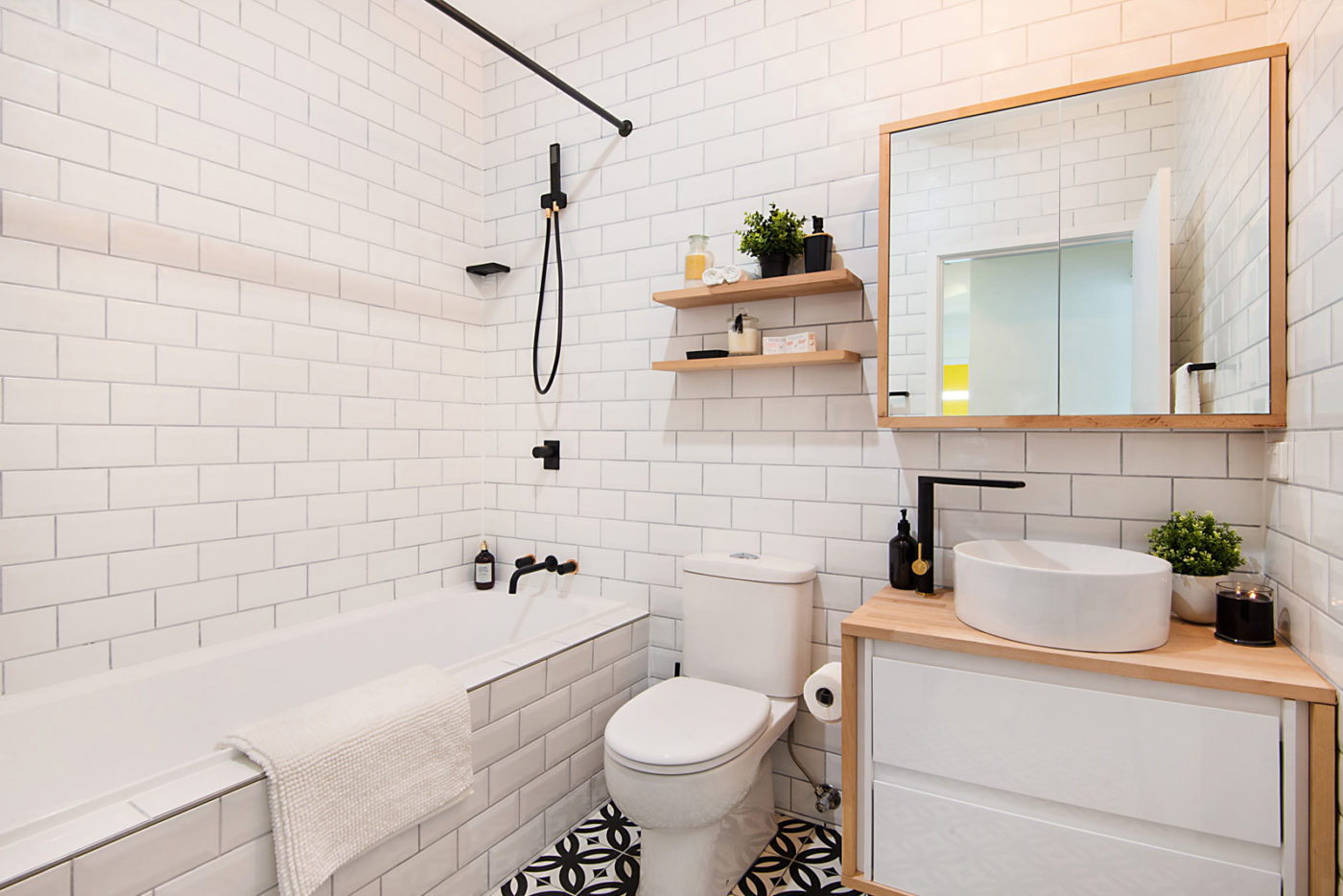 4. A GUT & START AGAIN BATHROOM
In my most recent episode of Channel 9's Space Invaders show, this 1970's bathroom was not only in need of an update, but seriously lacking any ounce of personality. Like many older bathrooms, asbestos was present in the walls so all of that was professionally removed by Jim's Asbestos Removals. Asbestos removal is definitely a job best left to the professionals, not DIY. The layout was rejigged to make better use of the space & a patterned floor tile installed to complement the feature wall. The older aged homeowners are now able to walk into their shower a lot more easily than their old shower cubicle. On trend fixtures & fittings modernise the space, that helped add real value to the property. SEE THE FULL RENOVATION.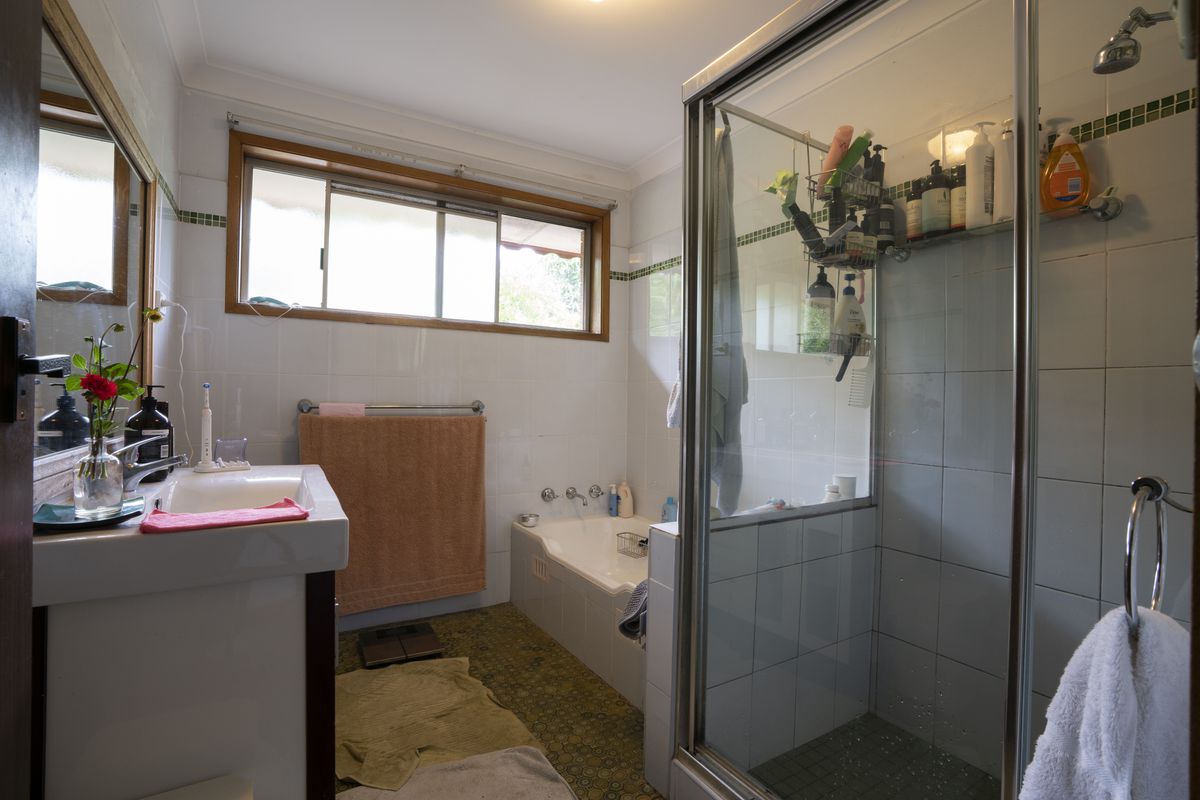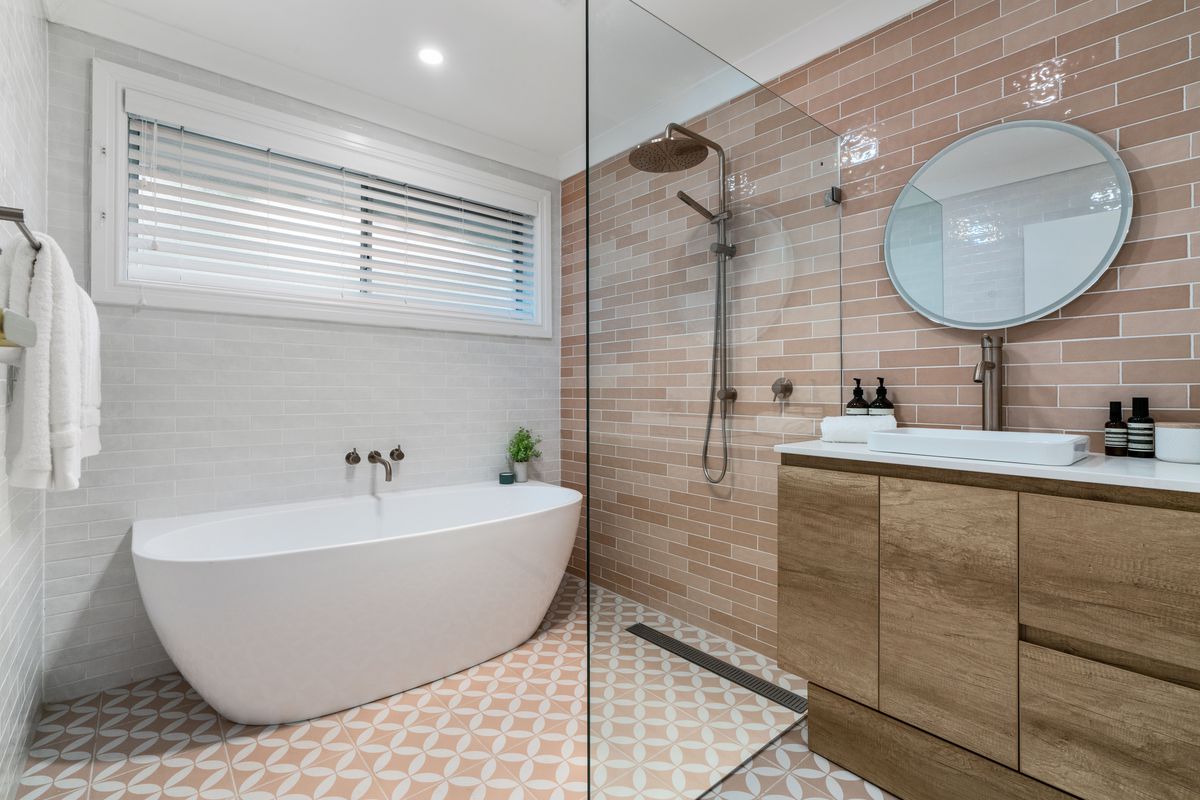 5. A MODERN MASTERPIECE
Only in use for just under 2 weeks now, homeowner Anita was the lucky winner of the Cook's Plumbing Supplies $20,000 Bathroom Renovation competition. When I rocked up to see Anita's space, she said to me "all white please Cherie". I sought her permission to inject a little bit of colour into the mix to avoid her bathroom looking too cold & clinical. With Anita's full support, I installed 1 wall of a lighter feature tile & tiled the rest of the space white. Texture & tonal interest was added through the timber vanity & all the gorgeous brushed brass tapware from Caroma's Urbane II range.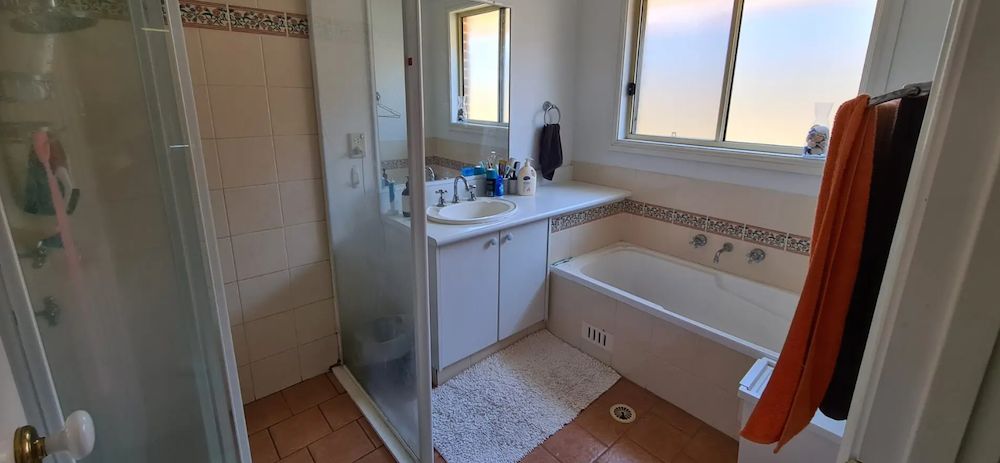 Click on the arrow above & slide left to right to see the full before & after images.
Now the good news is – if you want to replicate this look, I've negotiated with Cook's Plumbing Supplies to give all my subscribers 15% off all Urbane II products until the end of May, 2022. Simply jump onto www.cooksplumbing.com.au & enter promo code: URBANEII at the check-out. For the full reno factsheet, simply click: Cook's Plumbing Fact Sheet.
Feeling ready to tackle your own bathroom reno? If you're on a budget, be sure to download my free bathroom renovation e-book which will inspire you to update your bathroom, even if you're on a budget. If you want to save even more money, check out our Home SuperSaver membership group. It's s a national buying community that enables anyone to get big discounts off a wide range of renovation fixtures & fittings & general building materials such as 15% off at Cook's Plumbing Supplies who can supply your vanity, toilet, bath & everything in between.

Much love,
Cherie & The Renovating For Profit Team x